Shades

New Trail Brewing Company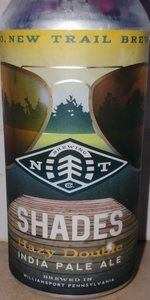 Rate It
Beer Geek Stats
| Print Shelf Talker
Style:

ABV:

9.1%

Score:

Avg:

4.3

| pDev:

5.12%

Reviews:

14

Ratings:

From:

Avail:

Rotating/Seasonal

Wants

Gots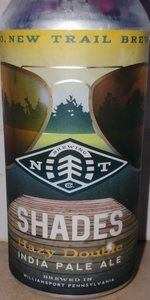 Notes: Shades is inspired from a sister beer Goggles. Brewed with heaps of Oats and hopped with Citra & Galaxy. Expect high notes of citrus flesh complimented by a complex dankness with notes of fruit. Enjoy Shades on a bright day staring out over your favorite body of water.
SawDog505 from New Hampshire
4.53
/5
rDev
+5.3%
look: 4.5 | smell: 4.5 | taste: 4.5 | feel: 4.75 | overall: 4.5
Poured into a 13 oz Teku glass not sure when it was canned but knowing @jzeilinger in the last two weeks. Pours a very hazy yellow orange with a 2 finger sticky white head that leaves a bunch of thin lace with excellent retention. 4.5
Aroma is ripe melon, guava, mango, and apricot. 4.5
Taste follows cantaloupe, guava, mango, and apricot really well balanced. 4.5
Mouthfeel is big, soft almost creamy carbonation, not sticky or dry, and at 9.1% it is big on flavor but easy going down. 4.75
Overall this is phenomenal Big NEDIPA. This brewery keeps putting out excellent stuff. 4.5
Jul 24, 2021
Gmabba from Indiana
4.38
/5
rDev
+1.9%
look: 4.5 | smell: 4 | taste: 4.5 | feel: 4.5 | overall: 4.5
Beautiful opaque golden color, this hazy is opaque enough to block light. Super hoppy and boozy flavor with a pretty thick and substantial mouthfeel. Great beer, only drawback is a little too much bite, even though I'm a strong hop lover.
Jul 13, 2021

dbl_delta from Pennsylvania
4.22
/5
rDev
-1.9%
look: 4.25 | smell: 4 | taste: 4.25 | feel: 4.5 | overall: 4.25
Undated (WTF) can into pint glass. Pours a very hazy amber-gold with a blocky off-white head. Great lacing. Initial impression is sweet citrus, dank pine resin, and grapefruit rind. Mouthfeel is fairly thick, soft and pillow-y. Finish is semi-sweet, fading to a nice pine bitterness. Overall. another excellent NEIPA from New Trail. These guys have been consistently excellent.
Jul 02, 2021
IronLover from Pennsylvania
4.11
/5
rDev
-4.4%
look: 4.25 | smell: 3.75 | taste: 4.25 | feel: 4 | overall: 4.25
Creamsicle orange in color with a milky viscous appearance. Poured with a moderate , creamy, white foam with medium low retention. Sweet citrus fruit aromas with notes of mango and papaya and light malty base. Medium bodied with medium light carbonation, pleasant smooth feel and and a prickly boozy warmth. Sharp citrus and mellow boozy flavors with sweet fruity, melon and papaya. Medium bitterness blends with the prickly booziness, followed by mellow fruity, melon flavors. Finished withbtangy, boozy, light bitter notes that lead to tapering fruity notes with light piney bitterness. Great look and mellow aromas with interesting hop character.
Oct 10, 2020

MikeWard from Pennsylvania
4.17
/5
rDev
-3%
look: 4.25 | smell: 4 | taste: 4.25 | feel: 4 | overall: 4.25
16oz can into a pint glass. NO freshness dating despite the can proclaiming, "keep cold, drink fresh".
Looks very good in the glass. Thick orange juice body, decent white head which persists. Excellent lacing on this one.
Standard dull fruit aroma.
On tasting, a little juicy and dank. Quite warm from the abv. Faint bitterness late on.
Mouth between medium and full, finish warm and slightly bitter.
Overall, another good ipa from New Trail.
Sep 28, 2020
JohnniEMc from Pennsylvania
4.64
/5
rDev
+7.9%
look: 4.75 | smell: 4.5 | taste: 4.75 | feel: 4.25 | overall: 4.75
A pint can poured into a clear glass liter mug displays a murky dirty blond concoction. This isn't hazy, not even foggy, it's downright soupy. There's the typical New Trail hazy aroma, plenty of juicy hops in the air to get the mouth juices flowing. As appetizing as it looks and smells, at least to those that love NEIPAs, the taste supercedes. Complex hops, incredibly finishing both bitterly dry and juicy, delivered within a sweet malt/yeast body. Few breweries outside of Vermont make hazy DIPAs to this level. There is a bit of an alcohol inclusion at the finish, but the ABV does exceed 9%. This, with Goggles is one of the best they've made. It won't be around long, so get it when you can.
Sep 21, 2020
TMoorePA from Pennsylvania
4.44
/5
rDev
+3.3%
look: 4.5 | smell: 4.25 | taste: 4.5 | feel: 4.5 | overall: 4.5
New Trails always has excellent beers. They're one of my favorite breweries to drink. This one is very flavorful and it's extremely tasty. Can't go wrong with this one!
Sep 19, 2020

woodychandler from Pennsylvania
3.97
/5
rDev
-7.7%
look: 3.75 | smell: 4.25 | taste: 4 | feel: 3.75 | overall: 3.75
Just as I exhausted my backlog of their beers as a part of my most recent brewery horizontal, CANother new one hit our market! Naturally, The CANQuest (tm) could not allow this opportunity to pass by unCANtended to & so, here is a late entry.
From the CAN: "Shades Hazy Double India Pale Ale"; "Keep Cold[,] Drink Fresh".
I was feeling a bit adventurous following the Crack! of the vent, so I went with a steady C-Line Glug into the awaiting glass. This action resulted in the formation of two-plus fingers of dense, foamy, rocky, French Vanilla-colored head with very good retention. Color was a deeply-hazy/lightly-cloudy Yellow-Gold (SRM = 4 - 5). Nose smelled like P! Peaches, papaya & pineapple. 8=) Mouthfeel was medium-to-full, not quite creamy, but on the approach. The taste was an odd, but tasty admixture of papaya & guava with a pine mintiness and a light grapefruit bitterness. Hmm. Finish was semi-dry. I was not as enamored of this one as with some of their others. I just felt as though the flavors did not mesh as well as they & I may have hoped. 8=( YMMV.
Sep 15, 2020

EMV from Pennsylvania
4.25
/5
rDev
-1.2%
look: 4.25 | smell: 4.25 | taste: 4.25 | feel: 4.25 | overall: 4.25
Poured from a 16 oz can into a Dogfish Head tulip
L: Hazed out dull golden orange pour. Big fluffy head sticks around. Great lacing.
S: Pineapple and citrus. Fruity hops.
T.F: Semi-sweet fruit juice. Grapefruit, tangerine, and pineapple. Dank with a bit of pepper. Maybe some mango and papaya mixed in. Medium bodied... smooth and creamy on the mouthfeel. Lingering pineapple and citrus rind at the finish.
O: Another very well executed Imperial IPA from New Trail. Hard to tell several of them apart, but they're all pretty tasty. They still need to learn how to date the damned cans so make sure you get it fresh.
Sep 12, 2020

jzeilinger from Pennsylvania
4.34
/5
rDev
+0.9%
look: 4 | smell: 4.25 | taste: 4.5 | feel: 4.25 | overall: 4.25
A - Opaque golden tan color with dense creamy white lacing and no carbonation.
S - Spicy tropical fruit with some peppery spice.
T - Spicy tropical fruit rind and peppery pineapple. Balanced from start to finish with a lingering peppery pineapple rind.
M - Thick and chewy with some warming in the back of the throat.
O - This one is a hidden gem. Seek it out.
Sep 07, 2019

Thomas_Wikman from Texas
4.29
/5
rDev
-0.2%
look: 4.25 | smell: 4 | taste: 4.5 | feel: 4.25 | overall: 4.25
This is good stuff.
Look: very hazy yellow with a thick white head
Aroma: Grapefruit, pineapple, pine resin
Taste: Grapefruit, pineapple, mango, and pine resin and it's dank, and has enough bitterness for a prominent hazy Imperial IPA.
Body/Overall: light to medium
Sep 02, 2019

mvanaskie13 from Pennsylvania
3.99
/5
rDev
-7.2%
look: 4.25 | smell: 4 | taste: 4 | feel: 3.75 | overall: 4
Poured into a tall pilsner glass, able to handle the full 16oz: presents with the opaque haze, dense/solid, head is bright white with a 2+ finger presentation, then some good lacing on the glass sides and lingering solid top.
Smell is light tropical fruit, then some solid dank/resinous notes - one of their better smelling hazy brews.
Taste is similar with tropical fruit, citrus rind, then some dank/resinous notes. Oat character is notable and some boozy heat.
Mouthfeel starts soft then finishes bitter and drying from the boozy notes.
Overall this seems to hit the right notes between New England and DIPA - big citrus and dank notes, light sweet/soft backing fro the oats, and solid bitterness.
Jul 20, 2019
322wingedfoot from Pennsylvania
4.17
/5
rDev
-3%
look: 4.5 | smell: 4.25 | taste: 4.25 | feel: 3.75 | overall: 4
From an undated 16oz can but I believe this was quite recently brewed. Pours an opaque amber-gold color. Lots of tropical fruit and darkness on the nose and palate. Quite a bit of heat, too, from the high abv. Overall, very nice if high-octane.
Jul 06, 2019

Knapp85 from Pennsylvania
4.31
/5
rDev
+0.2%
look: 4.25 | smell: 4.5 | taste: 4.25 | feel: 4.25 | overall: 4.25
Poured a nice hazy yellow color with a white head on top. The smell of the beer is fruity and dank, really nice! The taste has some tropical fruit notes nice bitterness with a bit of boozy heat too. The feel is smooth. Overall this is a really nice IPA from New Trail definitely my favorite from them thus far.
Jun 29, 2019
Shades from New Trail Brewing Company
Beer rating:
92
out of
100
with
30
ratings