Paradise Pale Ale
| Island Brewing Company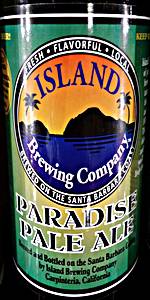 BEER INFO
Brewed by:
Island Brewing Company
California
,
United States
islandbrewingcompany.com
Style:
American Pale Ale (APA)
Alcohol by volume (ABV):
5.00%
Availability:
Year-round
Notes / Commercial Description:
No notes at this time.
Added by Zorro on 04-28-2004
Reviews: 9 | Ratings: 18
3.09
/5
rDev
-4.6%
look: 3.25 | smell: 3 | taste: 3 | feel: 3.75 | overall: 3
Bottled 4/13/15.
Pours a hazy honey orange with a foamy beige head that settles to wisps of film on top of the beer. Small dots of lace form around the glass on the drink down. Smell is of toasted malt, dirt, and earthy hop aromas. Taste is much the same with toasted malt, earth, dirt, herbal hop, and slight metallic flavors on the finish. There is a mild amount of hop bitterness on the palate with each sip. This beer has a lower level of carbonation with a slightly crisp mouthfeel. Overall, this is an average beer with hop qualities that are very earthy and dirty in the taste.
Serving type: bottle.
608 characters
3.54
/5
rDev
+9.3%
look: 4.25 | smell: 3.25 | taste: 3.5 | feel: 4 | overall: 3.5
For some, paradise is a box of chocolates. For me, paradise is a cold beer after work. This 22 ounce bottle was a gift from my cousin, so thanks to him for that! On to the beer:
A huge rush of bubbles run from bottom to top inside this copper-accented orange beer. Two finger's thick of foam sits on top of the beer and shows little sign of dropping. Lines of lacing stick around the glass. It shows a decent nose; decent notes of caramel accented malt hits the nose. A light breeze of hops brings hope for good things to come.
This pale ale is crisp and clean. It doesn't get into any crazy savory flavors, though that isn't necessarily a requirement. Caramelized biscuit malt with a clean brush of grassy hops. It's light bodied brew, clean, gently crisp, and easy going down.
Right now, I feel like I'm in paradise. Cold beer in my body, no work until tomorrow, and no real responsibilities for the rest of the day. Time to relax and enjoy the day...
958 characters
3.75
/5
rDev
+15.7%
look: 3.75 | smell: 3.75 | taste: 3.75 | feel: 3.75 | overall: 3.75
Appearance: Deep yellow, average head and lacing.
Smell: Citrus.
Taste: Orange peels and rye with plenty of spice.
Mouthfeel: Medium body with plenty of bitterness.
The Verdict: I like it. It's not a particularly balanced brew, but it's got a unique vibe going on. I'd call this more of a Rye IPA than a pale ale.
318 characters
2.98
/5
rDev
-8%
look: 3.5 | smell: 3 | taste: 2.5 | feel: 3.5 | overall: 3.5
Growler for fourteen dollars including the new glass, reviewed from notes, poured into a pint glass, color is a golden orange on the lighter side, one inch foamy white head with light lacing, aroma consists of floral hops, saltines, bready malt, herbal accents, and grass, flavor starts off with mild hops, bread and toasty malts in the middle, hop flavors also in the finish, a bit earthy and grainy in the aftertaste, taste does not change at all is not very complex, very light overall too, dry, earthy, and grainy mouthfeel, strong carbonation, taste goes away quickly, could drink a few more glasses of this, there is no alcohol in the flavor, it is very crisp and too light, probably should have tried this before taking a whole jug of it home, was in the mood for a pale ale and this did not even satisfy that craving, pretty weak for the style, would not drink again
874 characters
3
/5
rDev
-7.4%
look: 3 | smell: 3 | taste: 3 | feel: 3 | overall: 3
Poured a deep yellow, almost like a urine color haha. Not much of a head. Yeah, better on tap. Smelled of exotic fruits, maybe some pineapple,banana even, citrus and english malts. Taste was malty up front with a fruity taste to it, finished with slight hops and bitterness.
274 characters
3
/5
rDev
-7.4%
look: 3 | smell: 3 | taste: 3 | feel: 3 | overall: 3
Draft at brewery, consumed 02/18/08.
Pours a Medium copper hue. Piney hop aroma. Good head retention. Piney hop flavor not a big surprise after smelling it. No malt character to speak of; this is a one dimensional West Coast hop juice.
Not for me.
251 characters
2.65
/5
rDev
-18.2%
look: 3.5 | smell: 3.5 | taste: 2 | feel: 3 | overall: 2.5
A: Murky goldenrod with hundreds of active bubbles. Head is triumphant and tall, rocky whipped butter like appearance.
S: Kiwi, blackberry and bubblegum
T: Begins with vibrant berries and loose caramel. Then the sourness sets in…you know that sourness where you aren't sure if the beer is infected? Sort of a blend of sour grapes and green apple. From there an entrenching bitterness covers the palate and holds the tongue hostage. I'm done.
M: Medium body with a lot of carbo sting.
D: There is nothing satisfying about this beer. :drainpour:
558 characters
3.48
/5
rDev
+7.4%
look: 3.5 | smell: 3 | taste: 3.5 | feel: 3.5 | overall: 4
I've had a few of these at Island's taproom (the best way to have an Island brew, imo, due to its subtly) in Carpinteria, CA and I'm just finally getting around to reviewing it. This is the local's favorite. Everytime I'm in here, this is the one I hear being ordered the most. It's not my favorite, but to each his own.
A - Deep yellow body with a one finger white head. Little bit of lacing. Not bad looking.
S - Little citrusy and some hops. Not much.
T - Some hops there and subtle citrus flavors (pineapple?) with a grassiness.
M - Bitter on the tongue aftertaste.
D - Smooth and tasty enough!
605 characters

3.03
/5
rDev
-6.5%
look: 3.5 | smell: 3 | taste: 3 | feel: 3 | overall: 3
Pours a clear brown brew.
Smell is mild malt and a tea and citrus hop aroma.
Taste is dry with an assertive cascade hops flavor. Unfortunately all there is is the hop flavor. Some how the malt disappeared.
Mouthfeel is OK.
An OK drinkable brew but there are many better.
282 characters
Paradise Pale Ale from Island Brewing Company
3.24
out of
5
based on
18
ratings.