't Schoenlappertje
| Scheldebrouwerij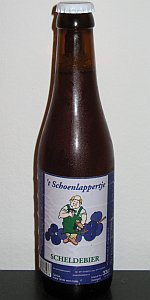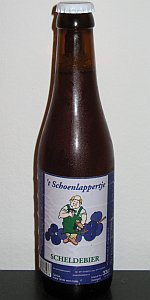 BEER INFO
Brewed by:
Scheldebrouwerij
Belgium
scheldebrouwerij.nl
Style:
Fruit / Vegetable Beer
Alcohol by volume (ABV):
5.00%
Availability:
Year-round
Notes / Commercial Description:
No notes at this time.
Added by paterlodie on 02-21-2005
This beer is retired; no longer brewed.
HISTOGRAM
Ratings: 12 | Reviews: 10
Reviews by czfreeman:

4
/5
rDev
+18.7%
look: 4 | smell: 4 | taste: 4 | feel: 4 | overall: 4
Bought today at De Honte Drankshop in Cadzand.
Really enjoyed the other two from this brewery I have previously tried, hope this makes #3.
Infused with blackcurrant, this brew pours a rubarb-reddish tint.Light pink edges.The head is slightly pink, nice, thick, and lasting.Looks like strawberry foam.Very nice.
On the nose, balckcurrant, blueberry, rubarb, strawberry, creamy wheatlike, notes of sour, fermented fruit, not the sugar bomb, but light, tart, and interesting.
Taste is much more tart than expected. Lighter as well. Spritzy mouthfeel ends with currant, tart blackberry, sour black grape, but the currant really comes through. A hint of rubarb rounds out the flavor.
Overall light, spritzy, and refreshing on this warm spirng day. 1 or two would hit the spot, couldnt drink lots of this, but the bottle I have is enjoyable.
Much better than expected, notches above many cheap Lambics avaliable for the same price.
925 characters
More User Reviews:
2.97
/5
rDev
-11.9%
look: 3 | smell: 3.5 | taste: 3 | feel: 2.5 | overall: 2.5
A - A reddish/pink beer, reasonable clear with almost no head.
S - A super strong smell of black berries.
T - A super dry black berry beer, that is what it taste like. The beer itself is not particular bitter.
M - Strong carbonation
O - To dry and with a body that is to thin, and therefore the taste is not enough.
319 characters
4
/5
rDev
+18.7%
look: 4 | smell: 4 | taste: 4 | feel: 4 | overall: 4
Bottle: Poured a light reddish/blueish color ale with a huge light blue foamy head (color is very different from any other beer I tried before probably resulting from the use of blackcurrant. Aroma consists of tart berry with some sweet malty notes. Taste is a mix between some sweet notes with some berry and light tart notes at the end. Medium body with some great carbonation. I have to admit to really enjoying this one which was more ten just a fruit beer to please the masses - there was actually some complexity to it.
525 characters
3.3
/5
rDev
-2.1%
look: 3.5 | smell: 3.5 | taste: 3 | feel: 3.5 | overall: 3.5
'Try it once and move on', is what I say to this brew (unless you're tempted to take it as thirst quencher).
It's fruity. Looks reddish, with a pink head.
Black berry (currant). It's got a distinct smell and flavour in that direction. Sweet and sour, but somehow more dry in the finish than you'd expect.
Well balanced, but in the end it's just very fruity. If you're into kriek beer, you may find it sweet but ok , with the dry finish; if you're into tough beer, you'll find it too fruity.
492 characters
4
/5
rDev
+18.7%
look: 4 | smell: 4 | taste: 4 | feel: 4 | overall: 4
I drank this at Cafe Belgie in Utrecht. This beer pours a hazy purple color with a small head.
Smell is very much like cassis/ blackberries, dark fruit in general. This dominates the smell. This smell appears a little artificial. It smells sweet and a little malty.
Taste is like a sodapop, blackberries soaked in beer. Juicy fruit without being overly sweet. The blackberry taste is a bit artificial, but much less than other examples of the style. Also without the sweetener taste and mouthfeel. It drinks like a soda. No bitterness or hop to speak of.
557 characters
4.03
/5
rDev
+19.6%
look: 4.5 | smell: 4 | taste: 4 | feel: 4 | overall: 4
Hazy pink grapefruit colored beer. Tall, dense, cream colored head has a pink hue leaves large patches of lace. Tart aroma of berries and flowers. Blueberry spritzer flavor begins lightly sweet and finishes faintly tart. Light crisp mouthfeel. The blueberry in the beer tastes natural. A delicate refreshing beer that is enjoyable. Thanks to the misses for bringing this back from Groningen.
391 characters
3.18
/5
rDev
-5.6%
look: 4 | smell: 3.5 | taste: 3 | feel: 3 | overall: 3
Best before 11-06 so well in time. Pours out nice with pink and goodlasting foam upona a pink,orange&red colored beer. Nose is fruit, soursweet and litle malts. Listed blackberries must be there and nothing artificial. Taste is less impressive being sour, berrylemonade but some beertaste with it so better then most of these beers that taste atrefficial. Drinkable if you like fruitbeers but no high class beer in my opinion.
426 characters

2.97
/5
rDev
-11.9%
look: 4.5 | smell: 2.5 | taste: 3 | feel: 3 | overall: 3
Look: the beer pours a hazy reddish-orange color with a light pink head.
Smell: moderate to heavy blackcurrant and quite sweet
Taste: Malts and sweet blackcurrant. Dry finish
Mouthfeel: Medium-thin body with medium carbonation.
Overall: Not bad, but very simple beer, almost no malts, no hops and lots of sweet blackcurrant. Nice beer for the ladies
349 characters

3.27
/5
rDev
-3%
look: 3 | smell: 3.5 | taste: 3 | feel: 3.5 | overall: 3.5
Pours a red amber pink beer with a th whith/pink head.
The smell is fruity, fresh and no sugar apparently.
In the mouth it's clearly a fruit beer with cassis and "baie" notes. not sour at all.
The aftertaste is bittersweet. makes me rememer childhood candies. The carbonation is extra small.
Good beer to introduce to women.
324 characters
3.77
/5
rDev
+11.9%
look: 4 | smell: 4.5 | taste: 3.5 | feel: 3.5 | overall: 3.5
A - Hazy pink tinged amber colour with a thick 1" head thats going nowhere.
S - Blackberry fruit pastel candy. May not be up everyones alley but I used to devour packs of these like there was no tomorrow when I was 10 years old. Fond memories indeed (and probably why I just spent so much money on fixing my teeth but anyway...).
T - The fruit pastel flavour is there but there is also a sourness that is so common in berry based fruit beers. Balanced with some candi sugar sweetness.
M - Medium mouthfeel with a spritzy feel on the back of the tongue.
D - Wouldn't drink heaps of these but if you like fruit beers then it's worth a shot for sure.
651 characters
't Schoenlappertje from Scheldebrouwerij
Beer rating:
3.37
out of
5
with
12
ratings