Marmara Kirrmizi Bira
| Anadolu Efes Brewery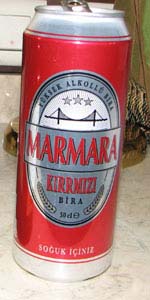 BEER INFO
Brewed by:
Anadolu Efes Brewery
Turkey
efespilsen.com.tr
Style:
American Malt Liquor
Alcohol by volume (ABV):
6.10%
Availability:
Year-round
Notes / Commercial Description:
No notes at this time.
Added by Offa on 03-02-2009
Reviews: 6 | Ratings: 13

2.13
/5
rDev
-18.4%
look: 2.5 | smell: 2 | taste: 2 | feel: 2 | overall: 2.5
Can from a corner shop in Istanbul. Cost was 6.5 lira. Reviewed from notes taken in May 2016.
Malt syrup. Heavy sticky sweetness. No hop character.
Not metallic, at least. But not the most drinkable budget brew. Too thick and filling.
D (2.13) / AVOID
★
254 characters

2.39
/5
rDev
-8.4%
look: 4 | smell: 2.5 | taste: 2 | feel: 2.5 | overall: 2.5
My maternal uncle was on a two-week sightseeing junket to Turkey recently and brought this CAN back for me. I CAN hardly believe how The CANQuest (TM) has grown.
The Crack & Glug came off without a hitch, producing two foamy fingers of bone-white head with decent retention. Color was a pretty sunshine-yellow with NE-quality clarity. It looked like liquid sunshine in my glass. I could smell the corn as soon as I began pouring it out and it was right in the acceptable range for an AML, but that was about as much good as I CAN say for it. It was kind of watery in the mouth and it had a metallic tang on the tongue. Oof. Man, I was thankful that it had a relatively low ABV or I may have poured some more into my uncle's glass when he was not looking. I hate to look a gift CAN in the pop top opening, but one of these was plenty!
★
834 characters
2.95
/5
rDev
+13%
look: 3 | smell: 3 | taste: 3 | feel: 2.5 | overall: 3
Sweet malty grain/grape/grass in every aspect, which is to say, a decent Efes beer. Some metallic taste. I find that the mouthfeel is almost soapy and way too insubstantial, but it really doesn't taste bad--I might drink it over Efes Extra? I'm not sure.
★
254 characters
3.47
/5
rDev
+33%
look: 3 | smell: 3.5 | taste: 3.5 | feel: 3.5 | overall: 3.5
Red 50cl can, poured into a pint handled glass in my hotel room (Ovacik, Turkey) during a hot weeks holiday in July 2010.
The yeast strain Efes must use on all its beers doesn't seem to show it's self in any other brew except this one. I thought the smells from this beer to be yeasty and malty.
Regular Efes golden coloured beer, this one however was slightly over carbonated and very lively.
The beer was dry and had a citrus feel to it, more so than the regular Marmara anyway. A bitterness came as the mouth dried in the aftertatse, not unpleasant or metallic like some lagers/pilsners produce.
I thought this one of the better beers found during my week searching out Turkish beers.
★
691 characters
2.58
/5
rDev
-1.1%
look: 3 | smell: 2.5 | taste: 2.5 | feel: 3 | overall: 2.5
A: Pours a light yellow orange hue with a nice light fizzy white head. Light retention and no lace.
S: Nice sweet aromas. Lots of creamed sweet corn and cheap grainy malt. Light grassy hops on the backend.
T: Malty up front. Lots of sweet grain with mild grassy hops. Very simple. Just ok.
M: Medium in body, ok carbonation and taste.
D: Not the best beer I have had in Turkey. One I will pass on in the future.
★
415 characters

2.77
/5
rDev
+6.1%
look: 2.5 | smell: 3 | taste: 2.5 | feel: 3 | overall: 3
This is a decent beer that seems basically just to be a malt liquor to me and is the weaker cousin of Efes Extra from what I can see.
Orange-gold, it has a thin, fizzy white head soon shrinking to nothing.
The aroma is old grape juice, cooked grain, a general malt liquor aroma.
The taste is very light, rather bland, with alcoholic grape juice and faint grassy element. It's lightly sweet with faint bitterness and a general, light, vague slightly alcoholic "beer" taste. It's inoffensive and reasonably easy to drink but that's about it.
★
549 characters
Marmara Kirrmizi Bira from Anadolu Efes Brewery
2.61
out of
5
based on
13
ratings.