Portsmouth Oktoberfest
| Portsmouth Brewery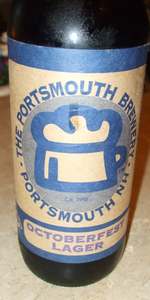 BEER INFO
Brewed by:
Portsmouth Brewery
New Hampshire
,
United States
portsmouthbrewery.com
Style:
Märzen / Oktoberfest
Alcohol by volume (ABV):
5.50%
Availability:
Fall
Notes / Commercial Description:
One of Germany's most duplicated amber lagers is medium-bodied, malt forward and perfectly balanced. Designed to not to slow one down while at Munich's fabled multi-week festival.
Added by Boto on 10-18-2003
Reviews: 14 | Ratings: 25

3.87
/5
rDev 0%
look: 3.5 | smell: 4 | taste: 4 | feel: 3 | overall: 4
Poured from a 22 oz bomber into a pint glass. Purchased at the NH brewery store.
Pours copper - brilliant colorred. Foam, what little there is, settles out fully. Nothing left.
Rich malty smell. Fruity malty taste, caramel, toffee. Very light hop. Some sweetness. Light carbonation.
Great taste, mild mouthfeel. Easy drinnker. Perfect to celebrate the fall.
360 characters

4
/5
rDev
+3.4%
look: 4 | smell: 4 | taste: 4 | feel: 4 | overall: 4
22 oz bottle into a mug.
Pours a brilliant clear copper, with a couple fingers of slightly off-white colored head. This settles down into a foamy near finger, leaving back a rich and sudsy cascade of lacing which quickly slides down the sides of the glass. The aroma smells leafy and spicy, with fresh green citrus that mixes in with sweet caramel to impart a rich tanginess in the nose. More of a doughy feeling graininess from the malts hangs on the edges as well and I'm also getting maybe a touch of eggy smelling protein character here that comes out during ever other whiff of this.
The taste has a fresh feeling citric and leafy bitterness to it that spreads spice and a moderate amount of bitter rind out into the mouth. The malts sit behind the hops with more of a toasted character at first, before spreading out across the back of the throat with a bloom of delicious caramel sweetness that has you licking your lips after each sip. A steady dryness creeps into the finish, trailing a touch of spice and leafy bitterness. The mouthfeel is medium bodied, with a firm creaminess along the back of palate that then tightens up and prickles the tongue with a firm crispness that then follows through to the swallow. The ABV here feels right in the middle, giving this just enough presence in the mouth but not infringing on any of the flavors.
This was a really nice take on the Oktoberfest style from Portsmouth, with a festive feeling profile of Noble hop character and a more flavorful than usual use of caramel malts being the main highlights for me. This was all wrapped up into one crisp, tasty, and easy drinking package. They don't put out a ton of Lagers here but they do tend to nail the few that they do put out. This is one of those.
1,762 characters
4
/5
rDev
+3.4%
look: 4 | smell: 4 | taste: 4 | feel: 4 | overall: 4
Poured on tap at the brewpub. Pours a ncie clear copper color with a finger of off white head. It seettles down pretty quickly to a nice cap.
The aroma has hints of toffee and caramel. Nice toasty malts with a little bit of floral hops in the background. A little fruity on the pallet. Like fresh berries with a bit of caramel sweetness in the background. A good toasty malt profile.
The feel is light with good carbonation. Overall a nice beer here. Real enjoyable.
469 characters
4
/5
rDev
+3.4%
look: 4 | smell: 4 | taste: 4 | feel: 4 | overall: 4
Big thanks goes out for sending me a fine selection of Portsmouth brews I had not had before. This was the first one opened up this evening. Served cold and poured into a pint glass, this one was consumed on 10/16/2009.
The pour was very well done. Rich copper in color with a nice little tight head of white foam on top. Faded gently leaving behind nice streaking on the glass. Tons of caramel, bready malts, touches of light herbal hops coming through on the aroma right off the bat. Smooth, even flavor as the caramel malts and a touch of a biting, tart fruit like flavor came together very nicely overall. Even carbonation and a crisp, clean, dry finish led to a very sessionable beer for the style.
Overall I have to say that this one was pretty damn good. I have been priviledged to be able to try a bunch of new fest beers this year and this stands up solid with the rest of them.
889 characters
4.04
/5
rDev
+4.4%
look: 3 | smell: 4 | taste: 4 | feel: 4 | overall: 4.5
Picked up a bottle this past weekend. Didn't get to brew an O'fest this year, so I'll have to drink other people's.
Disappointed head formation, just a few bubbles on top. Light copper colored body, nice and clear, not much carbonation coming to the surface.
Aroma is loaded with that Munich goodness, nice and bready with some underlying toasty flavors. A little caramel sweetness and a clean yeast tone throughout.
Flavor is solid Octoberfest. Nice bready maltiness and some pervasive sweetness again. Doesn't finish dry and crackery at all, which is my general preference in O'fests. Low hopping levels offer a bit of grassy hints but really let the malts lead. Clean yeast again.
Medium-ish mouthfeel, the malts seem a bit chewy. This is a solid beer, no watery stuff here, but still really drinkable.
I'd could have several of these. I prefer a bit more of a dry, biting, toasty edge, but I'm sure the masses wouldn't quite go for that. Good stuff.
958 characters
3.83
/5
rDev
-1%
look: 4 | smell: 3.5 | taste: 4 | feel: 3.5 | overall: 4
On tap 9/27 at Portsmouth Brewery.
Clear copper hue. Almost no head (due to pour I supppose?) only an offwhite film.
Very subdued scent. Malt, a hint of spice (pepper) and a hint of floral hops.
Taste is toast, malt, fresh and sweet, a touch of diacetyl, and a slight floral hop bitterness which mingles with spice notes malt sweetness throughout the nicely long finish.
Mouth is medium-thin but creamy.
Drinkability is very good.
Not my favorite Oktoberfest this year but very good.
489 characters
3.57
/5
rDev
-7.8%
look: 3.5 | smell: 4 | taste: 3.5 | feel: 3 | overall: 3.5
Acquired via trade from purlpehops, so a big "Thank you" goes out to him. Poured from a 22oz bottle into a mug glass.
A: The beer is a bright reddish orange color with a very thin off-white head that fades quickly and leaves a thick lace on the glass.
S: The aroma is of caramel, spice and a little hops, but it also seems a great deal fruitier than most O-fests.
T: The taste is malty as is should be with flavors of caramel, spices and some dark fruit. It's a little on the sweet side. The hops presence is mild even for the style. The malt character is hearty but it's not as bready as I thought it would be. The after-taste is slightly sweet.
M: Smooth and crisp, medium body, light-to-medium carbonation, finish is clean.
D: Tasty, goes down easily, not too filling, decent kick, decent representation of style, however, this might be the type of beer for someone that's looking for a milder O-fest. It's worth drinking, but I have a feeling that it's much better on-tap.
995 characters

3.85
/5
rDev
-0.5%
look: 3.5 | smell: 3.5 | taste: 4 | feel: 4 | overall: 4
On tap, served in a pint glass. Dark orange/amber with a small head that showed some retention. Mildy malty, sweet aroma. Malt taste with some hoppiness up front. I thought this was a nicely balanced beer, very drinkable. Will be heading to The Brewery later today, and hope to find it still there.
298 characters

3.88
/5
rDev
+0.3%
look: 4 | smell: 3.5 | taste: 4 | feel: 4 | overall: 4
Sampled on tap at the brewpub, Oct. 2004.
This beer poured a clear, deep amber color with tan foam that settled, but did cling to the glass a bit. The smell was minimally malty. The taste was mildly hoppy and nicely malty (with a hint of Munich malt) and perhaps a touch of grain. The mouthfeel was smooth and clean, with with a bit of sharp hoppiness up front. The body was medium with modest carbonation. This was a smooth and easy-drinking oktoberfest bier.
463 characters
3.88
/5
rDev
+0.3%
look: 4 | smell: 3.5 | taste: 4 | feel: 4 | overall: 4
Had this on tap at the brewpub yesterday along with David, Uncle Jimbo and Hans. Pour was a deep ceylon tea color with a low head. I thought the aorma was somewhat clean with a hint of grainyness. Pleasant and easy to drink, we pondered over the grape-like sweetness present. There was some easy bitterness in the finish. I would like to try this one again in a much larger size...with a pretzel or wurst on the side.
417 characters
3.98
/5
rDev
+2.8%
look: 4 | smell: 3.5 | taste: 4 | feel: 4 | overall: 4.5
Alewife and I just sampled the most recent version of this, from Herr Mott, yesterday at the Brauerei.
I was poured a mug of a clear, bright copper colored Bier. Had a minimal head...thin and fine, off white, and it left a smidge of lacing. Aroma was a nice, toasty malt nose, but also having a backing of some floral hops. Solidly medium bodied, and with minimal carbonation, allowing for an easy passage over the palate. Starts with a rich, toasty caramel malt...very nice for an OFest... most appropriate. And then we have a balancing act of hops, a refreshing floral presence. This is a touch hoppier than my typical OFest, but it's a nice, smooth, refreshing hop flavor, unlike some which have a bittering quality. Still, the malt is the main player in this presentation. I would love to try this in a Maß quantity.... Alewife enjoyed this offering mucho as well.
Zum Wohl!!!
overall: 3.95
appearance: 4 | smell: 3.5 | taste: 4 | mouthfeel: 4 | drinkability: 4.5
762
976 characters
4
/5
rDev
+3.4%
look: 4 | smell: 4 | taste: 4 | feel: 4 | overall: 4
Deep amber/copper color. Moderate carbonation producing a good but breif head. The taste is quite full, with distintictive malts that are caramel like, but also earthy. Hops are present, but in the background. A good session beer, as evidenced by my consumption of 5+!
268 characters

3.68
/5
rDev
-4.9%
look: 4 | smell: 3.5 | taste: 3.5 | feel: 4 | overall: 4
I was a little hesitent and first to get the only lager they had when I was there but it turned out to be a good pick.Pours a deep copper color with a light head,aroma was caramely and of toasted malt.Taste was lightly sweet with definent bread dough flavors that linger thruout,there is some light hopping in the finish to balance the flavors pretty well.A better than average fest beer in my opinion.
402 characters
4
/5
rDev
+3.4%
look: 4 | smell: 4 | taste: 4 | feel: 4 | overall: 4
The beer is a coppery color. It is also slightly hazy. There was a bit of a head that went away rather quickly. There was some lacing down the glass. Decent aroma of hops and caramel maltiness. Medium bodied taste of maltiness with some caramel. Decent hop bite to it, but not to strong. Pretty decent!
302 characters
Portsmouth Oktoberfest from Portsmouth Brewery
3.87
out of
5
based on
25
ratings.