Portsmouth Killer B
| Portsmouth Brewery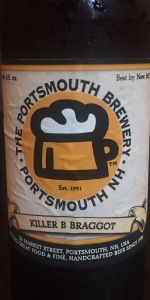 BEER INFO
Brewed by:
Portsmouth Brewery
New Hampshire
,
United States
portsmouthbrewery.com
Style:
Braggot
Alcohol by volume (ABV):
9.80%
Availability:
Rotating
Notes / Commercial Description:
Our braggot, a medieval ale style, is brewed with 120 pounds of honey which imparts a unique sweetness. A golden, full-bodied, robust ale with just enough hops to balance its sweet side.
Added by Truh on 11-19-2006
Reviews: 13 | Ratings: 44

3.73
/5
rDev
-9%
look: 4 | smell: 4 | taste: 3.5 | feel: 3.75 | overall: 3.75
This is viscous with moderate carbonation. Taste is bready and some spice with the honey sweetness noticeable along with some orange peel. Alcohol is well hidden for 9.5%.
★
171 characters

4
/5
rDev
-2.4%
Decent head which crests over a finger, mostly larger bubbles so doesn't persist that long, pleasingly orangish tan color, the lacing forms thick streaks, however, these too aren't long for this world. Rich amber red color, bright shine to it, lots of large and swiftly moving bubbles. Big, brash nose of honey, candied orange peel, cocoa and caramel, sweet is what it does best, lighter dough to processed grains presence, apple, pear, peach to fig fruit scents, textural thickness has it glued to your nostrils for some time. Full-bodied, the carbonation is working overtime but not going to match the layered power and heaviness it presents. More mineral to metallic notes as well as grass and bread crust, still it remains all about the honey. The orange citrus expands into white grapefruit. The caramel verges onto butterscotch syrup and vanilla pudding. There is a burnt touch, like caramelized brown sugar. The fruit lacks clarity, lump of peach, apricot and fig. At the very end you get a fizzy tickle. Does come off as boozy, you feel the alcohol. A very sweet in style beer that likely is best utilized as a dessert beverage or to counter a very spicy and heavy main course dish.
★
1,194 characters

4.35
/5
rDev
+6.1%
Pours a hazy dark amber body with a white head. Smells malty, honey, sweet cane sugar, molasses, dark fruits. Taste is honey, spice, sweet toffee, molasses, roasty on the finish. Mouthfeel is medium carbonation, medium heavy, rich body. Overall a very enjoyable beer, a great representation of the style.
★
305 characters
3.74
/5
rDev
-8.8%
look: 4 | smell: 3.75 | taste: 3.75 | feel: 3.5 | overall: 3.75
Poured from a bomber into a shaker pint, the beer is a bright, vibrant, golden-amber coloring with only a ring of white film on the surface. Aromas of honey sweetness, dark and rich, with some fruity highlights like cider. Subtle nutmeg sweetness on the nose, too. Flavors are rich and toasty, with a honey and toffee sweet backbone. Nutmeg spicing and subtle apple sweetness brings a hot cider feel to the palate, and there are some peppery hops characteristics towards the end of the palate that help clean up. Smooth, mid-bodied with a roasty and sweet aftertaste. The finish is light, slightly frothy, with a hops bitterness at the end.
★
640 characters

4.12
/5
rDev
+0.5%
look: 4 | smell: 3.75 | taste: 4.25 | feel: 4.25 | overall: 4.25
Best by June 2013 on bottle, I bet it could go much longer than that.
Pours a orange copper color, not much head nor lacing but neither is expected for a braggot.
Smell has a good amount of honey aroma as it should, on the sweet side, bit of a floral aroma as well but not necessarily in the hoppy arena.
Taste starts out with a honey-like sweetness, malt backbone is solid, slight hop presence to balance things enough but is very muted and knows to stay out of the way, carbonation is low but more than present, it is soft and lends a decent body to the beer as well.
★
572 characters
3.06
/5
rDev
-25.4%
look: 3.5 | smell: 3 | taste: 3 | feel: 3.25 | overall: 3
First had: on tap at Portsmouth
Another so-so brew from Portsmouth. Honestly, I wouldn't have thought this was a braggot even if someone told me it was at the time. Seemed more like a malt liquor: something they added a ton of honey to, the yeast had a blast flashing off the flavor and leaving behind a bulky ABV.
Hazy, burnt orange pour, with a white collar of bubbles. Sweet, malty aroma, light stone fruits, and herbal notes. Taste was pretty similar, caramel malts, sweet corn, honeysuckle, indistinct stone fruit, vegetal, stiff with dry booze. Yep, this was essentially a glorified malt liquor. Mouthfeel was pretty thinned out, about light-medium in body. Not much distinctiveness or flavor. Not something I'd go for again.
★
734 characters
4.2
/5
rDev
+2.4%
look: 4 | smell: 4 | taste: 4 | feel: 5 | overall: 4.5
Bought this one right around New Years at the brewery and brought it home, obviously. I noticed after chilling this beer I'm actually wearing my Portsmouth Brewing Co T-shirt...how appropriate. I have a PBC coaster out too for good measure.
Poured with little head actually, different than the other reviews mention and reduced to no head at all. Nice clear caramel body with a red overtone. I dont know if the journey with this one back home affected this one or not.
Sugary sweet smell, honey is evident. Candy apples and cotton candy. Some caramel malts show through underneath, so its not all sweet but mostly.
Taste is sweet again as expected. Honey and caramel. Not as much of the candy comes through in the flavor. Has a peppery spicing as well. A touch of sweet rolls appear at the very end hinting at this beers base. A little sweet alcohol comes in too to finish it out. It works in well though.
Mouthfeel is full and viscous, nearly syrupy. Coats every bit of my cheeks and tounge and the flavor lingers. Somewhat low carbonation amount, but it allows the flavors to come through.
Nice drinkability. This one has to be drank slow due to its thickness, but it really has a nice flavor overall and superb mouthfeel. Alcohol warming effects are noticable after only a short while.
★
1,303 characters

4.33
/5
rDev
+5.6%
look: 5 | smell: 4.5 | taste: 4.5 | feel: 3.5 | overall: 4
Drank on-tap at the Portsmouth Brewery, Portsmouth, NH
Poured a clear, dark mahogany with a glowing crimson center. (It almost looked like there was a light shining behind the glass.) The tight, creamy, one-finger, caramel-colored head slowly faded to a thick ring. Large patches of lacing coated the glass and remained long after the beer was finished.
The aroma rich and candy-like but not overly sweet. A buttery, toffee/caramel-like quality was instantly recognizable along with fragrant notes of honey.
The taste was rich, complex and sweet, yet remarkably well balanced. Malty rich up front with some honey sweetness. As the beer moved along the palate, a strong spiciness emerged. Dark and dried fruits, including plums, currants and figs, also became noticeable. At this point, the alcohol took on an almost port-like character, yet in a more subdued manner. (I was amazed to later find out that this beer registers at a whopping 9.8 % ABV. I would have guessed the ABV to be half this figure.) Just when I thought the sweetness was becoming overwhelming, a crisp, zesty hoppiness kicked in on the back end and followed into the resonating, citrusy, slightly dry and bitter finish. (What a way to balance a beer!)
Body was medium with a semi-creamy mouthfeel.
Overall, I was very impressed with this unique offering. It was a delightful and intriguing adventure every step of the way.
★
1,397 characters
4.82
/5
rDev
+17.6%
look: 4.5 | smell: 5 | taste: 5 | feel: 4.5 | overall: 4.5
Presented from the tap as a half pour in a snifter. The beer was a dark ruby amber color with no head and almost no sign of carbonation. Very still, no lacing. A brandy like appearance with specks of lacing.
The nose is incredibly sweet and malty. Huge honey and brown sugar aromas with caramel and toffee undertones. Some maple syrup and mollasses round out the aromas with hints of alcohol as well.
The taste is super sweet. This is by far is the sweetest beer (malt-wise) that I have had to date. Big rich malty taste with distinct honey and maple flavors. Caramel/toffee candy finish with hints of alcohol that get stronger as the beer warms.
A big thick syrupy mouthfeel but not so much as to bog down the palate. Very little carbonation.
Wow, this was good. Perfect beer for cold weather, so subtle and warming, yet deceptively strong and intense. You don't recognize its strength until about ten minutes after you finish. One of the best from PB.
★
965 characters

4.5
/5
rDev
+9.8%
look: 4.5 | smell: 4.5 | taste: 4.5 | feel: 4.5 | overall: 4.5
Thanks to Sean for dropping one of these in my lap...enjoyed a half pint today with friends at the brewery itself and just had to finish off the day the way it started.
Dark amber in color, yet becomes a vibrant cherry color with the help of some artificial light...fairly clear with a full finger of bright white head, half of which leaves before my first sip.
Thick lacing forms, but falls back into the brew after a few seconds.
If I didn't enjoy drinking this one so much, I'd sniff it all day...caramel malt, orange peel, vanilla and honey in the aroma.
Taste is sweet candy sugar at first, with the honey sliding along the pallet...citrus hops bitter it up just barely and help clean up the finish and distract you from the sweetness. The alcohol is nowhere to be found until you get halfway thru the bomber and realize this one packs a punch if not careful.
Moutfeel is incredible...thick, yet not syrupy.
When I had this at the brewery, I thought it would be tough to polish off a bomber by myself and here I am, pouring the last of it and quite bummed it is now gone.
Another big beer winner from Tod and the folks at PB...the perfect beer for the winter season IMO.
★
1,183 characters
4.23
/5
rDev
+3.2%
look: 4 | smell: 3.5 | taste: 4.5 | feel: 4.5 | overall: 4.5
Visited Portsmouth yesterday (25NOV06) with Alewife and Artied2. Great time... Thnx to truh for the heads up on this new bier. Was looking forward to it, and Larry behind the bar set me up with a full pint. Ahhh, the benefits of being a mug club member! ;-)
Pours a deep copper hue, almost chestnut. Was clear, with sporadic carbo floating topside. Head was thin and marshmallow white in color, tight and fine. Left A-1 lacing in the glass. Nose was a bit light, but honeyish sweetness was easily evident, along with some toasty malt. Solid body; medium-plus, and the bier traverses the tongue in a silky-swift fashion.
Flavor hits the palate with loads of sweetness, though it's never cloying. Honey hits home right off. Lovely! Must have been loads added to the kettle... I pick up some hints of tropical fruit (mango?) here, too, though Alewife didn't think so. Has a dry finish, though not before some light floral lupulins come across the palate. The honey sweetness really makes this a keeper. Has quite the warming effect, too. With my first pint, I just had to keep sipping and sipping, and before I knew it, half was gone, and I was feeling it! Whoa nellie!!
Alewife started with a Dubbel, but soon switched to the Bee for her next couple of pints. Decided to splurge and get a growler for home as well. Might have it later today...
Another great job by Tod and the Portsmouth brew crew.
Prosit!!
overall: 4.2
appearance: 4 | smell: 3.5 | taste: 4.5 | mouthfeel: 4.5 | drinkability: 4.5
944
★
1,507 characters

4.35
/5
rDev
+6.1%
look: 4 | smell: 4 | taste: 4.5 | feel: 4.5 | overall: 4.5
Wasn't going to have this, because I really didn't like the only other braggot I had tried. My wife had one, gave me a taste, and I had to have one of my own. Served in a snifter, it was a dark brown, with a small head and some nice lacing. It had a sweet, dark fruity aroma. A sweet honey taste, with some hops, that just kept coming at you. Very assertive, but not in your face. A definite hit. Try it, by all means.
★
418 characters

4.5
/5
rDev
+9.8%
look: 4.5 | smell: 4.5 | taste: 4.5 | feel: 4.5 | overall: 4.5
Glad I had my EpiPen on me with this one on 11/18/2006. 10.5 oz. (?) goblet pour at the source, followed by one more.
Initial 1/2-inch plume of head slowly recedes to a shallow puddle of white oil paint. Even sheet of lacing as the goblet loses some of the liquid contained within it. Clear mahogany hue, edging towards a deep brown, reveals some slowly eddying bubbles. A huge punch of fruit, like pepino melon, hits the nose, no question that large amounts of honey have gone in to this creation; reminds me of some kind of sugar cereal I ate as a kid on Saturday mornings while watching the Wonder Twins activate their powers. Jammy sweet lemon scone on the tongue, with a velvety smooth malt checking in as the alcohol rolls through not unannounced. Medium body makes this eminently drinkable.
It's a sin that this was released on the unwitting masses. Brother Adam had better be careful when travelling down this slippery slope.
★
939 characters
Portsmouth Killer B from Portsmouth Brewery
4.1
out of
5
based on
44
ratings.