Mick Jaggery English IPA
| Flossmoor Station Restaurant & Brewery
BA SCORE
84
good
12
Reviews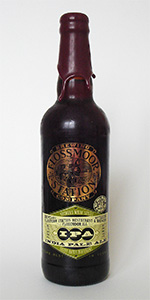 BEER INFO
Brewed by:
Flossmoor Station Restaurant & Brewery
Illinois
,
United States
flossmoorstation.com
Style:
English India Pale Ale (IPA)
Alcohol by volume (ABV):
7.50%
Availability:
Limited (brewed once)
Notes / Commercial Description:
Bottles have burgundy color wax.
This is an English Style IPA, which means the hop varieties used are not the citrus varieties grown in the US, but they yield floral, earthy, and flavors reminiscent of spices. The malt flavors have a more caramel-like and toasty presence than its American counterpart, to support the increased hop complexity. Since this style was invented to survive the journey from England to India, we have added Jaggery to the recipe. This is an Indian palm sugar which imparts a subtle complexity somewhat similar to light brown sugar. Clocking in at 7.5% with over 40#s of hops.
Added by thedrewski86 on 03-15-2010
This beer is retired; no longer brewed.
Reviews: 12 | Ratings: 17
3.7
/5
rDev
-0.3%
look: 3.5 | smell: 3.5 | taste: 4 | feel: 3.5 | overall: 3.5
Reviewed on 5/17/2010. Bottle thanks to FlssmrBrewAlum. Pours a dark orange brown with a small white head. Aroma of citrus, caramel malt. Flavor of citrus and sweet fruits (also some sweet candy-like notes in there) with sweet malt. Not my favorite Flossmoor Station IPA (a little on the sweet side, less hoppy) but still an enjoyable beer.
340 characters

4.18
/5
rDev
+12.7%
look: 4 | smell: 3.5 | taste: 4.5 | feel: 4 | overall: 4.5
Purchased 5-8 from Archer Liquors in Chicago. The shelf tag said 'Freshly Uberhopped' as the bottle itself is only marked 'IPA'. Does have the burgundy wax. Bomber poured into a New Belgium globelet. Review fixed as this is obviously the Mick Jaggery, and not the Uberhopped. I drank this on the day of purchase, so obviously from notes.
A - Dirty golden orange, hazy. A generous 3-finger head forms and is retained well as a layer of meringue atop the beer and lacing on the glass.
S - Smooth caramel, orange and lemon peel, with just a few piney hops supporting.Definitely an English IPA, because the hops are not as overwhelming as you'd expect for any American IPA.
T - Wow. This tastes great, although I'm certain it's a bit beyond fresh. The caramel, orange, and lemon from the nose are ascendant, but the hops are stronger than the scent indicates.
M - Low-to-moderate carbonation, but it doesn't hurt much as the body is just right for the style, and still remarkably crisp. Dry, hoppy finish is just right.
D - I breezed through a whole bomber, although the ABV is significant. Very rewarding drink.
1,114 characters
3.94
/5
rDev
+6.2%
look: 3 | smell: 4 | taste: 4 | feel: 4 | overall: 4
22 Oz bomber purchased at the brewpub. Wax tops are cool and all, but good god, Flossmoor tends to overdo it. Took me three minutes to get the cap off.
Kind of a limp pour, even for the high ABV. Cloudy ice tea reddish brown with a small white head that dies and quickly becomes a white capping. This--I'm trying to be more mindful of the affects of suggestion upon my beer reviews and I can't help but wondering if I would say this looked like tea were it not billed as an English IPA.
Smells spicy, as expected, but not in a noble hops kind of way. More in a... a tea kind of way. Crap. No, seriously, this is like toffee mixed with black tea and a little bit of grass. It's actually pretty nice.
Tastes more like a traditional English IPA--kind of like an amped up version of SA's Boston Lager, only more bitter and spicy. Starts out with a rounded blend of toffee and caramel and moves quickly into the european hop profile that dominates the rest of the way, ending with an aftertaste that's pleasantly bitter and ashen. What I had taken for tea is instead the interplay between some strange sweetness (EDIT: I assume this is the jaggery) and the hops, the blend of which tastes a lot like lightly sugared black tea.
1,225 characters

3.14
/5
rDev
-15.4%
look: 4 | smell: 2.5 | taste: 3 | feel: 4 | overall: 3.5
Tasted on draft at Flossmoor Station. Poured amber with a fluffy white head that quickly dissipated leaving off white lacing. Nose of lemon oil, nuttiness, and malt. The first sip seems hot with a hazelnut bitterness and a bitter hops finish. As I continue to drink, everything integrates nicely with a bit of dustiness and lemon come through. Average palate, carbonation, and finish. Overall, this is a good beer that continues to improve with every sip. Definitely sessionable.
479 characters

4
/5
rDev
+7.8%
look: 4 | smell: 4 | taste: 4 | feel: 4 | overall: 4
22 oz burgandy wax topped bottle into a tulip glass. Thanks go to paco1029384756 for this in a recent trade.
Pours a deep clear rosey amber, with a rigid finger of off-white (really bordering on light tan) foamy head. This retains with a frothy 1/2 finger, which leaves back some thick spotty lacing that coats the sides of the glass pretty darn well. The aroma smells of earth and green citrus, with deep accents of herbs, gritty bitter rinds, and some spice. Sweeter flavors of fruit, sugars, and grain add some balancing tanginess in the back of the nose.
The taste is herbal and fruity, with bitter citrus, spice, and a leafy dankness bringing the bulk of the hop flavors here. Toasted malts help add some extra sweetness and grainy support to the profile. Dry spice and earth lingers for a good bit in the finish. The mouthfeel is medium bodied, with a touch of underlying warm beefiness to it. For the most part however, the carbonation is smooth and slick in the mouth, helping to keep this nicely drinkable.
This was another solid IPA entry and one of the better English ones that I've had recently. Lots of earthy and spicy hop flavor are present but this also presents just the right amount of well balanced bitterness to keep things interesting. Drinkibility is spot on for the size as well. This was good and I nice change of pace from some of the more aggressive American IPAs that I'm used to from here.
1,422 characters
3.85
/5
rDev
+3.8%
look: 4 | smell: 4 | taste: 4 | feel: 3.5 | overall: 3.5
Picked this up on a recent trip to Chicago.
Dark amber color with a thin layer of foam on top that leaves some nice lacing.
Enticing scents of raspberry, floral hops and a light chocolate malt. Definitely not your typical IPA.
Reminiscent of a hopped up amber ale. Roasty caramel and toffee malt balanced with zippy hops that are mostly floral. Light raspberry taste as well.
Feels a bit flat in the carbonation department. About medium bodied with a moderately dry finish.
A nice beer that I'm glad to have tried. Balanced and a nice change from the typical american IPA.
577 characters

3.7
/5
rDev
-0.3%
look: 3.5 | smell: 3.5 | taste: 3.5 | feel: 4.5 | overall: 4
Appearance - Pours a translucent, earthy red color with two solid inches of stiff head. Yeah, lacing.
Smell - dark fruits, bread and caramel malt, some pine/grassy hop character, mild alcohol.
Taste - The hop character wasn't as forward as I was expecting: mostly floral, a little spicy, with a grassy/pine finish. Dark fruits and caramel malt balance this out favorably.
Mouthfeel - Creamy, extra smooth, not too heavy. Delightful.
Drinkability - Full disclosure: I only bought this because it was on sale at Binny's. SO glad I did. Smooth, tasty, delightful. Not the most exciting IPA, but so pleasing. I'd give this a shot if I were you...
646 characters
3.75
/5
rDev
+1.1%
look: 2.5 | smell: 2.5 | taste: 4.5 | feel: 4 | overall: 4
Thanks to mrkanable for this sweetass extra
A: Pours a slightly transparent brown with no head whatsoever with a hard pour. really it just looks flat
S: Some caramel, but mostly sugary with a hint of strawberry. There are some hops present, but the strawberry fruitiness is the most prevelent note and was too perfumy
T: I was really worried about this one because of the look and smell, but this is one of the better tasting English style IPAs I have had. There is a mild sweetness with some graham cracker breadiness followed but a nice clean floral hop note with a crisp bitter finish.
M: The body has a nice creamy consistency. I would have liked there to be a bit more carbonation in the feel though
D: Again I was really worried, but very much enjoyed this one in the end. It is asthetically flawed, but drinkwise hits all the right spots
849 characters
3.71
/5
rDev 0%
look: 4.5 | smell: 3.5 | taste: 3.5 | feel: 4 | overall: 4
Pours a clear amber with a foamy cream-colored head.
Smells of bitter citrus at first, but floral hops begin to dominate as it warms. There is also an almost strawberry-banana smoothy aroma that is hard to place.
The taste follows the smell with a mix of citrus bitterness and floral hops with a balanced malt backbone. The bitterness is really light and there is a slight banana taste, which isn't bad.
Mouthfeel is between light and medium body with good carbonation. Has a somewhat creamy smoothness to it.
Really interestingly flavored English IPA--although I'm not detecting much of the jaggery (unless I just don't know what to expect from it). I enjoyed drinking this, but probably wouldn't buy another.
714 characters

3.85
/5
rDev
+3.8%
look: 4 | smell: 4 | taste: 3.5 | feel: 4.5 | overall: 4
Binny's seems to be getting the Brewer's Whim series - too bad they're about two years late to the party. Served in my Surly pint glass.
A - Pours with a finger of light tan foam that dissipates to a thin cap. Some nice fingers of lace are left behind as the beer is consumed. Hazy orange-brown color with some reddish highlights. Solid looking brew that could have used a bit more head volume.
S - Smells like other recent Flossmoor IPAs, but since this is supposed to be an English IPA it is quite a bit more successful at meeting my expectations. Grassy, floral hops over a toasted caramel malt backbone. There's a sugary element that I'm assuming is the Jaggery, and it integrates well with the other aromas. A bit muted to start, but gets better as it warms.
T - The taste is not what I expected from the nose. Lots of earthy hop bitterness, some noble hop spice, and a toasted sugar and caramel malt backbone. The bitterness and spice caught me off-guard - but they grew on me a little. Strangely the bitterness eases up in the finish and aftertaste.
M - Soft medium body, lower carbonation, light sticky residual feel, no obvious heat. You can tell it's striving for a cask-like texture and it's quite successful int his regard.
D - This is actually quite pleasant - nice integration of the Indian palm sugar and a nice take on a somewhat dull style these days. If Bryan called all the beers in this series "English" he probably wouldn't have suffered as much backlash as he did.
1,491 characters
3.88
/5
rDev
+4.6%
look: 4 | smell: 3.5 | taste: 4 | feel: 4 | overall: 4
Latest IPA from Flossmoor, always nice to see a new one show up.
Reddish copper, fairly good clarity with some degree of suspended micro sediment. Swirling the last bit in the bottle and pouring gave it a nice head, which left a few rings of sticky lacing on the way down. Retention was ok, after a few sips the foam broke up a bit.
Aroma wasn't all that pungent or hop forward, yet more in character with English IPAs in a more mild expression. There were some grassy, fruity, spice elements, sweet malt, a generally fresh impression.
Grassy, floral, woody spice, sweet in the middle along with toasty malt notes. Flavor seemed fairly reserved as well, but a firm residual bitterness lasted for a few minutes on the palate, reminding that this is indeed a fresh IPA. Feel was good, medium body, lowish carbonation. Overall a good effort, and a unique take on an English IPA.
880 characters

3.6
/5
rDev
-3%
look: 3.5 | smell: 3.5 | taste: 3.5 | feel: 3.5 | overall: 4
Got this on tap at Flossmoor. Pretty typical dark gold color with a haze. Nice earthy, floral aroma. Like any English-style IPA, this is not by any means a hop-bomb. There is more of a spicy bitter characteristic to the hops, followed by a toasty, caramel malt backbone. Overall this was a nice beer but it won't knock your socks off.
334 characters
Mick Jaggery English IPA from Flossmoor Station Restaurant & Brewery
3.71
out of
5
based on
17
ratings.