Neuschwansteiner Das Echte
| Der HirschBrau/Privatbrauerei Höss
BA SCORE
80
good
12
Reviews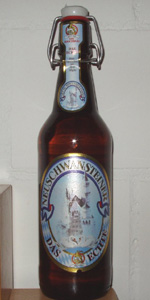 BEER INFO
Brewed by:
Der HirschBrau/Privatbrauerei Höss
Germany
hirschbraeu.de
Style:
Munich Helles Lager
Alcohol by volume (ABV):
4.70%
Availability:
Year-round
Notes / Commercial Description:
No notes at this time.
Added by slitherySOB on 12-23-2010
Reviews: 12 | Ratings: 27

3.12
/5
rDev
-4.9%
look: 2.5 | smell: 3 | taste: 3 | feel: 3.5 | overall: 3.5
500 mL bottle from a gift pack; best before Feb 23 2013. I know nothing about this brewery, but I generally expect brews of German stock to be at the very least serviceable and enjoyable, if not always especially memorable or extraordinary.
Pours a clear, pale golden-straw colour, topped with slightly less than two fingers of fizzy, frothy white head. Retention isn't great, and there is no lacing. The aroma is of bready pale grain malts, with some grassy, floral, vaguely noble hop backing. Nothing fancy, but certainly clean, and reasonably style-appropriate.
Approachable flavour; but again it's nothing out of the ordinary. Bready, biscuity pale malts form the backbone, with a prominent honey sweetness that is much more noticeable than a lot of the Munich lagers I've had previously. There is some modest floral hop bitterness that counters this, but on the whole it's mostly sweet, and could definitely be balanced better. Clean finish without much aftertaste. Light-bodied, with gentle, mild carbonation (for a German pale lager, anyway). Easy to slug back, but that's probably all it's good for.
This isn't exactly a bad brew, but it's undeniably on the bland side. The balance isn't great, and although it tastes a bit cleaner than a lot of domestic pale lagers, the differences are pretty minimal. To be more direct - I expect more from a Munich lager than inoffensiveness and mere sessionability, which is really all this stuff has to offer.
Final Grade: 3.12, a passable C+. Neuschwansteiner Das Echte is a serviceable lager, but completely forgettable. Judging from review scores, the 'original' Neuschwansteiner is at least marginally better - too bad they didn't opt to toss that one into this sampler pack. If offered I certainly wouldn't turn this beer down - it's as drinkable as any mediocre pale lager, domestic or imported - but as for spending my hard-earned cash on it? Unlikely. As for recommendations, well... I can't think of any compelling reasons to bother with this.
2,004 characters

2.7
/5
rDev
-17.7%
look: 3 | smell: 3 | taste: 2.5 | feel: 3 | overall: 2.5
BB: July 12, Glass: Pilsener, Served: 45-55 deg.
Pours a pale, slightly hazy golden colour with a large and soapy white head that burns off quickly, leaving a bubbly film in its wake.
Pleasant, fresh-smelling aroma at first. Very floral, soapy and grainy, with a wheat-like note coming through as well. There's also a sweet, corn-like tone in there after warming and sadly, one reminiscent of vinegar.
Sweet malts, grains and corn, with an acidic and sour bite that feels out of place. At least the finish is fairly dry and clean.
Thin-bodied with a mild carbonation. Slight pop on the tongue with a sweet and syrupy aftertaste that lingers on the back of the tongue.
Wow, I was expecting better after trying Doppel-Hirsch from this brewery, but this is a below-average lager no matter how you slice it, macro or not. The odd acidity is really off-putting and the beer has no positive quality that balances things out.
923 characters

3.03
/5
rDev
-7.6%
look: 3.5 | smell: 3 | taste: 3 | feel: 3 | overall: 3
Appearance: It has a nice pale yellow color to it with a bit of cloudiness. It has a nice white head that dies down moderately and leaves some lacing.
Smell: The aromas definitly give out hints of grainy malts, with some light grassy and floral hops in the back. Not much else.
Taste: Like the aromas, it has a grainy malt character with a bit of corn, and grassy and floral hops.
Mouthfeel: It has a low/medium carbonation with a light overall balance and feel.
Drinkability: It's a very smooth drinkable beer accompanied with somewhat bland flavors and aromas.
569 characters
3.07
/5
rDev
-6.4%
look: 2.5 | smell: 3 | taste: 3 | feel: 4 | overall: 3
This is a pale yellow lager with a short lived one finger white head that leaves only a thin collar with minimal lacing. Clear with a chill haze.
The smell is light malt, cereal, faint grassy hops.
The taste follows the nose with some light fruit and corn.
This is a crisp and refreshing lager, well balanced with a slight bitterness. Light bodied with decent carbonation it is a very easy drinking brew ideal for a hot summer day.
Better than a macro but generally forgettable.
482 characters
3.35
/5
rDev
+2.1%
look: 3 | smell: 3 | taste: 3.5 | feel: 3.5 | overall: 3.5
A: Pours a rather muted straw yellow with what looks like some chill haze, and a sizeable head of dense white fizz with mediocre retention. It shortly dissipates to a patchy cap of bubbles and frothy and leaves scant spotty lacing.
S: Sweet and rich Munich malts balanced with a prominent grassy, fresh grain character mixed with floral and slightly spicy noble hop aromas. A whiff of biscuitiness and ethanol.
T: Bready and grainy Munich malts with a bit more robustness than in the nose, joined by floral, grassy noble hops with a hint of spice towards the finish.
M: The mouthfeel is light and thin, slightly watery but largely because the carbonation is low for the style; it provides a bit of pinprick liveliness to bolster the mouthfeel, but is otherwise lacking. The balance is excellent and the finish fairly clean, just a bit of maltiness lingers on the tongue with aromatic hops.
D: Perhaps the most refreshing and most bland Helles I've had, I wish I could find this in the summer to better appreciate how easy-drinking it is. Altogether it's okay, but doesn't stand out or warrant special attention.
1,115 characters

3.03
/5
rDev
-7.6%
look: 3.5 | smell: 3 | taste: 3 | feel: 3 | overall: 3
Golden yellow with white fizzy foam on top. Retains alright, but an uninspiring beginning. Nose is clean with hints towards grassiness and flowery hops, very German lager. Flavor is weak, quite a bit of adjunct flavor, carbonation is middle of the road. Finishes crisp and short. Forgettable.
292 characters

3.55
/5
rDev
+8.2%
look: 3.5 | smell: 3.5 | taste: 3.5 | feel: 4 | overall: 3.5
My friend, Mike, brought this beer back from Munich. He bought it in the airport, so I was a little suspicious. The beer poured a translucent pale gold, small head, and a lot of effervescence. The aroma is mainly grainy malt, with some nice hoppy hints. The mouthfeel is lively and light with with medium carbonation. The flavor is grainy malt, bread, and some grassy hops on the finish.
I think this beer is pretty close to the intended style. I give it good marks as such.
475 characters
3.83
/5
rDev
+16.8%
look: 4 | smell: 3.5 | taste: 4 | feel: 4.5 | overall: 3.5
Exactly what its supposed to be. A pilsner with a great pale malt presence. Good head that vanishes quickly smells like a lager but sweeter and a tad bit hoppier. Taste is very refreshing with nice level of carbonation very much a pilsner taste with addition malty flavor and a bready, sweet biscuit taste that dominates. Overall extremely drinkable and a great hot weather brew in my opinion.
393 characters

3.08
/5
rDev
-6.1%
look: 3.5 | smell: 3 | taste: 3 | feel: 3.5 | overall: 3
Bottle from the LCBO giftpack, best before date of May 5, 2011.
Poured a golden yellow, slightly fizzy and quite carbonated it appears. Head is alright, good retention. Nose has some assorted grains/cereals, grassy and mildly floral hops. Taste has some pale malts, cereal adjuncts, medium carbonation and a crisp (and mildly bitter) finish. Taste doesn't linger, and that's probably a good thing. Medium drinkability, but nothing I'd pursue again.
449 characters

3.03
/5
rDev
-7.6%
look: 3.5 | smell: 3 | taste: 3 | feel: 3 | overall: 3
Pours a light golden colour, 1/4" head. Overall nice looking German lager. Nose has a biscuity-malty presence with a slight bitterness to it. Taste is malty and clean, slight hops are detectable finishes watery. Light to medium mouthfeel, again its pretty watery. It is drinkable but far from amazing.
301 characters
3.02
/5
rDev
-7.9%
look: 2.5 | smell: 3 | taste: 3.5 | feel: 2.5 | overall: 2.5
LCBO gift pack. Thin mouthfeel. Malty, light colour with malts looking like so many pieces. Decent malting otherwise.Drinkable if you are somewhere with no better beer.Appropriate carbonation. More sweet than bitter, but not liking the balance and the taste all that much.
272 characters

4.17
/5
rDev
+27.1%
look: 3.5 | smell: 4 | taste: 4 | feel: 4 | overall: 5
Picked up a tripack at the LCBO, offering three beers from this brewery. This first offering is good, and I hope the other two are up to par. I'm guesstimating this is a helles lager. If anyone else has had this beer and knows me wrong, please feel free to change the style.
Pours a straw colour out of the glass, similar to a field of barley. The head is about a finger and a half thick, and lasts. Decent amount of lace on the glass. Nose is grainy, with a bit of grass. Quite simple, actually. Taste is, hmm... Delightfully plain. It's essentially barley, bit of lemon, and some grassy bitterness. Simple, but done very well. It's what I would describe as an average session beer done right. It's not WOW, but it is wow. Mouthfeel is light and crisp. Drinkable? Yes. It's drinkable as a session beer and it's drinkable just because it is a damn good beer. It's subtle. No big, bold flavours or strong alcohol presence. It's a simple, delicious beer, and one I appreciate greatly.
984 characters
Neuschwansteiner Das Echte from Der HirschBrau/Privatbrauerei Höss
3.28
out of
5
based on
27
ratings.