Platinum Blonde
| Independent Distillers (Aust)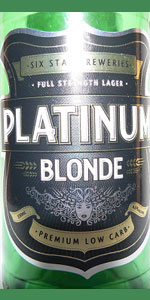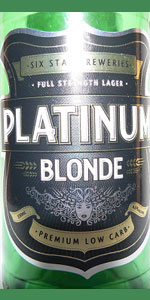 BEER INFO
Brewed by:
Independent Distillers (Aust)
Australia
Style:
American Pale Lager
Alcohol by volume (ABV):
4.60%
Availability:
Year-round
Notes / Commercial Description:
No notes at this time.
Added by CrazyDavros on 03-26-2009
HISTOGRAM
Ratings: 6 | Reviews: 5
Reviews by dansmcd:

2.17
/5
rDev
-5.2%
look: 2 | smell: 2.5 | taste: 2 | feel: 2.5 | overall: 2
A - Pours a fizzy pale amber with a flash in the pan bubbly head before receding to a thin ring, then nothing.
S - Grass, corn syrup, typical macro lager smell.
T - Follows the nose, with the addition of a metallic flavour.
M - Very high carbonation, light watery body.
O - Better than expected, but that's not saying much. Macro swill.
341 characters
More User Reviews:
1.97
/5
rDev
-14%
look: 2.75 | smell: 2 | taste: 2 | feel: 1.75 | overall: 1.75
Follows the nose, with the addition of a metallic flavour.very average
70 characters
2.38
/5
rDev
+3.9%
look: 3 | smell: 2.5 | taste: 2 | feel: 3 | overall: 2.5
I was pleasantly surprised while rating this, as it seemed no where near as horrible as I remembered. Perhaps leaving it in a cupboard for 4 months improved it... Pale amber, white head dissipates to thin layer rapidly. Aroma is of weak grainy malt, with a very slight floral hops hint. Not so pleasant solvent notes, as well as the expected skunk. Very mild malt taste, with watery cloying finish that has next to no bitterness. Very watery, but what would you expect from a pale lager.
487 characters

1.78
/5
rDev
-22.3%
look: 2.5 | smell: 2 | taste: 1.5 | feel: 1.5 | overall: 2
Hmmm, I'm dubious when a lager is selling 10 x 375ml cans for $15 - that's almost a dollar per drink (an unholy number in beer circles), but I'm a tight budget which was a deciding factor in this beer review.
Poured from a 375ml can into a 500ml Stein glass.
A: An amber body with a 2cm white head that drops to a thin foam ringing the glass... non too appealing.
S: Grainy malts with a cut grass hop background, leading to the expectation of citrus and grain notes. Also present is a hint of metallic tang... no surprises there.
T: It's grainy and malt dominated. The hops are a slight bitter aftertaste and the flavour is reminiscent of the dreaded Pride of Ringwood hops that find their way into all the Australian macro brews *hiss*. I'm not feeling the love and wish I had splashed out on the slightly more expensive Oettinger Pils.
M: If there was the beer equivalent of running a lawnmower across your tongue it would be drinking an Australian macro... why oh why do brewers here feel the need to carbonate the **** out of beers I will never know, and this brew is no exception.
D: It passes for beer, not by much but I would rather a can of this than a can of the other macros. Should I give it points for being the best of a bad lot? Well I am I guess. Drinkable? If you were stuck in a bar serving VB, Toohey's new or Carlton Cold, then yeah it is.
Food match: Cheap, greasy and nasty... or a Kebab.
1,416 characters

2.85
/5
rDev
+24.5%
look: 3 | smell: 3 | taste: 2.5 | feel: 3.5 | overall: 3
Bottle: standard macro green bottle, standard macro label. Fair enough, considering the price and package.
Appearance: fairly standard amber colour, moderate-to-high carbonation. Fine.
Aroma: standard fare again - reasonable quality grains, grass and light floral hops.
Taste: follows on from the nose - simple, clean and clear. Only problem is a bit of a metallic fug over and above the standard macro lager, which is a shame.
Aftertaste: disappears extremely rapidly - bit of a let down, to be honest.
Mouthfeel: light body, and a good quality heavy carbonation make this a fairly sessional lager.
Overall: at AU$37 a case (2012), this is an awfully cheap beer. And it is a decent quality lager. Not brilliant, but perfectly fine for the price.
752 characters

2.56
/5
rDev
+11.8%
look: 3.5 | smell: 2.5 | taste: 2.5 | feel: 2.5 | overall: 2.5
From bottle, aroma is your typical adjunct lager grass, hay, grains. Taste is pretty much the same and is very clean crisp and refreshing, could drink quite a few of these.
172 characters
Platinum Blonde from Independent Distillers (Aust)
Beer rating:
2.29
out of
5
with
6
ratings