Three Kings Dry Lager
| Independent Distillers (Aust)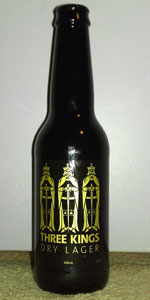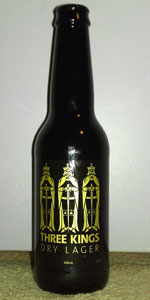 BEER INFO
Brewed by:
Independent Distillers (Aust)
Australia
Style:
American Pale Lager
Alcohol by volume (ABV):
4.60%
Availability:
Year-round
Notes / Commercial Description:
No notes at this time.
Added by Finite on 11-14-2010
Ratings: 4 | Reviews: 4
Reviews by Finite:

2.75
/5
rDev
-4.5%
look: 3 | smell: 3 | taste: 2.5 | feel: 2.5 | overall: 3
A - Very very pale straw in colour, one of the palest beers I have seen for a long long time. A white soapy head forms, leaving little to no lacing on the glass as the head dissipates leaving a small rim of white head clinging to the edges of the glass. I gave it +0.5 for the bottle. I must admit I really like the bottle and it stood out from the shelf and make me buy it. Job done, so credit due.
S - Surprisingly I get fruity hops. Nelson Savuin and Hersbrucker, play their part in giving a very dull but detectable tropical fruityness of paw paw and grapes. A barley visible profile of pale malt comes through giving the aroma a little balance.
T - Very typical and expected Australian macro malt profile, fermented to within an inch of its like their is no malt body to this beer. The hop content of this beer, while quite dull even by macro standard is an improvement from the disappointingly common place Pride of Ringwood fallback. So credit again to the brewers here.
M - Thin and watery, slightly carbonated at first, better as it flattens toward the end of the glass. Dry and presenting little body to the consumer.
D - I want to hate this beer, I should hate this beer, this isn't a good beer. I have read the press release and It clearly makes no secrets that it is aimed directly at the Gen-Y generation who want their beer to match their shoes and their shoes to match their tie. But somehow against my better judgement i don't hate this beer.
I cant help however to mark it on its merits, on what its trying to be. In that regard it achieved what it set out to do. Its a small batch beer aimed at a macro market but it manages to tip the hat in the direction of attention where the big boys seem to have none. The bottle, The light use; but use none the less of half decent hops, slightly more body all these things make it, for me, the best of the worst.
1,887 characters
More User Reviews:
2.78
/5
rDev
-3.5%
look: 3 | smell: 2.5 | taste: 3 | feel: 3 | overall: 2.5
Pours a light golden colour with a thin looking fluffy white head.
A little bit of fruitiness on the nose. An unusual industrial smell to it in the background. Not offensive, just unusual.
And the touch of fruitiness continues on the palate but that's about it flavour wise.
Ok body
If I was to look at this as a "boutique" offering then I'd say it's awful but if I compare it with most other Australian macro lagers then it's not too bad. That said I won't be rushing out to try it again any time soon.
507 characters
2.56
/5
rDev
-11.1%
look: 3 | smell: 2 | taste: 2.5 | feel: 3 | overall: 3
a) Pours pale straw colour, rocky white foamy head. Some decent lace forming as it sinks fast. Haze-free, with a few bubbling beads.
s) Strange, vinyl aroma. Some green stonefruit and damp straw. Similarities to "dry style" beers such as Tooheys Extra Dry.
f) Husky flavours, sawdust, medium bitterness. Lacking interest for me.
m) Light body, faintly astringent. Crisp finish.
d) Maybe a good lawnmower beer, but otherwise an attempt at offering a "boutique" quality to an crowded market segment.
497 characters

3.45
/5
rDev
+19.8%
look: 3.5 | smell: 3.5 | taste: 3.5 | feel: 3 | overall: 3.5
Bottle: Stylish dark brown 330mL bottle, stylish label. A nicely put together package.
Appearance: pours light golden with a thin white head with good retention.
Aroma: a bit of fruitiness on the nose with some quality grains. An unusual industrial smell in the background. Not offensive, just unusual.
Taste: the fruit carries to the palate, some grains to back it up. Quite crisp.
Aftertaste: same flavours, but they dissipate far too quickly. Lucky it's a sessional beer.
Mouth feel: thin feel, reasonable carbonation. Could do with a bit stronger body.
Overall: this is quite a good beer. Not great, but it only sets out to be a reasonable lager. So they have succeeded.
680 characters
Three Kings Dry Lager from Independent Distillers (Aust)
Beer rating:
0
out of
100
with
4
ratings