Chasin' Freshies 2017 - Experimental Hop #431

Deschutes Brewery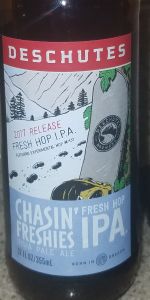 Write a Review
Beer Geek Stats:
| Print Shelf Talker
Style:

ABV:

7.4%

Score:

88

Avg:

3.95

| pDev: 8.86%

Reviews:

13

Ratings:

From:

Avail:

Retired (no longer brewed)

Wants

Gots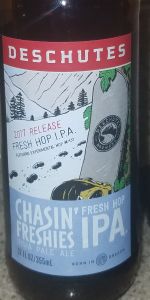 Notes:
Reviews: 13 | Ratings: 57

4.1
/5
rDev
+3.8%
look: 4 | smell: 4 | taste: 4.25 | feel: 4 | overall: 4
Appearance: clear golden yellow with a nice 1" head that falls to a spotty surface foam.
Smell: orange and a bit of floral and woody tones are picked up.
Taste: caramel, orange, a hint of pine, and a bit of a floral bitterness finishes it off.
Mouthfeel: medium bodied beer. Crisp throughout with some dryness arriving late.
Overall: this was a well balanced and tasty beer. Mildly refreshing too.
402 characters

3.86
/5
rDev
-2.3%
look: 4 | smell: 4.25 | taste: 3.75 | feel: 3.5 | overall: 3.75
Poured into a crevoise glass.
Look: Opaque deep burnt straw yellow colored body; meringue-white head that recedes to a decent film with lacing in the shapes of animals -- not kidding.
Aroma: Loads of peach and apricot fruitiness in front of a rather boozy, spicy center. The finish brings bubblegum sweetness. Interesting array of aromas.
Taste: Hot alcohol up front, boozy and warm that opens up to cedar spice, piney wood, and only vague tropical fruit.
Mouthfeel: Heavy and warm.
Overall: The aroma was an amazing journey but the rest of the beer is like pure alcohol that destroys the lighter flavors.
610 characters
4.63
/5
rDev
+17.2%
look: 4.25 | smell: 4.25 | taste: 4.75 | feel: 5 | overall: 4.75
Really really REALLY good beer! An ipa to compete against any. They knocked it out of the stinking park on this one. Love it! Will actively seek this out.
158 characters
4
/5
rDev
+1.3%
look: 4 | smell: 4 | taste: 4 | feel: 4 | overall: 4
355ml bottle poured into a teku glass.
Clear bright golden color with thick creamy white head that well retains itself with pretty good retention, it gradually dissipates to some bubble patch atop and leaves some lacing patch and spot on the glass-side.
The aroma is fresh and juicy with notes of orange candy, bubblegum, fruity jelly, peach, apple, lemon spice, earthy, and herbal. Malt is there in the back dominating by freshness and juiciness of hop.
There is a bold suggestion of Pils malt with its bread and grain along with some sweetness. The experimental hop still provides notes of orange candy, bubblegum, fruity jelly, peach, apple, lemon spice, earthy, and herbal bitterness just like the aroma. The bitterness is also quite well lasting in the aftertaste along with some residual juiciness.
Medium body with rather smooth mouthfeel and moderately crisp carbonation, the feeling is fresh and quite refreshing with a dry finish.
Unique IPA from the use of its experimental hop, it is sweet, gummy, fruity jelly, and candy-like plus with a good combination of Pils malt providing some touch of Pilsner but it surprisingly plays along well in good harmony.
1,171 characters

3.61
/5
rDev
-8.6%
look: 3 | smell: 3.75 | taste: 3.5 | feel: 3.75 | overall: 3.75
Pours a semi-hazy golden in color, topped with an off-white head. Looks fine . . .
Nose is very expressive and is all about the hops, with lemon rind, honeydew melon, and tropical (papaya?) fruit character. I think this is a single hop in use here, but overall it reminds me of the "average hop profile" found in so many of today's regional NEIPA variants (either a good thing of a GREAT thing, depending on how you favor that style.)
Lemon-grapefruit rind on the first sip, with some more of the melon and tropical fruit (mango-papaya?) chracter from the nose. There's a very fleeting piney-mint-like character toward the end of the palate, whereupon a good bit of lingering bitterness takes hold and does it's damndest to offset what I feel is intended to be a very "juicy"-sweet malt character, and a bit of a fuller bodied take on the seasonal fresh hop style. Hmm.
So is it average or above average? Mouthfeel is good and easy-drinking for the strength, and the drinkability is likewise very good -- so well-above average, and overall I'd feel comfortable placing it in that range.
At 7.4% I find this one to be in DIPA territory, and it's just a little bit outside of my everyday-drinking comfort zone. But it's a good sipper, and I'm sure there are plenty of Bros who have no problem guzzlin' this one and its relative heat (and don't forget, it's got the dank juice, Bro!)
Altogether I'm not the biggest fan of super hop-forward pale ale, IPA / DIPA / NEIPA, and fresh hop takes never WOW! me in the same way that they do for most people. But even considering the fact that it's not really my cup of tea overall, it is worth a try. Likewise, as a friend of mine really likes Deschutes (and really took a liking to this year's batch of 'Chasin' Freshies') I was more than happy to give it a try. : )
1,820 characters

4.05
/5
rDev
+2.5%
look: 3.5 | smell: 4 | taste: 4.25 | feel: 3.75 | overall: 4
Brewers notes: " Like fresh powder, it's a seize-the-moment thing. This year we've chased down fresh experimental hops #431 from Haas in Yakima, Washington. At harvest, we rush the hops from the vine to our kettles to ensure we capture the purest, juiciest essence of the hop flower in every beer. Enjoy the bright, bold aroma and flavor that comes but once a year."
Poured from 12oz bottle into glass. Best by date is '01/07/18'.
Clear, golden body, fluffy white head, good coverage of lacing.
Earthy aroma, with sweet juniper, champagne/white grape, peach.
Taste is a balance of bright/sweet and earthy/funk. Cherry, watermelon, peach, herbal fresh hops.
Clean, pass through mouth feel, almost has a menthol quality.
Has a aroma and taste profile that stands apart from most IPA's. When this #431 hop is employed in other beers, there will be some comparisons to be had. Quite enjoyable as brewed.
904 characters
4.09
/5
rDev
+3.5%
look: 3.75 | smell: 4 | taste: 4.25 | feel: 4 | overall: 4
on tap at Champs in altoona pa friday night.
pale yellow, somehow weak looking body. decent bright white head leaving nice lacing.
Aroma is slightly hoppy, and fairly strong hit of non citrus fruit.
you would think from the look and aroma that this would be a lightweight, but this is not the case. hops are quite strong, and there is a great fruity wash to it. nicely balanced and pretty tasty.
feel is around medium, finish is bittersweet.
overall, very drinkable ipa. watch out for the abv, as it's well hidden.
521 characters
4.49
/5
rDev
+13.7%
look: 4.25 | smell: 4.5 | taste: 4.5 | feel: 4.5 | overall: 4.5
This beer pours a clear gold with a large head. The aroma is very alluring, with notes of watermelon, lemongrass, honeysuckle, lemon peel, mushroom, lkalamata olive, raspberry, and cotton candy. The flavor heads much more in berry direction, with raspberry, watermelon, and cherry being prominent flavors, as well as peach, sweet lime, lemongrass, and thyme. The mouthfeel is medium bodied with a filling edge, and foamy carbonation. Overall this is a really entrancing beer - always a great fresh hop beer, I love how this experimental one comes through.
555 characters
4
/5
rDev
+1.3%
look: 4 | smell: 4 | taste: 4 | feel: 4 | overall: 4
I'm sessioning these right now, so I think my comments will be heartfelt, but first a few words about my skiing experience and the brew's namesake. Although I am a skier obviously from Ohio, I have been at it since 1971, and I am currently looking at having around 9 or 10 days on the snow this year. You have to travel from here to get good skiing. But I know the flukish nature of chasing freshies. Sometimes you don't get what you thought you would. Some of that philosophy seems to make it into this great brew.
It pours lightish yellow (not warning of high ABV). The aroma is pronounced and uniquely hoppy - almost like most of it comes from within, not finishing hops. The taste is a bit deeper, darker and more bitter than hoppy. A very well designed flavor. It all lingers pleasantly.
Highly recommended. I know I tasted previous versions of this but I don't remember them as being this good.
903 characters

4.12
/5
rDev
+4.3%
look: 4 | smell: 3.75 | taste: 4.25 | feel: 4.25 | overall: 4.25
Pours a clear gold with a white head. Smells of fresh hops, sweet malt, and some citrus. Tastes of very sweet malt, caramel, fresh non-bitter hops, citrus, and tropical fruits. Medium creamy body with medium carbonation. Overall and awesome fresh hop IPA.
255 characters

3.86
/5
rDev
-2.3%
look: 4.25 | smell: 3.75 | taste: 3.75 | feel: 4 | overall: 4
Bottle says Best by 1/7/18. Pours clear yellow-gold. Good, white head generated and leaves nice lacing. Smell is pears, apples and some white grape. The more I smell it, the more it smells like champagne. It's very different, but I like different. The flavor brings more of what the nose brought but with some minty spice notes as well. Well balanced between sweet and bitter. When looking up the details on this experimental hop 431, I get none of what they describe the hop should give (peach, berry, citrus, etc.). Slight creamy mouthfeel that's pleasant. One of the more interesting hop-forward beers I've tried in recent memory. Sometimes these weird ones are more fun than the typical Citra/Mosaic IPAs everybody seems to be brewing these days. Try it if you're feeling adventurous. I wasn't disappointed.
811 characters

3.29
/5
rDev
-16.7%
look: 4.75 | smell: 2.5 | taste: 3.25 | feel: 4 | overall: 3.5
Umm.. what? Are these smells from a hop? It smells like juniper, honey, stale hops, slightly cheesy, and some umm... fermented peach. Fuck. The flavor is a bit more subdued and more ipa like with some citrus and herbaceous complexity, but hell is that aroma not almost like tobacco, petrichor, and mead. Maybe a hint of something like sassafras or even peat. Really odd.
371 characters

3.52
/5
rDev
-10.9%
look: 4 | smell: 3.25 | taste: 3.5 | feel: 4 | overall: 3.5
Best by 1/7/18. 12oz bottle poured into a tulip. Pours golden with solid clarity; small white head that fades leaving solid retention and lacing. The aromas have some hints of pear and cocoa. Some fresh bread and crackers. Malts are there. The flavors basically follow the nose. More fresh pear leading the way. Moderate crisp bitterness. Malts do their thing. Some alcohol flavor in the finish, but it's not hot or boozy. Mouthfeel is on the fuller side of medium-bodied with moderate to active carbonation. It's smooth and has some clean qualities to it.
This is a somewhat unique IPA. It's personally hard to describe this experimental hop. It's not a flashy hop, but it's unique. The craftsmanship is on point and it's fun to drink. It's probably better than my "numerical score" might indicate.
800 characters
Chasin' Freshies 2017 - Experimental Hop #431 from Deschutes Brewery
Beer rating:
88
out of
100
with
57
ratings