Lierse Caves
| Brouwerij Verhaeghe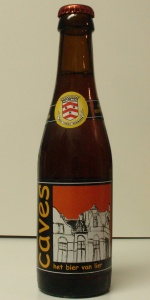 BEER INFO
Brewed by:
Brouwerij Verhaeghe
Belgium
brouwerijverhaeghe.be
Style:
Flanders Red Ale
Alcohol by volume (ABV):
5.50%
Availability:
Limited (brewed once)
Notes / Commercial Description:
No notes at this time.
Added by TheLongBeachBum on 08-29-2005
This beer is retired; no longer brewed.
Reviews: 10 | Ratings: 17

3.78
/5
rDev
-3.8%
look: 4 | smell: 3.5 | taste: 3.75 | feel: 4 | overall: 4
Still brewed. 5.8%
Dark copper in colour, just a bit of bubbly lace, but sticks to the glass and leaves nice traces.
The expected tart smell from afar, closer in i get caramel, but also raw sugar, wood, some dark malts (black olive-ish), very faint cocoa powder, bit of funk and vanilla, dark bread.
Sour cherries in the taste, some berries too, with a nice tartness that's cut off by a bit too much sweetness (cane sugar, soft caramel, even some molasses). It isn't nauseous tho, wood notes follow nicely, dusty, with wood stave, bit of barnyard funk, red wine barrel. Dry finish with sweet oaky vanilla and a very faint bitterness.
Medium body, soft carbonation, almost smooth. An unexpected boozy feel from maturing it in oak barrels, sorta reminding of sherry, weird for it's rather low abv, but i like it.
A nice sour ale that's also quite sweet, with some nice barrel notes (especially for its low price), no added sugar. Not bad.
★
936 characters
4.06
/5
rDev
+3.3%
look: 3.75 | smell: 4 | taste: 4.25 | feel: 3.75 | overall: 4
Drank from my Ciney sniffer.
This one says 5.8% and "Het bier van Lier" but I presume its the same beer
A - Pours a clear mahogany colour with a large bubbled off white head that reduces quick
S - Heaps of wood and malt. Nice
T - Wow starts off sour fruits, followed by some sweet fruits that threaten to take over before the sour barrel, vinous tart comes back to give a nice dry tart finish.
M - Medium with medium carbonation
O - Like a cross between a Geuze and a Rodenbach Gran Cru. One of those little surprises that you stumble upon every now and then.
★
565 characters
3.6
/5
rDev
-8.4%
look: 3.75 | smell: 3.75 | taste: 3.5 | feel: 3.75 | overall: 3.5
Pours a reddish brown hue with a two finger head and clingy lacing everywhere,the smell is sweet and sour vinegar,granny smith apples,funk and caramel,the mouthfeel is medium bodied with moderate carbonation and the taste is so all over the place it's sweet and sour mixed in one its a combination of barn house funk,sweet caramel,granny smith apples,vinegar and finished with a raspberry bittersweetness and overall it's not bad but I'm not the biggest fan of the sweetness that is heavily present but like I said earlier it really is a sweet and sour cheers.
★
560 characters
3.6
/5
rDev
-8.4%
look: 4 | smell: 4 | taste: 3.5 | feel: 4 | overall: 3
A: Clear copper colour, nice head, fine carbonation
S: granny, raspberry, a hint of caramel, and some malts
T: a lot of sweetness, then there is the granny smith again with something cane sugary, some tart in the back
M: thickness, abv and carbonation are as they should be
O: i miss the refreshing aspect, don't really think it's a flanders red ale, taste a bit like a mixture between faro and rodenbach, but it's ok, pretty complex, just too sweet for me
P.S. I don't think this is a retired beer, bought it less than a month ago
★
537 characters
4.32
/5
rDev
+9.9%
look: 4 | smell: 4.5 | taste: 4.5 | feel: 4 | overall: 4
Nice beer. Great colour and better taste, although peculiar. Product of a high fermentation. Great balance between malt and hops. Fruity and wine flavour. Can grow in bottle after some time (maybe a year is enough).
Should be drunk cold - 6º and in a lager glass.
Great to drink in a hot afternoon, outside with friends and seafood.
Should be available outside Lier and Belgium.
★
381 characters
4.44
/5
rDev
+13%
look: 5 | smell: 3.5 | taste: 4.5 | feel: 5 | overall: 5
Amber resin, a bit like a Pale Ale or old lambic. Some tannins on the nose but it is discreet, as the touch of vinegar. The mouth is unusual, with acidity present but far from sharp, a little woody dryness, a little sugar and a final resin which hints of tannins and fruit, including grapes, slightly bitter. A Oud bruin who thinks outside the box by providing a color and taste as original as its taste is pleasant
★
415 characters
3.75
/5
rDev
-4.6%
look: 4 | smell: 4 | taste: 3.5 | feel: 3.5 | overall: 4
An unusual beer to drink on the St. Valentine's Day~~ Purchased from the "Belgian Shop", a Belgium-based specialist shop, coming in a 250ml slim brown bottle; BB 10/04/08, consumed almost a year past the expiry date and served lightly chilled (more like cooler than cool...) in De Dolle Oerbier's long-stemmed goblet.
A: pours a dark copper-ish tea colour with considerable ruby hues, coming with a dissipating fluffy off-white head and rather light but constant carbonation.
S: cherry-ish fruit-vinous sourness dominates the nose, decorated with a very light metallic touch, dried grapefruit-peel like tannic-zestiness and a touch of funk (the latter two are quite akin to a fruit lambic), leaving oak-aroma way behind. Also, brown malts and a light sugary touch stays in the remote background. Overall, very enticing and refreshing, not astringent for a Flemish Red and more akin to a Flemish Brown (where does Red start and Brown end in Flanders, anyway??).
T: the effervescent swallow is sweeter than desirable for a Flemish Red, featuring sugar, juicy fruit sorbet (strawberries, red-currents, and cranberries), prunes, and a very mild brown-malt base. Unlike other Flemish Red, the sour/vinegary edge here is subdued and the finishing touch also fails to show a dry-ish bitter kick, only slightly "bitter-sweet" as a result of a contrast b/w the fruitiness and malt sweetness, I reckon. This is more like a hybrid of Flemish Red and Brown actually, judging by the balance b/w sweetness and sourness as well as the overall body.
M&D: the palate remains fresh even 10 months past the expiry date, full of microscopic fizz to soothe the taste buds, but the finishing touch proves slightly too sticky for me (especially considering its rather low alc. content), thus not really as thirst-quenching as a drier and more vinous-sour Red. But all in all, this is a tasty brew all the same and one should drink it just cool and not cold in order to appreciate the flavour better, IMO.
★
1,982 characters
4.52
/5
rDev
+15%
look: 4 | smell: 4.5 | taste: 4.5 | feel: 4 | overall: 5
I'm somewhat doubtful of the retirement of this beer being that I just purchased a bottle from Belgian Shop and there's three reviews for it in the last month on ratebeer, but hey, whatevah. Best before April 10th, 2008.
GREAT BEER. Of the Verhaeghe triumvirate of American distributed beers it most closely resembles Vichtenaar in almost every way. But it's better. Unbelievably.
All the classic Flanders red characteristics are there in spades with a lovely lovely oak finish.
If you have the means and enjoy the style seek this beer out.
★
549 characters
4.32
/5
rDev
+9.9%
look: 4 | smell: 4.5 | taste: 4.5 | feel: 4 | overall: 4
This is a 5.8% beer, BBD 15-09-06.
The bottle discusses being aged in oak casks but does not describe the age of the beer(s) in this bottling.
This beer pours a dark orange with off-white 15% head - instantly a strong sour short typical flemish-red odor permeates. This might be the freshest, sharpest flemish red smell I have ever nosed.
Taste is less sweet than the norm for flemish sour, a very strong up-front sourness along with a hint of wood which reminds me slightly of Panil Bariquee. The taste is no letdown from the nose, the finish is woody and has a slight alcohol bite to it. At this level of sourness I suspect there is a decent portion of older beer involved in the bottling.
This is a great beer - if you see it, grab it!
★
750 characters
3.09
/5
rDev
-21.4%
look: 3 | smell: 4 | taste: 3 | feel: 2.5 | overall: 2.5
BB 15-06-06. No head at all and a amber & clear beer. Nose is that of a good belguim Oud bruin/ Flanders red ale resembling almost a geuze and with lots of oak. Litle sour, some brett but all together well balanced.
Taste is very sweet, litle sour but full of taste. Mostly oak and hardly any maltyness to be tasted. This could be a good oud bruin if it wasn´t as sweet witch also makes mouthfull just into some sweet juice. Drinkable if you like sweetened oud bruins otherwise probably a misser.
★
498 characters
Lierse Caves from Brouwerij Verhaeghe
3.93
out of
5
based on
17
ratings.