Moonlight Kettle Summer Saison

Muskoka Brewery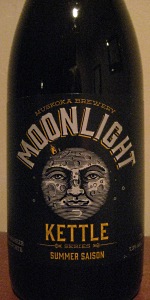 Rate It
Beer Geek Stats
| Print Shelf Talker
Style:

ABV:

7.3%

Score:

Avg:

3.89

| pDev:

7.71%

Reviews:

10

Ratings:

From:

Avail:

Rotating/Seasonal

Wants

Gots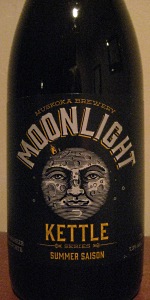 Notes:

biegaman from Canada (ON)
3.63
/5
rDev
-6.7%
look: 3.75 | smell: 3.75 | taste: 3.5 | feel: 4 | overall: 3.5
The Kettle Series Summer Saison is significantly dark compared to my all-time favourites; it has a solid, amber amulet-like appearance that is a far cry from the pale, bright golden hue I think of as ideal. Nonetheless, it sports the appropriate rocky head and ivory white pearls of lace.
Saisons are subject to varied interpretations. The high fruitiness of this aroma is in line with style guidelines but again is not my preferred choice; what I like best is fresh-picked orchard fruit whereas this has a cooked/mulled profile that leans more towards tropical notes like papaya and mango.
And, while we're at it, a noticeably sweet, borderline caramelly maltiness is out of place in a style that's characteristically grainy and dry as the Sahara. A trace amount of diacetyl doesn't help either. The saving grace in all this, however, is the constant eruption of spicy phenols.
The clove and pepper not only provide some crackle in the mouthfeel but also re-align the caramelly, cooked fruit-driven profile back with typical farmhouse offerings. It doesn't change the fact this is too stewed and boozy to act as summer quencher but the spice at least makes it recognizable as a Saison.
Summer Saison was the first in Muskoka's Kettle Series; a year in the bottle didn't hurt but didn't pay off either. Like many of the offerings that have since followed it, this is an alright beer in its own right but becomes more problematic when judging to style (or holding up expectations set by the price tag).
May 30, 2016
headlessparrot from Canada (ON)
3.93
/5
rDev
+1%
look: 4 | smell: 4 | taste: 4 | feel: 3.75 | overall: 3.75
Pours from the corked, champagne-style bottle a dark orange, almost copper-brown sort of colour, capped by a solid three fingers of loose head that recedes gradually to a thin layer of islands but leaves a lot of lacing. Quite cloudy, bordering on opaque.
Smell is yeasty, spicy, pepper. Coriander, tropical fruits. Citrus. Slightly sour. Apple skins (green apple skins?). Sour Patch Kids. Almost . . . milky? Tropical fruit is definitely the big player here, though.
Taste is sharp, slightly acidic, lightly salty (?), with more tropical fruits, sour candies. Slightly peppery, slightly spicy. Yeasty. Another review mentioned Unibroue, and I can see where the comparisons come from. Body is surprisingly light (especially for such a high ABV), though not watery, while the carbonation is high and sharp--but not obtrusive.
I dig it. If they put this in standard bottles or cans, I could see myself buying a six-pack every now and then. As a special edition, once is good enough for me.
Aug 31, 2015

DaveBar from Canada (ON)
4.18
/5
rDev
+7.5%
look: 4 | smell: 4 | taste: 4.25 | feel: 4.25 | overall: 4.25
Purchased at the LCBO for just under $9.00 for a corked 750ml bottle. Served at 4deg C in a draught glass.
A- Opens with a mighty pop. Pours a nice 1" high white head that is gone in 2mins. Very dark gold color. Unfiltered
S- This is a Saison all the way. Nice yeast. Coriander, wheat, lemon.
T- Light Saison flavor and yeasty good at that! Touch of heat. I see a lot of Unibroue here. Tasty to say the least.
M- Creamy good. Enjoyably dry and tart afterward.
O- Very good brew. If it was in a 341ml bottle or cans then I'm in. With 750ml bottles I'm out!
Food Pairing
This nice little brew went very well with........ BBQ eggplant with cumin, salt, pepper and hot chili flakes. Super tasty!
Enjoy
Jul 31, 2015

peensteen from Canada (ON)
3.53
/5
rDev
-9.3%
look: 3.75 | smell: 3.75 | taste: 3.5 | feel: 3.5 | overall: 3.25
Hazed orange/amber colour, 2 fingers of off white head that dissipates to a collar, light lace. Smell is yeast and hoppy, big spice is there off the bat, clove and pepper, fruity and lots of banana, citrusy and tropical, at times seems similar to a hoppy hefe, a bit off style perhaps but still quite nice on the nose. Taste is a mix of sweet and spice, pepper, clove and banana, sweet malt and yeast throughout, a little bit of hop bitterness is present as well but seems far less hoppy than the nose suggested. medium carbonation, a bit syrupy, medium bodied. This was decent however the one snifter I poured was all I cared to have of the bottle, simply not enjoyable enough to finish the entire large format bottle on my own, perhaps better to share but not something I will likely return to.
Jul 30, 2015
duffman14 from Massachusetts
3.46
/5
rDev
-11.1%
look: 3.5 | smell: 3.75 | taste: 3.25 | feel: 3.5 | overall: 3.5
Pours a luminous mahogany with thick creamy head. Spice and clove on the nose with only a touch of tropical fruit. Tastes like sweet fruit and then turns to a lasting yeasty sweet and clove spice, pretty much like a slightly sour tripel. Not what I'd expect for the style.
Jul 24, 2015

PorterPro125 from Canada (NB)
3.98
/5
rDev
+2.3%
look: 4.25 | smell: 4.25 | taste: 3.75 | feel: 4 | overall: 4
Serving Type: 750 mL Bottle (Enjoy by August 28, 15)
A- Deep Orange/Copper colour with a large white head that has excellent retention.
S- Fruity (dark fruit) Belgian yeast and bready malt. Light lemon peel in the background.
T- Slightly bready, fruity yeast, lemon, and a bit of an alcohol taste. Not strong, but still there.
F-Medium body. Moderate but lively carbonation.
O- Not the best saison I've ever had but certainly a good one. I don't think it's quite worth the $9 CDN I paid for it but I'm glad I tried it. Another solid offering from Muskoka.
Jul 19, 2015

thehyperduck from Canada (ON)
3.86
/5
rDev
-0.8%
look: 4 | smell: 3.5 | taste: 4 | feel: 3.75 | overall: 4
750 mL caged-and-corked bottle from the LCBO; best before Aug 31 2015, which is remarkably soon for a 7+% beer that didn't hit shelves all that long ago. Served slightly chilled.
Pours a foggy, coppery-orange colour; extremely effervescent, as evidenced by the generously-sized, off-white, creamy-textured head. Retention is excellent, as this foam survives for longer than 10 minutes, slowly being reduced, to a denser cap and collar. Not much lace; a few splotches extend up from the collar here or there. The nose is decidedly spicy and yeasty, with notes of clove and pepper abundantly present, alongside more subdued nuances of candi sugar, banana and apricot.
This is a nice, approachable Belgian-style ale. The malts come off bready, with caramel and candi sugar sweetness providing a continuing leitmotif throughout the background of the sip. Flavours of apricot and tropical fruit soon come to the fore - banana, citrus peel, and perhaps a hint of juicy pineapple. Some grassiness surfaces late in the sip, with a spicy blend of clove, coriander and white pepper drying things out in the aftertaste. The alcohol becomes barely detectable as it approaches room temperature. Medium-bodied, with moderately assertive carbonation levels that agitate the palate in a diffuse, not particularly-prickly manner. Tasty stuff, and pretty quaffable given the sturdy abv.
Final Grade: 3.86, a B+. Muskoka's Moonlight Kettle Summer Saison is a pretty decent Belgian-style ale. Like most of the Ontario-made, LCBO-distributed saisons that I have tried, this is a relatively easy-drinking, unremarkable example of the style that will get the job done, while not excelling in any particular category. In short - it's good, but not great. I'd say that it's worth a try, but given the price point I doubt I'll be purchasing another bottle.
Jul 15, 2015

taxandbeerguy from Canada (ON)
3.91
/5
rDev
+0.5%
look: 3.5 | smell: 3.75 | taste: 4 | feel: 4 | overall: 4
750 ml corked and caged bottle purchased from the local LCBO for about $8 CDN. Served at about 7 degrees Celsius in a Amsterdam Boneshaker snifter.
Appearance - A rich coppery amber color, quite a fair bit darker than the usual saison. A nice two finger ivory head is poured, but it doesn't last and no lacing left behind either. That settles into a small white cap on top of the mildly hazy brew. Just enough opacity to be halted from seeing bubbles.
Smell - Big powdery yeast and candied sugar, with a hint of a dark fruit /banana blend. Some notion of pepper thrown in for good measure.
Taste - Well... this is nice. Powdery yeast and candied sugar again, giving it a "tripel-esque" feel to it. Banana again then some earthy bitterness comes and steals the show and gives a satisfying conclusion. Balanced and just enough going on to make this interesting. Pepper hits home after a few sips too.
Mouthfeel - Smooth and relatively light, impressive for a 7.3% saison. Moderately juicy feel to start and finishes quite dry with a alcoholic burn at the back of the throat.
Overall - A pretty good seasonal offering, tasty, refreshing, and sufficiently interesting to give it a thumbs up. May pick up another, but that one would be for sharing purposes.
Jul 06, 2015
DudsAndSuds from Canada (ON)
4.03
/5
rDev
+3.6%
look: 3.75 | smell: 3.75 | taste: 4.25 | feel: 4 | overall: 4
Nose and look didn't impress, but it was a better drink than I expected. A wilder flavour than most of the ON saisons which was a pleasant surprise. Rough around the edges flavour wise with lots of compete in the yeast and hops, but a nice carbonation level helps keep things in order. A fine example of the style and one of the best I have had from Muskoka.
Jun 30, 2015
biboergosum from Canada (AB)
3.74
/5
rDev
-3.9%
look: 4 | smell: 3.75 | taste: 3.75 | feel: 3.5 | overall: 3.75
750ml, caged and corked bottle, with another of those pain-in-the ass, and tight as the same, corks to remove.
This beer pours a slightly hazy, medium copper amber hue, with three fingers of puffy, densely foamy, and somewhat fizzy off-white head, which leaves some low-lying, island-ho lace around the glass as it quickly dissolves.
It smells of bready, doughy caramel malt, earthy yeast, perky white pepper spice, aged lemon peel, a twinge of coriander/cilantro, and floral, weedy, and kind of grassy hops. The taste is gritty, bready caramel malt, a softer wet cracker graininess, laid-back, but still prominent yeast, muddled earthy spice (coriander and black pepper dust the likely culprits), a continuing and steady weedy, leafy, and grassy hoppiness, and some minor herbal tincture boozy notes.
The bubbles are actually quite moderated for the given style - supportive, but not overly fizzy or palate-tingling - the body a sturdy middleweight, and smooth, I suppose, but for the wiles of a rather forward yeastiness. It finishes off-dry, with a small lingering sweetness, one not long for this world, unfortunately, as the spice, yeast, and hops reveal a certain kneecap-breaking cabal tendency.
Overall, a nicely peppy version of the style, the base malt more or less up for the task of keeping those yeasty, hoppy, and spicy wayward kids in line, at least until its age starts to show near the end. Worthy of a go for a built-in one-off, and drinkable enough via its eventual dryness, but perhaps a bit too disjointed, if not in its brewing process, then in the silly idea of promoting moonlight near the longest freaking day of the year.
Jun 01, 2015
Moonlight Kettle Summer Saison from Muskoka Brewery
Beer rating:
87
out of
100
with
36
ratings