Adriaen Brouwer Finest Dark
| Roman N.V.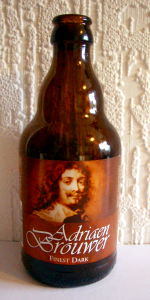 BEER INFO
Brewed by:
Roman N.V.
Belgium
roman.be
Style:
Belgian Strong Dark Ale
Alcohol by volume (ABV):
8.50%
Availability:
Year-round
Notes / Commercial Description:
No notes at this time.
Added by atis on 02-10-2009
Ratings: 9 | Reviews: 5
Reviews by BuzzLitebier:

More User Reviews:


3.57
/5
rDev
-9.2%
look: 4 | smell: 4.5 | taste: 3.5 | feel: 2.5 | overall: 3
-Appearance 4.0: Poured out a beautiful dark brown with slight golden edges. Head foamed up to an inch, then dissipated down to a foamy residue all over the surface. Promising.
-Smell 4.5: Wow. Nice caramel, barley and that yeasty goodness that is common in so many Belgian brewed masterpieces. Big, beautiful bouquet on this brew, baby.
-Taste 3.5: Front is straw, barley, slight sweetness. Middle is malt and caramel with a slight yeast taste. Aftertaste is grains, and a cloying, saccharine sweetness that is strangely dry. In fact, all the tastes are strangely dry. Also, there is an aftertaste here that is profoundly unpleasant. Somewhat like a wet dog smells. Slight, but noticeable and not good.
-Mouthfeel 2.5: Carbonation is way over the top in this beer. It detracts from the taste and enjoyment of the beer. Too many bubbles.
-Overall 3.0: The sum of this beer's parts left me confused and feeling ashamed. Ashamed that I paid almost $20 for four of these. This is not the worst beer in the world -far from it-- but I feel that it wants desperately to be a world-class beer, but only manages to be average.
1,123 characters

3.68
/5
rDev
-6.4%
look: 2.5 | smell: 4.5 | taste: 4 | feel: 2.5 | overall: 3
750 mL corked and caged bottle, poured into goblet
appears a muddy dark brown, and unfortunately basically no head. dark fruit dominated aroma - raisin, fig, plum, molasses. great aroma as it warms up. taste is all malt, but not overly sweet though. raisin is the main highlight. plum too. very thin body, and almost flat, needs a bit more carbonation.
overall - due to the lack of head and body, maybe it's past it's prime?
427 characters
3.68
/5
rDev
-6.4%
look: 4 | smell: 3.5 | taste: 3.5 | feel: 4 | overall: 4
Pours quite hazy deep copper brown with off-white head with good retention. Aroma is rather weak sweet malt with some dark fruit, mostly fig, some caramel and light sweetish alcohol. Taste is spicy sweetish and mild fruity alcohol with a bit of hops in aftertaste.
Mouthfeel is smooth, mostly on the lighter side, quite high carbonation, with warming alcohol in the aftertaste.
Overall, not a bad beer. Actually quite good one. It is a pity I bought only one bottle of this one.
480 characters


4
/5
rDev
+1.8%
look: 4 | smell: 4 | taste: 4 | feel: 4 | overall: 4
Consumed at the Cambrinus Restaurant in Brugges on 4/24/10.
Appearance: Pours a dark brown with a 1 finger light brown crown that displays moderate retention and good lacing.
Smell: Medium roasted malt, loads of nuttiness, and a slightly soapy note.
Taste: Same as the nose but more yeast presence.
Mouthfeel: Medium bodied, good carbonation, and a touch slick.
Drinkability: Goes down surprisingly smooth and easy for a 8.5% abv brew.
440 characters

4.22
/5
rDev
+7.4%
look: 4 | smell: 4.5 | taste: 4 | feel: 4 | overall: 4.5
Drank this bottle as Cambrinus in Brugge - 10/2008
Deep nutty brown in the glass with a frothy ivory colored head. Fruity (dark fruit) and malty in the nose.
It's a stunning combination of the tartness and fruitiness of an oud bruin and the sweet maltiness of a dubbel. Lots of dark fruit and rich breadiness...quite unusual. Sticky in the finish with a bit of warming in the gullett.
Quite an amazing beer.
410 characters
Adriaen Brouwer Finest Dark from Roman N.V.
3.93
out of
5
based on
9
ratings.