Newport Storm Summer Hefeweizen
| Coastal Extreme Brewing Co.
BA SCORE
80
good
12
Reviews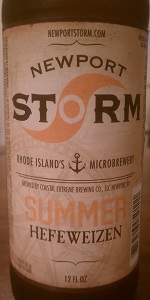 BEER INFO
Brewed by:
Coastal Extreme Brewing Co.
Rhode Island
,
United States
newportstorm.com
Style:
Hefeweizen
Alcohol by volume (ABV):
4.50%
Availability:
Summer
Notes / Commercial Description:
This unfiltered hefeweizen ale is the perfect brew to bring to the beach, have on the boat or have a few of while kicking back with some buddies. The crisp citrusy flavor provided by the Cascade hops and the addition of hops after fermentation and the lower 4.5% ABV keep this Summer Hefeweizen light refreshing for those hot and humid New England summer months.
Added by Jason on 04-22-2012
Reviews: 12 | Ratings: 59
3.04
/5
rDev
-7.6%
look: 4 | smell: 3 | taste: 3 | feel: 2.75 | overall: 3
Almost soda, but with grapefruit up front and then vanilla in the finish. There's a mild wheat character running through it, but I probably wouldn't guess this is a hefe in a blind tasting. No thanks.
200 characters
3.7
/5
rDev
+12.5%
look: 3.75 | smell: 3.75 | taste: 3.75 | feel: 3.75 | overall: 3.5
Newport Storm "Summer Hefeweizen"
12 fl. oz. brown glass bottle, notched best before OCT/NOV and sampled on 3 AUG 2016
$2 @ Wegmans, Collegeville, PA
Appearance: Typical. Head retention and lacing could be better given the style.
Aroma: Yeast. Clove. Phenolic... medicinal. Malt/wheat. Orange-like citrus. Citrus pith.
Flavor: As the aroma suggests. The phenol is a touch distracting. Clove-like, spicy, grassy, and a touch chalky as well (is that the yeast itself?). My guess would be that this yeast comes from Weihenstephaner. On the dry side with a lingering bitter and chalky phenolic finish.
Mouthfeel: Medium-light in body with a standard to slightly above standard carbonation level.
Overall: A little harsh across the board, but particularly in the finish.
770 characters

2.85
/5
rDev
-13.4%
look: 3.75 | smell: 3 | taste: 2.5 | feel: 3 | overall: 3
Pours a nice darkish goldish orange colour with a semi-thick foam head which settles moderate in time.
Smells of hops and citrus notes.
Like the smell indicates, it has a mildy bitter hoppy taste with a note of citrus, orange fruit.
Moderate carbonation makes it bubbly but also smooth. Pretty good for these hot summer days.
328 characters

3.05
/5
rDev
-7.3%
look: 3.5 | smell: 2.75 | taste: 3 | feel: 3.25 | overall: 3.25
Pours an opaque deep gold producing nearly 2 fingers of foamy, white, lasting head that leaves a little spidery lacing. Aroma is thin for the style: wheat & dough with a clove note & hints of orange, banana, floral hops & faint coriander. Taste is wheat & dough as in the nose but with weaker hints of banana, clove (much less than expected) & orange which become more prominent in the finish. Coriander & floral hop hints more prominent than in the nose (also arising in the finish) but hardly enough to mention. Not especially fruity but more so from mid-sip into the aftertaste. The aftertaste is a thin mirror image of the finish & rapidly dissipates. Mouthfeel is light bodied with moderate carbonation, crisp, prickly with pepper, becoming progressively dry from mid-sip.
777 characters

3.16
/5
rDev
-4%
look: 3.25 | smell: 3.5 | taste: 3 | feel: 3.25 | overall: 3
I have been housed in King of Prussia for over six weeks and it has been Br'er Rabbit in the Briar Patch time! Man, going to Wegman's Bottle Shop brings me to my knees every time I walk in the joint. That is where I scored this bottle.
I Pop!ped the cap and began an aggro pour to stir up and lees that may have developed. It was highly carbonated and puffed up quickly with two-plus fingers of fluffy, off-white head with decent retention. Color was a cloudy Amber (SRM = > 7, < 9). Nose had a nice clove spiciness and I immediately sat up and took notice. Mouthfeel was medium. The taste was clove-spicy, but not as pronounced as on the nose. Thankfully, for me, it did not have a huge banana ester presence, either. It was kind of bready, but it seemed a little off. The finish was semi-dry and still spicy, but there was an odd flavor that I just could not get past.
871 characters
3.36
/5
rDev
+2.1%
look: 4.25 | smell: 3.25 | taste: 3.25 | feel: 3.75 | overall: 3.25
12 oz bottle was poured into a pint glass.
Appearance: A small head was poured that reduced to a thin layer. It is a slightly hazy pale yellow color with good clarity and vision of bubbles coming up through the glass. Spotty lacing down the glass as the beer was drank.
Smell: Bready and sweet wheat with some citrus notes, slight banana, and clove in the rear.
Taste: Same as above. You pick up a little more citrus in th ed taste. Not really much else going on here.
Mouthfeel: Light bodied, slightly chewy, medium to high carbonation, and a little bitterness.
Overall: A decent hefeweizen for the summer here in New England. Light and refreshing.
669 characters

3.36
/5
rDev
+2.1%
look: 4 | smell: 3 | taste: 3.5 | feel: 3 | overall: 3.5
Poured from a 12 ounce bottle into a pint glass. Pours cloudy yellow, very light foam. Light wheaty smell. Some banana, but not much. Light citrus taste, some tang at the close. Light carbonation that pushes through more than a typical hefe. Honestly more of a witbier than anything else. But a decent light summer beer.
320 characters
3.67
/5
rDev
+11.6%
look: 3.5 | smell: 4 | taste: 3.5 | feel: 4 | overall: 3.5
On-tap 7/8/2012 at Doherty's East Ave Irish Pub, in Pawtucket, RI, served in a US pint glass.
A: The beer is a cloudy gold color, with a large foamy white head that fades slowly and leaves a thick lace on the glass.
S: The aroma contains wheat, lemon, light caramelized malts and some spices.
T: The taste starts out bready with a strong wheat flavor followed by sweet flavors of lemon and spices. The malt character is hearty but not too heavy. The hops presence is mild but complementary and provides some balance. The after-taste is slightly bready and slightly sweet.
M: Crisp and smooth, light-to-medium body, medium carbonation, finish is clean.
O: Tasty, goes down easily, not too filling, mild kick, good representation of style, this is a solid wheat beer to drink for a long time.
797 characters
3.43
/5
rDev
+4.3%
look: 3.5 | smell: 3 | taste: 3.5 | feel: 4 | overall: 3.5
I enjoyed this one in downtown Newport while on business. It's a pretty Americanized take on the style, with some big citrusy flavors along with the traditional banana and clove. The aroma is pretty bland compared to the flavor, which is bolder and more compelling than I expected.
281 characters

3.23
/5
rDev
-1.8%
look: 4 | smell: 3.5 | taste: 3 | feel: 3.5 | overall: 3
12oz. bottle served in my Weihenstephaner weizen glass. Freshness date not notched on the label. Pours a translucent straw gold with a dense, three inch, cream-colored head and a semi-hazy clarity. Head eventually settles into a rocky, half inch cap with just some residual spots of lacing left in its wake as it recedes. Nose is a bit dull for a Hefe - some lemony and grassy qualities as well as suggestion of coriander. Taste is really a bit watered down and is closer to an american pale wheat ale in character than a Hefeweizen. Mouthfeel is light and lively with a slight carbonation burn that lingers on the back of the tongue. There's also a faint acidity. Overall, a really lackluster domestic Hefe, which blows me away considering how good their Windward Weisse is. Glad I didn't invest in a 12-pack.
810 characters
3.58
/5
rDev
+8.8%
look: 4.5 | smell: 4 | taste: 3 | feel: 4.5 | overall: 3.5
12oz brown bottle with a freshness date.
LOOK: Cloudy, murky yellow, great head retention
SMELL: Whole cloves, peppery, phenolic, herbal, yeasty, nutty, ripe fruit, bready, lemon pith
TASTE: Herbal, toasted grain, smooth, dried grass, crackers, nutty, powdered clove, banana peel, bitter, phenolic, dry finish
Yeast went a little crazy on this one perhaps, still drinkable but the bitter finish does wear on my palate more than other hefeweizens. Give it a go.
464 characters

3.09
/5
rDev
-6.1%
look: 3.5 | smell: 2 | taste: 3.5 | feel: 3 | overall: 3.5
Poured a hazy yellow color with a two-finger head that disappated. Subdued aromas of banana and clove. This is definitley a thirst quencher and easy on the palate. Flavor points are a little on the light side for a hefe. If you are looking for something refreshing on a summer day, this is your beer.
300 characters
Newport Storm Summer Hefeweizen from Coastal Extreme Brewing Co.
3.29
out of
5
based on
59
ratings.