Newport Storm - Vlad (Cyclone Series)
| Coastal Extreme Brewing Co.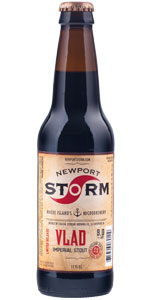 BEER INFO
Brewed by:
Coastal Extreme Brewing Co.
Rhode Island
,
United States
newportstorm.com
Style:
American Double / Imperial Stout
Alcohol by volume (ABV):
9.00%
Availability:
Limited (brewed once)
Notes / Commercial Description:
Cyclone Vlad is pure royalty! This Russian Imperial Stout has a rich dark brown, almost black, color and smooth, deep tan head. The use of dark malt and chocolate wheat, a brand new ingredient to Storm, delight the taste buds with delectable baker's chocolate and roasted coffee flavors. The single type of hop, Warrior, used in Vlad creates a rounded bitterness to compliment all that malty sweetness, making this Cyclone a perfectly balanced brew, despite its hefty 9% ABV and dark qualities.
Added by Celtics76 on 10-29-2012
This beer is retired; no longer brewed.
Reviews: 15 | Ratings: 39

3.85
/5
rDev
-5.6%
look: 3.25 | smell: 3.75 | taste: 4 | feel: 4 | overall: 3.75
Thanks master Atremains. Bottle about 2 years old I think.
A- Pitch black 12oz pour into two snifters with a tan head. The cap really only makes it to a film with no substantial retention or buildup. Lacing is not happening.
S- Intensely roasted grains with notes of burnt barley, caramel, toasted nuts, dark chocolate and a touch of savory like soy sauce. Not much going on beyond the grains besides a hint of dark fruits.
T- Slightly over-baked brownies instantly come to mind with a blend of sweet milk chocolate, heavily roasted to semi burnt dark grains, toasted almonds, vanilla sweets, coffee and a touch of raisins and dark fruits.
MF- Thick and somewhat oily body as the carbonation comes down on the low side of the low-medium level. Texture is just slightly creamy. Warming sensation in the finish.
Reminds me a bit of an aged Founders RIS with an intense and decadent blend of toasted slightly burnt nuts, burnt barley and rich chocolate. I could get down with this Vlad.
★
988 characters
4.01
/5
rDev
-1.7%
look: 3.75 | smell: 4 | taste: 4 | feel: 4.25 | overall: 4
Sampling a cellar temp bottle poured into a snifter.
The beer pours a cola brown color with no light passing through my glass. A fluffy, billowing tan head almost overflows my glass even with a gentle pour.
Aroma is robust right off the pour with molasses and roasted malt with a dose of brown sugar and some dark plums. Definitely a little boozy note in the nose as well.
First sip reveals a thick chewy body with fine tingly carbonation. A very nice texture on this beer.
Flavors is lots of malt and roasted notes. Also get molasses and some dark fruit with just a hint of warm booze on the finish. Pretty well hidden for the ABV. This is a good Imp Stout. Maybe it will become a winter seasonal release?? hint hint
★
725 characters

4.11
/5
rDev
+0.7%
look: 4.75 | smell: 4.25 | taste: 4 | feel: 3.5 | overall: 4.25
Poured from a 12 oz bottle into a snifter. Freshest before "FEB" is notched on the bottle (no year given).
Appearance: Pours a jet black and leaves a little under a finger of dark brown head. Great looking RIS.
Smell: Roasted dark malts, dark chocolate, light coffee, dark fruits: figs, raisins,
Taste: Matches the smell: roasted malts, cocoa, bitter coffee, figs. Quite a bitter finish to this one, although it starts off pretty sweet. Alcohol is decently masked but present, not in a bad way.
Mouth-feel: Medium carbonation (fairly high for a RIS) with a pretty light body for the type of beer it is. A touch of creaminess to it, but I'd call it a bit too light for me.
Overall: Definitely a solid Russian Imperial Stout. Deep, dark flavors to go along with the black/abyss-like color. The body is a bit light, and I would say it has a little too much carbonation, but time could fix that. Definitely solid flavors in the aroma and taste - this is a well crafted brew.
★
976 characters
3.81
/5
rDev
-6.6%
look: 3.75 | smell: 4 | taste: 3.75 | feel: 3.75 | overall: 3.75
12oz brown bottle with a freshness date.
Pitch black, opaque with a thick lining of brown lacing. Smells of black currants, light molasses, chicory, German dark bread and mild alcohol. Massive roasted character, slightly burnt but more dark chocolate and espresso overtones than anything else. Welcoming warmth, burnt dark fruit, balanced hoppiness with a semi-dry palate.
A really good run at the RIS style, would like to see this come back year to year. Not a mind blowing hype train ... just a simple RIS that does what it is supposed to do.
★
547 characters

4.19
/5
rDev
+2.7%
look: 4.25 | smell: 4 | taste: 4.25 | feel: 4.25 | overall: 4.25
12 oz. bottle.
Very dark used oil brown-black. Thick and viscous looking. Pinkie finger of whipped, dense, dark khaki head. Nice lacing. Lots of cocoa and dark chocolate on the nose. Dark fruits and chocolate covered cherries. Roasted, charred edge, with some peaty notes as well.
Roasted barley and dark chocolate up front. Coffee and dark chocolate bitterness follow. Nice mix of chocolatey malt and sweetish dark fruits mid-palate. Some licorice and tobacco near the finish. Woody, tannic bitterness linger, with traces of peaty malt and dark fruits in the end. Medium-full body with a thick, creamy feel. Nicely done!
★
624 characters
4.04
/5
rDev
-1%
look: 4.25 | smell: 4 | taste: 4 | feel: 4.25 | overall: 4
From the bottle.
Pours super inky black with amber edges. Auburn head ~ 1/4 finger, fading quickly. Minimal lacing.
Smell is vanilla bourbon, fairly soft.
Rich dark chocolate, cocoa, malt, and hints of molasses and some sweet almost rose notes. Finish with rich malts and solid burst of dry hops.
Thick and full body, with dry finish from the hops.
Good overall. I love the cyclone series in general, and this follows in that vein of good, drinkable beers. Many better RIS out there, but a fine New England example.
★
520 characters
3.96
/5
rDev
-2.9%
look: 3.5 | smell: 4.25 | taste: 4 | feel: 3.75 | overall: 3.75
Opaque black with small tan head that dissipated to a thin ring along most of the edge of the glass and did not leave any lacing.
Aroma of deep roastiness, chocolate mocha, and a touch of burnt. Toasty sweet malt behind with some molasses.
Tasted dark and roasty, chocolate mocha, brownies, touch of campfire. Sweet toasty malty backing with molasses. Bitter roasty aftertaste with a splash of booze.
Smooth, thickened, full body. Slightly chalky lingering like the bitter last sip of coffee.
Decent RIS, great roastiness, good fullness to it, alcohol is well integrated. Not my favorite RIS, but a decent example of the style.
★
627 characters
4.71
/5
rDev
+15.4%
look: 5 | smell: 4.5 | taste: 4.75 | feel: 4.75 | overall: 4.75
Poured this beer out into a tuliped glass. The first thing I noticed was the brown head - a great sign for a Russian Imperial Stout. The legs on the glass back this up with a viscous brown residue.
Going in for a smell of this beer I immediately pick up the bold roasted notes along with a sweet maltiness. The aroma lingers in the nostrils, but pleasantly. When I taste this beer I am impressed with the amount of roasted flavor and how well it is balanced by the maltiness. I would have no idea that this beer is 9% abv if it didn't say it on the label. The beer coats the mouth and leaves a great finish without astringency that you can get in roasted beers.
What a well built beer. So much flavor and abv, but also very well balanced - not to mention a textbook example of the style. Tough to think of a better Russian Imperial.
★
834 characters
4.01
/5
rDev
-1.7%
look: 3.75 | smell: 4 | taste: 4 | feel: 4.25 | overall: 4
12 oz bottle poured down the middle of a snifter.
Black body with a creamy brown head and brown/amber highlights. Head dissipates to nothing after a while and doesn't really leave any lasting lace.
Lots of roast and chocolate(sweeter milk and more bitter dark). A little vanilla and soy sauce as well.
Hits with big roasty coffee bitterness and slight ash backed up by chocolate that reminds me of brownies.
The smooth and full body feels luxurious on the tongue.
It was cool to try this out of state beer. Good stuff.
★
525 characters

4.32
/5
rDev
+5.9%
look: 4 | smell: 4.5 | taste: 4.5 | feel: 4 | overall: 4
Pours Straight up black with a minimal cola like head and minimal lacing. There is a strong smell of dark roasted malts bakers chocolate and grains. The taste mimics the flavor with the roasted malts being the main body and a hint of the chocolate followed by some coffee and hop bitterness. The mouthfeel is pretty light for a big stout and it is quite drinkable with a well hidden 9% ABV. Overall another solid offering from the cyclone series and I'm surprised so few people have tried this one.
★
498 characters
4.5
/5
rDev
+10.3%
look: 4.5 | smell: 4.5 | taste: 4.5 | feel: 4.5 | overall: 4.5
Served from a bottle. Black as black can be. You literally cannot see thorough this noir wonder....foamed up 2" with a rocky pour and stayed frothy for a minute or two. Intriguing....
Smell is of intense roasted and chocolate--certainly true to this Russian Imperial Stout Style. Raisons. Dark fruit. Hops not present...I am expecting a sticky sweet assault....
Taste--decadent. chocolate. Coffee. milk chocolate with coffee? Super interesting. A sure winner!
Mouthfeel--well rounded, balanced.
Overall--I tried this next to three other imperial stouts and Vlad crushes them Go get some!
★
592 characters
4.12
/5
rDev
+1%
look: 3.5 | smell: 4 | taste: 4.5 | feel: 3.5 | overall: 4
Poured from a 12oz bottle into a tulip glass.
A: The beer is a deep black color, with a very thin light brown head that fades quickly and leaves almost no lace on the glass.
S: The aroma contains roasted malts, coffee, chocolate, faint hops and some dark fruit.
T: The taste starts out with a hearty roasted malt character that is quickly followed by flavors of milk chocolate and black coffee. The hops presence is very mild as you would expect in this type of beer but is strong enough to bring a good balance. The after-taste is slightly sweet.
M: Smooth and crisp, medium body, medium carbonation, finish is slightly sticky.
O: Tasty, goes down easily, not too filling, good kick, good representation of style, this is a very solid big stout to drink for a long time.
★
776 characters

4.58
/5
rDev
+12.3%
look: 5 | smell: 4.5 | taste: 4.5 | feel: 5 | overall: 4.5
This is my first beeradvocate review. Poured from a 12 oz. bottle into a Grey Sail pint glass.
A - This beer is jet black. Extremely dark, like oil. Thin layer of dark foam on top. Very nice.
S - Vanilla, creme and chocolate. A hint of coffee.
T - Cremey, bold coffee taste. Very roasty and bold, but the 9% ABV is completely masked. Really incredible stout.
M - Thick and cremey. Leaves a bit of a foamy feel from the light carbonation. Very smooth.
This is a fantastic stout and one of the boldest, darkest beers I've had. Very different from anything else I've tasted from Newport Storm. It's very bold and roasty, so it's a great choice if you like these kinds of beers.
★
679 characters

4.15
/5
rDev
+1.7%
look: 4.5 | smell: 4.5 | taste: 4 | feel: 4 | overall: 4
Poured from a 12 oz bottle into a Samuel Adams pint glass. Purchased at Wakefield liquors in Wakefield, RI.
A- pours the darkest of the dark- the single darkest brew I've ever seen. After an aggressive pour, a thick 3" dark mocha head slowly rose and reduced to a thin film Of dark foam. Medium lacing. Stunning.
S- dark chocolate, Roasted coffee beans, slight vanilla in the background. Just as inviting as the appearance. Now for the true test..
T- this brew is dominated by a super bold, deep roasted-nearly burnt malt flavor. This leads to some dark chocolate and roasted coffee notes with maybe some caramel in the background. Not a hint of alcohol on the tongue, which is pleasantly surprising for the 9% abv.
M - thick, oily and robust. Very little carbonation.
Overall, this was a surprisingly bold choice of brews for newport storm, and I feel as if they really outdid themselves. Due to the thickness and near burnt character of the malt, this may not be for everyone, but do try it if you're into stouts and porters. It's flavorful and full bodied, and definitely worth a try.
★
1,093 characters

3.86
/5
rDev
-5.4%
look: 4.5 | smell: 3.5 | taste: 4 | feel: 3.5 | overall: 4
I'm pleased to be the first to review this one.
I poured this into a Red Hook Limited glass. It's jet black in color with no head and minimal lacing.
Tastes like dark roast black coffee with a little dark chocolate in the background. Has a syrupy feel to it with some decent carbonation. At 9% abv, the alcohol is definitely detected, but not overpowering. Definitely a slow sipper, as expected.
A fine effort - some good roasted flavors here - another good Cyclone series beer.
★
489 characters
Newport Storm - Vlad (Cyclone Series) from Coastal Extreme Brewing Co.
4.08
out of
5
based on
39
ratings.