Thomas Hooker Spinster Hop XPA
| Thomas Hooker Brewing Company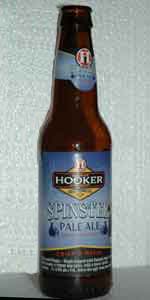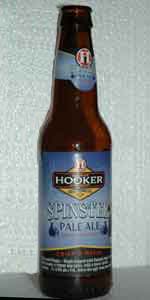 BEER INFO
Brewed by:
Thomas Hooker Brewing Company
Connecticut
,
United States
hookerbeer.com
Style:
American Pale Ale (APA)
Alcohol by volume (ABV):
4.80%
Availability:
Rotating
Notes / Commercial Description:
Thomas Hooker Spinster XPA is a very sessionable, light bodied ale. Full of bright citrus and grapefruit notes, this unfiltered brew showcases the use of one single hop, Summit. The bold use of this unique hop variety lends a lingering bitterness and floral bouquet to this crisp and refreshing extra pale ale.
Added by Durge on 02-02-2013
HISTOGRAM
Ratings: 13 | Reviews: 4
Reviews by tryemdad:
2.6
/5
rDev
-30.3%
look: 2.5 | smell: 2.5 | taste: 2.75 | feel: 2.5 | overall: 2.5
Single hop is perhaps an over-statement. This one is very simple and focused - to a fault.
Appearance is lacking, right off the pour. Where's the signature "cloudiness" of a hoppy brew? Limited, bubbly lacing. Not much to this overall...disappointing from a homegrown favorite.
Maybe it's my frustration at not being ale to identify this "single hop," but this one didn't do it for me. Mild bitterness...which isn't necessary bad, but it's a "flat" bitterness, no complexity at all....no floral aroma.
505 characters
More User Reviews:
4.6
/5
rDev
+23.3%
look: 4.5 | smell: 4.5 | taste: 4.75 | feel: 4.5 | overall: 4.5
Very tasty and satisfying beer.
31 characters

4.24
/5
rDev
+13.7%
look: 3.75 | smell: 4 | taste: 4.5 | feel: 4 | overall: 4.25
I've been sampling pale ales for the summer months and I picked up a bottle of Thomas Hooker's Spinster Pale Ale, which I know comes in a 12-bottle assortment of pale ales. I think it's new for the bottle, although it appears to be on tap as Spinster XPA. The unique thing about this beer is that it's single-hopped with Summit hops.
Appearance: Straw to golden and slightly hazy, with an average head, cling, and carbonation
Smell: Citrus hops predominate – grapefruit, some lemon pepper, but still let the malts come through in pale ale fashion
Taste: A pale ale balance starts the journey, but curiosity about the exclusive use of Summit hops takes me down a side path. I like these hops: they have a peppery bite to them and an earthy complexity beyond the Cascade/Chinook varieties that make this beer distinctive without being over-hopped. Summit is a high-alpha hop so it can be tricky to use it all alone for flavor and aroma, but Hooker succeeds at this and the result is a unique-tasting pale ale that's quite bitter but not over the top. The bitterness lasts for a long while and stands up well to spicy foods, and the grain balance somehow hangs in there despite a relatively low ABV of 4.8%. To me, an IBU of 44 is just about right for an American Pale Ale.
Mouthfeel: The hops give it some body despite its sessionable charter, and it satisfies without being too filling
Overall: An excellent single-hopped Pale Ale that I'm glad I discovered in bottles. Going out to buy more.
1,513 characters

4.26
/5
rDev
+14.2%
look: 3.5 | smell: 4.25 | taste: 4.5 | feel: 3.75 | overall: 4.25
Enjoyed on cask at Backstage Restaurant in Torrington, CT. This extra hopped pale ale shows a hazy yellow amber color with no head or lace outside a few lazy bubbles. The nose picks up immediate, sharp citrus over bready yeast. Nice hop heaven here, a bit of cat piss! The flavor brings out a blend of citrus intensity and sweet lemon bread with a tempered yeast idea. All very much in keeping with the aroma. This stuff is solidly medium body with the typical cask limp feel. Wonderful hop flavor. Loved it!
508 characters



3.52
/5
rDev
-5.6%
look: 3.75 | smell: 3.5 | taste: 3.5 | feel: 3.5 | overall: 3.5

4.24
/5
rDev
+13.7%
look: 4 | smell: 4.25 | taste: 4.25 | feel: 4.25 | overall: 4.25
Poured from a 32-oz. growlette into a snifter glass.
A: Poured a very bright, golden color with a slight orange tinge and chill haze beneath a thin veil of creamy, white carbonation which left little lacing on the glass.
S: Very aromatic hops which range from catty to lemon peel to hints of peppery, grapefruit juice. There's a slight grain husk scent in the background, but the nose is decidedly hop-forward.
T: Quite the tasty blend of mild, toasted grains up front with a slight buttery, herbal quality which segues nicely into the assertive, yet crisp hop profile. Bitterness starts off sharp and peppery with a slight lemon peel flavor which leaps into a much more fruity, citrus arena. The finish is very dry and snappy with a catty and grassy hop finish.
M: Crisp, clean and enjoyable mouthfeel, this brisk, light malts and bracing hop profile make this an easy-drinking and consistent extra pale.
O: A single-hop pale ale with a very sessionable ABV and impressive IBUs to bolster a light malty backbone, Summit XPA is an impressive and exciting new prospect for Thomas Hooker. Here's hoping to see some cask-conditioned versions of this ale or new single-hop installments in an "XPA series." As it's brewery draft-only for now, I'd certainly get it again and recommend it as a must-try at the next weekend tasting event.
1,335 characters
Thomas Hooker Spinster Hop XPA from Thomas Hooker Brewing Company
Beer rating:
3.73
out of
5
with
13
ratings