Blizzard Bock

Flying Bison Brewing Company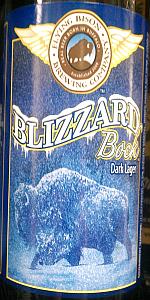 Rate It
Beer Geek Stats
| Print Shelf Talker
Style:

ABV:

6.5%

Score:

Avg:

3.69

| pDev:

13.01%

Reviews:

15

Ratings:

From:

Avail:

Rotating/Seasonal

Wants

Gots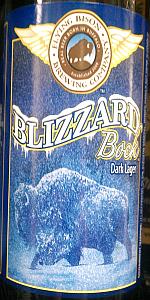 Notes: This is a classic German-style dunkel bock. It has rich, toasty malt flavor with hints of soft chocolate. The German-style hop varieties are subdued to allow the malts to star in this satisfying beer. It got us through last winter, it can get you through anything.

21 IBU

mvanaskie13 from Pennsylvania
4.24
/5
rDev
+14.9%
look: 4 | smell: 4.25 | taste: 4.25 | feel: 4.25 | overall: 4.25
Poured into a narrow pint glass: color is brown, solid; head is light tan with fine to small bubbles; head presents 1/4 inch thick and then dissipate to a ring, no lacing.
Smell is cocoa, light caramel, toast, light raisin, solid munich malt character.
Taste is a touch thinner than some of the leading aromas, still present cocoa, light caramel, toast and raisin.
Mouthfeel is crisp, a bit drying, maybe a touch overcarbonated.
Overall the leading aroma and moderate flavors are in the style of a pleasant bock.
Updated Review 1/10/19:
Poured into a narrow pint glass, color is brown, amber edges, head presents 1/2 inch thick with fine bubbles, good lacing and lingers well.
Aroma cocoa, toast, caramel, very good and enticing.
Taste is much improved from previous review - nice sweet malt, good toast and cocoa balance, light toast, toffee, just great bock or light doppelbock flavor.
Mouthfeel is moderate carbonation, pleasant sweetness, great carbonation/sweetness balance.
Overall - much improved from my initial review a few years ago - great malt depth and balance with cocoa, toast, toffee notes in both flavor and aroma.
Nov 26, 2016

biegaman from Canada (ON)
3.66
/5
rDev
-0.8%
look: 4.25 | smell: 3.75 | taste: 3.5 | feel: 3.5 | overall: 3.75
Blizzard Bock looks strong and hearty enough to withstand the cold western New York winter. Its head is built like a snow fortress and its body, despite wonderfully sheeny chestnut coloured highlights and immaculate clarity, appears dark and rather substantial. The beer is as nice as its label.
Malt should be at the center of every Bock and, indeed, this aroma has an enticing nuttiness and mild toast. There's a very mild sweetness that is faintly suggestive of caramel but, by and large, this smells mostly of roasted almonds, dark bread crusts and perhaps a hint of chocolate too.
The best bocks are the kind of strong, rich, satiating, subtly complex beers that makes one feel closer to god's heart - this one doesn't have what it takes for that. It is, however, a suitable winter alternative for yellow-beer drinkers; the body is only narrowly more dense and the ease of drinkability on par.
In fact, the only real way this differs from its paler counterparts is in the (mild) flavours of nuts, toasted bread and (even milder) notes of milk chocolate and purple plum-like fruitiness. Put another way, flavours are more numerous but really no more significant than they are in, say, a cream ale.
Flying Bison and I have a shaky relationship that they know nothing about. Their first beers I tried were so fair-to-middling that I never bothered buying them again. Blizzard Bock was my first purchase in a while and, though it reinforced my opinion, was still good enough to restore some confidence.
Feb 12, 2016
fscottkey from New York
3.59
/5
rDev
-2.7%
look: 3.5 | smell: 3.75 | taste: 3.5 | feel: 3.75 | overall: 3.5
A: [3.50] Looks black when it pours but it is really just dark red. You can easily see through it with a little back lighting. There was a small head that was gone really quickly. The bottle has a squished print code that I assume decodes to something. No listed ABV or IBU.
S: [3.75] Raisins and dark fruit. Some spice that I can't put my finger on. Also maybe caramel
T: [3.50] There are some holiday spices and nice sweetness. I am not getting much roasted malt character (darker beer makes my brain think roasted malt).
M: [3.75] The carbonation is light and the beer feels nice on the palate. It starts to feel a little watery late.
O: [3.50] I am a bit of a homer and this is a local brew - so I tend to dig deep for the positives (he at least I can admit it). This is a nice Christmas type beer. It has the warming spices and a nice sweetness to go along with it. It tastes like it has lower ABV (no alcohol taste at all).
Dec 10, 2014

Darkmagus82 from Texas
3.72
/5
rDev
+0.8%
look: 3.75 | smell: 3.5 | taste: 3.75 | feel: 4 | overall: 3.75
Poured from bottle into a pint glass
Appearance – The beer pours a mahogany color to ruby-brownish color with a one finger of mocha colored head. The head has a decent level of retention leaving a nice level of streaky lace on the sides of the glass once it fades.
Smell – The aroma of the beer is heaviest of sweeter smells of toffee and caramel with some lighter sweet smells of a dark fruit nature of raisin and cherry mixed within. Other aromas of a more toasted malt smell as well as a bit of a roasted brown bread smell are there as well.
Taste – The taste begins with a roasted malt taste combined with tons of caramel and toffee sweetness. The roasted malt gets a little bit more toasted as the flavor advances, with the sweet flavors growing more intense as some darker fruit flavors also join the tongue. At the same time a little bit of a nutty flavor joins the tongue, maintaining a rather light presence to the end of the taste. The caramel and toffee surge again at the end, along with a little bit of cinnamon and nutmeg and some more roasted malt coming to the tongue, to in the end, leave a rather smooth and sweet malty flavor to linger on the tongue.
Mouthfeel – The body of the beer is on the slightly thicker side with a carbonation level that is on the slightly lower side. For the style, with all the roasted and sweet flavors, the combo of thickness and carbonation are rather nice, and helps create a slower sipper then would traditionally be encountered for a brew of only 6.1 % abv.
Overall – A rather tasty and sweet malty winter brew. Rather tasty and a nice winter warmer without all the boozy flavors.
Dec 23, 2013
AleWatcher from Illinois
2.73
/5
rDev
-26%
look: 3.5 | smell: 3 | taste: 3 | feel: 1 | overall: 2.5
I don't know where I got this bottle-- no doubt it was an extra in a trade or BIF... So thanks whoever you are!
Served in a dimpled mug
http://i.imgur.com/pixZB.jpg
Deep reddish brown body. Clear. Small tan head settled to a clingy film. No lacing.
Smells of roasty malts with some coffee and even chocolate.
The flavor is the same-- a touch of sweetness is lost to a dry roastiness. Light hint of bitterness
Really thin.... Really really thin. Kinda watery. What's off though is that despite being thin and watery, it leaves a gritty syrupy vibe on my teeth after each sip.
Overall-- yikes. This is not a very good bock... It is quite one-dimensional and too thin, the best I can say for it is this; it hides its ABV pretty well. I wouldn't drink another one unless I was too wasted to know the difference.
Jun 25, 2012
match1112 from Illinois
3.75
/5
rDev
+1.6%
look: 4 | smell: 4 | taste: 3.5 | feel: 3.5 | overall: 4
a: reddish brown body. two fingers of mocha colored head quickly settles into a thin cap with very little lacing.
s: chocolate malts, dark fruit.
t: light milk chocolate. picking up some plum and raisin as well.
m: medium to thin body with good carbonation. a slight astringency to it, that luckily disappears quickly.
o: decent enough bock, probably would of been better in the winter months, not when it's hot and humin out.
May 04, 2012

gabedivision from New York
3.85
/5
rDev
+4.3%
look: 3.5 | smell: 3.5 | taste: 4 | feel: 4 | overall: 4
Poured to pint glass from a 12 oz bottle
A- Deep reddish brown, clear, low carbonation with a 1 finger head that thins around the top of the glass.
S- Toasted malts, deep lager scents, small hints of chocolate and toffee.
T- Great typical bock flavor, roasted malts, chocolates, and a dark fruit characteristic on the finish.
M- Light - medium in body, robust, semi sweet, medium carbonation.
O- This makes the grade, while i'm never "blown away" by FBBC's beers, they always hold up well to their style. This is a good bock, with great traditional Bock flavors.
Jan 19, 2012

dogfishandi from New York
3.71
/5
rDev
+0.5%
look: 4 | smell: 3 | taste: 4 | feel: 3.5 | overall: 4
served on tap at mammoser's tavern in hamburg, ny into a pint glass.
a deep dark brown color, almost a little reddish, thin but retentive light tan colored head kept a thick ring the whole glass. a little sticky lace.
not much aroma. some light sweet toasted malt and very light roast.
not a bad taste, actually pretty decent. sweet toasty and some lightly roasted malts. some nice hints of chocolate, a subtle earthy hop, just enough bitterness to balance and just a hint of fruitness.
a little too much carbonation, medium to light in body.
ive never really been impressed by any flying bison beers, they all remain decent with good drinkability. this falls in line with the rest.
Dec 21, 2011
kwjd from Canada (ON)
3.67
/5
rDev
-0.5%
look: 3.5 | smell: 4 | taste: 3.5 | feel: 4 | overall: 3.5
Had this on tap at Pizza Plant in Williamsville. This was the first I heard of Flying Bison I believe, as this was my first drinking stop ever in Buffalo. Pours a dark amber-brown colour with a thin strip of head above the beer. Not too much lacing. Smells of chocolate and raisin with some brown sugar. Reminds me a little bit of a dark Belgian with toned down yeast rather than a bock. This was still fairly nice, I enjoyed it.
Feb 24, 2011
brentk56 from North Carolina
3.9
/5
rDev
+5.7%
look: 4 | smell: 4 | taste: 4 | feel: 4 | overall: 3.5
Appearance: Pours a dark amber color with a one inch cap that leaves a few strands of lace
Smell: Caramel, brown sugar and a hint of raisin
Taste: Opens with the caramel and slightly burnt brown sugar character; by mid-palate, the flavor adds a grainy tone, that along with the raisin elements take it in a deep, earthy direction that lingers into the finish
Mouthfeel: Medium body with moderate carbonation
Drinkability: A very unusual take on the Bock style - almost a winter Bock, if that makes sense; Bocks aren't my favorite but this was interesting
Thanks, silverx, for the opportunity
Jan 28, 2011
wiseguy142 from New York
3.9
/5
rDev
+5.7%
look: 4.5 | smell: 4.5 | taste: 3.5 | feel: 3.5 | overall: 4
Starts off nice- dark, rosy brown. Great frothy yellow head with good lacing. A little dark for a standard bock but I'm open to it. Head dies down a bit within a couple minutes but it leaves some nice spotted lacing.
Nose is full of light raisins and brown malt. Not overly heavy on the brown malt. Fruity, malty, totally clean.
Taste is complicated as hell. Chocolate malt, raisins, brown malt, dry and sweet at the same time, very very slightly astringent but definitely acceptable. I'd say cut down on the chocolate malt or roasted barley just a bit, bump up the alcohol and get it a lot cleaner. Either that or make it more like Optimator and turn it around towards the dark side. I enjoy drinking it though- it tastes fresh and seems to be made with high quality ingredients. Mouthfeel is creamy and could be a bit drier with alcohol. Or maybe I'm just looking for more of a dopplebock here. I would drink a Mass of this in Germany with no problem. Great beer garden beer.
Sep 03, 2009
allergictomacros from Canada (ON)
3.53
/5
rDev
-4.3%
look: 4 | smell: 3.5 | taste: 3.5 | feel: 3.5 | overall: 3.5
A - Clear, dark ruby red with a decent head of tan foam.
S - Toasty, coffee, dark fruit.
T/M - Somewhat sweet and quite bitter. Some acidity up front and a heavy syrupy body. Also some astringency as well. Lots of toasty flavour and a heavy dose of raisins and some cherry-like berry-ness. Finish is long and puckery with bitterness and astringency.
D - Not bad, but substantially heavy brew. Decent hops/toast balance. Not something I would have often nor a lot of at once.
Jun 23, 2009
thekevlarkid from Maryland
3.8
/5
rDev
+3%
look: 3.5 | smell: 3.5 | taste: 4 | feel: 3.5 | overall: 4
Out of a growler given to me by my lovely and delicious friend Laura this bock was a dark copper/mahogany color. The head was cream-colored and short-lived but it did leave thin bands of lacing. The aroma was of roasted malt, hints of wood and sour malt with a musky quality to it. The flavors were at first slightly sweet in a malty way but soon became more smoky and roasted. Hints of chocolate, toffee and spices and it ended on a bitter, almost leathery note. The mouthfeel was smooth but watery, the body medium/light and the carbonation a little too soft (the growler?).
Jan 24, 2009
WxAxGxS from Minnesota
3.76
/5
rDev
+1.9%
look: 4 | smell: 3 | taste: 4 | feel: 4 | overall: 4
I sampled this at the brewery. Quite a good beer with a smooth taste with no noticeable hop and a light tan head. It had a nice, if strong roasted nut flavor with some caramel as well. It was good enough that my friends grabbed a few growlers for the weekend. I went for the oatmeal brown.
Dec 15, 2007
oberon from North Carolina
3.93
/5
rDev
+6.5%
look: 4 | smell: 3.5 | taste: 4 | feel: 4.5 | overall: 4
Nice to see Buffalo's only brewery continue to expand into different styles and from what I heard this is going to be bottled shortly as well.Poured a chesnut brown color with a thinner slight off white head,not an overly expressive nose but there is a nice roasted nut and chocolate elemant,big full almost creamy in texture body just what a bock should have pretty lush.Flavors of roasted nut and some caramel sweetness up front gliding into a semisweet chocolate note with just a hint of dry earthiness in the finish.Hops are subdued as they should be this will be a nice warming beer to have over this upcoming winter.
Nov 05, 2006
Blizzard Bock from Flying Bison Brewing Company
Beer rating:
83
out of
100
with
48
ratings