Kvas Taras
| Slavutych Brewery
BA SCORE
81
good
13
Reviews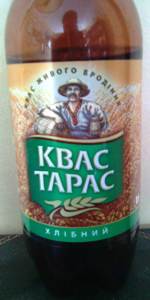 BEER INFO
Brewed by:
Slavutych Brewery
Ukraine
slavutich.com
Style:
Kvass
Alcohol by volume (ABV):
1.20%
Availability:
Year-round
Notes / Commercial Description:
No notes at this time.
Added by TMoney2591 on 01-18-2011
Reviews: 13 | Ratings: 19
3.56
/5
rDev
+4.7%
look: 3.5 | smell: 3.75 | taste: 3.5 | feel: 3.5 | overall: 3.5
How best to describe this? It looks like tea, it has a little carbonation, and there's a little bit of sediment on the bottom of the glass. Big aromas of dark bread and fruit, with notes of sweet tea, black bread, and raisins on the palate. I was not expecting much after reading about this particular style, but this was surprisingly good and worth the time it took to seek it out.
382 characters
2.75
/5
rDev
-19.1%
look: 3 | smell: 3 | taste: 2.75 | feel: 2.5 | overall: 2.5
Appearance- Pours only a sliver of head even when I pour straight into the glass (not like I had much of a choice with such a large bottle). It did have enough retention for me to notice that is was a light beige color. The body is a dirty maroon/dark amber color that appears dark amber when held up to the light. I don't expect any lacing as this is more like a soda than real beer.
Nose- Very strong aroma. Some notes are desirable, some are less. Lots of caramel with notes of beets and sweet cornflakes. Somewhat like Coca-cola but these off flavors. It has a slight sourness from the glass but is syrupy sweet from the bottle.
Taste- Very reflective of the nose. Very sweet, maybe a note of raisins and cherries underneath grain and bread. The caramel aspect is not as strong as one the nose and the off Coke flavors of the nose are overwhelmed by the raisin and grape sweetness. There are a lot of similarities to Coca-Cola (which I do enjoy but do not drink anymore) and I can understand why kvass in Russia has been overtaken by cola. Perhaps a better comparison is to Pepsi, as it is sweeter than Coke. Some prune juice qualities to it as well. Reminiscent of a flat rum and coke. Not a bad beverage- definitely better than low alcohol beer. Some hints of rye (and cereal) and tiny bits of spice around the edges.
Mouthfeel- Medium bodied with lots of syrup to the texture. Very little carbonation. This does not render it undrinkable but if it wants to reclaim market shares from soft drink companies, then it needs the bubbles.
Drinkability- Fairly easygoing. It's not going to get you drunk. Maybe your six year old. Which appears to be an acceptable practice in Russia. Pretty cheap. 3 bucks for 2 liters.
Overall- It's good for what it is and it seems to be fairly representative of the style. I would not classify it as beer though. It's not even considered an alcoholic beverage in Russia. Give it a try. I was a bit apprehensive but I definitely have had worse "supposedly great" beers. I wouldn't repurchase this but I might try others of its style- especially American interpretations.
2,119 characters

3.45
/5
rDev
+1.5%
look: 3 | smell: 3.5 | taste: 3.5 | feel: 2.75 | overall: 3.75
Poured from 2 liter plastic bottle into a dimpled mug.
Appearance: medium brown hue with a haze-free body and a light effervescence. Head poured half a finger of fizzy tan foam but dissipated immediately. An average kvass.
Smell: sweet and bready with a distinct raisin aroma. Not too bad.
Taste: rye bread is readily evident, and the flavor is a little bit drier than the aroma would suggest. There's less raisiny fruitiness in the flavor as well, which provides a nice counterpoint to the aroma. A decently balanced brew.
Mouthfeel: light and watery with a low level of carbonation. Even for a kvass, there's not much going on here.
Overall: the balance of this brew makes it very quaffable. There are some disappointing areas here, but overall experience and drinkability are quite good.
795 characters
3.39
/5
rDev
-0.3%
look: 3.25 | smell: 3.5 | taste: 3.5 | feel: 3 | overall: 3.25
2 liter plastic bottle
Served in a tulip glass
Thanks to sommersb for this one
A - It is dark amber in color, almost a copper. It has amber highlights. I vigorous pour only yields a thin, tan head.
S - The aroma is a combination of rye or pumpernickel bread and caramel candy. It is very sweet and bready.
T - The taste is candy sweet. I also get some rye bread taste. The best way to approximate the taste would be to take a caramel candy and eat it with a crouton.
M - Moderate to thin with very little carbonation.
O - It's like drinking a really sweet, flat cola. I think more carbonation would help. This is my first dalliance with this style. I would like to try some others for comparison.
704 characters

2.58
/5
rDev
-24.1%
look: 3 | smell: 2.5 | taste: 2.5 | feel: 2 | overall: 3
Poured this one out among the family yesterday at our annual Christmas party. The for many of them it was their first time trying Kvass. Basically I sold it to them as a "Russian Soda". Many didn't like it and found it hard to drink a 2/3 full glass of it. Either way it pours out as a clear looking reddish brown color. There is a thin and quick fading head on top. The smell of the beer is sweet, it's got a boat load of molasses on the nose as well as plenty of bread-like aromas as well. The taste is sweet for the most part, there is the main flavor of molasses and bread followed by what I thought tasted like grapes in the finish. The mouthfeel of this was much like a soda, watered down and carbonated... not much complexity at all. Overall it's a pretty traditional Kvass, not much else to say... It's a decent drink but not something I would rush out to buy more of.
876 characters
3.6
/5
rDev
+5.9%
look: 3.5 | smell: 3.5 | taste: 4 | feel: 2.5 | overall: 3.5
New find at Rich's Deli, priced right at $1.89 for a 2 liter. Info in 6 languages on the bottle, English being the least descriptive. Seemingly pasteurized or "pasteurizat" in Moldovan. Contains rye malt and barley malt concentrate. Seems to be decently rated and poised to enter the top 10 style list with a couple more reviews.
Pours placidly into a large mug with little fanfare. A string of bubbles at the edges and a cluster of larger ones in the center linger briefly. Color is a dark tawny brown, approaching mahogany.
Smells good, very bready and raisiny. Lightly sweet, giving an oatmeal raisin cookie impression.
Tastes tangy and full of raisins, bready rye and barley linger, not overly sweet and only moderately so. Finishes sort of dry, must be the sugar though. Thin and watery, as commercial Kvas often is, though not always. Very drinkable though, in small part due to the lower carbonation. Distinct rye bread aftertaste after a bigger quaff. Overall not bad, a warm weather beverage to pair with hearty food.
1,032 characters

2.58
/5
rDev
-24.1%
look: 3 | smell: 2.5 | taste: 2.5 | feel: 3 | overall: 2.5
A: This one pours a light brown color with some reddish notes and no head.
S: Smells strongly of rye with a heavy dosing of toasted bread. A bit more sweet malt from toffee. Lots of fruit aromas, mostly prunes and raisins. There is a slight tang/sourness and some yeast.
T: The flavor is very sweet. White table sugar and brown sugar as well as cola. It's a bit watery with some bread and toffee. Only a mild rye flavor.
M: Light bodied with low carbonation.
O: Watery but still almost cloyingly sweet.
506 characters
3.31
/5
rDev
-2.6%
look: 4 | smell: 3 | taste: 3.5 | feel: 3.5 | overall: 3
Thanks to woodychandler for this beer. Poured from a brown plastic 1 liter bottle. Has a dark brown color, no head whatsoever. Smell is rather mild, some molasses. Taste is good, lots of dark bread, some molasses, a touch of spice. Feels medium bodied in the mouth and overall is a decnet brew.
294 characters

4.14
/5
rDev
+21.8%
look: 4 | smell: 5 | taste: 4 | feel: 3 | overall: 4
My own Kvass Kick kontinues, Kamrades! I must say, I have a much greater appreciation for the style and I look forward to more kvass in my future.
This one also evidenced a little bit of carbonation, enough to produce some wisps when I finished the pour. Color was a mahogany-brown with NE-quality clarity. Nose was, as a previous reviewer mentioned, VERY bready. It was like sniffing a dark rye bread fresh out of the oven, along with notes of dried dark fruit, like raisins and/or prunes. Mouthfeel was slightly on the thin side, not quite watery, but close. The taste was quite unusual with an initial fruity sourness followed by a caramel sweetness. This was probably as close to liquid bread as I have tried thus far. Finish lingered with the caramel sweetness noted in the mouth. I would definitely drink this one again.
827 characters
3.97
/5
rDev
+16.8%
look: 3.5 | smell: 4 | taste: 4 | feel: 4 | overall: 4
One of the better Kvass's I've had, with a deep breadiness balaced nicely by yeasty notes and a bit of fruitiness. In addition, there is a nice carbonation to the bottle I drank. It starts with a reasonable head that fades immediately, but the carbonation stays. Pours a slightly cloudy brown with a touch of orange. Smells nicely of pumpernickel bread, rye, honey, and jammy fruit as well as yeast. The taste is similar with a nice balance between the flavors and the bready notes being most prominent. What I like best about this Kvass is that it is not too sour, and not too sweet. I also like the yeastiness and the nice breadiness too it. Quite drinkable.
660 characters

3.86
/5
rDev
+13.5%
look: 3 | smell: 4.5 | taste: 4 | feel: 3 | overall: 3.5
Purchased at a local Russian/Ukrainian market in Nashville. This Kvass came in a 1 liter brown plastic bottle with a plastic screw cap, like you'd find soda in.
Poured into a pint glass, this drink had very little carbonation -- it really had no head to speak of, and the bottle had only a very small hiss when opened. Color was a clear, cola-like dark brown that lightened up to a reddish-brown when held to the light.
The smell is a real wow factor. I've had beer that smelled like bread before, but I think this is the strongest I've experienced. It literally smells like liquid bread -- dark rye bread, like maybe a pumpernickel. Also has an earthiness to the aroma.
The taste also has bread as the dominant factor. The malts give you some light sweetness (plus the label says that sugar has been added). The rye malts give a great taste of dark bread. No bitterness or other hop taste, as would be expected.
The kvass had a body between low and medium. Carbonation was almost non-existent. The finish is lightly sweet and bready.
This is a very unique style of drink. The first time I tried Kvass was while visiting Kyiv, Ukraine and I really disliked it. I think now that my palate has become accustomed to a wide variety of different beers, I can appreciate this for what it is. While I don't see myself reaching for a kvass very often at the store, I did enjoy this and would have more in the future.
1,414 characters
3.95
/5
rDev
+16.2%
look: 4 | smell: 4 | taste: 4 | feel: 3.5 | overall: 4
Kvas Taras is the first commercial kvas that I've tasted which actually reminds me of the kvas brought back to me from the Ukraine in the mid 90's.
It pours a dark chestnut brown body beneath a short head of white foam that fades almost immediately. Tiny spots of lace are left behind on the glass.
The nose is bready and fruity, displaying distinctly caramelish notes and dull dark-skinned fruity. It's almost like a dark "old ale".
The fruitiness suggested in the nose really opens up in the flavor, and it's just slightly tart with lots of red grapes before the maltiness reveals its soft caramel and light rye character. It's bright and fresh with lots of raisin and darkish malt. Surprisingly, theres not a lot of sticky malt left in the finish, and once the fruitiness has faded there's a light touch of carraway left behind. This is what I've been missing! Most of the other commercial versions I've tasted have been dumbed-down and tasted more like flat cola beverages; all of which lacked a little bit of authentic "funk". They're pretty much the same from the first sip through the finish, but this has a bit of complexity to it.
Tasty, flavorful, and refreshingly fruity, Kvas Taras is unique and interesting!
1,227 characters

2.77
/5
rDev
-18.5%
look: 2.5 | smell: 3 | taste: 2.5 | feel: 3 | overall: 3
Served in a Dogfish Head shaped pint glass.
The Kvass Kick is back in gear and headed back into Ukraine! And to think I agreed with the assessment that Ukraine was weak... Anyway, this thing pours a clear russet-garnet with a sad excuse for a dirty white head. The nose comprises rye bread, wheat, sourdough, white bread (yeah, I said it...this is really bready, folks!), wet cardboard, and fennel. It's nice to have an actually bready-smelling kvass, but it goes too far with the idea and adds some slightly unsavory notes to boot. Hrm. The taste hols notes of fennel, rye bread, raisins, red grapes (the small ones that end up being slightly sour when you bite into them, evoking a subdued wince and a strong sense of disappointment), and old, flat root beer. The body is a rather light medium, with a lightly fizzy carbonation and a slightly watery, slightly syrupy feel. Overall, I was decidedly underwhelmed with this kvass, especially with its slightly oddball flavoring. I mean, I expect a mild sourness, but not one that leans toward the fruity side of taste. Right? Right.
1,084 characters
Kvas Taras from Slavutych Brewery
3.4
out of
5
based on
19
ratings.