Main Squeeze
| Alley Kat Brewing Company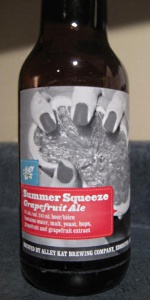 BEER INFO
Brewed by:
Alley Kat Brewing Company
Alberta
,
Canada
alleykatbeer.com
Style:
Fruit / Vegetable Beer
Alcohol by volume (ABV):
5.00%
Availability:
Summer
Notes / Commercial Description:
Our 2013 summer seasonal, Summer Squeeze Grapefruit Ale, was recieved by Alberta beer drinkers with open arms. You loved it so much we decided to make our Summer Squeeze our Main Squeeze.
A base wheat ale with real grapefruit used in the brew. With its perfect balance of flavour Main Squeeze is refreshing, light, and easy-to- drink. It's like drinking a bottle of sunshine!
Added by biboergosum on 04-01-2013
Reviews: 11 | Ratings: 31
3.84
/5
rDev
+0.3%
look: 4.25 | smell: 4 | taste: 3.75 | feel: 3.75 | overall: 3.75
Got this beer freshy fresh from the brewery. I was up there last weekend for unity brew and Gord deep fried 8 turkeys! Cheers
Look - No evidence of gelatin or haze. Good head retention and low or no lacing. Yellowy orange bordering on copper. Clear like a glass marble.
Smell - sculpiny. Less gfruit rind and more citrus blood orange. Almost minty but not mentholy. Smells like opening a well grown piece of mild citrus fruit. Very pleasant fresh fruit like aroma.
Tastse - Much thinner than sculpin. Probably no bittering additions. Slight juice quality from hops. Like biting a really good piece of canteloupe.
Feel - nice malt body despite dry finish. Low bu:gu ratio. Low to medium carbonation for the style. Slight hop stickiness that builds up over time. Very fresh sample!
Overall - exceeded expectations. At the time I had enjoyed what few samples of alley kat I tried, have an OD waiting for me. Will try more
937 characters
3.73
/5
rDev
-2.6%
look: 2.5 | smell: 3.25 | taste: 4 | feel: 4.5 | overall: 3.75
A- Pours with a very fizzy head that never is more than just a patchy cover over the beer, and the carbonation is super aggressive....very much like a ginger ale in bubbles and color. Lacing is negligible in this super clear brew....looks aren't going to add anything to the score on this one.
S- Crisp, refreshing aromas of grapefruit and/or grapefruit rind is highly noticed. After this, there are mellow smells of malt, bittering hops and slight yeast. Nothing much else is noted....smells like summertime!
T- Super clean on the palate overall, there are muted hints of grapefruit, along with creamy notes of biscuit and yeast. Hop presence is very small on the finish, but very cleansing...nothing much else to say here!
M/O- Light bodied, and very effervescent, this beer is very well suited for a hot summer day, such as the one today that this being sampled with! I love the citrus notes and it isn't cloying at all on the palate....a super summer slammer! I will buy this again, and recommend Main Squeeze for the masses! Good job Alley Kat!
1,058 characters
3.99
/5
rDev
+4.2%
look: 3.75 | smell: 4 | taste: 4 | feel: 4 | overall: 4
This is a fun beer. Crisp, bright and refreshing! I am not a huge fan of fruit beers, but Alley Kat got this one right. The grapefruit is fresh and not overbearing - it is just the right balance. What separates the Squeeze from other flavored beers is that it is clearly a beer. The wheat profile is evident throughout and makes you want another.
346 characters

3.85
/5
rDev
+0.5%
look: 3.75 | smell: 3.75 | taste: 4 | feel: 3.75 | overall: 3.75
On-tap at Craft Beer Market.
This beer pours a crystal clear, golden yellow liquid topped with a white head. Foamy bubbles that fade quickly and leaves a few chunks of lace.
Smell of grapefruit of course, and some wheat, maybe a bit of yeast.
The taste starts with malt base, then the tartness from the grapefruit. A touch of leafy hops at the end. The fruitiness sweet grapefruit is still the dominant flavor.
The carbonation is quite crisp, light to medium body and mouth feel.
482 characters

3.15
/5
rDev
-17.8%
look: 3.75 | smell: 3.75 | taste: 2.75 | feel: 3.25 | overall: 3
"Fresh Squeeze Grapefruit Ale", label looks different than the one pictured. Part of a mixed 12 pack some friemds brought to me from Red Deer this spring. 341mL bottle.
L - crystal clear and golden with a tall, but shortly lived white head
S - freshly squeezed grapefruit, biscuity grain, faint yeast
T - grapefruit, biscuity grain, yeast, grassy hops
F - thinner than medium body, refreshing with a clean finish
O - not much for complexity here. Very one note, and rather simplistic. It is refreshing though!
510 characters

4.04
/5
rDev
+5.5%
look: 4 | smell: 3.75 | taste: 4.25 | feel: 4 | overall: 4
A-Paleish Gold with a good finger of foam that retains head well
S-Strong Citrus notes as one would expect, sweetness does not overpower.
T-Grapefruit and malts perfectly balanced here, with a good kick of hops as well. Unlike Aprkiat, it would be absurd to assume this is anything other than beer.
M-Good medium carbonation here, nothing to complain about.
O-By far the most successful execution of a fruit beer Alley Kat has come up with.
444 characters
3.92
/5
rDev
+2.3%
look: 3.25 | smell: 3.75 | taste: 4 | feel: 4.25 | overall: 4
A - clear bright golden, half finger of white head settled at a thin cover, not much in the way of lacing
S - BIG punch in the nose of fresh grapefruit, slightly leafy and grainy in the background, no guessing as to what's in this brew
T - pale and bready maltiness balances with the sweet and sour grapefruit much better than the nose, touch of leafy hops, very tasty and refreshing
M - light with pleasant carbonation, crisp and clean with a nice tartness that cuts and balances the maltiness, finishes clean and slightly dry
O - this is great summertime brew, the grapefruit is big and bold but it works well without overshadowing the beer aspects, this is made for the patio
678 characters
3.97
/5
rDev
+3.7%
look: 3.5 | smell: 4 | taste: 4 | feel: 4 | overall: 4
Appearance - Pours a golden colour with a half finger of bubbly white head.
Smell - Strong presence of grapefruit (flesh and peel), wheat.
Taste - Bitterness and sweetness from the grapefruit, wheat and grains. Very refreshing.
Mouthfeel - Medium bodied with moderate carbonation. Dry, crisp finish.
Overall - An enjoyable, refreshing grapefruit ale from Alley Kat. I like the range of flavours from the grapefruit (bitter, sweet, sour). Easy summer patio bevvy.
466 characters

3.92
/5
rDev
+2.3%
look: 3.75 | smell: 4.25 | taste: 3.75 | feel: 3.75 | overall: 4
Purchased from my neighbourhood sobeys just today. I'm a fan of the local brew and a fan of grapefruit, so this was a no-brainer.
It pours a dark yellow with little head. It smells slightly of malts, but the predominant smell is definitely grapefruit. First sip was dominated by the grapefruit with minimal carbonation. After the first sip I started to get more of the "beery" taste. It's pretty nice: you get a really nice grapefruit flavour (and the label suggests that there is indeed real grapefruit used in the brewing process), but you certainly taste the beer as well. It's certainly more of a "beer" than something like Aprikat, and it is also not as sweet as Aprikat is. As for the inevitable comparison to Stiegl Radler, this one is probably what I'll grab. Stiegl is okay, sure, but this is a wee knotch above it.
Yeah, overall it is pretty good. Not super sweet with a solid hit of grapefruit that doesn't overshadow the beeriness. it's not as complex as I thought it'd be, but i think this one is more intended for consumption on the patio to refresh yourself rather than to go with a meal, but i'm sure it'd be good for this purpose too. I'd probably buy it again.
1,180 characters

3.98
/5
rDev
+3.9%
look: 3.75 | smell: 4.5 | taste: 3.75 | feel: 3.75 | overall: 4
341ml bottle poured into tulip 18/4/13
A clear golden yellow with a short lived finger of foam that leaves random random patches as it falls, just a few visible bubbles and some very tiny particles floating around
S massive grapefruit nose, there's a little tangerine and mandarin but pretty much all grapefruit, some faint grains but for the most part it sorta smells like Fresca
T not quite as strong as the nose, slightly toned down on the fruit, more grains and just a touch of herbal notes, it tastes good but the nose was great
M more bubbles then I could see in the glass, fairly light but not watery, aftertaste lingers long but not very strong
O pretty solid fruit beer, it is what it claims, my wife liked it and I could drink another for sure but I might prefer it under a hot July Sun
the nose smells very sexy and not lacking in any other areas, I can see this one being a Summer staple on patios in Alberta this Summer
940 characters
4.06
/5
rDev
+6%
look: 4 | smell: 4.25 | taste: 4 | feel: 4 | overall: 4
341ml bottle, from Alley Kat's Summer 2013 seasonal six-pack, and made with grapefruit, as well as its extract. Perhaps something for all those Stiegl Radler fans to graduate to?
This beer pours a clear, medium golden yellow hue, with one finger of foamy, bubbly dirty white head, which leaves a low wash of sea-spray lace around the glass as it quickly slips away.
It smells of fresh-pressed (ok, squeezed) grapefruit juice, grapefruit Jolly Ranchers, thin grainy, somewhat bready malt, a hint of yeast, and an ethereal, barely noticeable drying effect hoppiness. Quite reminiscent of American-brand grapefruit cocktail, but rather appetizing nonetheless. The taste is more grainy, bready pale malt, with a still hefty, but now dialed back pithy grapefruit and blood orange fruit salad zestiness, a twinge of lingering yeast, and more underworked and overpaid earthy hops (detectable in much the same manner as distant planets are).
The carbonation is mildly frothy, but generally quite tame, the body medium-light in weight, actually quite smooth, and kind of airily creamy at that. It finishes on the bittersweet side, as naturally all that grapefruit essence comes to take its toll.
I gotta say, this is one fresh, well-rendered grapefruit-flavoured ale - it reels you in with the promise of beer-free grapefruit goodness, and then settles into a light and (grape) fruity pale ale, one made decently quaffable by its restraint, not its excesses. At this early, necessary lead-time juncture, I can prognosticate gaily enjoying a few pints of this on a choice patio in a few months' time.
1,594 characters
Main Squeeze from Alley Kat Brewing Company
3.83
out of
5
based on
31
ratings.