Oak Creek Brewing Co.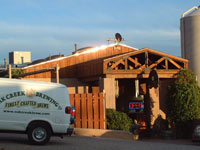 PLACE INFO
Type:
Brewery, Bar, Eatery
2050 Yavapai Dr
Sedona
,
Arizona
, 86336-4558
United States
(520) 204-1300 |
map
oakcreekbrew.com
Notes:
No notes at this time.
Added by BeerAdvocate
Reviews: 15 | Ratings: 25

4.08
/5
rDev
+1.2%
vibe: 4.5 | quality: 4 | service: 4 | selection: 4 | food: 4.25
Small spot near down town Sedona, bar right by fermenters, casual, low key, friendly staff, mini BBQ restaurant connected...chill spot...worth a visit
151 characters

3.71
/5
rDev
-7.9%
vibe: 3.5 | quality: 3.75 | service: 3.75 | selection: 3.5 | food: 4.25
We went to Oak Creek Brewery and Grill in Tlapaquaque and had a great time! Small eatery but good vibes and I liked that they had the option to taste all of their selection in a flight! Great food ( I had the fish & chips), and overall great-quality Beer! Hope to come back next time I'm in Sedona.
298 characters

4.22
/5
rDev
+4.7%
vibe: 4 | quality: 4.25 | service: 4.25 | selection: 4.25
If you go to the actual brewery, there is small bar that puts you right next to the fermentation vessels which is very cool. Eat before you go and come to drink, the patio is nice and the service is friendly and accommodating. Although it has been a while since I have been there, my experience was great.
305 characters
4.14
/5
rDev
+2.7%
vibe: 4 | quality: 4 | service: 4 | selection: 4.5
Located off of Coffee Pot Drive in a somewhat industrial area. Non descript setting with the sign out front announcing you're there. Somewhat dark inside but with the cloudy day it was, the Xmas lights and natural light coming in from the patio were fine. Very cool to be sitting right in the middle of the brewery. Maybe 8 to 10 stools and 6 or 8 high bistro style tables. Decent crowd for a Sunday afternoon.
Service was quick and attentive-obviously busy between monitoring the popcorn, selling swag etc but still very attentive. Had 2 Snakecharmer IPAs that were just great and a porter that was very good as well. Also a pale, hefe, golden lager, nut brown and another 1 or 2 beers on tap. No food going on except the self serve popcorn and roasted peanuts.
Live music was firing up, decent crowd of what seemed mostly locals. Nice vibe all in. Patio pretty much closed except for the smoking crowd. My 3 beers and wife's soda were 17 bucks. None too shabby.
Well worth the stop. Have not tried the brew pub at the restaurant in town.
1,042 characters

4.38
/5
rDev
+8.7%
vibe: 4.5 | quality: 4.5 | service: 4.5 | selection: 4 | food: 4.5
Oak Creek serves some very good beers and food at their restaurant location. They always have their core lineup with a seasonal or two, and some have won awards at various festivals. If you're in Sedona this is clearly one of the best places for craft beer. Many food items are tasty as well. I can't do without the onion rings and pretzels, and of course the pizza. Many items are rich in taste, so watch out. I also appreciate much of the staff being older and more mature. That's more my style and I appreciate their friendliness.
533 characters

4
/5
rDev
-0.7%
vibe: 4 | quality: 4 | service: 4 | selection: 4
Visited this place on New Years Eve 2010 during the day. As you walk in the door you find a wall counter on the right where you can purchase hot dogs prepared in various ways or some other snack foods. You then enter a second door and find a small brewery warehouse with a small bar and a few tables. There is also a pair of glass doors that lead to an outdoor seating area. The service was relaxed and friendly. The beers were sessionable yet tasty. I got an 11 glass sample platter (one of each brew they had available that day) and enjoyed most of them quite a bit. The brew master was trained in Germany and a majority of the styles brewed reflect that although they also had some nice seasonals like a chocolate porter, a winter porter, etc.
746 characters

4.38
/5
rDev
+8.7%
vibe: 3.5 | quality: 4.5 | service: 4.5 | selection: 4.5
Located just off 89A it is tucked away across from a large grocery store. The bar area is small with about 7 stools but has a cool dark feel to it since brewery equipment sits in the room too. There is a nice outdoor patio section and that is were we headed.
There were several beers on tap just like the Brewery and Grill, but they had two special beers - an unfiltered Munich Keller and a nicely hopped King Crimson Red. Both of these beers were absolutely superb.
The place is a real local hangout. No food except for a popcorn machine and some nuts.
Service was quick, friendly, and knowledgable. Plenty of swag by the door if interested. Live music at nights too.
To me this was more my speed over the sister Grill restaurant. Must stop if in town.
760 characters
3.81
/5
rDev
-5.5%
vibe: 4.5 | quality: 4.5 | service: 3.5 | selection: 3
A quarter to four, when the bar opened, there were already a dozen faithful patrons outside the door, ready for the owner, Fred Kraus, to open the door. Everyone except me was a member of the Mug Club, which includes a T-shirt, a numbered mug (securely locked up inside cabinets around the bar), and a dollar off all pints for a year.
I loved the fact that the fermentation tanks and all other beer-making supplies are set up around the seats in the bar room. Popcorn and peanuts are the only food available.
The pale ale is fantastic. The hefeweizen is very good as well. I highly recommend this place to anyone visiting the Sedona area.
640 characters
4
/5
rDev
-0.7%
vibe: 4 | quality: 4 | service: 4 | selection: 4
We stopped in there last Monday night (4/21) after sunset. We chose this place over Tlaquepaque because of the reviews. They had nine beers on tap (five regular and four seasonals), and I thought all of them were better than average (as best I can tell from 3 oz. samples). The five regulars were the Golden Ale (par for the course), a Hefeweizen (very good, but my wife enjoyed the Mandarin Orange Hefe from Papago Brewing Company better), a Pale Ale, and an Amber (both better than average). Out of the regulars, I liked the Amber the best.
The four seasonals were a Saison (about average), a Belgian Stout (???, tasted like a dry stout to me), an Imperial Red (called King Crimson, pretty clever name I thought, which was the best beer of all that I sampled), and a Marzen (which was a little better than average).
It's definitely a place for locals, but one was very friendly and the rest kept to themselves. Most people stepped out the front door occasionally to have a smoke. I enjoyed the atmosphere--any brewery (as opposed to brew pub) where you can drink beer sitting next to the tanks that previously held it is great in my book--but some might find it too "down home". There were pretty neat vintage fliers for psychedelic bands on the wall and in the men's room. The only lighting was from a few strings of Xmas lights overhead, and a couple of indirect lights.
The bartendress was really friendly and pretty attentive (she was the only person working, and there were about 15 people b/w the bar and beergarden patio), but not especially knowledgeable about beer (she kept telling people that their hefeweizen was a Belgian style).
The important thing to know is that the only food is self-serve popcorn and peanuts. If you're hungry (and we were) and didn't realize this, you can't spend a lot of time there. If I make it back to Sedona, I would definitely go back but only after having a meal somewhere else first (like the Mesquite Grill on Jordan). I wish I could have stayed longer.
2,004 characters
3.95
/5
rDev
-2%
vibe: 3 | quality: 4 | service: 4 | selection: 4 | food: 4.5
The only real knock I have on this place is the location. It is in a beautiful setting, its just a bitch to get to on a busy weekend. Traffic and parking can be a nightmare. Aside from that, this place is a must stop for any beer lover that finds themselves in Sedona (its really the only beer stop in Sedona for the most part, but it IS a good one!) Thier beer is very good at least, some were excellent. I had two, a glass of thier brown ale, and they had a seasonal IPA on tap that was very good. Their food, for pub food, is just slighlty more expensive then your average pub, but VERY good. I also samples thier porter (Awesome! wish I got a glass of that), my fiance had thier micro light, it was very light. A great stop. I recommned this to anyone.
756 characters
3.36
/5
rDev
-16.6%
vibe: 3.5 | quality: 3.5 | service: 3 | selection: 3.5
I only tried a couple of beers at this location, then went to the grill, then came back to fill up a growler. This is quite a good way to have a pint or two. Very relaxing (for people who like to hang out with brewing equipment). Overall, I agree with everyone that this place is a better beer place than the Grill. In part because some of the seasonals and special brews don't seem to make it to the other location. When I visited there was no food available. If I lived in Sedona I would be hanging out here fairly often. Since I need to be effecient, I need to get food with my beer most of the time, so that's not an always option.
The Hefeweizen was by far the best. I once had an outstanding Rye here as well. The Nut Brown is another good one. I don't think everything here is a winner, but there are some great ones in the light to medium body category.
864 characters
3.93
/5
rDev
-2.5%
vibe: 4.5 | quality: 4 | service: 4 | selection: 3.5
Last stop on the Beer Tour of Arizona was Sedona. After checking the BeerFly reviews I decided to try out the Oak Creek Brewing Company (the one on Yavapai Drive, not the touristy Tlaquepacque location). I really like the local feel of this place, even got a bit of cowboy stare when my group walked in. This brewpub really is a brewpub, the indoor seating is right up against the tanks - amazing! The place smells of yeast and malt - yea baby! It was a bit of a warm day, so we sat out back in the beer garden. It looked like we were the only ones who were not locals and thats a lovely thing. However, I was crushed to learn that the Bavarian Kitchen that served food here had closed two years ago. Man I was really looking forward to that! I tried the Belgian Triple / Abby Style Ale which I found OK. After sampling both the English Brown Ale which is quite good, I found I liked their house Red Ale the best. Although we did not stay long, I found this to be one of my most memorable stops in Sedona and wonderfully non-tourist.
1,033 characters
4.33
/5
rDev
+7.4%
vibe: 4 | quality: 4.5 | service: 4.5 | selection: 4 | food: 4.5
Some of the best tasting beer I've ever had. I can't comment on their consistency, but after 3 visits in Sept. I've decided that their Hefe is one of maybe the 2 or 3 best wheat beers I've ever had in my life. 5 beers on tap, including the fantastically hoppy/malty pale ale, the nutty brown ale, and the classic amber ale.
For me, not too much on atmosphere. The room is a functioning brewery that looks as if it added a bar as an afterthought. Not a problem, but it's more sterile (as well as it should be) than anything else. Outdoor seating, which is nice, but I can't understand why they put a roof on it? Maybe to protect against the 2 inches of rain a year? It's a place where all the locals hang out and offers bands from around the country several nights a week.
Food from the very German influenced menu is excellent, my wife made me eat there several times so she could have the brats, kraut and authentic german potato salad-all for about $6.00.
Prices for the brews were great, if I remember correctly, averaging $3.50.
The tap brews were tastier than the bottled ones we bought at the local supermarket. Overall, a place I would love to have as a hometown brewery.
1,183 characters
4.28
/5
rDev
+6.2%
vibe: 4 | quality: 4.5 | service: 4.5 | selection: 4 | food: 4
Nicely tucked away from all of the tourist hub-bub of Sedona, unless you like T-shirt shops and stores that sell cacti made out of glass.
The bar area is small since the majority of the large room is taken by the brewing equipment (three 9300 gallon fermentation vessels and other stuff I did not identify). It's a nice wooden bar with the bartender eager to pour (and not too shabby to look at either). My lady and I sit down and order two Hefe's, mostly since I have yet to see this beer in the bottle at any local stores in Phoenix. A nice selection of beers (5) going from a nut brown ale to a blonde. The beers are good overall but I was impressed mostly by the Hefe.
There is a large patio area attached that allows for the scenery to be taken in. Just don't get taken away by the magical vortexes of Sedona.
The food was limited to a panini sandwiches, pretzels, chips and salsa, and some other stuff. It was good grub though, very tasty ham panini. I am glad I stopped by.
992 characters
4.22
/5
rDev
+4.7%
vibe: 4.5 | quality: 4 | service: 4.5 | selection: 4 | food: 4.5
Ahhhh, Sedona. Boy, do I ever not fit in there. Lots of artists and craftsman and new agey people running about in colorful outfits and pink (you read right) Jeeps.
Sure would be a great place for an unexpected find like a German-American biergarten with all the trimmings.
Lo and behold, if you search this place out, there is beer and brat served right by a smiling German woman and a sunny fenced-in outdoor serving area with fountain and flowers. Real German style potato salad. Dynamite 6% ABV Brown ale. Skylights in the bar room, so that daytime is a flood of sunshine. Extremely collectable old Fillmore posters advertising great 60's and 70's rock acts. Very drinkable unfiltered amber. Bavarian style hefe whose banana and clove essences my sausage lunch overpowered, but well, one would expect that.
One of my favorite beer experiences in AZ.
862 characters
Oak Creek Brewing Co. in Sedona, AZ
3.49
out of
5
based on
377
ratings.