Dismiss Notice
Barleywine Ale (Matured In E. DuPont Calvados Wooden Barrels)
| Brauerei Hofstetten Krammer GmbH & Co. KG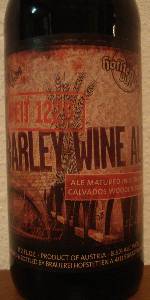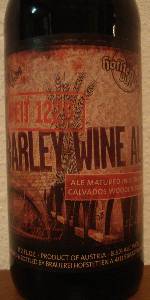 BEER INFO
Brewed by:
Brauerei Hofstetten Krammer GmbH & Co. KG
Austria
hofstetten.at
Style:
English Barleywine
Alcohol by volume (ABV):
8.60%
Availability:
Rotating
Notes / Commercial Description:
No notes at this time.
Added by BeerAdvocate on 08-26-2010
HISTOGRAM
Ratings: 12 | Reviews: 9
Reviews by mikeyv35:
3.97
/5
rDev
+2.1%
look: 4 | smell: 4.5 | taste: 4 | feel: 3.5 | overall: 3.5
Date: 03/02/12
Type: 11.2oz. Bottle
Vintage: 2010
Glass: Ommegang Tulip
Pours a brown mahoghany in color w/ a 1/3 finger white head and light lacing. Aromas of caramel, toffee, apple brandy, dark fruits, and light oak. The taste was sweet apple brandy notes up front, leading into light caramel/toffee, and finishing w/ mild hop bite and oak. Sorta medium bodied and lush, a bit too thin in my opinion. Very easy to drink w/ the lower end of the spectrum ABV being almost non-existent.
Overall, decent BA EBW, could have been great if it had the flavor depth I had expected. I enjoyed this, but at 8.6% ABV, I don't feel like this barleywine was big enough to go into a barrel and come out w/ pronounced flavors. Almost like the barrel just ate the base beer and everwhelmed it. The sad part is, this smelled just like JW Lees Vintage Harvest Ale Calvados BA, but the lack of richness and depth does not allow this brew to be mentioned in the same breath.
957 characters
More User Reviews:
3.84
/5
rDev
-1.3%
look: 3 | smell: 4 | taste: 4 | feel: 3 | overall: 4
Ale matured in E. Dupont Calvados Wooden Barrels. Dark copper with a deep red tint; light off white head that quickly fades.
Nose is somewhat unique and wonderful in that you get a nice assertive hit of Calvados - simple but clearly present and appealing.
Mouthfeel is medium thick, medium creamy overshadowed by big strange flavors.
Flavor is a bit sour carmel, sour toffee mixed with weak whiskey. Flavors are not particularly well integrated and there is a burnt carmel/burnt toffee character that is less than appealing. Front palate does have a semi sweet malty, sweet whiskey barleywine character but it gives way to a semi sour and citric finish.
Finish begins with some whiskey character and goes to a citric acidic coffee character. The juxstaposition of the sweet/sour/citric and malt just not to my liking although I suspect that some will disagree and like this one. Not bad - just not my preferred style. The Calvados and wood character is pleasant.
Note: this one becomes much more appealing and approachable (and likeable) as it warms in the glass. Flavors become much more integrated and actually kicks up its appeal quite a bit. Let this one warm up before you judge it and it becomes a very nice drink.
1,230 characters
4.89
/5
rDev
+25.7%
look: 4 | smell: 5 | taste: 5 | feel: 4.5 | overall: 5
11.2 ounce bottle poured into a mini snifter. 2010 vintage. Batch 3. Little or no head, as expected. Clear, slick lacing. Aroma dominated by malt sweetness, raisins, syrup and vanilla. Incredible smooth taste. No alcohol noted. Taste closely follows aromas with some brown sugar added. Really an amazing beer in every way.
322 characters

2.81
/5
rDev
-27.8%
look: 3.5 | smell: 2.5 | taste: 3 | feel: 3 | overall: 2.5
Pours a murky brownish color with very minimal head formation. Smells heavily of booze and the calvados barrels it was aged in. A bit of green apple, too. Some sweet caramel, toffee, and butterscotch are also there, maybe some vanilla. Sort of a bland flavor, all things considered. Bread and toffee malt with a hint of vanilla. Really not much of the booze that was present on the nose. A hint of oak and calvados toward the back end. Sort of thin for a barleywine with low carbonation.
487 characters
3.96
/5
rDev
+1.8%
look: 2.5 | smell: 4 | taste: 4 | feel: 4.5 | overall: 4
This brew was served from the tap at The Blind Tiger in New York, NY. It arrived in a generic tulip glass, glowing a deep ruby-brown coloring, with lighter reds around the edges. Absolutely no head was present, with no lacing, sediment, or haze. Carbonation appeared low. The aroma gave fig and pear sweets and stickies, pale malts, caramel and toffee sugars, cooled brown sugar, hoppy grassiness, and bourbon oak with warmth. Our first impression was that this was one of the most citric and souring barleywines we've ever had. The flavoring opened with sweaty saltiness, soured lemon flesh, fusel booze, cooked caramel malts, cheap filler grain, and big soured wood. The peak came with oaky dryness against a fermented cherry-sweet pucker, lactics, soy sauce, lemon pulp, and an enhanced twang of metallic yeast. Washing through the finish was more lemon pucker, herbal bitterness, drying woody oakiness, green plant hoppiness, and sweeter, cooler Belgian esters. The aftertaste breathed of even sweeter bubblegum esters, caramel roast, faint vanilla bean, chlorine chemicals, and pale wheaty malts. The body was medium to full, and the carbonation was medium. The feel was quite puckering, with soured yeast and strong citric robustness. There was decent slurp and smack despite the lack of any head. The abv was appropriate, and the beer actually drank very smoothly and easily by the end.
Overall, what we enjoyed most about this beer was the nice citric sourness. The nose was warming, and began to showcase this quality a bit, but it was otherwise pretty standard. The flavoring enhanced this, but with some of the other more complex flavors being washed away by booze and soured yeast. This in and of itself added a great deal of complexity back to the beer, making for an interesting and refreshing sipper.
1,818 characters
4.26
/5
rDev
+9.5%
look: 4 | smell: 4.25 | taste: 4.25 | feel: 4.5 | overall: 4.25
Wow. What a treat. A well aged barleywine. It was pricey, but worth it for not having to wait. I didn't look at the date when I bought it and I was wondering if it was going to be something I could drink right away. 2009. I guess 5+ years is enough.
It is a pretty brown in the glass with just a hint of fizz. The aroma was pronounced as soon as the cap came off and it continues with a fruity sweetness.
I warmed this up to nearly room temperature, and it is rich and fulfilling tasting without being overbearing. It still has some bitterness to balance the thin sweetness. It is pretty boozy tasting, but I'm looking for that in the style.
It has a very smooth finish, much less harsh than usual for the style. It clearly has settled in nicely and is a great drinking barleywine. This is highly recommended. It makes me want to have a barelywine tasting and reminds me how much I like the style.
901 characters

4.39
/5
rDev
+12.9%
look: 3.5 | smell: 4.5 | taste: 4.5 | feel: 4 | overall: 4.5
at kickbacks jacksonville.... where else would this beer be?
appearance: low head retention. medium brown color.
smell: lots of fruit, apple, rasins
taste: very complex, the calvados is sublte, apple, brandy, pears,
mouthfeel: medium and light for a dark beer
drinkability: 2010 vintage I beleive, very good beer. would recommend trying.
343 characters

3.88
/5
rDev
-0.3%
look: 4 | smell: 3.5 | taste: 4 | feel: 4 | overall: 4
2010 vintage, batch 3
Pours a dark orange color that appears coppery/chestnut brown in the glass with a one finger off-white head that quickly settles into a lasting ring. Spotty lacing left behind.
Earthy aroma with lots of leathery malt and prominent barrel character. Strong wood presence with lots of sweet brandy/calvados notes. Hints of apple and pear but only slightly boozy smelling. The leathery malts underneath compliment these notes with hints of caramel, toffee and dark fruits, notably fig, plum and raisin.
Medium bodied with soft carbonation up front and a nice balance of musty, earthy malts, sweet fruit notes and barrel character. The ABV isn't very high so the boozy heat is pretty tame, providing nice spirit flavor without warming up the chest. Earthy wood with slight vanilla followed by sweet calvados flavor. Plenty of apple and pear notes which are complimented nicely by the dark fruit notes and sweet, leathery malts. Hints of caramel, toffee and nut followed by sweet dark fruit, especially fig and raisin.
Overall, this beer is already drinking very nicely. Flavorful and complex without any harsh booze.
1,141 characters

3.72
/5
rDev
-4.4%
look: 3.5 | smell: 4 | taste: 3.5 | feel: 3.5 | overall: 4
11.2 ounce twist-off bottle - $4.99 at Hop City in Atlanta, Georgia. Brewed in Year/Batch No: 2010 03.
Appearance: Pours a well-clouded, murky brown body with a half-finger of shimmering, beige foam.
Smell: Raisins and moist dates stirred up with a hefty shot of calvados and a generous pour of sugary syrup with lesser notes fire-charred caramel and toasted malts.
Taste: Sweet, sugary taste of crème brûlée burnt sugar tops with deeply toasted, nearingly roasted malts and a big swig of raisin-flavored schnapps (99 Raisins), which quickly transitions to the twangy calvados as the alcohol heat begins to singe and scald the tongue a bit. Leathery earthiness with a dash of soil for an unclean back half. Modestly tannic used wood barrel character. Finishes still a bit sweet and warm with a lingering alcohol presence and enduring albeit mild tannins.
Mouthfeel: Medium-plus body. Medium carbonation.
Overall: I didn't find it to be great, but I did find it to be very OK.
983 characters
Barleywine Ale (Matured In E. DuPont Calvados Wooden Barrels) from Brauerei Hofstetten Krammer GmbH & Co. KG
Beer rating:
3.89
out of
5
with
12
ratings