Fantôme Winter (2002 And Prior)
| Brasserie Fantôme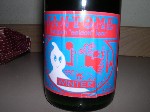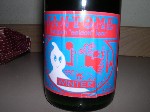 BEER INFO
Brewed by:
Brasserie Fantôme
Belgium
fantome.be
Style:
Saison / Farmhouse Ale
Alcohol by volume (ABV):
8.00%
Availability:
Winter
Notes / Commercial Description:
No notes at this time.
Added by Todd on 05-02-2002
This beer is retired; no longer brewed.
HISTOGRAM
Ratings: 14 | Reviews: 9
Reviews by BrewMaster:
4.6
/5
rDev
+14.1%
look: 4.5 | smell: 4.5 | taste: 4.5 | feel: 4.5 | overall: 5
Wow. That was the first word out of my mouth when I tasted this lovely beer. It has a reddish glowing color with a fluffy tan head. The aroma is very sweet with scents of candy and alcohol. The flavor has a balance of sour and sweet with candy like sugars, cinnamon, walnut skin, and a sandy earth ending. But it is not too sweet or disgustingly sweet like some beers. I could drink this beer all day. It is smooth on the palate with a very pleasing flavor and aroma.
467 characters
More User Reviews:
4.37
/5
rDev
+8.4%
look: 4 | smell: 4.5 | taste: 4.5 | feel: 4.5 | overall: 4
1998 Vintage. Consumed on March 10, 2007 at Delilah's for $15 a bottle. What a steal!
1998 was a very good year for Saisons. Is that a weird thing to say? Could a year have anything to do with beer the way it does with wine? I don't really know but I do know that I haven't had a Saison from 1998 yet that wasn't fantastic.
Pours into a little 4 oz taster glass a permanently hazed medium brown with plenty of yeasty sediment and a thin, bubbly off white head.
Sweet and sour, tart, funky and dirty aroma of lemon rind, tree bark, cinnamon, bubblegum, and stomach acid.
Taste/feel is pleasantly offensive, not to the point of a geuze, but close and getting there. The feel is just a bit to mellow but the flavor is very funky and nasty. Earthy tree bark and dirt notes dominate along with lemon peels and light fruits like apricot juice and Hawaiian punch flavors. Spicy nutmeg and cinnamon tango with the tongue. A leafy grape vine skin herbal quality dances around. Of course, all of this junk has been sitting around a while so it has a bit of a vinegar quality now. I like it. It's amazing that this manages to maintain such character after 9 years in the bottle.
I could actually session this. It's light and palatable enough to do so though the intensity of it might make a lot of folks sick. I love it.
1,331 characters
4.47
/5
rDev
+10.9%
look: 4 | smell: 4.5 | taste: 4.5 | feel: 4.5 | overall: 4.5
Appearance – This one is a thick, deep orangish-brown in color with a light head sporting some pretty swirls from the yeast residuals.
Smell – This nose is extremely structured and complex, even after aging for two years. I can pick up some dark fruit, and the farmyard notes are dark as well. There are a lot of good herby smells here, too. It's almost like several iterations of black tea. The bitter hops are light and leafy as well.
Taste – This one has some big, deep flavors. The malts are very dark without being roasty, and the bitterness is more like endive leaves. There's another flavor in there that reminds me of edible flowers, and I can also pick up something akin to poppy seeds or poppy seed sprouts.
The malts, which make up a rather small percentage of the overall flavor profile, sets up as a nice backbone to the beer. The sharp, traditional Saison spicing is very powdery. All in all an excellent-tasting ale.
Mouthfeel – This one is a solid medium in the body with a subtle, restrained tartness that doesn't offend. It's a very exciting beer. It is very smooth though and was very agreeable with two years of aging.
Drinkability – This is an excellent winter-time ale. It's by far one of the biggest Saisons that I've had to date. It is very smooth though and was very agreeable with two years of aging.
1,352 characters

4.52
/5
rDev
+12.2%
look: 4 | smell: 4.5 | taste: 5 | feel: 4 | overall: 4
Hazy, pale orangey brown, nice reserved head of 1/4 inch that sticks around as bubbles effervesce. Aroma is of lemon, grapefruit, yeast and allspice. Fruity and bright flavor, lots of nutmeg and cardamon as well, almost like a lemonade with egg nog and seltzer water. Different! Hoppy and zazzy. A tad acidic to me, but a definite beer for winter warming a couple of times a year. A little alcohol in the swallow but quite light bodied.
442 characters

3.8
/5
rDev
-5.7%
look: 3 | smell: 3 | taste: 4 | feel: 4 | overall: 4.5
Originally sampled on 8 December 2002. This honey colored gem has the flavors of tangerine & apricot on the palate. Fantome Hiver has a soft, full mouth feel w/ sweet & tart notes. Hiver is a joy to behold and drink. This is simply a beautiful beer to have in your hand.
270 characters
3.9
/5
rDev
-3.2%
look: 4 | smell: 4 | taste: 4 | feel: 4 | overall: 3.5
Cherry wood with nice foamy head that doesn't go away. Until the bottom of the bottle, the beer stays clear. The malts in the two Fantome beers I've had so far (this and the regular Saison) are really good. They taste fresh, crisp and fruity. The esters aren't as big in this one as in the Saison, maybe because the malt is a little darker and covers the other flavors up a bit. Some spiciness, phenolic. Sour aftertaste but the beer isn't.
440 characters


4.6
/5
rDev
+14.1%
look: 4.5 | smell: 4.5 | taste: 4.5 | feel: 4.5 | overall: 5
Paid a very reasonable price for this well-cellared brew. Luminous orange color, beautiful white head with great Brussels lace rimming side of the glass. Tart, acidic nose with hints of grapefruit and green apples. Tart and dry at first but loosens up as it warms. Tartish flavors die down a bit and eventually become caramelish. Strangely creamy throughout. Alcohol is well masked. Yeast adds slight spicy flavor. Great drink to sit with, though the alcohol can sneak up on you.
487 characters
4.47
/5
rDev
+10.9%
look: 4.5 | smell: 5 | taste: 4.5 | feel: 4 | overall: 4
WInter 2002 (Rated on 2-25-03)
Murky looking orange color. Sticky cream colored head. Just a thin film though with a nice collar. This baby smells like candy. Sweet rock candy. Bubblegum. Taffy. You name it. An exotic, one of a kind aroma. This is one crazy ass tasting beer. I think I like it. The taste starts more tart than sweet, despite what my nose led me to believe. The flavor pofile of this beer is a collaboration of just about anything you can name. (O.K. just a bit of an exageration.) But I've got the feeling they just threw a bunch of crazy ass shit into the kettle. Like twigs, vines, seeds, herbs, fruit juices, spices, bark, etc. It's really unique. Some specific flavors I think I detect are lime juice, corriander, vinegar, bubblegum, curacao and green apple. The finish just snaps. Dry. Acidic. A little alcoholic. Vinegar. Lemon juice. Then Bam! It's gone. Except for the lingering acetic acid. One of a kind here. Wouldn't be my favorite session beer, but I think this one is special.
Winter 2000 (Rated on August 13, 2003)
This one is a little more tart than I remember the fresh one being. Very dry. Acidic. Tree bark and vinegar mix well together. A little lime thing going on. Not bad, but not as good as I remeber the fresh one. Slightly mouth puckering. Did I mention Dry?
The rating numbers represent the 2002 edition.
1,362 characters
4.2
/5
rDev
+4.2%
look: 4 | smell: 4 | taste: 4.5 | feel: 4 | overall: 4
Big thanks to RoyalT for sending me this beer.
Past its prime, but still quite good.
Murky brown with yeast. Cloudy peach without. Minimal head.
Cloves, cinnamon. Tart in the finish. Many things going on, so it's hard to focus on each taste.
Hides the high alcohol percentage relatively well.
304 characters

Fantôme Winter (2002 And Prior) from Brasserie Fantôme
Beer rating:
4.03
out of
5
with
14
ratings