Fantôme BBB Babillard
| Brasserie Fantôme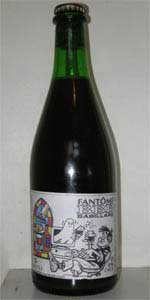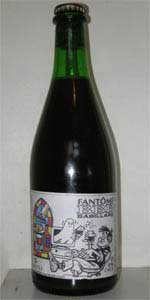 BEER INFO
Brewed by:
Brasserie Fantôme
Belgium
fantome.be
Style:
Saison / Farmhouse Ale
Alcohol by volume (ABV):
8.00%
Availability:
Limited (brewed once)
Notes / Commercial Description:
No notes at this time.
Added by BeerAdvocate on 09-28-2002
This beer is retired; no longer brewed.
HISTOGRAM
Ratings: 8 | Reviews: 8
3.31
/5
rDev
-15.1%
look: 3.75 | smell: 3.25 | taste: 3.25 | feel: 3.5 | overall: 3.25
Thank you Dunt for bringing this one to the table. Been after this one for awhile and always came up short. Was fun to drink it side by side with the dark version. 750ml corked and capped bottle poured into a matching Fantome glass. The brew appears a hazy copper color with a khaki head.
This smells of papery oxidation, caramel maltiness with a hint of vanilla and citrus-like pulp. The taste includes caramel toasty malt, oxidized cardboard and a backing of fruity pulp like the aroma suggested.
This is medium in body with modest carbonation. Overall decent stuff but the age is showing moreso than other Fantomes that are older than this one. Fun to try but I believe its better days are behind it.
705 characters

4
/5
rDev
+2.6%
look: 4 | smell: 4 | taste: 4 | feel: 4 | overall: 4
Side by side BBB Babillard dark and light. Thank you to Dunt and Stakem.
Hazy, dark yellow with a thin white cap. Lemon, funk, orange, citrus, rain water, basement. Unique, interesting and fun. Santé Dany et Fantôme.
219 characters

4.17
/5
rDev
+6.9%
look: 4 | smell: 4.5 | taste: 4 | feel: 4.5 | overall: 4
A - Pours a clear amber with a couple of inches of foamy white head. This drops after about half a minute to a thin layer leaving small patches of lace behind. Small bubbles of medium carbonation keep this layer in place.
S - Light notes of sweet solvent sourness, background farmyard funk, under ripe apple/fruitiness, some cherry. Intriguing aroma.
T - The initial sweet solvent is pushed aside by a tart, fruity middle. Finishes dry, with the solvent flavour returning, along with a yeast note. Aftertaste is short, and no trace of the alcohol is found anywhere.
M - Light, but never feels thin or watery. Smooth and creamy. Low-medium carbonation cleanses the mouth from the middle onwards.
D - I picked this up a few months ago not realising it was a limited run from several years ago. I don't know if it would have been better or not when it was fresher, but it was excellent nonetheless. If I see another bottle, I won't hesitate to buy it.
960 characters
4.12
/5
rDev
+5.6%
look: 4 | smell: 4.5 | taste: 4 | feel: 4 | overall: 4
Had a bottle of this at the Delierium Cafe' in Brussels. Crusty light beige head that dissapears quickly and leaves just a pale outer ring in the goblet. Deep dark ruby color with a pungent sweet dark ripe fruit (prune) nose. Woody oak barrel initial taste with slight traces of smoked plum. Thickish full mouth. There are Sherry like qualities to this interesting and complex brew.
382 characters
2.44
/5
rDev
-37.4%
look: 3 | smell: 1.5 | taste: 3 | feel: 3 | overall: 2
Appearance: light brown/amber, a bit cloudy, a thin layer of bubbles and foam
Aroma: either my nose is out of order or there just isn't much of anything going on at all (just a distant malt/hops/tang)
Flavor: slight biscuity malt-base with a tangy overtone, moldy and musty, corky, twinge of hop flavor and yeast, finishes dryish with an acidic aftertaste
Mouthfeel: medium body, light carbonation, hidden abv
Overall Impression: Might have been a bad bottle, but this beer was a bid ol' dud. Disappointingly bland. Maybe I'll try it again sometime and re-evaluate.
577 characters
4.39
/5
rDev
+12.6%
look: 4 | smell: 5 | taste: 4 | feel: 4.5 | overall: 4.5
75cl Capped and corked bottle no date Cork really popped on this one. Poured a slightly hazy tangerine orange color with a thick head which died rapidly leaving a thin white layer floating atop. Fantastic aroma is spicy whith clove in the foreground and offering notes of sweet bready malt and belgian yeast. Has a slight mustiness also which adds to the complexity. This is one of those special ales that can really stimulate your senses. The yeast is really coming to the nose at it warms. Medium bodied and the mouthfeel is smooth with an airy like quality as if it's floating in your mouth. Finishes crisp with no aftertase. Flavor is a bit tart with yeast and malt practically in sync with each other. Some sour fruit, green apples, pepper and caramel also come to mind. Overall a great Saison.
799 characters
4.94
/5
rDev
+26.7%
look: 4 | smell: 5 | taste: 5 | feel: 5 | overall: 5
*** Thank you Monk's for having this on-tap, as I will never forget drinking this beer ***
Poured a very opaque harvest brown, with a fair head and some fair stain.
Smelled of musty grains, roasty scents with a sour turn, caramel apples, followed by nutty wisps. In all, a winey and fragrant lambic meets a toasty saison. Wild and amazing, with pairings of scents never smelled together before.
It gets better, much better.
Taste was musty, roasty, sweet, sour, lemony citric, with faintly floral hops - all of these things were going on at once, and each was straightforward and flowed in and out of the next flavor, craeting a symphony of flavors. Slow sip after slow sip I and my very knowledgeable BA drinking-buddy (foxylady) were floored by how good this beer tastes. So good I want to sip it, but also so good I want to drown my tastebuds in an avalanche of its multi-faceted flavor.
Had a sturdy body but was still easy to go down, a mouthfeel that definitely aided the full and unending complexity of this beer. But you can taste all the varying parts without burden. Had no amountable finish but left ghosts of the flavors in your tastebuds. Smooth and inviting, this beer is haunting. Unbelievably drinkable while being unbelievably deep yet jump-up exhilirating.
Gimme this anytime, anywhere. In fact I am getting back to Monk's ASAP to have this again before its gone.
1,403 characters
3.87
/5
rDev
-0.8%
look: 3.5 | smell: 4 | taste: 4 | feel: 4 | overall: 3.5
750ml bottle; corked and capped but not caged. Carefully poured, the initial goblet delivers a hazy and very deep-peach colored body beneath a creamy bone-white head that holds well before eventually dropping to just a creamy collar and some lacy surface covering. Surprisingly, given the quality of their other beers, the lacing about the glass is quite limited. The nose is bold with tart, dried fruit (apricot, tangerine, prune) and some intriguing mustiness. It's interesting, sharp and fruity; but not really complex or intense enough to stand on its own apart from the flavor. The body is light/medium and it's silky smooth and just-lightly-creamy across the palate. The mouthfeel is quite nice, and it works well with the gently sour character of the flavor. It starts quite sharp on the front of the tongue and develops the tart dried fruit that the nose promises along with some plum and a gentle spiciness as it warms across the palate ...always shadowed by a dull, underlying bitterness and subtle yeastiness that leads it into a short finish with a powdery dryness. It's interesting, and quite flavorful, but not really complex enough to maintain a serious level of drinkability. In fact, one bottle is far more than enough for one person to try. Another offering from Fantome might be a better choice!
1,314 characters
Fantôme BBB Babillard from Brasserie Fantôme
Beer rating:
3.9
out of
5
with
8
ratings