Fantôme Santé 12!
| Brasserie Fantôme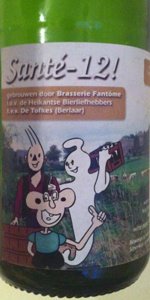 BEER INFO
Brewed by:
Brasserie Fantôme
Belgium
fantome.be
Style:
Saison / Farmhouse Ale
Alcohol by volume (ABV):
7.00%
Availability:
Limited (brewed once)
Notes / Commercial Description:
No notes at this time.
Added by drabmuh on 01-29-2012
This beer is retired; no longer brewed.
Reviews: 11 | Ratings: 25

3.3
/5
rDev
-13.6%
look: 4 | smell: 3.25 | taste: 3.25 | feel: 3.25 | overall: 3.25
Santé 1-19 vertical.
Hazy yellow body with a small, white head. Smells like the zoo with hints of circus. Basement funk with peanut and earth character. Sourdough bread with a sharp finish. Kiwi, lime, cotton candy, well water, fresh rain. Odd and interesting. Fantôme beers are like the Every Flavor Beans from Harry Potter.
329 characters
3.88
/5
rDev
+1.6%
look: 4.25 | smell: 3.75 | taste: 3.75 | feel: 4.25 | overall: 4
Bottle (2008)
Acquired via online purchase
Thanks, etregourmet.com!
(Aged for ~5 years)
Cloudy dark blonde or light amber. Nice cap of creamy, near-white foam. Somewhat sticky with irregular lines and splotches of stick left down the glass. A pretty saison from Fantome with proper carbonation throughout.
A musky, earthy aroma. A dirty, earthy, dried leaf aroma with some interesting accents. There is a distinct nuttiness and creaminess to this aroma like a peanut or a light almond butter spread. Very interesting. There's a bit of an herbaceous quality to is as well, perhaps like a fresh basil or even a curry note. The earth and Fantome funk leads though. Expressive aroma.
Moderate bitterness along with a lot of the earth, dirt, and dried leaf flavors found in the flavor. As with the aroma, there's a somewhat sweet nut character as well as some light herbaciousness to it as well. A touch of sweetness emerges as the beer comes to temperature.
Moderate to near-full in body, at least for the style. Fairly high carbonation. Very drinkable.
The fruit flies loved this one. I looked down at one point and there were 6-7 of the guys drowning in my beer. I suppose that added to the farmhouse effect?
1,213 characters
3.69
/5
rDev
-3.4%
look: 3.75 | smell: 3.5 | taste: 3.75 | feel: 3.75 | overall: 3.75
Hazy golden-yellow pour, cloudier as it got to the yeasty bottom, and a small cap of white head on top. Some earthy funk in the nose, wet grass, toasted grains, light citrus. More of the same in the taste, grassy, earthy, funky, peppery spice, notes of bready yeast, herbal/citrus, green pepper. An overall good saison, standard stuff compared to other Fantome beers I've had.
376 characters

3.92
/5
rDev
+2.6%
look: 3 | smell: 3.5 | taste: 4 | feel: 5 | overall: 4
Poured into a tulip. Bottled in '08, so this is getting up in the years.
3.0 A: Well hazed brown tinted yellow color. Two fingers of fizzy white head. Retention is below average and no lacing is left.
3.5 S: This is easily one of the oddest noses I've ever smelled. A very potent and equally surprising lemon lime aroma is most apparent. It actually smells a good bit like a lime margarita - even has a tequila note to it. After that there is herbal aloe vera, dirty funk, quince, and some hay. Peppery spice and a mild yeastiness.
4.0 T: Taste is much like the nose. This is a lime margarita flavored saison. Loads of lime and especially the rind, less lemon, tequila. Herbal aloe vera, dirty outdoors funk, hay, peppery yeastiness.
5.0 M: Lighter medium body. Light, spritzy carbonation. Pretty much perfect feel given the flavors. Good creaminess.
4.0 D: This is definitely an oddball, but I appreciate a diversion from the norm every now and then. Must try if you like weird, saisons, or margaritas.
1,009 characters

3.58
/5
rDev
-6.3%
look: 4 | smell: 3.5 | taste: 3.5 | feel: 4 | overall: 3.5
Bottle at Fantome-a-thon 2012
We'll call the color on this blonde with a nice white head. At first, this one smells almost exactly like lemon drop candies to me. There is a eucalyptus aroma that follows and a fair amount of pepper. The flavor is a bit bready with some of the same eucalyptus notes, some pepper, citrus peel, and maybe some herbs.
349 characters
4.62
/5
rDev
+20.9%
look: 4.5 | smell: 5 | taste: 4.5 | feel: 4.5 | overall: 4.5
Bottle: Poured a hazy cloudy dirty dark blonde color ale with a large foamy head with good retention and some light lacing. Aroma consists of lemony notes with some rustic malt and light funky yeast ester. Taste is a nice mix between some lemony malt with some rustic malt notes and some funky ester. I really enjoyed the lemony notes which were really not tart at all. Body was full with good carbonation and no apparent alcohol. Probably one of the best Sante beers I've tried from Fantome.
494 characters

3.5
/5
rDev
-8.4%
look: 4 | smell: 4 | taste: 3 | feel: 4 | overall: 3.5
From 03/09/12 notes. Bottle shared by Thorep429 and yourefragile; thanks guys.
a - Pours a hazy yellow color with one inch of white head and moderate carbonation evident.
s - Smells of spices, citrus, yeast, spices, lemon. Pretty nice, lots of citrus.
t - Tastes of a lot of spice, pepper, yeast, earthy notes, and some light citrus. Dominated buy spices.
m - Medium body and low carbonation.
o - Overall adecent Fantome, but not my favorite. The taste was heavily dominated by spices and pepper, which I wasn't the biggest fan of.
536 characters
3.14
/5
rDev
-17.8%
look: 2.5 | smell: 3.5 | taste: 3 | feel: 3.5 | overall: 3
750 mL shared by Mike and myself.
Pours a murky, stale, clouded peach-amber with a thin white head. Musty, earthy aroma with earthy hops, mint, grass, wet cardboard, cork and lemon. Mildly sweet aroma, with lemon and lime dominating the fruit presence with a stale and musty funky barnyard finish. Medium thick and smooth with moderate carbonation and a dry finish. Wait, you're telling me a vintage bottle of Fantome has bottle variability? Shocking!
452 characters
4.18
/5
rDev
+9.4%
look: 4.5 | smell: 4 | taste: 4 | feel: 4.5 | overall: 4.5
750ml poured into a matching Fantome tulip. The brew appears a clear golden amber orange color that is more yellow around the edges. Some faint particulate is seen up close keeping it from being perfectly clear on the first pour. Subsequent pours get increasingly cloudy with a 90% chance of precipitation. A light swirl reveals a finger of froth back to the surface with solid retaining power.
The smell is musty like cork upfront that blends into citrus fruit like grapefruit. A bit of pepper spice is present as well as rind, zest and some caramel malty sweetness. There is a toasty grain present that blends into a plethora of rindy orange character that gets a little cheesy and lactic across the back.
The taste is citrus and fruits with a solid inclusion of musty cork quality. Some zest of fruit and pulpy bitterness is noted with a bit of peppery spice and caramel grainy sweetness. As the brew warms up, it gets a greater focus on aspects that are fruity and floral. Some herbal aspects are present that remind me a bit of grapefruit that blends into a sweetness that is very mild and somewhat reminiscent of vanilla. The aftertaste is a bit lemony and very enjoyable.
This is a medium bodied brew with a moderate amount of carbonation. It displays an awesome balance of expected and unexpected characteristics. The blending of grapefruit zest with herbal, floral and fruited quality was very enjoyable. I could have lived without the old cork character but it added a nice depth to the brew. Overall this was very enjoyable and just keeps me interested in trying more and more of Dany's creations. The alcohol (like most Fantomes) was perfectly included.
1,668 characters

4.47
/5
rDev
+17%
look: 4 | smell: 4.5 | taste: 4.5 | feel: 4.5 | overall: 4.5
Huge thanks to drabmuh for sharing this bottle. Served in a Fantome tulip.
Pours a somewhat-hazy golden-peach color with a good white head and a bit of lacing. The nose brings forward a bit of funk and earth, as well as some tropical fruits. A bit of pineapple and very light acidity. The flavor is equally complex, reminding me a bit of a slightly more-funky version of Fantome Saison. Light body with good carbonation and the slightest bit of extra body. A bit of acidity and dryness to the finish. Really tasty.
515 characters

3.7
/5
rDev
-3.1%
look: 4 | smell: 4 | taste: 3.5 | feel: 4 | overall: 3.5
Bottle shared with Thorpe recently, surprised this one isn't on here yet, that's OK I'll add it. Served in a Fantome glass because I plan ahead, look it up.
Beer is yellow and hazy, almost light amber, thin lazy head, moderate to low carbonation, no lacing, low retention.
Aroma is a little vegetal like old hops or a garden, earthy, a little yeasty a little sweet.
Beer is a little grassy but decent. Light in body a little bitter, sweet, yeasty, interesting but not a repeat for me, tastes like a dandelion saison or one of the seasonal Fantomes.
551 characters
Fantôme Santé 12! from Brasserie Fantôme
3.82
out of
5
based on
25
ratings.