Art Kumbalek's Focktoberfest
| Lakefront Brewery, Inc.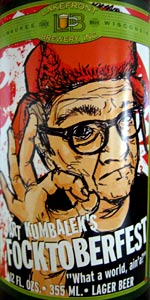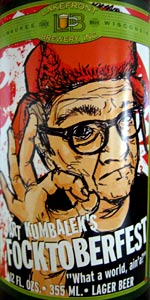 BEER INFO
Brewed by:
Lakefront Brewery, Inc.
Wisconsin
,
United States
lakefrontbrewery.com
Style:
Märzen / Oktoberfest
Alcohol by volume (ABV):
not listed
Availability:
Limited (brewed once)
Notes / Commercial Description:
Released in honor of Milwaukee Shepherd Express columnist - Art Kumbalek.
Added by Winter on 02-19-2007
This beer is retired; no longer brewed.
HISTOGRAM
Ratings: 10 | Reviews: 10
Reviews by botham:
3.95
/5
rDev
+17.6%
look: 4 | smell: 4 | taste: 4 | feel: 3.5 | overall: 4
12 oz bottle poured into a Sam Adams new beer glass. pours a golden amber color with a few fingers of light tan head. clear in appearance.
aroma mainly of caramel malts, with a slight spiced character reminiscent of pumpkin. a floral base rounds this one out making it a solid marzen by aroma.
taste is malty up front, caramel mainly, with a bready base. a floral character is present as well, alongside an earthy note, possibly from pumpkin. finishes on a semi-dry note with lingering malts.
mouthfeel is medium-bodied with a smooth and creamy texture. finishes semi-dry.
drinkability is great. marzens are usually very drinkable, and this is no exception. Art Kumbalek would be proud of this brew. cheers!
711 characters
More User Reviews:
3.27
/5
rDev
-2.7%
look: 3 | smell: 3.5 | taste: 3 | feel: 3.5 | overall: 3.5
12 oz bottle poured into a Nonic. Bottled during Sept. Wk 2.
Thank you Mr. Beerwolf77 for this bottle. I've never seen it in stores!
A - I poured it a bit modestly which produced a low, off-white head with low retention. A thin layer sat on top of a hazy, dirty amber orange color.
S - The aroma is a dry, sweet, honey-like malty nose with a good balanced finish of a light earthy hop. The overall impression is a sweet malty nose with fruity ester notes.
T - The hops push past the malts in the flavor with a twangy citrus and earthy taste. It's a little rough around the edges with bits of sweet malt barely poking through.
M - It's mildly creamy but very smooth going down. A light carbonation presence is there on the finish as this medium-bodied beer ends dry and lightly bitter.
D - The mouthfeel makes the drinkability. I don't know what to think of it otherwise. The aroma and flavor are opposites and neither really impresses. It goes down fine though.
967 characters
3.76
/5
rDev
+11.9%
look: 4 | smell: 3 | taste: 4 | feel: 4 | overall: 4
Another Oktberfest, this one was special release and on sale for like a dollar a bottle. Bottled in 09 of 09.
Pours a dark burnt orange, with a dirty greyish white head, dark for the style.
Smell is hoppy and metallic, less toasty character than most Oktoberfests. The malt is there as well.
The roasty malts are far more apparent in the taste, a solid attempt for tis style. Tastes like October for sure.
It is a pretty good Oktoberfest, not very easy to find though.
472 characters
3.63
/5
rDev
+8%
look: 3.5 | smell: 3 | taste: 4 | feel: 3 | overall: 4
A - Poured out a hazy, copper color with a one-finger, khaki head of foam. It left little to no head.
S - It smelled of roasted malt with some earthy and grassy notes.
T - It tasted of sweet malts with an earthy hop profile. There was a fruity flavor, a mixture of cherry and apple.
M - It was soft and smooth. A light bodied o-fest.
D - This is a very interesting oktoberfest. The fruit flavor was an interesting twist to the style.
437 characters
3.21
/5
rDev
-4.5%
look: 4 | smell: 3 | taste: 3 | feel: 3.5 | overall: 3.5
I was a bit shocked to finally see this at my local bottle shop. I had to grab one and give it a whirl.
Poured into my imperial pint glass the beer is dark orange with hints of brown throughout. The beige head reaches a two inch crest before fading away rather quick. Not much lacing at all.
The aroma is quite interesting. Malty with hints of wet grass and straw. Caramel and a touch of hops. Rather earthy overall. A marzen for sure.
The flavor is a mostly typical marzen. Malt caramel hints of hops. It has a tart earthy grassy bite up front. This is followed by a biscuity cracker like smoothness in the finish.
Medium body with loads of carbonation. Pretty stock for the style.
Overall I'm glad I was able to try this one. A decent interpretation of the style. Not Lakefronts best effort but not the worst.
816 characters
3.63
/5
rDev
+8%
look: 4 | smell: 3.5 | taste: 3.5 | feel: 3.5 | overall: 4
Poured a beautiful copper color with finger thick head that maintained good retention. Smelled of balance between biscuity malt and some mild citruisy hops. I've noticed that Wisconsin craft brewers love hops. The taste was on the light side of a o'fest. Lasting sweet malt taste that hung around the middle of my palate and good hop balance that mad this enjoyable. A very enjoyable American Octoberfest. I wish this was more available even in the Milwaukee area. I just need to find my Blaze orange hunting cap with flaps to enjoy my second one in memory of Art "what that fock" Kumbalek.
590 characters
3.97
/5
rDev
+18.2%
look: 3.5 | smell: 4 | taste: 4 | feel: 4 | overall: 4
Pours brown with copper hues. Thin sudsy head. Sweet aroma consists of caramel malt and brown sugar. Medium-bodied mouthfeel with decent carbonation. Taste starts off with caramel and burnt sugar. Hops arrive midway and take on most of the initial malt sweetness by providing some bitterness for balance. This bottle's about a year old and has held up nicely.
There's a nice depth of character here. It's a decent Oktoberfest and honestly much better than Lakefront's regular Oktoberfest offering. Call me crazy if it's the same recipe, but I've had their own offering and it was nothing special. Focktoberfest is where it's at, man oh manischewitz!
650 characters
2.16
/5
rDev
-35.7%
look: 3 | smell: 2 | taste: 2 | feel: 3 | overall: 2
Oh no. This beer has a sickly sweet smell. And butterscotch. Crap. Now I remember. Haven't had their ofest for years, but it's all coming back to me....and they aren't good memories. Did they just repackage their ofest of years gone by under this new fancy label??
Well, it's not as bad as I remember, but this is not a good ofest. The taste is sweet and buttery and yes, butterscotchy (if that's even a word). Body is medium. This isn't drainpour. But it's really not that enjoyable.
486 characters
2.56
/5
rDev
-23.8%
look: 3.5 | smell: 2.5 | taste: 2 | feel: 3.5 | overall: 3
I enjoyed this beer from the comfort of my own dining room. From a bottle to a pint glass. I don't believe this will be the freshest focktoberfest around. Purchased from Discount Liquor 2/$3.
Appearance: Nice amber marzen color with a small head.
Smell: Not much going on here, but aroma is slighlty malty and kind of spicey.
Taste: Again, not much going on here. Taste does not last long and is kind of weak when it is there.
Mouthfeel: medium-bodied.
Drinkability: I was expecting an oktoberfest but with the Art Kumbalek label, but was disappointed overall.
568 characters
3.5
/5
rDev
+4.2%
look: 3 | smell: 3 | taste: 3.5 | feel: 4 | overall: 4
Poured from a 12 oz bottle shipped from WI to Alaska. Poured an almost crystal clear orange-copper color. Low foam formation with only a small layer lasting on top.
Aroma is very malty with some toast. I think I can pick up a little bit of hop spice but it's pretty overpowed by the malt - which it should be. I pick up a bit of diacetyl as well...
The taste is fittingly malty, with a definite toasted malt presence of munich/vienna. The hop bitterness balances the malt well, and balances the beer well into the finish, where the bitterness holds and slowly dissipates to a cloying malty aftertaste. As with the aroma, I pick up a bit of diacetyl in the flavor.
The mouthfeel is right on. Medium to full bodied with good carbonation.
I love most bocks and enjoyed drinking this one, especially with the limited selection we have in my town. But I do think this beer could be improved.
898 characters
Art Kumbalek's Focktoberfest from Lakefront Brewery, Inc.
Beer rating:
3.36
out of
5
with
10
ratings