Kirsch Porter
| Bergquell Brauerei Löbau
BA SCORE
72
okay
11
Reviews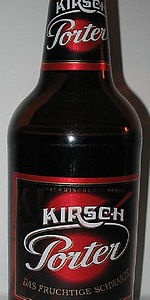 BEER INFO
Brewed by:
Bergquell Brauerei Löbau
Germany
|
website
Style:
Schwarzbier
Alcohol by volume (ABV):
4.20%
Availability:
Year-round
Notes / Commercial Description:
No notes at this time.
Added by paterlodie on 11-12-2006
Reviews: 11 | Ratings: 29
2.8
/5
rDev
+7.7%
look: 3.5 | smell: 3.5 | taste: 2.5 | feel: 2.5 | overall: 2.5
As you may expect this pours a dark chocolate colour with a finger width head the goes away quickly. The nose is sweet, almost cherry cola like. I can almost get a little chocolate on the nose but really have to fight past the cherry which is almost overpowering. It actually tastes like cherry pop, you could put this down for a blind taste test and I bet most would think it is a soda pop. I've had cherry porters before, but usually the cherry is more in the background and the chocolaty porter flavour is more up front. Almost the opposite here. Looks like pop, smells like pop, and tastes like pop. Almost want to add Amaretto and make a Dr. Pepper shooter.
★
662 characters

2.77
/5
rDev
+6.5%
look: 3 | smell: 3.5 | taste: 2.5 | feel: 2.5 | overall: 2.5
This is beer 18 from the Rieder advent calendar. Pours a very dark, but thin, black colour. The head doesn't last more than a few seconds, and there is no lacing to speak of. The aroma is intensely fruity, lots of cherry, raspberry, cranberry, cassis and grape. It has a sour twist that is very reminiscent of lambic fruit beer. The body is thin and slippery, and the jarring lack of carbonation leaves one thinking of fruit juice. The flavour is potent, and is also dominated by fruit flavours inherent to the small round red and small round purple variety. However, there is a distinct sour finish and a very small bubbly sensation on the tongue, both of which are traits that I naturally associate with lambics. Other than the colour, there doesn't seem to be any sign of the porter portion of this brew, namely any malty roastiness or thickness. A very interesting brew for sure, one that would be sure to delight anyone with a sweet tooth. And lambic fans, of course. Porter fans, not so much... This gets a low score because we rate relative to style, so this does not do well at all. In a different category it might get at least a modicum of respect.
★
1,158 characters

3.72
/5
rDev
+43.1%
look: 3 | smell: 3.5 | taste: 4 | feel: 4 | overall: 3.5
a-black with ruby highlights, light tan head, hints of leg.
s-brown sugar, raspberry buds, fruit bread.
t-chocolate covered cherries, fruit bread, light sweetness, very mild bitterness.
m-moderate body has a light residual sweetness.
o-starts to taste a bit medicinal as it warms, but it's an interesting brew.
★
315 characters
2.43
/5
rDev
-6.5%
look: 3.5 | smell: 3 | taste: 2 | feel: 3 | overall: 2
330ml bottle, day 18 of the 2012 Craft Beer Advent calendar. If my extremely limited German is correct, this is 95% porter, and 5% cherry cordial.
This beer pours a clear, dark bronzed amber hue, with two fingers of thinly foamy, puffy beige head, which leaves nothing but a low ebbing wash of lace around the glass as it quickly bails.
It smells of sweet, sugary cherry extract, kind of like maraschino liqueur mixed with Robitussin, a hard to discern, but still hefty roasted malt, medium dark chocolate, a seemingly stand-alone sour fruitiness, and some low-lying earthy hop bitterness. The taste fronts with a saccharine-sweet cherry and raspberry fruitiness, before an overwhelmed nutty chocolate character tries to intercede, and a musty, dead leaf hoppiness weirds things up even further.
The bubbles are quite sedate, or stuck to the floor, or something, the body a tacky medium weight, and generally smooth, I guess. It finishes with a growing astringent sourness, one borne of artificial fruit additives, as the malt starts to give up in futility.
Gah. There may be something here to recommend this as a decent old-world porter, replete with chocolate, nuts, and an unassuming sourness. Too bad it's buried up to the chin under this crappy fake cherry syrup nonsense. The low ABV keeps the cough syrup associations to a minimum, but that can't help the cherry Coke ones.
★
1,384 characters

2.62
/5
rDev
+0.8%
look: 2.5 | smell: 3 | taste: 2.5 | feel: 2.5 | overall: 2.5
330ml bottle poured into tulip 27/9/12
A looks like cola but has a ruby glow once held to the light, a noisy cola like head that fizzes out in seconds and leaves no lace
S cherry cola, with some hazelnut, chambord and maraschino liqueur, smells sweet, real sweet and synthetic
T see above but with a strange chemical flavor, just fake flavoring and sugar
M pop like, foams up then your left with a flat thin liquid in your mouth
O more of a pop then a beer, tastes fake and I'm sure it is
Porter? not so much, perhaps as a alco pop but I don't think that's a beer style on BA. Too sweet and overwhelmed by a "cherry" flavoring
★
634 characters
2.47
/5
rDev
-5%
look: 3 | smell: 3.5 | taste: 2 | feel: 2.5 | overall: 2
90% porter, 10% cherry soda.
0.5 l bottle.
Looks dark brown, beige head.
Smell is defenately the roasty character you'd expect from a porter. Coffee and nutts. Also a big note of cherry and cherry bubblegum. A bit artificial indeed, but not offensive.
Taste is not nice at all: cherry flavouring, with some bad malts, i would say.
Not much else.
Mouthfeel is light, aftertaste is artificial.
Overall, i would not recommend this either.
Like the previous samplers, I would say the artificial taste of the whole thing is just not pleasant.
★
542 characters
1.78
/5
rDev
-31.5%
look: 2.5 | smell: 2 | taste: 1.5 | feel: 1.5 | overall: 2
Bought a couple of these while in Meissen, Germany for the day. I expected a German Porter with undertones of Cherry. I was suprised at how strong the fake cherry flavor came thru. It was overwhelming and completely ruined and overpowered the beer in every sense. Not recommended.
★
280 characters

2.04
/5
rDev
-21.5%
look: 4 | smell: 2.5 | taste: 1.5 | feel: 2 | overall: 2
A: Pour is dark brown with rich hints of red. White kind of airy white head dissipates into nice lacings.
S: Raspberries and cherries, not much else.
T: Very cherry. Some raspberries. Sweet but, it's almost like lemonade...
M: Long, long aftertaste - but all dry cherries. Body is syrupy medium and carbonation is moderate.
D: For beeing a Schwarzbier this is awful - too much cherries.
★
391 characters

1.99
/5
rDev
-23.5%
look: 3.5 | smell: 2 | taste: 1.5 | feel: 2 | overall: 2.5
Bottle looks good with its bright colors on the dark bottle, I actually seen two guys (locals I guess) grab from these while I was puttering about looking. So i decided to try what they were drinking.
I guess the aesthetics of the bottle is where I end the positive comments. Smell not to my liking.. The maltiness comes through somewhat but, it's overcome by the overbearing sweetness in both smell and taste. I really don't like it at all.. only a few ratings and I know it'll take the average down.. just not my thing.. horrible..
.5l bottle (Wolfsburg Germany)
★
566 characters

1.46
/5
rDev
-43.8%
look: 3 | smell: 2 | taste: 1 | feel: 2 | overall: 1
.5L bottle - Picked up at Maruhn Getränke in Darmstadt, Germany. Pours a dark reddish color. Aromas of artificial cherries and wheat bread. Flavor of sweet fake cherries and a sweetness. Medium body with a berry aftertaste. Way to sweet, almost sickening.
★
256 characters
3
/5
rDev
+15.4%
look: 3.5 | smell: 3.5 | taste: 2.5 | feel: 3.5 | overall: 3
BB 28-02-07. Beigebrown head and black beercolor. Nose is sweet and malty and cherries IMO not the freshest possible but at least with beercaracter. Taste is sweet and lots of cherries before some maltyness and low bitterness are noticable. IMO overly sweetened and cherriecoke like but to liefmans krieklovers probably something enjoyable
★
339 characters
Kirsch Porter from Bergquell Brauerei Löbau
72
out of
100
based on
11
ratings.