Dismiss Notice
Trafalgar Patrick's Pick Extra Special Bitter
| All or Nothing Brewhouse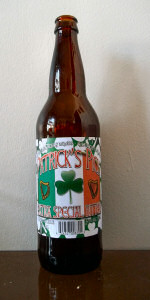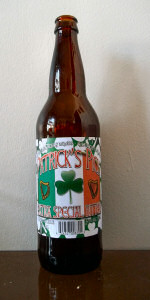 BEER INFO
Brewed by:
All or Nothing Brewhouse
Ontario
,
Canada
allornothing.beer
Style:
Extra Special / Strong Bitter (ESB)
Alcohol by volume (ABV):
5.00%
Availability:
Limited (brewed once)
Notes / Commercial Description:
No notes at this time.
Added by peensteen on 02-18-2011
This beer is retired; no longer brewed.
HISTOGRAM
Ratings: 12 | Reviews: 7
Reviews by ThinkAgain:
More User Reviews:
3.32
/5
rDev
+22.1%
look: 3 | smell: 3.5 | taste: 3.5 | feel: 3 | overall: 3
A passable bitter beer. First picking up the malts and then the hops and bitterness in the finish. Yellow coloured body. The carbonation and the bitterness are right there. Surprisingly high bitterness, don't know the hop but its drinkable. Very dry aftertaste.Neutral aroma. Peensteen's bottle.
295 characters


2.55
/5
rDev
-6.3%
look: 3 | smell: 3 | taste: 2 | feel: 2.5 | overall: 3
Pours a deep amber colour with a soapy head that falls into a film within minutes. Lighter than any other ESB I've tried aside from Trafalgar's own Elora Special Bitter, but it is a nice tone.
Has a buttery citrus, hoppy aroma that smells a bit musty and slightly metallic.
Starts creamy then goes watery. Tastes like wet grass and honey.
The back end is notably dirty, tasting quite literally of the Earth. Both when warm or cold it leaves a sour kick. Tastes like it's made with mineral water, different from the other beers I've had from Trafalgar.
Great smell, cheap taste and dirty aftertaste. If I drank this all day on March 17th, I'd feel bad for a week. Promising effort from Trafalgar that went wrong.
716 characters
2.81
/5
rDev
+3.3%
look: 4 | smell: 3 | taste: 2.5 | feel: 2.5 | overall: 3
From notes... Although not a traditional style to enjoy on St. Patty's day, I thought the bottle helped push its cause.
A - Pours a slightly hazy copper, thumb of head with solid retention and huge chunky lacing.
S - A tad mild, musty citrus and a hint of caramel.
T - Quite citrusy and sweet, reminiscent of an American Pale Ale, though completely lacking in the caramel/toffee malts flavours. Definitely not fitting of the style, but certainly one of their more flavourful ales.
M - A tad thin, though smooth and wet on the finish.
O - Sadly, this ale was not fitting of the style, which is unfortunately how I will be rating it. The flavours are way too citrusy and sweet and its lacking that musty caramel and earthy hop flavour that one would seek in the style. Had they marketed this as an American Pale Ale it would have been better received.
854 characters

2.82
/5
rDev
+3.7%
look: 2.5 | smell: 3 | taste: 3 | feel: 2.5 | overall: 2.5
I've tried a number of Beers from Trafalgar breweries and have been consistently disappointed so I do not have high hopes for this one. I'm trying it because there was a limited selection at the LCBO at the World Exchange Centre and i do like ESBs. The first sign that things do not bode well is that it pours extremely flat. no head to speak of. It has a sour grape scent with some caramel and something mildly spicy. No carbonation to speak of. However it's not as bad as I feared, This is an okay beer but nothing about it interests or excites me. So there.
560 characters
2.95
/5
rDev
+8.5%
look: 3.5 | smell: 3.5 | taste: 3 | feel: 2 | overall: 2.5
A decent beer, but certianly not a great beer. Served from a 65cl bottle into a standard pint glass.
This brew has a nice colour, copper, but the head is VERY thin and does not last atol. Lacing is found throughout consumption, but is very little. The head is an off-white, but not cream.
Smell is hoppy, and yet not distinct. Burnt malt aromas and woodsy notes.
It has a very hoppy flavour, with notes of caramel and ash tree.
Mouthfeel is very thin, almost watery. This is uncharacteristic, since most bitters should be fairly thick. Hence why this beer has a tonne of hops, and yet NO body.
One bottle,a dn that's it! That's pretty much all I could or want to drink in a week.
684 characters

3.18
/5
rDev
+16.9%
look: 3.5 | smell: 3 | taste: 3 | feel: 3.5 | overall: 3.5
Pours an amber orange, one finger of soapy white head, moderate lace on the glass. Smells of malt, citrus, slightly buttery, dry hops, a cream like scent and pineapple. Tastes of dry hops, malt, citrus, earthy notes, grainy presence, oily hop bitterness and a tinge of buttered toast. Creamy mouthfeel, oily from the hops, medium to full body. Not bad and with a few tweaks here and there this would be a solid brew, might be the best thing I have had from Trafalgar (certainly not the worst) and for 3.95 for a bomber its a decent value.
538 characters
2.02
/5
rDev
-25.7%
look: 3.5 | smell: 1.5 | taste: 2 | feel: 2.5 | overall: 2
Bought this at the local LCBO two days before St. Pat's. 650mL bottle.
The label was not put on well, sort of bubbling in the middle, instantly giving me a cheap impression.
A - It pours with a nice head which lingers long enough to lace down my glass. It's a perfect amber colour which I would expect from an ESB.
S - I was instantly disappointed to smell a very strong Citra hops character straight away. There might be a bit of Cascade or other 'C' hops too. These are fabulous smells if I were going for an American Pale Ale. Sorry, if it says ESB on the label, I expect English hops in the bottle. Hardly a malt smell under the hops
T - Nicely grainy at first. Just a bit of residual sweet which is pleasing. The mid palate is wrong for the style though. The American hops dominate, and is lacking the earthiness of English hops. The finish is a perfect IBU, though it lingers toward the grapefruit spectrum, which again reminds me that they have this beer all confused with hops.
M - Trafalgar's beers have typically been too thin for my taste, but this one seems just about right, if just a little thin. Perhaps they're mashing a little hotter finally. I like that it's drinkable. I'll give it that. Carb level is bang on.
O - If this beer were marketed as a Pale Ale I'd give it a better review. Unfortunately for them, as a consumer we buy with certain expectations. American hops do not an Extra Special Bitter make.
1,436 characters
Trafalgar Patrick's Pick Extra Special Bitter from All or Nothing Brewhouse
Beer rating:
2.72
out of
5
with
12
ratings