Malin Plaisir
| Ferme Brasserie Schoune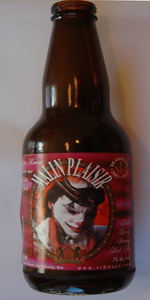 BEER INFO
Brewed by:
Ferme Brasserie Schoune
Quebec
,
Canada
schoune.com
Style:
Fruit / Vegetable Beer
Alcohol by volume (ABV):
7.00%
Availability:
Limited (brewed once)
Notes / Commercial Description:
No notes at this time.
Added by Beersignal on 12-20-2005
This beer is retired; no longer brewed.
Reviews: 7 | Ratings: 7
Reviews by basica:
3.55
/5
rDev
+11.6%
look: 3.5 | smell: 3.5 | taste: 3.5 | feel: 3 | overall: 4
I got this beer by mistake; I purchased 2 Ephemere but through miscommunications and crap that I shall not delve into... I ended up with 2 Malin Plaisir. Malin Plaisir is french for "cunning pleasure" though I do not see what's so cunning or pleasing about this beer. Dun get me wrong, it's an OK beer. The pour left a quick clearning 1 inch head topping the brown liquid beneath. On the nose was raspberries and some lambic like yeast. Can almost smell a certain sourness. The taste was surprisingly not really sour; taste was predominantly raspberries until towards the end when I can locate some malts; a little floral smelling on the nose along with fruitiness on the nose too. Some lambic like sourness and nose gets to me. The finish was dry and lightly sour. After taste was raspberries which was followed by plums; pretty lasting with floral notes on the nose for a while. Mouthfeel is a bag load of carbonation at the start which slowly simmers down to a reasonable level; almost water thin on the body and smooth down but nothing out of the blue. An OK type beer that I may have once in a while for the nice floral frutiness. The kind of fruitiness I like is the kind from the Belgian Strong Dark ales. Strong dark fruits balanced with maple sweetness and malts. Not really this kind of fruitiness; though I would take this over a Raspberry drink but the 7% is surprising; feels like a 5%.
1,399 characters
More User Reviews:
2.7
/5
rDev
-15.1%
look: 3 | smell: 3 | taste: 2.5 | feel: 2 | overall: 3
Bottle: Poured a deep reddish/brown color ale with a medium head with very little retention. Aroma of syrupy field berry is more or less enjoyable and doesn't match very well with the malt. The field berries also dominate taste, which seems to come out of concentrated syrup, which I don't really understand with the availability of fresh berries in the summertime near the brewery. I also don't dig the strong malt mix and the high-level of alcohol with fruit beers. Definitely not something that I'm looking forward to drinking again.
540 characters
3.03
/5
rDev
-4.7%
look: 3.5 | smell: 3 | taste: 3 | feel: 3 | overall: 3
Think I got my hands on this too late. Purchased a single bottle in Gatineau early this year, but apparently this was a one-off from 2005 and likely hadn't been cared for well. I don't want to trash it hear, but suffice to say there were some sour notes and cardboard elements to this that probably shouldn't have been there. I can see where it might have been an interesting brew. In addition to the variety of fruits, there were some darker roasted and chocolate notes that added some fascinating complexities. Mildly boozy as well. Slick mouthfeel with little carbonation. Maybe it always tasted like this, but I doubt it.
625 characters

3.35
/5
rDev
+5.3%
look: 3.5 | smell: 3.5 | taste: 3.5 | feel: 3 | overall: 3
Bottle: First I have to say this ale is another one done with real fruit as opposed to "extracts". Using extract or real fruit is, in itself, a craft where the objective is BALANCE! ...Balance between the crafted malt beer used as a base and the fruit...to give harmony and compliment...this is another of the few beers that accomplish that....
...Poured a clouded burnished copper-red in the ol' tulip...decent cap that lasts and laces very well.
Aroma primarily of raspberry but not too synthetic or perfumey...some light grain tones and an earthy mustiness.
Bold use of malts and fruit in the spine, peppery mouth feel, permeating musty-fruity character.
Taste: Up front this one could be mistaken for the many Unibroue ales, malty, spicey, semi sweet, musty...then the fruit kicks in and morphs the whole mouthfull into a rich musty fruit and bread cocktail..the finish is lush with a natural yeasty and symbiotic fruity sourness...then a comforting warmness.
A very nice fruit beer that melds the fruits with the ale. A hybrid between Uibroue ephimere and a solid lees ales.
1,100 characters
3.97
/5
rDev
+24.8%
look: 3.5 | smell: 4 | taste: 4 | feel: 4 | overall: 4
Seems to me this beverage is either you like it or you hate it.
Me, personnaly, I like it.
Drank it in the bottle so I cannot say anything about le appearance so I give it a fair rating.
Smell is fruity and it's a pleasant smell mixed with some cereals. Oats, barley and buckwheat comes to mind. Raspberries, strawberries are the front runners in the fruit section. All-in-all, quite pleasent.
Taste is dominated by the smells as described above. It's not that fruity, you do not feel that you are drinkin' some juices. it's still beer with a twist.
Great carbonation, never seems to run flat (in fact, I unfortunately left in on the counter for a while and it did not loose it's zest...)
This could be a dangerous beverage as it's a atrong ale... 7% abv is pnchy but you don not taste the alcohol... that a great sing if you ask me.
840 characters
1.63
/5
rDev
-48.7%
look: 1.5 | smell: 3.5 | taste: 1 | feel: 1 | overall: 1
341ml brown bottle, bought in longueuil in 2007
''Brasssin exclusif 2005''
This beer has dissaper from mostly all the shelves in quebec. I found this one in a coner strore in Longueuil where the have a nice beer selection. shame on me this beer wasn't good. old sour taste, bitter tho the max, hazy view. Damm..as the name say it.
the label is ugly.
352 characters
4.04
/5
rDev
+27%
look: 3 | smell: 4 | taste: 4.5 | feel: 4 | overall: 3.5
''Brassin Exclusif 2005''. One-off winter release from one mad scientist of brewing in these parts.
Pours cloudy and warm chestnut under a diminutive cap of slightly pink foam that receeds to a film suddenly and quickly. Lacing is not abundant but is present.
Aromas are subtle but sublime, dominated by a medley of maltiness and chocolate covered raspberries. Much cleaner than Schoune's other brews, with less of their trademark lactic signature.
Flavours are deep and rich with a soft maltiness up front followed by hints of cocoa and the fruity field berries used in the recipe. Very tasty and balanced between the use of fruits and malt with a velvety mouthfeel that complements well the cocoa flavours of the brew. I'm enjoying this a lot.
I'm very impressed by this beer from Ferme Brasserie Schoune who have a reputation for issuing hit-and-miss brews that don't always please.
Santé
908 characters
Malin Plaisir from Ferme Brasserie Schoune
3.18
out of
5
based on
7
ratings.