Melon Head
| Picaroons Traditional Ales
BA SCORE
82
good
12
Reviews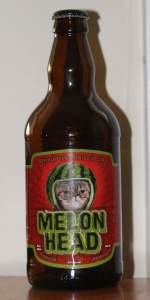 BEER INFO
Brewed by:
Picaroons Traditional Ales
New Brunswick
,
Canada
picaroons.ca
Style:
Fruit / Vegetable Beer
Alcohol by volume (ABV):
4.50%
Availability:
Summer
Notes / Commercial Description:
No notes at this time.
Added by berley31 on 06-01-2010
Reviews: 12 | Ratings: 34

3.81
/5
rDev
+8.2%
look: 3.5 | smell: 3.75 | taste: 4 | feel: 3.5 | overall: 3.75
Nice beer,
Made in Fredericton near my hometown and it a must for everyone.
The watermelon subtile taste make this one perfectly tone and refreshing.
This one will be part of the beer I like to have once in a while
217 characters

3.55
/5
rDev
+0.9%
look: 3 | smell: 3.5 | taste: 3.75 | feel: 3.25 | overall: 3.5
Hazy golden color with moderate activity. Slightly foamy white 2 finger head that last 5 minutes, with a bit of lacing legs.
Aromas of melon and fruits, veggies, and bubble gum. Flavors of fruits including melon, lemon, caramel, sweet roasted grains, noble spices. Highly sugary, but not too syrupy, with a faint sharpness. Bready and a little grassy.
Slick light body with prickly carbonation. Light and short finish, ending with a fruity feel, roasted malts, and a lingering burnt caramel feel.
Overall a good quality craft. Nice fruity flavors with good freshness. A little faint and thin, needs more body. Great summer beer and accessible.
646 characters

3.28
/5
rDev
-6.8%
look: 4 | smell: 4 | taste: 2.75 | feel: 3.75 | overall: 3
Serving Type: 500 mL Bottle
A- Pours a clear Light Golden colour topped by a nice, thick white head with excellent lacing. Not much in the way of lacing.
S- Light and sweet fresh watermelon. Very intriguing.
T- Sweet Candy Watermelon that changes over to a mushy, overripe Watermelon real quick. Wasn't able to gather anything other than the Watermelon because of how simply revolting it was. You almost have to take a break to clear your palate in between drinks. In the spirit of respect towards beer, I pushed through this one til the end.
M- Light body and high carbonation. Refreshing, if it wasn't for the taste.
O- Since Watermelon beers are one of the most difficult fruit beers to make well, I was a little relaxed on the rating. Not a great beer but it does have some potential. Hopefully Picaroons will tweak it for next year.
846 characters
3.54
/5
rDev
+0.6%
look: 3.75 | smell: 3.5 | taste: 3.5 | feel: 3.75 | overall: 3.5
500ml bottle. No description on the label, so I guess all we have to go on in discerning what kind of melon we're to expect here is from that pissed-off looking, watermelon-helmeted kitty.
This beer pours a clear, bright pale golden yellow hue, with three fingers of puffy, densely foamy, and somewhat bubbly eggshell white head, which leaves some awkward swan profile lace around the glass as it evenly subsides.
It smells of overripe watermelon, the kind that is mushy rather than crisp when you sink that butcher's knife into it, with a certain candied character to boot, pastry-adjacent pale cereal malt, and very little else. The taste is still big on the candied and fruity watermelon, but tempered enough to let the underlying grainy cereal malt strut its sugary stuff, along with a faint earthy, leafy hoppiness.
The carbonation is quite active in its pestering frothiness, the body medium-light in weight, and generally smooth, a certain flinty edginess arriving from the ether, it would seem. It finishes on the sweet side, but not overly so, enough of the fruit acids apparently working undercover to keep this out of the Slurpee Zone.
Not a bad tasting fruit beer, but watermelon is a notoriously difficult one to get across after being put through the ringer of the brew cycle. It does work here, mostly, but if my mind and palate hadn't been seeded with that information, I would have just been spinning around in circles, trying to pin the admittedly heady fruitiness on something, at least. Anyways, ok, overall.
1,532 characters
3.48
/5
rDev
-1.1%
look: 4 | smell: 3.5 | taste: 3.5 | feel: 3 | overall: 3.5
Single bottle brought back from the brewery and shared at a recent tasting. May have been that I had the first in the evening after a few other brews, and the second bottle was on the patio and was the first beer of the evening. Hated it the first time, liked it the second so I'll go with the second!
Poured into a small tasting glass. Light golden-blonde in colour, clear, and with a good sized head that recedes into a thick ring.
Nose is certainly watermelon - at some points it reminds me of an overripe slice, and others like watermelon flavored gum. A bit of citrus, wheat malt as well.
Similar taste as in the nose. Watermelon is certainly present, less pronounced near the finish, but the initial hit is watermelon. Finishes thin and a bit dry.
Thin bodied, feels like a pale wheat ale.
It tastes like watermelon - what else can I say, other than it is worth a try for the experience alone.
908 characters
3.49
/5
rDev
-0.9%
look: 3 | smell: 4 | taste: 3 | feel: 4.5 | overall: 3.5
Poor from a 500ml bottle on a hot summer day of September.
A: Nice blonde beer with a good head. It taste like watermelon and then it taste like grain. It's very good.
S: Amazing smell of watermelon. It makes me thinks of the watermelon flavor of the Bubblicious bubblegum.
T: When I have the beer in my mouth and that I breath out, the watermelon taste is there. But when I swallow the beer, it disapears.
MF : There's a good aftertaste of watermelon in my mouth, it's good.
476 characters
4.12
/5
rDev
+17%
look: 4 | smell: 4.5 | taste: 4 | feel: 4 | overall: 4
Bottle from awesome girlfriend... reviewed from memory at a bottle share.
Pours a nice light amber... with a finger if head. This was a nice highlight... the nose was amazing... very melon centric, with a nice balanced, yet tiny tart kick on the finish... taste was very similar, balanced with a light tartness on the finish. I didn't have much expectation for this, but it was really good. was a real sleeper. Get it!
418 characters

3.67
/5
rDev
+4.3%
look: 3.5 | smell: 4 | taste: 3.5 | feel: 4 | overall: 3.5
bottle from mmurphy525
Hazy pale orange/peach colour, light soapy white head, not much lacing. Smell is of watermelon, funky barnyard notes, big yeast and malt profile, fruity and very vibrant. Taste is of tart melon though overall the melon is quite subtle, biscuity presence in the finish, lightly sour, at points salty, a little more melon comes out in the aftertaste. Med carbonation, medium body, nice weight with a good solid feel. Quite nice, definitely interesting and different, at first I wasn't sold on this but halfway through I really liked it, drinks more like a sour belgian than a fruit beer, would revisit this gladly. The label is also amazing on this one.
675 characters
4.51
/5
rDev
+28.1%
look: 3.5 | smell: 5 | taste: 4.5 | feel: 4 | overall: 4.5
Finally, the summer beer I have been waiting for. Big, fluffy head sat down fast. Golden straw with orange highlights. Pure fresh watermelon. Sugary sweet but not overpowering. Oh snap, this is awesome. The fresher the better. Reminiscent of Hubba Bubba chewing gum. A light body that was just bursting with flavor. Blew my expectations out of the water. Leaps and bounds above last years offering.
Notes from June 4th
Bottled 5/25/11
Batch 1439
447 characters

2.94
/5
rDev
-16.5%
look: 3 | smell: 4 | taste: 2.5 | feel: 3 | overall: 2.5
Packaged On: 11/08/10
From: Premier Wine & Spirits
Note: No mention that this is a Picaroons brew, but "Northhampton Brewing Co. LTD."
A: Clear dark golden body with one finger of white head. Retention is quite poor and leaves no lacing.
S: Interesting. Smells like the watermelon penny candies I used to have as a kid. Not much else.
T: So much for the flavour. Very bland, tastes like extremely watered down watermelon pop. Extremely faint watermelon taste.
M: Light bodied and high carbonation. Water like in every way and leaves little to no aftertaste.
D: Another disappointment for me. The aroma was interesting, but fell down after that. It was a good concept, but poorly implemented.
701 characters

3.4
/5
rDev
-3.4%
look: 3.5 | smell: 3.5 | taste: 3.5 | feel: 3.5 | overall: 3
It's a medium-amber... a hint of peach / orange colour in there. The head is a bit creamy, and there isn't too much of it. What there is of it sticks around, though.
Pretty melony (is that a word?) smell. Kind of like watermelon gum. It's not overpowering, but it could be a bit more subtle (like St. Ambroise's apricot ale). I appreciate its originality, though.
Taste isn't that bad! It's got the body & feel of a beer, and the taste / character of a fruity summer drink. A couple of these on a sunny deck wouldn't be out of place.
Feel in the mouth is fine. Not too fizzy. Just about right for the flavour.
It's pretty drinkable, but I don't think you'd want more than one or two at a time.
698 characters
2.74
/5
rDev
-22.2%
look: 4 | smell: 2.5 | taste: 2.5 | feel: 4 | overall: 2.5
A: Poured with a large, white, fairly creamy head... pretty good lasting power. Body is a dark golden color, and quite clear. Effervescent.
S: Very strong aroma of watermelon, quite perfumey and sweet. I can smell it almost two feet away from the glass. After a bit it's actually almost sickening and a little overpowering.
T: Strong taste of melon; I think it's intensified by the powerful aroma. Very light touch of hop bitterness in the finish.
M: Medium-light body, with high carbonation.
D: To be honest, I'm finding it hard to get through a whole 500 mL bottle. Maybe it'd be a different story if it was really warm out and I was on a deck, but it's a little sickening to me.
685 characters
Melon Head from Picaroons Traditional Ales
3.52
out of
5
based on
34
ratings.