Augsburger Dark
| Stevens Point Brewery
BA SCORE
79
okay
13
Reviews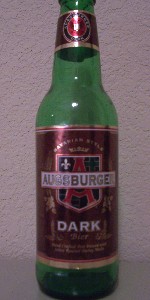 BEER INFO
Brewed by:
Stevens Point Brewery
Wisconsin
,
United States
pointbeer.com
Style:
Munich Dunkel Lager
Alcohol by volume (ABV):
not listed
Availability:
Year-round
Notes / Commercial Description:
No notes at this time.
Added by jackndan on 10-13-2003
This beer is retired; no longer brewed.
Reviews: 13 | Ratings: 16
3.22
/5
rDev
+0.3%
look: 3.5 | smell: 4 | taste: 2.5 | feel: 2.5 | overall: 4
A - Deep mahogany / rootbeer brown with a solid one finger khaki head. Some spotty lacing is left on the glass. The head eventually recedes to a thin cap with bubbles of various sizes. Pretty boring really.
S - Rootbeer flavored hard candy and tootsie rolls on the nose. Smells exactly like a chocolate tootsie pop! Tootsie rolls. No trace of hops whatsoever....this is all malt on the nose.
T - I taste none of the tootsie pop from the nose. This is rather bland. Nowhere near as interesting as the aroma. Generically and mildly chocolaty and malty. More hops pull through here, and it feels a little off-kilter to me. No real balance.
M - Feels sort of full bodied at first due to a roiling carbonation tingle, but it's really pretty watery.
D - Bland, but very drinkable. I think that's what this style is all about....something nice and sessionable but not a savory sipper. Damn nice smell though.
913 characters
3.09
/5
rDev
-3.7%
look: 4.5 | smell: 3 | taste: 3 | feel: 2 | overall: 3.5
Deep chesnut color with a finger of head that quickly recedes to form very even lacing. Solid looking brew.
Sweet but metallic scent overtakes it immediately. A bit of an iced tea aroma mingles with weak grain. Some good, some bad, very average.
Sweet malt taste again that becomes too sugary on the finish. This is exacerbated further by the thin mouthfeel that makes be think of sweet tea more than a beer. Not a bad-tasting beverage but it doesn't make me think of beer, which I would say is kinda the point of brewing. I could drink a few of these mindlessly while watching a football game but I wouldn't reach for one if I were sitting down to read or engage in conversation. Mindless.
696 characters

3.37
/5
rDev
+5%
look: 3 | smell: 3.5 | taste: 3.5 | feel: 2.5 | overall: 3.5
12oz green botttle
Augsburger Dark was dark brown in color with a medium light tan head. The head was soon reduced to a thin layer, leaving no lace. Towards the end of the glass, there was no head at all. The aroma was lightly roasty and malty. The taste was of light malt, a hint of roasted grain an a hint of chocolate. It was light bodied with medium carbonation. It is easy drinking and has decent flavor. If it wasn't for the thin mouthfeel, this would a good beer.
473 characters

3.85
/5
rDev
+19.9%
look: 3.5 | smell: 3.5 | taste: 4 | feel: 4 | overall: 4
The beer pours a brown color with a thick frothy tan head that slowly fades to lacing. The aroma is decent. It has a dry, yet malty scent that boasts of crystal and roasted malts. It's sweet with a toasted feel. The taste is good. It has a smooth, malty flavor that goes down easy and finishes a bit dry with some roasted notes. It has a sweet, burnt caramel flavor. The mouthfeel is fine. It is a medium bodied beer with adequate carbonation. This is a good drinking beer. It's not the best I've had, but I've had lots worse. If this was local, I'd buy it again.
563 characters
3.42
/5
rDev
+6.5%
look: 3 | smell: 3.5 | taste: 3.5 | feel: 3 | overall: 3.5
Poured a sweet pruney dark brown with apricot highlights. The smell is riddled with sweet dark mnalts. Very sugary fruit aroma.
The taste is a slightly dry sweetness of prunes and cooked peaches brought into a more broad description of roasted malt flavors. The palate is refereshing even though it is a little dry.
317 characters
2.76
/5
rDev
-14%
look: 3.5 | smell: 2.5 | taste: 2.5 | feel: 3.5 | overall: 3
Bottle provided amid a bunch of stuff given to me for volunteering at 2005 GABF. Thanks, I appreciate the opportunity to try the craft beers provided in my package. Pours a three finger fizzy light brown head over a crystal clear dark-brown & orange liquid. Smells mild. Wet sweet and with some darker grains. So weak it's hard to tell. Sort of comes across as molasses...so a bit chocolatey and just a faint hint of roast. Really sarching to come up with this. Tastes wet sweet, yet amazingly non-descript in flavors. Normally, I like sweet malty beers, but the sweet needs to paly a supporting role for the actual flavors that banter about. Not this beer. Very little chocolate with a hint of dry roasty, and a hint of iron. Hops? I can't find them. This is a simple beer that does have a place in the craft beer industry. I can see this beer helping a person make the jump to quality craft beer, or as a safe medium between swill and craft drinkers. Md-light body with some dextirnous thickness and moderately carbonated. By the end of the glass the excessive unbalanced sugar was beginning to wear.
1,102 characters
3.54
/5
rDev
+10.3%
look: 3.5 | smell: 2 | taste: 4 | feel: 3.5 | overall: 4.5
Pours a dark (duh) coffee brown, with one finger of fizzy tan head. Smells like, uh, metal. Thankfully the funky smell did not enter the taste, which was very sweet caramel-chocolate. Probably the sweetest dunkel I've had. Mild hop bitterness keeps the sweetness in check and prevents it from tasting like a bottle of Yoohoo. Kind of thin mouthfeel, but very tasty and extremely drinkable. Worth your dollar.
408 characters
3.5
/5
rDev
+9%
look: 3.5 | smell: 3.5 | taste: 3.5 | feel: 2.5 | overall: 4
I thought this was a pretty solid dark lager. Body is dark brown, yet translucent, head fades to nothingness, rather quickly. Smell is slightly sweet, with chocolate and grassy malt. Taste is malty and crisp, slightly chocolatey with a subtle hop finish. Body is a little too thin, but for $4.59 a six pack it was not bad.
322 characters
3.2
/5
rDev
-0.3%
look: 3 | smell: 3 | taste: 3.5 | feel: 3 | overall: 3
Please correct me if I am wrong, but I think the formula has changed for Augie dark, fairly recently. I get a six of it about twice a year for old time's sake. A sentimental journey, if you will. I started drinking it in the early 1980's and as far as I can recall, it was more like Modelo Negro or Dos Equis than what it is today. Don't get me wrong- Modelo Negro and Dos Equis are perfectly drinkable beers if all you have is tip money and your car just broke down. My affiliation with Augie Dark goes back to the days when I didn't have a car... or tips... hell, even a proper place to sleep each night. But that's not the story here.
Augie Dark is dark now. You can't see through it. And it has a heavier feel. The carbonation is more like an actual Dunkel Lager than the soda pop bubbles I remember from maybe just a year ago. It has the same balance of malt and hops, but there is more of it. It is much improved. It doesn't have the cloying sweetness that I have experienced with other Dunkel Lager style beers, it is substantial yet refreshing!
For those who haven't had Augsburger Dark before, it has a fortifying feel to it. The alcohol is well-hidden, the grains are slightly more prevalent than the hops, but not enough to be out of balance. There is a toasty sort of undertone that allows sweetness without a troublesome effect in the aftertaste.
I don't know how I feel about all this. On the one hand, it is not like what I remember, and the only reason I got it was for old time's sake. There are many other beers that fit the bill for what Augie Dark is now. On the other hand, an old friend seems to have matured. Who in their right mind would be unhappy with that?
1,694 characters
2.9
/5
rDev
-9.7%
look: 3 | smell: 3 | taste: 3 | feel: 3 | overall: 2.5
This beer pours a deep chestnut color and offers a nice bit of head and somewhat sticky lace. The aromas are a tad high strung with malt at the for-front and a very un-balanced bitter chiming in at the tail end. The mouth feel here is light to medium, offering decent crispness for the money. The flavors are nice for the cash spent, but nothing here drives me toward another. I pick up loads of dark rye on the palate. This would be welcomed at an outdoor summer bbq as an alternate to something yellow and fizzing anyday, though this is nothing special.
555 characters

3.25
/5
rDev
+1.2%
look: 3.5 | smell: 3.5 | taste: 3 | feel: 3 | overall: 3.5
Clear cocoa brown, fluffy and respectable yellowish head, stays at 1/8 of an inch. Minimal laces. Slightly roasty aroma, a little chocolate and cashew nutiness. Medium light mouthfeel but spare carbonation helps here. Light carob flavors, a little lean toward milk chocolate to the malt. Flavor is consistent to the finish, with just the barest of leafy hop to the overall sweet close. Its missing an overall great malt quality typical of the better Dunkels, but smooth and drinkable as a classic example of the "session" beer.
527 characters
2.45
/5
rDev
-23.7%
look: 2 | smell: 2 | taste: 2.5 | feel: 2.5 | overall: 3
An average beer, a subpar dunkel.
pours dark brown with red tint and little head.
All malt taste with a touch of roasted malt and no hops.
mouthfeel is watery and lacking. Not an impressive brew by any means but not horribly offensive, hence the average drinkability rating.
285 characters

2.39
/5
rDev
-25.5%
look: 1.5 | smell: 2.5 | taste: 2.5 | feel: 2 | overall: 2.5
Augsburger Dark: A thin watery brew. Pours a fairly dark brown, with a tinge of red when held up to the light. The beer was clear, with no sediments.
Its pour was a major disappointment. Very little head, even with a vigorous pouring, that dissipated down to nothing, not even a bubble on the top of the glass. Needless to say, no lacing, in fact the sides of the glass were shiny clean, which is not a good sign.
To sweet cloying malts, a wee taste of caramel/toast, but not much character. The taste was thin, the body was thinner.
This beer had little body, little character and there is little chance I'd buy it again.
632 characters
Augsburger Dark from Stevens Point Brewery
3.21
out of
5
based on
16
ratings.