Radio Free I.B.A.

Lake Louie Brewery Company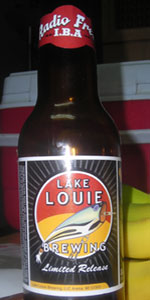 Write a Review
Beer Geek Stats:
| Print Shelf Talker
Style:

ABV:

not listed

Score:

83

Avg:

3.54

| pDev:

16.67%

Reviews:

6

Ratings:

From:

Avail:

Retired (no longer brewed)

Wants

Gots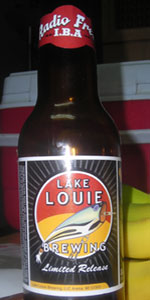 Notes:
Reviews: 6 | Ratings: 21

2.18
/5
rDev
-38.4%
look: 3.75 | smell: 2 | taste: 2.25 | feel: 1.75 | overall: 2
Poured into a Bell's tulip on 7/27/12
A) Pours a very dark brown and settles darn near jet black with a two finger light brown head. Foam drops to an 1/8th inch layer and leaves thick swaths of lace.
S) Strange, strange aroma here. Soapy fruit and floral layers - raspberry, pomegranate, lemon. Faint dark grains. Smells kind of medicinal. Subtle chocolate as it warms. What is going on here?
T) The fruit aspects of the aroma carry over to the palate but last only briefly. Burgeoning tangy roast dominates the mid-section. Bitter roast and burnt coffee picks up toward the finish. Very dry.
M) The body is on the light side of medium. The overall feel is rattled violently by far too much carbonation.
D) I don't know what this beer's damage is, but it is not enjoyable to drink at all. What a disorganized mess.
824 characters

4.28
/5
rDev
+20.9%
look: 4.25 | smell: 4.25 | taste: 4.25 | feel: 4.5 | overall: 4.25
Had this on tap at Mason Lounge, Madison, and found it totally inspiring, but was too drunk to review it then.
Now a blackish pour from a bottle into a goblet. A finger off-white head slides off the sides of the glass with almost no lacing and a look of solvency that betrays a pretty high abv.
Surprisingly savory in the nose, a bit buttery-biscuit, which is really nice. Some sweet malt. But that's about it. A very reserved aroma. Next time, I'll use a snifter. I think the aroma is probably pretty nice, you just have to capture it.
Note: Avoid vinegar and citrus salad dressing when drinking this brew.
An awesome sweet nuttiness kicks things off and shades into leather in a pleasing way. This beer is sweet, first. It's malty base grounded w/ lightly toasted spicy bread (pumpernickel), chocolate, and vague hints of corn syrup. Then a hop bite, with a tart roastiness for the bitter middle. There's a tinny tartness at the end that's part raspberry and part metal barrel. Coffee and a spice of some kind emerges as the beer warms.
I'm really impressed. I was a bit taken aback by the price ($10/4-pack). But it's totally worth it. By the way, it's "over 8% abv", according to the LL website.
I'm gonna say this beats NG Black Top, which had been my reigning favorite American black ale (and one of my top-5 non-big-beers of all time). This shouldn't be surprising--I'm a malt guy, and this is def more up my alley than Black Top. That I love Black Top was always a surprise. I'll do a side-by-side soon.
1,520 characters

3.18
/5
rDev
-10.2%
look: 3.5 | smell: 3 | taste: 3 | feel: 3.5 | overall: 3.5
Served chilled in a Sierra Nevada pint glass
A - pours a dark brown, 1/2 finger head
S - smell is sweet chocolate and dark cherry, followed by malt
T - roasted malt with some sweetness following, then a good amount of bitterness from the hops
M - fairly thin, not much carbonation, no alcohol to speak of
O - Not bad at all, but in my mind, this is closer to a stout than th black ales that I'm used to. I should do a side by side with Black Top...
454 characters
3.11
/5
rDev
-12.1%
look: 4 | smell: 3 | taste: 3 | feel: 3.5 | overall: 3
This ale pours jet black with a moderate light tan head than diminished to sticky, thin skim. The aroma is dominated by malty character--sweet, roasty, chocolate, some biscuit with just a bit of floral hop. I enjoy the aroma, but think it is off for the style, I would expect at least a moderate hop nose, but it is really quite subdued. The flavor is much like the nose, tasty malts, the flavors mimic the nose. There is moderate hop bitterness and low spicy/piney hop flavor. The finish is dry, aided by roasted malts and hop bitterness. Again, I enjoy the beer, but I just don't think it is appropriately hopped for the style. The carbonation is moderate and body is medium-full. Overall this is a tasty beer, delicious malts and moderately bitter, but the hop flavor and aroma really need to be upped. I like a lot of their brews, but I hope some constructive feedback takes this one to the next level.
906 characters
3.06
/5
rDev
-13.6%
look: 4 | smell: 3 | taste: 3 | feel: 3 | overall: 3
12 oz bottle from the newly released Limited Release four packs. As stated in a previous review, I really pull for this brewery. It's a cool story, a neat setup, and from everything I've read, Tommy is a really good guy.
Pours a rather attractive looking pitch black with a cappuccino ring. Rather suggestive and slightly menacing in my tulip. A solid introduction.
Smell is less bold than hoped for and is a meld of interesting characteristics. There's a pronounced dark fruit element of dates and figs that joins with an unsalted meat vibe. Hickory, Smarties candies, and sweet malts join with a substantial ashy note to seal the deal. Interesting.
The few few sips yield that odd turn-you-head-to-the-side-while-scrunching-your-brow-in-an-attempt-to-register-face. Huge ashy drapery lies a massive cloak across this beer. Dry unsweetened raw chocolate clashes with a big candy sweetness. Finishes sugary and leaves a shockingly long tingle on the tongue and along my tasting places. Bitterness is unrefined and earthy. Really lacking in hops though, which is a very disappointing.
Mouthfeel is light and drying.
Overall, this is an interesting beer. It's a bit salty, brash, and unrefined in the way that lacks the polish of some larger and more established breweries. Not sure I would reach for this on a regular basis, but I continue to want to love Lake Louie and support their adventurousness.
1,406 characters
3.54
/5
rDev 0%
look: 3 | smell: 4 | taste: 3.5 | feel: 3 | overall: 3.5
Looks like Lake Louie has decided to throw their hat into the Black Ale market!
Pours out into a goblet a deep opaque nigh-black color with only a 2mm fizz ring around the edges for a head. Appears very undercarbonated but the color is perfect at least.
The aroma is a very appealing blend of dark chocolate, medium amounts of chicory, burnt brown sugar, very light garnish levels of cigarette ash, and a solid backbone of roasted malt. However, it seems to be seriously lacking in citrus and pith elements in the nose, which also happens again later on in the taste. Instead, I find myself picking up on a hearty floral and a more subtle earthen hopping aroma/flavor nuance.
The flavor contains a meaty initial slap of ashy char that backs away slowly from some lovely roasted malt flavors working in great balance with those floral and earthy hopping elements I mentioned before... I can't find as much of the chicory as I smelled, sadly, and I find myself wishing for just a touch of citric-hopping acidity to add the proverbial "frosting" to my delicious cake. The body is on the lighter side yet not watery, only severely undercarbonated.
With just a few tweaks this one could have been exceptional for my palate IMHO. As it is, it feels more like an Irish Stout to my mouth than a Black IPA. Give it a try if you happen to like medium-heavy char that fades out into semi-dry sweetness with floral and earthy elements framing it, because that is what I got out of this one.
1,482 characters
Radio Free I.B.A. from Lake Louie Brewery Company
Beer rating:
83
out of
100
with
21
ratings