E.S. CHI

Marin Brewing Company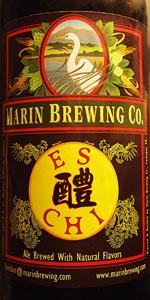 Write a Review
Beer Geek Stats:
| Print Shelf Talker
Style:

ABV:

5.5%

Score:

78

Avg:

3.3

| pDev:

19.7%

Reviews:

8

Ratings:

From:

Avail:

Retired (no longer brewed)

Wants

Gots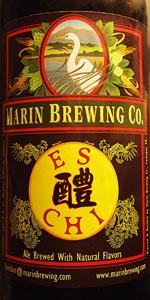 Notes:
3.14
/5
rDev
-4.8%
look: 3.5 | smell: 2.5 | taste: 3.25 | feel: 3.75 | overall: 3.25
I'm not an advocate for ancient Chinese medicine, but I happen to be willing to try almost any beer at least once. An interesting name and concept makes the purchase more likely to occur, as does a $3.99 sticker for the 22 ounce bottle. On to the beer:
This ale is dark orange colored, a lot like an ESB. Visible bubbles. On top sits a head with solid retention. The aroma, at first, brings a lot of earth to the nose. There's some diacetyl too. Just when you think that the herbs are subtle, bang! Out comes a bomb of assorted herbs, smelling most resemblant to a super strong green tea. It almost smells like ointment it's so powerful.
The flavor is very herbal, much like the aroma. The taste of toxic plants concerned me if I was going to live after my glass, yet somehow it finds a way to come out in a good way. There's earth and toasted malt tasted, along with a metallic note. Despite the chaos, it just manages to be tolerable. Helping its cause is a light medium body with gentle carbonation.
E.S. Chi is much different from other herb inspiried beers. This one is powerful and has a distinct bite. If that's your thing, go for it. Otherwise, I'd find a real doctor and ask for a pint of ESB after the visit.
1,221 characters
4.05
/5
rDev
+22.7%
look: 4 | smell: 4 | taste: 4 | feel: 4.5 | overall: 4
Reviewing to help this one get a score.
Pours a dark amber orange with a white with yellow tint head. Clear and nice looking.
Nose is light orange spice and mild fruit esters; simple but pleasant.
Mouthfeel is medium bodied, lightly creamy and mouth coating and rich in texture. Nice mouthfeel.
Flavors are a mixed bag of winter spice, exotic spice, light oranges and fruit and an end palate of bitter. Pleasant and layered flavor profile and somewhat unique and complex. I can see this as "a food beer" especially with seafood and asian cuisine.
Finish is a pleasant bitter orange skin.
597 characters
3.41
/5
rDev
+3.3%
look: 4 | smell: 3 | taste: 3.5 | feel: 3.5 | overall: 3.5
On tap at Far Bar in Los Angeles, CA.
Pours a slightly hazy dark orange with a foamy bone colored head that settles to a small cap on top of the beer. Foamy patches of lace form around the glass on the drink down. Smell is pretty mild and is of malt and a blend of unidentifiable herbs and spices. Taste is much the same but the spices come out better in the flavor. There is a mild spice bitterness on the palate with each sip. This beer has a lower level of carbonation with a slightly crisp mouthfeel. Overall, this is a pretty good beer that tastes better than it smells and is pretty interesting with all of the herbs and whatnot used in the brewing.
656 characters
3.44
/5
rDev
+4.2%
look: 3 | smell: 4 | taste: 3.5 | feel: 3 | overall: 3
Pours a hazy copper that forms a nice frothy white head of two fingers. Sub par retention leaving almost no stick on the glass. Hmmm...
Smells rather nice especially when warm, I get a thick bready malt slathered with honey, cocoa nibs and an odd spice note like cinnamon or nutmeg. Oolong tea and herbal hops on the back end.
Biscuit malt with alot of caramel and honey sweetness, like an amber ale cinnamon spice and ginger carries through just a bit as the drink turns with some herbaceous hop character, bitterness seems to come more from the Chinese herbs and oolong tea leaving a chalky and lingering bitterness.
Under carbonated and rather thin. The bitterness is rather weak and releases a chalky and dry finish. Mouthfeel doesn't do the herbaceous character of this beer any favors.
Comes off as an average amber ale. I like the idea of adding Chinese herbal ingredients but I can't say that it added anything to this beer that a couple of traditional brewing spices and the right hops couldn't replicate.
1,018 characters

2.9
/5
rDev
-12.1%
look: 3.5 | smell: 3.5 | taste: 2.5 | feel: 3.5 | overall: 2.5
This is the bottled edition announced in March 2012. Label lists ABV at 5%. Attractive coppery amber in the big tulip. Beery enough mouthfeel.
Interesting fresh aroma is definitely herbal. A faint scent of something like rosemary and a little latex. Dry is the first impression, but not tart. Has a peculiar bitterness, though it's brewed with hops as well as well as the mysterious Chinese herbs. Just a hint of malt. Something that reminds me of chamomile.
Not as medicinal tasting as some of the more bizarre DIPAs, but there is something about the herb flavor that is not traditional beer bitterness. I find it quite unpleasant, though if you like varieties of bitterness it may suit you.
694 characters
3.68
/5
rDev
+11.5%
look: 3.5 | smell: 3 | taste: 4 | feel: 3.5 | overall: 4
On-tap at Beachwood BBQ,
A: Pours a light red amber, light white head, some lace.
S: Very earthy, raw, almost like a rotting leaves play, but I know it's herbal.
T: Medium malt flavour, the herbal flavour is a lot more interesting here than in the nose. Ginger, licorice, green and earthy herb type flavours.
M: Medium-bodied, smooth, soft crisp carbonation.
D: I read the story of how this beer came to be, so I had to try it. I wish I knew the 10 secret herbs, it would help me to pinpoint the flavours more, but for now I will have to guess. Definitely interesting, the herbs are not as overt as a lot in this style, definitely worth a try even for those who are hesitant to try a beer like this.
704 characters

3.88
/5
rDev
+17.6%
look: 4 | smell: 3.5 | taste: 4 | feel: 4 | overall: 4
Hand-pull cask from Blue Palms Brewhouse. Served in a nonic.
ECE amber body with brilliant clarity. A half-finger of off-white suds forms a persistent disk at the rim.
Roobois tea, faint citrus, mineral-laden English malt, faintly bitter and sour. Perhaps a touch of DMS?
Typical ESB flavors with a bit of licorice root, ginseng, and maybe marshmallow root along with other apothecary notes adding a subtle spicy complexity to the affair. Slightly vegetal like, but not out of line with most ESBs I've tried.
Light-bodied but palate-coating. Soft, with low carbonation (but not quite flat).
Drinkability is improved by the spice and cask delivery. This is less of a novelty than I was expecting - recommended if you like ESBs...
737 characters
4.3
/5
rDev
+30.3%
look: 4 | smell: 4 | taste: 4.5 | feel: 4 | overall: 4.5
I recently read in a local SF paper that this beer is a collaboration between Master Herbalist Dr. Yen-Wei Choong and Marin Brewing Company's Brewmaster, Arne Johnson and contains a proprietary blend of 10 herbs. According to Dr. Choong, "regular beer is cold in nature, or too Yin, which slows down the metabolism. By brewing ale with these herbs, which gently warm-up the Yang energy, there is a better internal balance..."
Sounds good to me, I could not wait to get my hands on a glass straight from the tap at Public House in San Francisco.
It pours a hazy, light amber with a creamy head. I was expecting an assault of herbal aromas but, it was surprisingly subtle on the nose, slightly floral and earthy with cinnamon the easiest component to identify.
Since the recipe contains herbs that warm the Yang energy of the body, I suspect that cinnamon, fenugreek, ginseng, licorice root and possibly ginger have been used since they are all warming herbs and some specifically tonify the Yang, according to Traditional Chinese Medicine. Of course this is purely speculation on my part, I would have to try my hands at an experimental home brew with those spices to see if I completely missed the mark on that one.
I expected more herbs to dominate on the palate but the subtle approach is very much appreciated. The mouthfeel is light and refreshing with malts nicely balanced against some light hops and the specialty herbs. There is definitely a herbal bitterness reminding me of a light mugwort and heather Gruit ale, but with none of the harsh or cloying components. Drinkability is very high and the finish is long and satisfying with just a slight bit of residual sweetness.
This is one of my favorite herbal beers to this date.
1,741 characters
E.S. CHI from Marin Brewing Company
Beer rating:
78
out of
100
with
25
ratings