Edenton Surrender Monkey Farmhouse Ale
| Edenton Brewing Company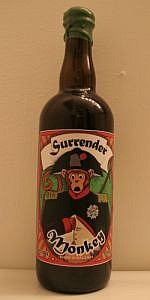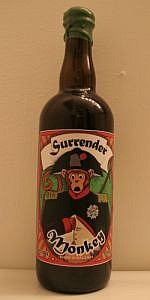 BEER INFO
Brewed by:
Edenton Brewing Company
North Carolina
,
United States
edentonbrewing.com
Style:
Saison / Farmhouse Ale
Alcohol by volume (ABV):
8.00%
Availability:
Rotating
Notes / Commercial Description:
No notes at this time.
Added by GCBrewingCo on 08-09-2006
This beer is retired; no longer brewed.
HISTOGRAM
Ratings: 6 | Reviews: 6
Reviews by GCBrewingCo:

4.3
/5
rDev
+3.4%
look: 4 | smell: 4 | taste: 4.5 | feel: 4 | overall: 4.5
The beer arrived on the bar lightly hazy orange amber with an off-white low and persistent head that lasted well to lace the glass.
The aroma was fruity with an estery charater and a spicy and earthy hop presence. The aroma was light floral and had a peppery and light cinnamon character.
The flavor was spicy with a nice accent of caramel and a peppery and earthy hop bitterness. The hop flavor was earthy and spice and well blended with the other attributes. The pepper in the beer was nice and well done. Some fruit and a very fleeting sweetness was notable.
The finish was mostly lasting pepper into the aftertaste with a Belgian yeast character. The body was medium with a moderate carbonation level. A very nice Farmhouse ale, especially with regard to the hops and the spice. It could stand just a smidge more carbonation. No matter what, I gotta say Good Job!
Pint at 42nd Street Oyster Bar.
911 characters
More User Reviews:
3.83
/5
rDev
-7.9%
look: 4.5 | smell: 4 | taste: 3.5 | feel: 4 | overall: 4
750ml bottle, #54 hand written (Brian Urlacher's number, the day i get my urlacher jersey, 2 days before the superbowl...coincidence? I think not), green wax over a traditional cork, sent by blackie from the brewery
apparently this is some slander against the french...not sure how i feel about that, but im already over it
appearance: pours into my la chouffe tulip (stolen), pretty great appearance...dark golden apricot body, huge fluffy beige head with great retention/lacing throughout....solid looking brew
smell: fresh yeasty aroma as expected, apricot-pear-peach and other ripe syrupy fruit, a touch of cedar, clove, peppery spice
taste: belgian yeast up front, fairly strong cedar woodyness apparent early, strongly spiced - particularly clove and white pepper...syrupy peach, pear, grape and apricot. Alcohol is faint. It has some good features but its one of those beers that kind of falls apart in the followthrough to me and doesnt really leave a lasting impression, good or bad
mouthfeel: on the lighter end of medium, yeasty
drinkability: pretty good
1,083 characters
4.23
/5
rDev
+1.7%
look: 5 | smell: 4.5 | taste: 4 | feel: 4.5 | overall: 4
Bottle # 62, kept in my cellar fridge since the release
appearance: Upon popping the cork, foam slowly begins to sneak from the bottle. This was not an issue with the first of my three bottles I opened...I guess something has been going on in there. The pour into my stubby wine glass gives a gorgeous 2 finger khaki head. The fluff slowly falls back, until a healthy dose of carbonation remains on the surface and foam creeps down the side of the glass. Bottom fed atolls crop up here and there. The beer is a deep golden-amber in color, with some orange hues. Light lacing is left on the walls as I drink.
smell: Funky farmhouse aromas power through light notes of dried lemon rind. Not quite horse blanket, but more of an old hay/grain loft. Light and papery hops join notes of spicy white pepper. Wispy aromas of cedarwood. Subtle aromas of pale Belgian grains. Considerably floral, reminds me of an Easter Lily. Fruity notes of apricot and peach.
mouthfeel: The carbonation is high and foamy, gently pricking all areas of the palate. The body is light without being thin.
taste: Pale Belgian malts give almost no sweetness, only some light grain notes. Theres a nice funk that seems to be the dominant flavor. Flavors of underripe white peach and apricot lurk in the background. Hop flavors are light and papery. Light, old cedar comes in after the swallow. A light-moderate bitterness fully cleans the palate of the remnants from the already dry beverage. Very nice mix of subtle flavors here, and that is something I look for in a good saison. Could maybe use just a touch more grain/malt flavor to compliment the funk, though. Farmhouse through and through, which isn't something I picked up on with the tap. Has awesome potential but, as dirtylou mentioned, it kinda falls apart in the follow-through.
drinkability: The light body and lively carbonation make this one an all too easy sipper. If I weren't going easy on it, the 750 could be gone in no time at all. The filling carbonation does limit drinkability somewhat.
The first of my three bottles opened was a huge improvement over the tap; this bottle is an improvement over the first; I'll probably let the third go until the long days leave me thirsting for something light and challenging.
08-07-07: Last day as an undergraduate, figured I should pop something special. Last bottle of the original Surrender Monkey, #61. Still a beautiful beer, with a head that won't quit, perfect lacing, and deep red-brown colours...gotta be a 5.0. My thoughts haven't changed much from before, can't tell if it gained or lost depth. I want to say it's even better, but no telling. Glad I was able to revisit this beer over time since my first experience with it just under a year ago, as the changes that took place were very interesting to follow.
2,824 characters

4.27
/5
rDev
+2.6%
look: 4 | smell: 4.5 | taste: 4 | feel: 4.5 | overall: 4.5
S - 750 ml bottle traded for at DLD '07. Bottle # 81, A thick green wax cap is the only thing covering the cork.
A - Pours a deep shade of amber with a beautiful fluffy off white head that drops to about a finger of tightly woven foam that is sticky on the sides of my glass. very pretty.
S - orange, grapefruit, belgian estery funk all intertwined, slight woodiness almost, no alcohol present, slight herbal backburner. totally dig it.
T - sweet citrus followed by a slight bitterness, wood/earth is present again along with the funky fruity belgian thing going on, herbal/grassy as well. was a little weary of the trade for this..until now.
M - Starts out light with a good amount of balanced carbonation then things get thick and almost creamy towards the end. awesome.
D - I could drink this all night long...or at least until the 8% catches up with me.
872 characters
3.9
/5
rDev
-6.3%
look: 4 | smell: 4 | taste: 4 | feel: 3 | overall: 4
Color- nice, translucent amber with 1/4" of off-white head.
Nose- the customary Belgian brown sugar aroma. Rich and inviting.
Palate- brown sugar, nougat, toasted nuts, toffee, cedar and a hit of cloves. There's just a bit of chalkiness to the mouthfeel, however. Nevertheless, more drinkable than many other farmhouses I've had. Also, it was a pleasant contrast to the bleak, industrial surroundings of this brewery.
423 characters
4.42
/5
rDev
+6.3%
look: 3.5 | smell: 4 | taste: 4.5 | feel: 4.5 | overall: 5
Bottle number 53, and I'll be a SOB – 53 is my favorite number, freaky start to this bad boy. Thank God I only had a bomber of 3F Munsterfest before this – it was a bitch getting the ¼ inch green wax off, before applying a wrist cracking twist with a wine opener.
Clear amber oak, but I haven't swirled the bottom goodies yet. Nice ivory head that's leaving an semi-oily sheen. And brother, once you swirl, it turned a murky river brown, yum !!
A musty funk, but not the barnyard or horse blanket stuff, musty with a juicy fruit bubblegum, Intriguing and mouth watering. A sweet, but still sassy farmhouse ale – underlying fruit basket of apples, oranges and cherries, subtle but there never-the-less. This one is not over the top with sour funk, the wifey would have like it too, but this brew is all mine !! Baaawaaahaaaa.
Blackie sent me this back in the NOBSbeta – today finally felt like a special enough day to fire it up, glad I did and it made the day!
977 characters
Edenton Surrender Monkey Farmhouse Ale from Edenton Brewing Company
Beer rating:
4.16
out of
5
with
6
ratings