Pepperwood Bistro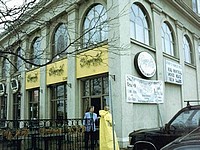 PLACE INFO
Type:
Brewery, Bar, Eatery
1455 Lakeshore Rd
Burlington
,
Ontario
, L7S 2J1
Canada
(905) 333-6999 |
map
pepperwood.on.ca
Notes:
No notes at this time.
Added by BeerAdvocate
Ratings: 8 | Reviews: 8

3.96
/5
rDev
+4.8%
vibe: 4.25 | quality: 4 | service: 4.25 | selection: 3.5 | food: 4
A place I have been quite a few times before, but I hadn't been in over a year as I moved away from the area. Went out in the 30+ degree sunshine and sat on the patio in the shade. Fairly lively, lots of people passing by in Lakeshore. Menu was increased with taste of Burlington in effect. My party ordered fish and chips, chicken crunch sandwich and Thai salad. The salad was a little overdressed but the other two entrees were quite good. Prices are steep, but only a couple bucks above the chain restaurants that would be serving food. Portion sizes were pretty generous too.
The beer list was less impressive than I remembered, although plenty of nickel brook (local). I seem to remember Hacker-pschorr hefe on tap. Two of us ordered the seasonal feature which was Pepperwoods own maple porter. It wasn't half bad, although probably not the best selection given the weather. Nice patio, good place to spend part of an afternoon, and classy enough for a romantic date too. Our servers were quick and attentive, no complaints there.
Certainly worth a try if in Burlington, and beer is not the first priority.
1,115 characters

4.15
/5
rDev
+9.8%
vibe: 3.5 | quality: 4.5 | service: 4 | selection: 4 | food: 4.5
My boss gave us a night out as our year end party and we opted for this place and certainly a lot of positives. This place is high class, and I'll be honestly was expecting the place to have a dress code and it really seems to favour the wine crowd and gourmet eating.
Anyways the service was prompt and exceptionally professional...almost a bit too much so. I had the catch of the day, which was pickerel with watercress, potatoes, asparagus and a basil, garlic sauce. The food was exceptional, although I wished it was a somewhat larger portion for the price and I had the Monkey Brown Ale that was so good I had to have another pint.
The beer selection is good, they have five of their own brews on tap, lots of Unibroue, Ontario craft offerings and the occasional macro import and Sleeman offering to appeal to a broader crowd although a lot of the stuff is bottled.
All in all, a very nice high class place but probably not what you are looking for in a brewpub. If you want to take your girlfriend out to a nice dinner and want to also get your beer geek on, this is the place.
1,086 characters
3.86
/5
rDev
+2.1%
vibe: 4 | quality: 4 | service: 4 | selection: 3.5
I grew up in Burlington, and the Pepperwood has been a fixture of the lakeshore area since I was in high school.
I'm going to separate my overall review of the place with my beer review, because I very seldom eat there. It does have a reputation for being tasty, but quite overpriced for what you get.
As for going in for a few beers, I love the place. In the summer it isnt hard to get an outdoor patio table, and the vibe inside is pretty good as well. The selection of commercial beers isn't astounding...some McAuslan, Tuborg, Stella, Guinness, but the (co?)-owner has a respectable microbrewery in the back and is more than willing to "talk beer" with you. Really cool guy.
I haven't gotten to try many of his seasonal offerings, but I liked his Monkey brown and the Dry-hopped ale. The Red Ale was decent, but tasted a bit like homebrew you'd make through a kit. The frambroise was the only beer I'd recommend staying away from, it tastes very artificial. Have wanted to try his IPA and RIS, hopefully will get a chance soon.
The waitstaff is friendly and attentive as well. Overall I'd recommend checking this place out. You'd be hard-pressed to find better in the Burlington/Oakville area
1,201 characters
4.1
/5
rDev
+8.5%
vibe: 4.5 | quality: 4 | service: 4 | selection: 4 | food: 4.5
Updated on 8/26/08 based on a second visit with dinner. The menu is limited with selections on the gourmet side which is ok with me. We had a sweet potato skin appetizer, a salad and two pizzas. My pizza was a bit dry but still pretty good. They had 2 Leffe's and Hoegarten on tap as well as a local pilsner. I had the house summer ale, pale ale, brown, and framboise which was lacking on the raspberry side. The beers were all ok and this place can get by on its location, only game in the area, atmosphere and gourmet food.
I made a quick stop in here 30 minutes prior to close on a Sunday evening. The place was empty and I can say that it seems like a pretty neat place to go when it's bustling and full of energy. They have a porch out front and it's across the road from the lake. It seems like a very nice area to be in during the summer when it's not snowing. I had small pints of a couple of there beers. Since this was the end of a full day of traveling, the beers tasted really good. I can't say it was anything exceptional, but I enjoy supporting those that make an effort to make quality beer.
1,108 characters
3.75
/5
rDev
-0.8%
vibe: 4 | quality: 4 | service: 4 | selection: 3 | food: 4
This is an upscale restaurant that seems more like a wine place than a beer place. They have a nice sidewalk patio with a partial view of the lake from some tables. The Burlington downtown area is quite nice and they are adding a city pier close to the brewpub. I tried 3 beers and found the Red Ale to be average. But the Pale Ale and Dry Hopped Bitter were both quite good. These were the best microbrewery or brewpub beers I found in Ontario. I found it hard to understand why breweries such as Brick, Wellington, Sleeman's, etc. go to the trouble of opening a microbrewery to make beers that are not that much better than those made by Molson or Labatt's. The Pepperwood Bistro beers tasted especially good after a steady diet of these blander microbrews.
759 characters
3.8
/5
rDev
+0.5%
vibe: 4 | quality: 4 | service: 3 | selection: 4 | food: 4.5
The Pepperwood Bistro should be recommended to anyone who enjoys good food and good Beers.
It's an easy place to find, located just off of the QEW, Burlington skyway, a stone's throw away from the water.
I think the food is great, and I've been told that i'm a picky eater. My steak was cooked perfectly.
The first time I went I only had enough time for one Beer with my meal, I just asked if they had anything on cask and I got an English Bitter.
The second time I visited, was during the Pepperwood's annual Beer festival. There was a good show of Craft Brewers there. However, I was most impressed with the offerings from the Pepperwood.
The IPA (seasonal) was sooo goood, it was a little bit oaky and had a lot of hop flavouring, but not so bitter that my face imploded.
I also tried another seasonal brew that they had, a Chipotle Beer, that was a first for me. It was a little spicy on the first sip (i try not to judge on the first sip) by the third sip my mouth was on fire! I thought it was amazing that someone could do that with a Beer.
Overall, the Pepperwood Bistro is a great place to visit. Good food, good Beers, good atmosphere, and they support the Beer culture.
1,193 characters
4.2
/5
rDev
+11.1%
vibe: 5 | quality: 4 | service: 4 | selection: 4 | food: 5
Having moved a few blocks north of this place and being the only "brewpub" in Burlington I figured i would give this place a try.
At first glance, it appears to be an upscale bistro/winebar with little emphasis on beer. Granted there is strong emphasis on wine here their beers are equally as promoted on their main dinner menu. The atmosphere of this place is very pleasant, the lighting is dim enough to be comfortable but bright enough not to be stumbling in the dark. It is remarkably clean and very classy. The service I received there was pretty good. The staff is professional, thorough, and I received my meal and drinks within a reasonable time. Selection of brews is pretty decent, St. Ambroise and Mill St. Coffee Porter are prominently featured here along side of the house brews, Few imports however besides your standard fare. The food here, although a little expensive is well worth the money. The presentation is exceptional and the steak I had was perfectly done.
In my opinion, this place is well worth a visit.
1,037 characters
3.2
/5
rDev
-15.3%
vibe: 4.5 | quality: 3.5 | service: 2.5 | selection: 2.5 | food: 4.5
Known for its food and nice bright environment, this restaurant hired and has kept a semi-retired experienced brewer about. Consistent receipes in its brews and decnt selection, though wanting in guest taps. My party was impressed with the food, though thought it was a bit pricey. Lots of windows in front, though fairly cold. Service was competent though slow. Jazz music and other activities. Very nice location in the Burlington lakeshore area. Though far, easy to get to, and to do a double up at one of the region's breweries.
532 characters
Pepperwood Bistro in Burlington, ON, Canada
3.47
out of
5
based on
16
ratings.