B&I Zhiguly Barrel Beer 95

Gubernija Brewery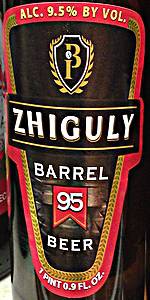 Write a Review
Beer Geek Stats:
| Print Shelf Talker
Style:

ABV:

9.5%

Score:

Avg:

2.51

| pDev:

24.3%

Reviews:

8

Ratings:

From:

Avail:

Year-round

Wants

Gots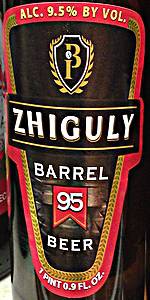 Notes:
Reviews by Sinfull:
Sinfull from Ukraine
1.25
/5
rDev
-50.2%
Golden color , big white head. Aroma is sweet , malty and alcohol. Taste is alcohol and malty sweet. Alcohol bitterness in aftertaste. Ugly...
Sep 13, 2014
More User Reviews:

xxxxxxxxxxxxx from California
3
/5
rDev
+19.5%
look: 3 | smell: 3 | taste: 3 | feel: 3 | overall: 3
Look: B&I Zhiguly Barrel Beer 95 had light foam.
Smell: B&I Zhiguly Barrel Beer 95 had an aroma of both musk and malt.
Taste: B&I Zhiguly Barrel Beer 95 had a strong molasses flavour.
Feel: B&I Zhiguly Barrel Beer 95 had low carbonation. B&I Zhiguly Barrel Beer 95 had great alcohol content.
I purchased a bottle of B&I Zhiguly Barrel Beer 95 for $2.69 USD in Burbank, CA/USA. I am the person who shot and posted the photo of B&I Zhiguly Barrel Beer 95. People who seek a beer that tastes like a kvass will enjoy B&I Zhiguly Barrel Beer 95.
Jun 20, 2015
beertunes from Kiribati
3.02
/5
rDev
+20.3%
look: 3.5 | smell: 2.75 | taste: 3 | feel: 3 | overall: 3.25
16.9oz bottle poured into 12oz tulip. Much like the other examples of the style I've tried, the beer is sweet, and has a bit of an alcohol bite. A lightly cloudy honey gold color, with over an inch of white head that had no retention or lacing. The body is thicker than most lagers. Drinkability is decent, for a 9+% brew. Overall, not a bad tick, not a great one. Worth the $3 if you see it.
Feb 13, 2018
biboergosum from Canada
2.34
/5
rDev
-6.8%
look: 3 | smell: 2 | taste: 2.25 | feel: 2.75 | overall: 2.5
500ml bottle - I remember another beer from this brewery as being one of my first reviews, and one of the most horrendous brews that I had ever had (that's called foreshadowing, kids!).
This beer pours a slightly hazy, medium copper yellow colour, with two fingers of puffy, loosely foamy, and bubbly dirty white head, which leaves pretty much nil in terms of lace anywhere near the glass as it quickly subsides.
It smells of buttered stale corn, phenolic yeast, rubbing alcohol, way overripe drupe fruit, and a strange bitterness that I do not believe is hops. The taste is grainy and well-toasted pale malt, corn grits, some still muddled and musky generic fruitiness, cotton candy, wet metal, an estery booziness, and some very tame earthy and dead floral noble hop bitters.
The bubbles are adequate in their generally supportive frothiness, the body a solid middleweight, as buoyed to the nuts by the various sugary notes as it is - so, smooth? Sure, why the hell not? It finishes sweet, the big 'malt' and various fruity characters the inmates who run the asylum.
Yeah, while this isn't as patently bad as the Grand 9.5 (watch, they're probably the same damned thing, like when Homer bellies up to the bar during the Duff Brewery tour on the Simpsons), the intervening years have seen me become more tolerable to the avails of the broad brewing world. Also, I would recommend this 'barrel' beer to anyone seeking the brain freeze (not Slurpee-related) that I am currently experiencing.
Aug 23, 2016

LiquidAmber from Washington
3.31
/5
rDev
+31.9%
look: 4 | smell: 3.5 | taste: 3 | feel: 3.75 | overall: 3.25
Poured into a Seattle Beer Week pint glass. Pours a medium golden amber with a fine, half finger white head with great retention and nice lacing. Aroma of bready lager malt, a little caramel, sweet, overripe fruit and mild citrus. Flavor is sweet adjunct lager malt, lemon, mixed light fruit, grain and corn. Develops an odd astringency in the finish with citrus rind notes. Medium bodied with sharp carbonation. Lithuanian big lagers are kind of predictable, and this one is a bit better than most; the start is like a boozy adjunct lager with the mildly sweet, inoffensive malt, but the hops assert themselves in the finish with the noted aspirin like astringency. Drinkable, and an entertaining tick from a new brewery, but like several other strong lagers from this part of the world, it seems to promise a headache in the morning. Odd that this profile is so ubiquitous in the Balkans.
Feb 14, 2019
tone77 from Pennsylvania
3.05
/5
rDev
+21.5%
look: 4 | smell: 3.25 | taste: 2.75 | feel: 3.25 | overall: 3
Poured from a brown 16.9 oz. bottle. Has a light golden color with a 1/2 inch head. Smell is of brown sugar, malts, a bit on the sweet side. Taste is alcohol, malts, a lingering sugary sweetness at the finish, and aftertaste as well. Feels medium/light in the mouth and good to try if you want a high abv beer from Lithuania, but otherwise a subpar beer.
Oct 03, 2015

UCLABrewN84 from California
3.15
/5
rDev
+25.5%
look: 3.25 | smell: 3.25 | taste: 3 | feel: 3.75 | overall: 3
Aug 20, 2017
BeerAndGasMasks from Virginia
2.65
/5
rDev
+5.6%
look: 2.5 | smell: 2.5 | taste: 2.75 | feel: 3 | overall: 2.5
From the half liter bottle, it pours a lightly hazy amber with a small head, dissipating rapidly. Nose is alcoholic and a bit grassy. Taste is alcoholic and a bit malty.
Mar 26, 2016

dnoahg from Massachusetts
1.52
/5
rDev
-39.4%
look: 3 | smell: 1.5 | taste: 1.25 | feel: 2.25 | overall: 1.25
Hazy yellow color, small quickly dissipated head, minimal lacing. Strong smell of alcohol (or something other than the hops mentioned on the label). Sweet like an adjunct lager, but boozier. And what's up with "Contains Sulfites" on the label? Never heard of Sulfites in beer, let alone a label warning about it. Don't plan to ever drink this again.
Feb 12, 2015
DbbC from Illinois
2
/5
rDev
-20.3%
look: 2 | smell: 2 | taste: 2 | feel: 2 | overall: 2
Apr 02, 2016

Kevinpitts from Illinois
2.15
/5
rDev
-14.3%
look: 2.5 | smell: 2.5 | taste: 2 | feel: 2 | overall: 2
My turds in a tea bag resting in water over a week would create a beer infinitely superior to this garbage. I am gonna punch my friend in the nuts for pouring this in my glass. Free tip: don't drink this.
Aug 30, 2015
B&I Zhiguly Barrel Beer 95 from Gubernija Brewery
Beer rating:
64
out of
100
with
13
ratings