Brauerei Spezial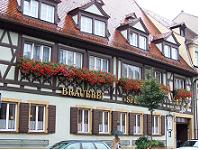 PLACE INFO
Type:
Brewery, Bar, Eatery
Obere Königstraße 10
Bamberg
, 96052
Germany
+49 951 24304 |
map
brauerei-spezial.de
Notes:
No notes at this time.
Added by BeerAdvocate
Reviews: 10 | Ratings: 19
4.19
/5
rDev
+2.4%
vibe: 4.25 | quality: 4.25 | service: 4 | selection: 4.25 | food: 4.25
My favorite Brewery eatery in Bamberg. Honest food, good service. Traditional brewery restaurant in Bamberg. Well located close to the city center and between the city center and the train station. Great beer. They have rooms, but they are hard to get, so I generally stay across the street at the Faessla.
311 characters

3.44
/5
rDev
-15.9%
vibe: 3 | quality: 3.5 | service: 3.25 | selection: 3.75
I went in to have the Rauchbier. Since I was on a day trek to hit several breweries, I knew I'd eat later. So no food for me here. The service was ok, but I think we were the only customers at that time. And they seemed to be less than enthusiastic about having to serve the one and only table occupied. Probably not bad if you really like the beer, but it's not my favorite Bamberg offering.
392 characters

4.08
/5
rDev
-0.2%
vibe: 4 | quality: 4.5 | service: 3.5 | selection: 4 | food: 4.5
I stayed across the street at Faessla, so this was a pretty easy walk to make. Like pretty much every brewery in Bamberg, when you walk in there's a room with table service and a window for ordering beers.
In addition, there's the "hanging out hallway" for a quick brew, and unlike most other spots - Spezial has a pretty decent sized mini-biergarten in the back with roughly a dozen tables and waitress service for beers and food. Most people tended to go straight back to the biergarten, skipping the window and indoor seating.
When stopping by for beers mid-day I found the service in the biergarten to be a little off. Even some locals ended up leaving, but luckily we got our beers pretty quickly.
However at night in the normal dining area service was super prompt even though a good chunk of the place consisted of people simply hanging out for the evening and having a few drinks.
Food was excellent. Both variations on schnitzel were stellar. It was easily one of the best German meals I've had to date. Plus, it's a nice bonus that their "default" rauchbier is fairly mild and easy to drink with or without food. The ungespundetes (kellerbier) is also terrific and makes a fine counter-point option. They also have a weizen and a stronger rauchbier, too.
I originally wanted to stay at Spezial, but they only have a handful of rooms. Word has it that it's a great place to stay, too.
Still, for beer and food I find Spezial to be a good place.
While I'd recommend almost all of the places in Bamberg, Spezial gets a special mention for the food and overall quality for all of their beers. As a hotel - it's also in one of the best locations in the city. You're really right in the middle of things.
1,709 characters
4.4
/5
rDev
+7.6%
vibe: 5 | quality: 5 | service: 4 | selection: 4 | food: 4
My wife and I spent four days and nights in Bamberg, and stayed in a room at Brauerei Spezial. With one exception, this could not have been a better choice.
The beer is as good as it gets in Bamberg, with mildly smoked lager and marzen, and non-smoked weizen. The food is very well prepared typical Suddeutsch fare. Decor is typical beer hall, with plenty of large tables, dark wood, adn antlers. I don't think we ever ate at a restaurant in Germany that didn't have antlers. I bet the McDonalds has antlers. The vegetarian restaurants probably have antlers, too.
Anyway, service was as attentive as it gets in a packed beer hall. You might not get immediate attention, but you won't go hungry or thirsty. This is place to meet local Bambergers. There are other places here you'll just meet other tourists.
The rooms are a bit small, but very well kept and have a nice view of Fassla across the street. Thet are only accessible via two full-story flights of stairs, but we were never bothered by any noise from the gasthaus below.
Herr Christian Merz was kind enough to give a quick tour of his brewery, and it is amazing how much brewing equipment could be packed into so small a space. Their efforts to reduce their carbon footprint is significant an laudable. Now for the one criticism. They do not have internet available, and Bamberg is notable for its dearth of internet cafes. Fortunayely the laundromat next door had a 3 euro per hour ternminal. Other than that, this place, very convienient to touring Bamberg's other breweries as well as historic sites, is well worth the visit.
1,592 characters
3.8
/5
rDev
-7.1%
vibe: 3.5 | quality: 4 | service: 4 | selection: 3.5
Spezial is across the street from Fässla, so it was a logical second stop in our tour of all the major Bamberg breweries. The main dining room has several long wooden tables and is clearly place where locals come regularly. When we were in there, the place was near-empty - which was a bit of a surprise after leaving packed Fässla, but perhaps we just hit it after the lunch rush. The atmosphere is typical Franconian/Bavarian with antlers and such on the walls.
Spezial was the first place in Bamberg where I was able to get my lips on a Rauchbier. Mmmmm. Theirs was more subtle than I expected, with a light, mellow smokiness that didn't bite at all. Quite good. I also had their Pils, I believe, but it was only to try another of their beers - it was lost in comparison to the rauchbier.
Having "eaten" at Fässla (see my other review), we didn't really eat anything at Spezial, so I have no comment on the food other than to say the menu looked fairly typical southern German - I'm sure it's good.
Overall Spezial struck me as the quintessential Bamberg locals place. Not necessarily a place where you're going to spend the evening drinking, but definitely worth a visit for the Rauchbier and to say you've been there.
1,228 characters
4.2
/5
rDev
+2.7%
vibe: 4.5 | quality: 4.5 | service: 4 | selection: 4 | food: 4
Great place that we almost skipped, because it was completely full when we got there for dinner, it was only on the way out that we peaked into a small enclosed section near the door where a private party was held. There was a small table for two that was free, so I asked in my broken German, dictionnary in hand, if they minded if we joined them. No problem they said, and we ended up chatting away with them, they were as nice as just about everyone else we met in Germany. I don't know if this section was non-smoking, but the only one who seemed to smoke used snuff instead. The snuff came from Andechs, too funny. He offered me some, and I was sort of tempted to give it a try, but I didn't want to destroy my tastebuds. The décor in this small section was similar to a hunting lodge, with plenty of trophies on the wall, mixed along with old pictures of the brewing heritage of this site.
They had more then just one Beer available, including a Wit, the Rauchbier and the unfiltered lager, which I enjoyed the most. Food was pretty good, obviously with very large plates at decent prices. Efficient and friendly service.
I'd recomend this place over any other in Bamberg. Sure, Schlenkerla is nicer looking, but the atmosphere here is brought on more by the patrons and staff rather than just what's on the walls.
1,323 characters
3.86
/5
rDev
-5.6%
vibe: 4 | quality: 4 | service: 4 | selection: 3.5
Opposite the Fassla brewpub and just as good. This also has a courtyard type outside drinking area and two main drinking rooms inside.
Long tables in the main bar means you do not sit alone (the dining room has smaller oblong tables with covers on) and will most likely have to join someone already seated, no problems though, just get on with it!
The beers come straight from the wooden barrels on the bar, which is on your right as you walk in. The Lager beer is slighty smoked, the dunkel not.
Clean, tidy and welcoming, notice the green tiled heating stove in the main room (not as posh as my Avatar, but mine is from a castle).
A must when in Bamberg, as is the Fassla across the road.
702 characters

3.95
/5
rDev
-3.4%
vibe: 4.5 | quality: 4.5 | service: 4 | selection: 3 | food: 4
This is a great place to stay in Bamberg. Rooms were 45 Euros a night, including breakfast! Breakfast consisted of coffee, juice, a hardboiled egg, a basket of bread, jam, and a plate of meat and cheese.
We didn't have any other meals there... but we did have plenty of warm, fresh-baked prezels. Awesome.
The room was relatively large (for Europe), and although the washroom looked like it was decorated in the 70's, it wasn't very worn, and was really clean.
Their steins are reasonably priced, and they'll fill it at their TAKE-OUT WINDOW for 0.90 Euros. Awesome.
We were there at the end of march and they were serving their ungespundet (kellerbier) and smoked lager from wooden casks. Awesome.
In a word... Awesome!
735 characters

4.15
/5
rDev
+1.5%
vibe: 4 | quality: 4.5 | service: 4 | selection: 4 | food: 4
This is a nice, traditional German bierhall type of place. Nothing fancy, nothing pretentious, but comfortable with good beer. In the main room, there were 3 long tables, 2 medium, and 1 small one (seemed to be used by regulars). Seats about 50, plus a dozen more in the small back area. Hardwood everywhere. Hanging chandeliers, antlers on the walls, potted flowers near the windows, framed photos on the walls. Good, no nonsense service from the waitresses. Can get smokey.
The beer was good. About 3 beers on tap, and 2 or 3 available from bottle. Served in glasses, though some regulars had steins.
Nice place. Very near the train station and across the street from Faessla. Definitely worth a visit.
Updated Nov. 2004
Had a meal here. Very good food. Typical Bamberg tavern food.
796 characters
3.83
/5
rDev
-6.4%
vibe: 4.5 | quality: 3.5 | service: 4 | selection: 3.5 | food: 4.5
Another verry typical German pub, like Heller and, across the street, Faßla, in Bamberg... Scrubbed wooden tables and dark beams supporting the ceiling; smoky, loud...great decor.... Big old tiled oven in the main room.... Can always get their Rauch bier vom Fass hier, sometimes their Ungespundet lager or a Weizen; from bottle their Rauch-Maerzen... Service quite good, with typical Deutsch fare...Wurst, Wiener Schnitzel, etc.. This place, like Heller-Schlenkerla, IS Germany!! Guten Appetit, und zum Wohl!!
overall: 3.83
atmosphere: 4.5 | quality: 3.5 | service: 4 | selection: 3.5 | food: 4.5 | $
6
606 characters
Brauerei Spezial in Bamberg, Germany
3.91
out of
5
based on
386
ratings.