Ambar Export
| La Zaragozana S.A.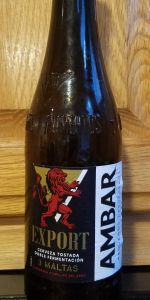 BEER INFO
Brewed by:
La Zaragozana S.A.
Spain
cervezasambar.com
Style:
Euro Strong Lager
Alcohol by volume (ABV):
7.40%
Availability:
Year-round
Notes / Commercial Description:
No notes at this time.
Added by pittvkyle7 on 06-30-2009
Reviews: 7 | Ratings: 23

3.75
/5
rDev
+17.6%
look: 3.75 | smell: 3.75 | taste: 3.75 | feel: 3.75 | overall: 3.75
Brought back from Lanzarote. Pours a dark amber colour with a off white head. Aroma of caramel, toffee & malt. Tastes has a sweet malty caramel with toffee, vanilla & hints of fruits. A malty sweet caramel bitterness end. Overall very drinkable.
245 characters

3.71
/5
rDev
+16.3%
look: 3 | smell: 3.75 | taste: 3.75 | feel: 3.75 | overall: 3.75
I'm not CambaBeer. I don't actually know what I'm talking about. But this is a nice drink here. 7% alcohol ain't shabby and the taste is fine and baked like thanksgiving stuffing. Have it with a loved one or have it alone. Either way it's golden.
246 characters
1.56
/5
rDev
-51.1%
look: 2.5 | smell: 1.5 | taste: 1.5 | feel: 1.5 | overall: 1.5
Playing Kings Bounty Dark Side. Unpleasantly sweet. I wont repeat even if Im paid
12 Sep 2016: From Hipercor. In Teku glass. Playing Terra Incognita.
An alcoholic mess. Not as undrinkable as I remembered but still pretty bad
226 characters
2.41
/5
rDev
-24.5%
look: 3.75 | smell: 2 | taste: 2 | feel: 3 | overall: 3
A: Amber to a light brown, filtered with large soda like bubbles and a finger of tan tinged white head.
S: Caramel, light burnt sugar, a hint of fruitiness like banana peel.
T: Really light but there is a taste of caramelized sugars, a hint of banana, very light sweetness, clean linen, a sort of light burnt aftertaste left on the tongue. One thing I will give it is it sure covers the alcohol well.
M: Almost milky, light body, with a medium amount of large bubbled tapioca like carbonation.
O: Got at Ginko Supermarket in Kunming, drank March 15th, 2015. Its got a cool bottle and label, looks very classic. Not digging the actual beer's taste and general profile though. Better than a Bud but only because of its unique bottle and the fact its from Spain.
773 characters
3.72
/5
rDev
+16.6%
look: 3 | smell: 3.5 | taste: 4 | feel: 4 | overall: 3.5
A: looks a little bit yellow for a red Ale, carbonation is not rich even the head is small and the foam is very light yellow almost no permanent layer is formed on top of the beer.
S: very malty smell also some alcohol is present a not very common characteristic for a red Ale.
T: flavor is good, not simple but consistent and attractive. Malty flavor
M: very balanced sensation starts very calm on the mouth and it ends with some sweetness and little bitterness for a lasting balanced little dry sensation.
513 characters
3.46
/5
rDev
+8.5%
look: 4 | smell: 3 | taste: 3.5 | feel: 4 | overall: 3.5
A fair malty brew from la Zaragozana.
Presentation: 25cl. brown bottle. Label design of a golden seal with classic fonts with a small symbol of a red lion/beast in the center surrounded by text noting awards and main description. Back label notes ingredients, intent, and main brewing style. Shows best by date (25-02-11), and Alc. by Vol. (7%). Served in a short caña glass.
A - Pale ambar pour, good head with small retention and some lacing.
S - Soft malt sweetness, hint of a hoppy note.
T - Light malty sweetness, not particularly profound or complex. Bitter hoppy finish, a bit monotonous.
M - Light to light/medium body with good carbonation and a crisp finish.
D - Works relatively well in a barren dessert of eurolagers offering a bit of depth and taste.
Notes: It's a nice offering from La Zaragozana, certainly above the average Spanish offering, and while not remarkable it's fairly decent as most of this brewery's products given the local production.
973 characters

3.66
/5
rDev
+14.7%
look: 4.5 | smell: 3.5 | taste: 3.5 | feel: 3.5 | overall: 4
A-Very clear reddish copper, white head that does not last or leave any lace
S- A little alcohol, slight hops, but a firm malt sweetnes
T- Alcohol up front but not over powering, balanced grainy sweetness with bitterness. Nothing crazy but very good.
M- a little lighter than I thought it would be
D- good. Nice flavors and well balanced.
350 characters
Ambar Export from La Zaragozana S.A.
3.19
out of
5
based on
23
ratings.