Trappist Achel 5° Bruin
| Brouwerij der St. Benedictusabdij de Achelse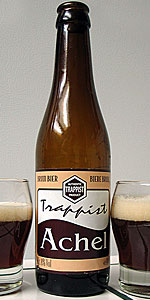 BEER INFO
Brewed by:
Brouwerij der St. Benedictusabdij de Achelse
Belgium
|
website
Style:
Belgian Dark Ale
Alcohol by volume (ABV):
5.00%
Availability:
Year-round
Notes / Commercial Description:
No notes at this time.
Added by TheLongBeachBum on 03-01-2005
Reviews: 8 | Ratings: 45

3.74
/5
rDev
-1.8%
look: 3.5 | smell: 3.75 | taste: 3.75 | feel: 3.75 | overall: 3.75
Poured from 330 ml into snifter.
A: Pours a medium brown with 3-4 finger fluffy off white head. Long lasting retention and plenty of lacing. Gushed all of the counter when I opened it, but smells and tastes OK.
S: Raisin, dates, dark fruits, and sweet caramel. Some Belgian yeast esters.
T: Dark fruits and cherries, candy sugar.
M: Suprisingly light body. Tons of carbonation. Subtle sweet finish.
O: Tasty brew and very easy drinking. Fairly expensive for the ABV. Think I will stick to more Belgian Strong Dark Ales.
★
535 characters

3.99
/5
rDev
+4.7%
look: 4.25 | smell: 4 | taste: 4 | feel: 3.75 | overall: 4
Poured into a chalice, from a 330 ml bottle.
A- Brown body. Some amber highlight shines through. Slightly turbid. Great pillowy, meringue-esque head, with a light tan color. Rings of lacing get left behind.
S- Dark roast, caramel, chocolate covered dark fruits.
T- Caramel, booze, and just a bit of the dark fruit are picked up.
M- Medium bodied, and pretty sweet. The booze twinge keeps the beer in perspective.
O- Sweet and boozy. Very nice.
★
449 characters

4.15
/5
rDev
+8.9%
look: 4.75 | smell: 4 | taste: 4.25 | feel: 4 | overall: 4
A:
Pours an almost-clear amber red-brown with a gloppy pile of creamy tan head. Great retention; beautiful lacing. Nearly perfect.
S:
Yeast and minerals with a lot of cherries and dark fruits with a touch of spice.
T:
Rich and sweet dark fruits mixed with hints of nuts, caramel, hard water, and doughy yeast. Malty and fresh on the whole.
M:
Creamy and rich with really crisp, strong carbonation. Chewy but medium bodied.
O:
Good, but certainly not the most outrageous Belgian brune on earth. All in all, it is a solid beer but is nothing too mind-blowing. It defends itself well and could be a good introduction to the style. Solid beer, beautiful to look at but all the rest of it is neither amazingly good not even slightly bad.
Would have again, worth trying if you get the chance.
★
794 characters

3.51
/5
rDev
-7.9%
look: 4.5 | smell: 3.5 | taste: 3.5 | feel: 3 | overall: 3.5
On tap at the Achel cafe during last week's trip to Belgium. Reviewed from notes.
Surprisingly, this one was not served in an Achel chalice, but rather just a plain chalice. A bit disappointing.
Pours a medium brown color with a bit off-white head and loads of lacing on the way down. The nose brings some faint notes of dark fruit plus a bit of brown sugar. The flavor is somewhat bitter and a bit too dry in the finish. Mild sweetness and faint dark fruit. Nothing complex or too compelling; probably worth a try though.
★
524 characters
3.46
/5
rDev
-9.2%
look: 4 | smell: 3 | taste: 3 | feel: 4 | overall: 4.5
Clear dark red brown color with a large, frothy - creamy, good lacing, fully lasting, off-white head. Aroma is light to moderate malty, brown sugar, roasted notes, black berry, light to moderate yeasty, spicy, light notes of coriander and pepper. Flavor is moderate sweet and bitter with a long to average duration. Body is medium, texture is oily to watery, carbonation is soft
★
378 characters

3.73
/5
rDev
-2.1%
look: 4 | smell: 3.5 | taste: 4 | feel: 3.5 | overall: 3.5
This beer is the table beer of the Achel monks and is only available on draft in the abbey pub.
Look: pours dark-red-brown color with a small head.
Smell: Malts, yeast, caramel, dark fruits, and some spicy hops
Taste: bitter sweet roasted malts, caramel, hints of dark fruits, some light spices, and a medium bitter hoppy finish. Sounds more complex than it is.
Mouthfeel: Medium-high carbonation with a watery body
Overall: Nice session beer but a bit too flat in taste
★
473 characters
3.7
/5
rDev
-2.9%
look: 4 | smell: 4 | taste: 3.5 | feel: 4 | overall: 3.5
A: Poured from a bottle to a tulip glass. Had a dirty brown color and a thick, muddy consistency. There was a decent amount of foamy head and some good lacing.
S: Aroma of malt, Belgian yeast and some fruits.
T: Flavored mainly with malts, dark fruit, yeast and spices. Not the most complex of tastes, but alright.
M: A good amount of carbonation and a smooth finish. Full-bodied.
D: On the whole, this was a drinkable beer. I'd hardly put it up with other Belgians, but it's an OK beer.
★
492 characters

3.49
/5
rDev
-8.4%
look: 4.5 | smell: 3 | taste: 3.5 | feel: 3 | overall: 4
Tried this dark Trappist at the Achel Abbey, along with a toast made with ham and their "kaas" (cheese) and the blond 5° too (how could I've been missing it ?!).
Appearance is as good as the 8°, except for the thin head: deep brown, so beautiful in its goblet with no brand on it: monks, they know what they make and what they drink, no need for merchandising!
Unfortunatly that goblet came from a flooded sink, and the aroma suffered of a water and soap "flavour".
Taste was not exciting as I was expecting. Indeed I was expecting much from this trappist, I am nothing that in love with the Achel Brune 8°. But as for the Petit Orval, this seemed to me as a little sister, with less flavor, less taste and less mouthfeel. Obviously the drinkability is at higher levels, that's why they made it like this.
★
808 characters
Trappist Achel 5° Bruin from Brouwerij der St. Benedictusabdij de Achelse
-
out of
100
based on
8
ratings.