Brauerei-Gaststätte Klosterbräu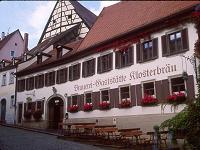 PLACE INFO
Type:
Brewery, Bar, Eatery
Obere Mühlbrücke 1-3
Bamberg
, 96049
Germany
+49 951 52265 |
map
klosterbraeu.de
Notes:
No notes at this time.
Added by BeerAdvocate
Reviews: 13 | Ratings: 21

4.1
/5
rDev
+0.2%
vibe: 4.25 | quality: 4.25 | service: 4 | selection: 4 | food: 4
We got lucky and this brewery/restaurant was next door to our hotel in Bamberg.
Four Klosterbrau on tap: Pils, Schwarzla, Braunbier and Bockbier. 3.50 euro for ½ liter, I'm happy. Food is, you guessed it, old-style German. We chose 3 small bratwurst with sauerkraut for 6.50 euro and were satisfied. Very quiet joint, almost felt like whispering, but it was also a cold, rainy day in January. I'm sure summer in Bamberg is a whole different story.
455 characters

3.86
/5
rDev
-5.6%
vibe: 4 | quality: 4 | service: 3.75 | selection: 3.75
A nice little place, tucked away in a quieter corner of bam erg, but only about a 5 min walk from the heart of the tourist area. It was a relief to find this place only about half full on a Saturday afternoon after fighting through crowds outside of Schlenkerla. The atmosphere is very standard German beer hall, lots of wood, indeterminately old, but less touristy than some with a mostly Teutonic crowd. The beer is good, but not legendary and the service was decent if a bit slow. Didn't try any food, but I can't imagine it isn't good. Well worth a visit, especially if you're looking to get away from the tourist crush around more famous drinking spots.
663 characters
3.38
/5
rDev
-17.4%
vibe: 3.5 | quality: 3.5 | service: 3.5 | selection: 3 | food: 3.5
My friend insisted that we had to eat a late lunch at the Klosterbräu. When we got there at late afternoon, we were too early: The beer garden and the kitchen weren't open yet.
After some discussion, we were offered the traditional Schweinhaxe with knödel and kraut. I had the pork knee while my friend, a vegetarian, was given two pieces of knödel with gravy and sauerkraut for 6 €, while my gigantic piece of meat plus all the other was just 2 € more. A bit tight, I might say. The food was a bit dull, I think.
Otherwise, this very traditionally decorated pub is less than 30 years old, but it sure looks like it was started in the 18th century.
The restroom was clean and tidy, as were the whole establishment.
Beer selection: They offer only their own beers. At the time, only the swartzbier and the hefeweissen were served (on-tap).
The black lager is one of its kind in Bamberg, otherwise I wasn't very impressed with this place.
955 characters
4.2
/5
rDev
+2.7%
vibe: 4.5 | quality: 4 | service: 4.5 | selection: 4
Me and my wife stumbled upon this place by walking around Bamberg in very late afternoon. We had not planned on visiting any breweries this evening, but it looked too inviting, so we decided to pay it a short visit.
The place was half full and we were greeted by friendly and hospitable waiters. We did not eat, but both coffee and several different beers were good, the overall atmosphere in the restaurant was nice. We really enjoyed our evening, so we stayed there much longer than initially planned.
504 characters

4.36
/5
rDev
+6.6%
vibe: 4.5 | quality: 4.5 | service: 4.5 | selection: 4
Probably my favorite brewery stop in Bamberg. It's a little tricky to find since they have a false front door and it's tucked down a 1-way street, but it's worth hunting down. There are 4 tables out front (of the new entrance) and the typical hallway/dining hall/window set-up that almost everyone has. There's also a mini 4-table biergarten at the end of the hallway that is partially covered in the event of rain. While I didn't really explore everything that much, there appeared to be a very large second seating room across the hall from the first. It appeared to be almost like a banquet hall.
I didn't order any food, but the menu was in English and the typical items you'd expect were on there.
Service was quick and the waitress was attentive. We even got to order before they "officially" opened on a random weekday morning.
Probably the nicest thing about Klosterbrau is the variety, and it's all on tap. They have a pils, schwarzbier (a real one), brown beer (an old recipe) and weiss all of the time. All of the beers we tried were terrific and worthy of a trip back. In a town like Bamberg, where there are a TON of options, that says a lot.
Also, when the brewing operations are going, the smells are piped into the hallway, which is a massive bonus.
Prices for the beers were higher than elsewhere (2.70 vs. the 2.30 to 2.50 elsewhere) but were still more than worth it.
I can't speak for the food, but the beer and look of the place are top notch.
Edit 8/13: The beers weren't as good on my most recent visit, and they even tasted stylistically different. Supposedly their business model and even their brewing operations are in flux. Hopefully this is temporary as it was previously one of my favorite stops.
1,727 characters

4.13
/5
rDev
+1%
vibe: 4 | quality: 4.5 | service: 3.5 | selection: 4 | food: 5
Ok this is also a must do. Food is all world and atomophere is good. right on the river, no view from the pub, but the garden does which was closed when I was there. Service was a little slow, but there was a large business group for lunch when I was there that slowed the waiter down. I had the swartzbier which was amazing and the pork knuckle which I still continue to day dream about. This is not the top destination in Bamberg for beer stops but definitly in the top 5. This is another must do but don;t miss out on the big ones before this. Gosh i miss german food.
571 characters
3.86
/5
rDev
-5.6%
vibe: 4 | quality: 4 | service: 4 | selection: 3.5
This attractive bar is tricky at first to find: from Schranne walk towards Obere Pfarre Church, but turn left into Judenstrasse, at the narrow fork with Unterer Stephansburg (where you walk up to Spezial and Wilde Rose Beer Gardens) keep left, and then second left again, just after one building has Klosterbrau sign on the wall.
There are a few typical benches outside at front, then inside on the right is the GasteStube, in two sections each with about 5 tables. On the left a smaller stube, and further on toilets and a small beer garden in a courtyard. Rooms are typical dark wood panels and beams, and decorated with animal skulls and antlers!
We used the front outside and inside Gastestube on each of our daily evening visits. At the time (June 2011) there were 4 beers available, A Hell, Dunkel, Weiss and Maibock Herbst Beer at 7%. The Maibock was very good, with a flowery herb like hop finish, slightly sweet at first, rich texture and copper colour. The Hell was much lighter and crisper in taste and texture. The Weiss was also good, and typical of the Bamberg beers. Service was always very good and made to feel very welcome on return visits. There is also a cellar bar, which seems to be used by parties of organised groups - and could be very busy. One night there were uniformed 'bouncers' at the entrance, though not too sure why.
The Gastestude had frequent visitors just taking away the bottled beers from the bar counter, so obviously popular with locals.
Typical Bamberg style bar, good beers (food looked good from what we saw) and all good value the Beers were €2.30 half a litre and the 7% Maibock was €3.10. The fact we went there for at least one beer every evening of our 5 day stay tells you we enjoyed it. Highly recommended.
John W
B'ham UK June 2011
1,792 characters
4.04
/5
rDev
-1.2%
vibe: 5 | quality: 5 | service: 3 | selection: 3.5
This place was my first stop in Bamberg with a few friends. We sat in the Biergarten in back and were right on the river with an amazing view on a warm, sunny Sunday afternoon.
3 beers are offered here, a Pils, Dunkel (Braunbier), and Schwartzbier. All of them are pretty high quality and rather inexpensive.
The waiter was attentive but kind of strange, he gave everyone the wrong beers accidentally, and jsut was kind of off-kilter
But another waitress was very helpful and hooked us up with a nice booklet showing some of the Bamberg breweries.
And to sum up this place this is a must-see attraction in Bamberg.
620 characters
4.38
/5
rDev
+7.1%
vibe: 4.5 | quality: 4.5 | service: 4 | selection: 4.5 | food: 4.5
Klosterbräu is located in the older part of Bamberg, down the hill from the cathedral on the way to the river. Bamberg is just a beautiful city - especially around this place. There's something about the stark beauty of German gothic architecture that makes me thirsty...
Anyway, one of the cool things about this place is the sign on the left of the main entrance hall that lists the names of the previous brewmasters. The dates go WAAAY back.
There are a couple gastestuben to the left and right of the entrance. We sat in the smaller hall to the right. Low ceilings with exposed beams - dim light and pretty smokey.
I had the braunbier, which was quite good. I typically run screaming from anything labeled "brown" in the states, but I had been advised to give this a try and wasn't disappointed. Others in my party had the schwartzbier and really loved that too.
What I really remember, though, was the duck dinner that I had. Oh man was that good. I'm a sucker for southern german cuisine anyway, and this was a great meal.
We actually came back to this place later on in the trip because we enjoyed it so much. I highly recommend it as one of the must-do beer stops in Bamberg (w/ Schlenkerla and Mahrs)
1,218 characters
3.6
/5
rDev
-12%
vibe: 4.5 | quality: 3.5 | service: 3 | selection: 4 | food: 3.5
Close to the tourist information center. Nicely located at the corner of a small street. A small terrasse in the street, a few rooms and a patio in the back. I got there a little early and the place was empty but the general atmosphere of the place was really nice. Low ceilings, small rooms, decorated a bit differently, one more simply, the other one with more attention, but both quite warm and Bavarian in nature. I went back a little later in the day, and the place was crowded, with people from different tables talking together. I was a little disappointed by the food and the service. The waitress couldn't tell me what was in one plate on the menu, something called the brewmaster's plate or something like that. I decided to go for sausages and got a decent but kinda sad plate, with less attention than at Ambrösianum for example. I then got served an apple juice when I had tried to ask for an Apfelstrudel. Annoying again, although my German pronunciation was probably bad too. My visit there could have been great, but those little details disturbed me a lot, and made it not so good. The only beer I had was just ok. Got some bottles, to give them another chance…
1,182 characters

4.2
/5
rDev
+2.7%
vibe: 4.5 | quality: 4.5 | service: 4 | selection: 4 | food: 4
This place was a little hard to locate, but worth the effort. After entering the archway, I was greeted by a wonderful brewery aroma. On the right as you enter is the gaststube, where I sampled the beers. On the left is another bierhall and straight ahead is an outdoor seating area for warmer weather.
In the gaststube, there were 4 taps serving the Pils, Schwarzla, Braunbier, and Bockbier. The Braun's Weisse was available from bottle. The beers were quite good, and were available for sale in bottles for take-out, and if you buy six you get a nice plastic carrying bag. There are also beer glasses and steins, etc., for sale in a small room behind the bar.
The room itself was pretty typical for Bamberg: lots of wood, framed pictures on the walls, mounted goat skulls with horns on the walls, nice wooden beam ceiling, a tiled stove. Nice and sunny with many windows. Tables for 4-6 people with chairs.
The service was good. English menu available. The food was also very good (bratwurst, saurekraut, etc.). Cash only. A very comfortable place to have a few beers.
Last visit Nov. 2004.
1,105 characters
4.06
/5
rDev
-0.7%
vibe: 4.5 | quality: 4 | service: 4 | selection: 4
This place is on the far side of the river in Bamberg, not far from the Heller-Schlenkerla pub. It's found down a small side street in the old part of town. A half-dozen tables are present in nice weather outside the old half-timbered edifice, and inside are a series of different dining rooms. You first enter a small hallway/courtyard. One small room is to the left, but the main rooms are on your right. The hallway has a "to-go" window if you want a quick Bier purchase too! There are big, dark ceiling beams propping things up inside, with many old, wooden tables set about. A big kochelofen sits in the middle, and aged lamps, pix, paintings and deer antlers line the walls. It's a great old place; a gem in Bamberg! Service is usually good, with a tall, slim younger guy kicking butt, while an older gent serves as his surly counterpart. On tap can be found at least 5 of their own Biers, with more at different times of year. The Schwärzler, Braunbier and Maibock all schmecht sehr gut!! Didn't eat this year, but a tasty Schnitzel from their varied and well-priced menu has been devoured in the past. Go for it! Prosit!!!
overall: 4.06
atmosphere: 4.5 | quality: 4 | service: 4 | selection: 4 | food: n/a | $$
82
1,224 characters
4.64
/5
rDev
+13.4%
vibe: 4.5 | quality: 4.5 | service: 5 | selection: 4.5
On My 2nd trip to Bamberg, I was a little upset by the unfriendly treatment I recived at Spezial and Decided to search out a new place, as I was walking over one of the many bridges I noticed a building with the brewery sign on top, and saw some large stacks coming out of the building, my intuition told me to try there.
I went on Wendsday but it was closed, so I came back the next day. I went in and explained that I don't have much time and would like to try some of their beers. They not only did that but they toured me around in their 1950's brewery, and showed me their new smaller brewery they use today. Their beers were all excellent I took home a case in a hand crafted wooden box.
I guess not all German breweries are sick of Beer Travelers like my self.
i recomend going their if you ever get the chance.
822 characters
Brauerei-Gaststätte Klosterbräu in Bamberg, Germany
3.99
out of
5
based on
111
ratings.