Rockslide Brewery & Pub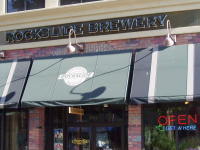 PLACE INFO
Type:
Brewery, Bar, Eatery
405 Main Street
Grand Junction
,
Colorado
, 81501
United States
(970) 241-9311 |
map
rockslidebrewpub.com
Notes:
No notes at this time.
Added by BeerAdvocate
Reviews: 10 | Ratings: 17

2.8
/5
rDev
-10.8%
vibe: 4 | quality: 2 | service: 4 | selection: 2 | food: 3
I have to agree with the consensus that this is a very average place with average beer.
We did not eat there so I can't help with that but the food selection was so large that they were trying to cover all the bases for pub food.
It is at a main corner on the renovated Main St area of GJ. You can't miss it. Had some outside seating that looked like one of the best places in town to hang and people-watch but it was full.
It is also a large restaurant with a bar area that is somewhat separate and may be cool to hang out to watch a game.
I had just come back from a 3 hour hike and was THIRSTY so
I had the "Pale Ale". It had almost zero lacing but was pretty decent but then, I was mighty parched.
Staff was very attentive.
By the way, in GJ, they have smoking sections outside so anytime you're outside, you may have a smoker at the next table.
856 characters
1.85
/5
rDev
-41.1%
vibe: 2 | quality: 1 | service: 2.5 | selection: 2.5 | food: 1
I live in Grand Junction, and have been here twice. The beer is not good. If you are looking for a creative, balanced, interesting, or just solid beer pass on the Rockslide. If you just want some watered down swill, go crazy. I've had the Rockslide Pale Ale, which had little hop presence, and tasted watery. The Stouts and Porters taste weak, and don't offer anything interesting for the palette. I had to meet some friends out here on time, and actually just went with a gin and tonic because I feel the beer is quite awful. I love beer, and wish that this location actually housed a legit brewery, rather than this establishment. The food is nothing special either.
668 characters

3.3
/5
rDev
+5.1%
vibe: 3 | quality: 3.5 | service: 3.5 | selection: 3
Swung by the Rockslide brewpub after having dinner at Kannah Creek.
Sort of a run-down feel to the place, not exactly depressing but far from upbeat. A small bar had a few TV's, and the inside seating was minimal. The beers were served a little too cold for my liking, and while the bartender was attentive, I place him in the same category as the beer.
Selection was average, nothing to write home about. 6-7 offerings of Rockslide beer. The beers weren't great, either. Slightly below average, but not bad enough to make me not want to return someday. At least they were cheap! ($3 a pint).
Growlers were available to go.
627 characters

3.68
/5
rDev
+17.2%
vibe: 4 | quality: 3.5 | service: 4.5 | selection: 3 | food: 3.5
I will give this place a decent rating for one reason and it's because it is the only place to get a decent draft and growler fill in the whole city. The atmosphere is nice and the tanks are visible. They take the time to make sure the place is neat and clean and everyone here greets you with a smile. Hellos and how are you's are abundant. Lot's of personal mugs hang on the walls so you can tell that this place has a lot of regulars. The selection needs a little work but I am a little spoiled living in San Diego. I have family that lives in town so I will repeatedly visit the brewery/restaurant.
602 characters
3.59
/5
rDev
+14.3%
vibe: 3.5 | quality: 4 | service: 3 | selection: 3.75 | food: 3.5
Yet another update - March 2013 - I like the beer enough now to have joined the 'mug club.' I am hoping the service gets better as that is still a bit lacking. The beer selection has improved and the quality continues to be very good.
Update - May 2012 - Rockslide has hired a new brewer. Good beer, complete with carbonation and distinct flavors, is back at the Rockslide. All that follows should be tempered with the idea that that was old news and the new paradigm seems to be quality.
The best thing about a brewpub should be the beer, this is the only one I have been to in which I order mixed drinks exclusively. The beer is invariably flat, and when asked about it I have been told, more than once, that microbrews are supposed to be flat. Malarkey I say.
The food is rather standard brewpub fare, the service average. Prices a bit on the high side for the area.
Decent looking place, almost always too loud.
I like brunch there and the bloody-marys are good.
OK place with really mediocre beers.
1,009 characters
3.73
/5
rDev
+18.8%
vibe: 3 | quality: 3 | service: 4.5 | selection: 4 | food: 4
A coworker and I stopped in here on a tuesday night after working in the area. We tried to sit at the bar but it was trivia night so there were no seats open or room at the smallish bar. We were seated in the dining area. The whole place sits inside a brick warehouse type building that seems original to downtown.The kitchen area is visible from the dining room.
We were served by an exceptional co-ed who became a bit flustered when trying to describe our sample tray selections. She was able to deviate from their normal sample platters and give us a customized version with all their seasonals and a few regulars. Between the two of us we had the pale ale (subaverage and diacetyl), the stout (a solid stout), the cream ale (a tasty example of this style), the seasonal alt (an ok beer), and the Oktoberfest (also ok).
The food was good. We couldn't find anything wrong with that aspect. The one big distraction was the guy running the trivia. He was overamped and you could hear him all the way downstairs in the bathroom and certainly in the dining area. Its obviously for the locals, so localize the PA.
Overall I'd say they have a decent enough place.Average craft beer, good food,and ok vibe within walking distance. They could be doing more with the place but they choose not to. There are other choices in town.Day two of a five day trip it might be worth it. We'll see.
1,386 characters

3.25
/5
rDev
+3.5%
vibe: 4 | quality: 2.5 | service: 4 | selection: 3 | food: 3.5
Stopped in here becuase it was within walking distance from my hotel. Came in during happy hour and it was packed. Bar was on the left side of the establishment with a good view of the brewing area. Mug club mugs were all around the bar on the wall - many of them!
No place to sit but was able to stand and enjoy a pint. I think the pints were $3 during happy hour. Very attentive servers.
Got some wings to go and they were okay. We got spicy and BBQ. BBQ had some cardamon in the sauce that was different.
I only had one beer - the pale ale - at it was mediocre.
Nice place to visit but their beer selection could be improved.
636 characters
2.76
/5
rDev
-12.1%
vibe: 3.5 | quality: 2.5 | service: 2.5 | selection: 3
Dark and close place--pretty busy for a Tuesday night. The tanks are visible both to the bar area and to the street. Red brick walls and locals' mugs hanging all over--definitely a plus! The bartenders were a long time in greeting me and seem harried und unready to answer questions or be very helpful. I ordered a pint of the Kokopelli cream ale (reviewed seperately) which was very disappointing, but I figured I'd give them another chance. The nut brown suffered from the same problems: watery, blah. Strike two. I drank about half of my pint, gave it back, and asked for the check.
585 characters
3.25
/5
rDev
+3.5%
vibe: 3 | quality: 3 | service: 3.5 | selection: 3.5 | food: 3
Rockslide is in the heart of downtown Grand Junction, and on a warm summer night last week this place was jam packed. I had to struggle to find a seat around the bar, but once I did my service was fast and friendly. In the moments I was waiting, I looked around the place. The design and decor is traditional pub-grub, with a big bar separated from the main dining room. Perhaps it was the number of other folks inside, but I found the feel of the bar to be a little claustrophobic and, unfortunately, the seating is all set back away from the floor-to-ceiling windows that look out onto Main Street Grand Junction. Nonetheless, this place has 'downtown' feel (a stark contrast to Kannah Creek, the other brewpub in Grand Junction, which is out in the sprawl near Mesa State).
They had six flagship brews on tap and three seasonals. I ordered a pint of their Kokopelli Cream Ale (reviewed separately) and enjoyed it immensely! I'm partial to cream ales, but this was especially tasty and thirst-quenching. Food wise, I only sampled their 'beer bread' appetizer--a glorified marketing ploy for garlic bread, but it hit the
spot, and the food I spied on other folks' tables looked good enough.
If I'm ever in Grand Junction again, I'll definitely give Rockslide a second look--to get another pint of the Kokopelli Cream and to try a few more of their brews. I can already imagine myself taking a nice after-lunch walk around Main Street GJ...
UPDATE (April 2007): I did visit Rockslide again and found myself disappointed. As other folks have mentioned, they're serving their beers nearly ice-cold, and I had some food and sampled more of the beers to find myself universally underwhelmed. The raspberry wheat, seasonal Irish ale, and American wheat were all too cold to hold any flavor. The Kokopelli Cream still tasted good, but next time I'm looking for beer on the Western Slope or in Junction, I'm sticking to Kannah Creek, the Palisade Brewery, and Bone Yard in Fruita.
1,985 characters

3.48
/5
rDev
+10.8%
vibe: 3.5 | quality: 3 | service: 4 | selection: 3.5
I passed through this pub three years ago and had a very similar reaction as jaybeerman. I still have a t-shirt, but the beers were very mediocre and served really, really cold. The Pale Ale was OK, the Stout was tasteless. The inside of the pub was very nice, newly renovated and bright. Its a fairly large place and the bartender was knowledgeable. My experience was somewhat marred by it being completely empty on a Tuesday afternoon except for one obnoxious dude wanting to strike up a conversation about fossils and God...
532 characters
Rockslide Brewery & Pub in Grand Junction, CO
3.52
out of
5
based on
21
ratings.