Small Heath
| Short's Brewing Company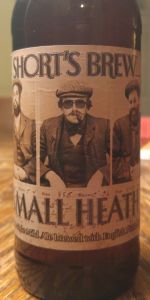 BEER INFO
Brewed by:
Short's Brewing Company
Michigan
,
United States
shortsbrewing.com
Style:
English Pale Mild Ale
Alcohol by volume (ABV):
3.90%
Availability:
Limited (brewed once)
Notes / Commercial Description:
Ale inspired by the show "Peaky Blinders." This ale is copper colored and has a lasting white head. The nose is malt forward with notes of toasted grain and caramel, but balanced with herbal and grassy flavors derived from the use of English Noble hops. The beer is creamy, medium bodied, and finishes smooth.
22 IBU
Added by Tracker83 on 12-27-2016
Reviews: 3 | Ratings: 14
3.77
/5
rDev
+1.9%
look: 4 | smell: 3.75 | taste: 3.75 | feel: 3.75 | overall: 3.75
Poured from bottle to pint glass. Light copper in color, hazy. Pours a white/off white foam that settles to a ring, some spots of lacing. Aroma is biscuit and caramel malt. Taste follows with grassy/floral hop notes and tea notes. Slightly bitter, tea-like dry finish. Clean. Refreshing.
287 characters
3.83
/5
rDev
+3.5%
look: 4 | smell: 3.5 | taste: 4 | feel: 3.5 | overall: 4
Light copper with whisky white head.
Smell is bread.. light toast... Carmel malt... light edgy sting of earthy noble hops.
Taste is clean crisp and light. The 3.9% really shows in its mouthfeel. Super light and lightly malty. I do get some diacetyl from this beer on the tongue and even the nose. Not cloying or anything but definitely there. Great example if not the best example of the style Ive had for sure... wish it had a lot more of a hop bite on the back end to set it apart. Overall very very Solid!
517 characters

3.59
/5
rDev
-3%
look: 3.75 | smell: 3.5 | taste: 3.5 | feel: 4.25 | overall: 3.5
I picked up a bottle of Short's Small Heath in their new variety pack last week at Meijers. I haven't heard much about this beer and I'm interested to see what it's all about, so lets see how it goes. 2016 Vintage. Poured from a brown 12oz bottle into a Short's Imperial Pint glass.
A- The label looks nice, it goes well with the name as long as you know about the show they are referencing and it's just a little eye catching. It poured a nice amber orange color that took on more of an orange color when held to the light with a little over half a fingers worth of fizzy and slightly creamy very light tan head that died down to a thin ring that eventually faded away and it left some nice patchy rings of lacing behind. This is a pretty nice looking beer, but I wish it had better head and retention.
S- The aroma starts off with a slightly lower amount of medium sweetness with the malts being the first to show up and they impart some light toasted malts, biscuit, bread crust, caramel and light caramel malt like aroma with the toasted malts seeming to stick out the most and there's some doughy yeast in the background. Towards the end comes the hops which are a light and just impart a light generic hop, grassy and herbal hop like aromas. This beer has a nice aroma and it's what I would expect from the style, but I wish the hops showed up just a little more.
T- The taste seems to be very similar to the aroma and it starts off with lower amount of medium sweetness with the malts still being the first to show up and they impart all the same aspects that they did in the aroma with the toasted malts still sticking out the most and it's followed by some doughy yeast which shows up a little more than it did in the aroma. Towards the end comes the hops which impart just a generic hop flavor this time and they barely show up. This is a nice tasting beer, it's what I would expect from the style, but I wish the hops they mention on the label showed up more.
M- Smooth, crisp, clean, medium bodied with a higher amount of medium carbonation. The mouthfeel is very nice and it's just what I look for in the style.
Overall I thought this was a nice beer and a solid example of the style, but shorts likes to put twists on their beer and it seemed like the one for this beer to highlight the english hops and I don't think that really came through when it's all said and done. This beer had nice drinkability, I could drink a few of these, but I might start to get bored with it after that. What I like the most about this beer is the mouthfeel and how true to style to it is, to me those are the highlights of this beer. What I like the least about this beer is that the hops they mentioned on the label weren't highlighted a little better. I would buy this beer again when in the mood for the style and I would recommend it to anyone looking for the same. All in all I liked this beer, but I didn't love it and I think if they added more of those hops it would make this beer unique enough to be memorable. It's not a favorite Short's beer and it's a solid example of the style. Nice job guys, this is a tasty English Pale Mild, keep it up.
3,187 characters
Small Heath from Short's Brewing Company
3.7
out of
5
based on
14
ratings.