Cinnabilly

Short's Brewing Company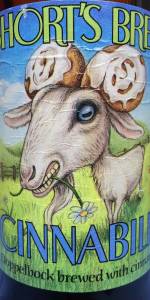 Write a Review
Beer Geek Stats:
| Print Shelf Talker
Style:

ABV:

7%

Score:

80

Avg:

3.41

| pDev:

17.3%

Reviews:

12

Ratings:

From:

Avail:

Retired (no longer brewed)

Wants

Gots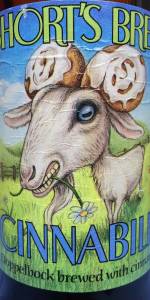 Notes: This clear, caramel colored gem emits a soft potpourri of cinnamon sticks, brown sugar, and hints of vanilla. Sweet malt flavors allow for an array of sensations, ranging from toasted almonds to cinnamon graham crackers. The pleasant addition of cinnamon creates wonderful accents throughout the beer that are never overwhelming.
superspak from Michigan
3.8
/5
rDev
+11.4%
look: 4 | smell: 4 | taste: 3.5 | feel: 4 | overall: 4
12 ounce bottle into tulip glass, bottled in 5/2014. Pours slightly hazy deep reddish copper color with a 1-2 finger dense khaki head with good retention, that reduces to a small cap that lingers. Light spotty lacing clings on the glass, with a light amount of streaming carbonation. Aromas of big caramel, cinnamon, brown sugar, toast, toffee, biscuit, nuttiness, light vanilla, herbal, and toast/yeast earthiness. Very nice aromas with good balance and complexity of dark/bready malt and cinnamon spice notes; with good strength. Taste of big caramel, cinnamon, toast, toffee, brown sugar, biscuit, nuttiness, light vanilla, herbal, grass, and yeast earthiness. Light amount of cinnamon spiciness on the finish; with lingering notes of caramel, cinnamon, brown sugar, toast, toffee, biscuit, nuttiness, light vanilla, herbal, grass, and yeast earthiness on the finish for a while. Nice complexity and robustness of dark/bready malts and cinnamon spice flavors; with a good malt/spice balance and no cloying flavors after the finish. A bit strong on cinnamon in the flavors, but not too overdone. Light-medium carbonation and medium-full bodied; with a smooth and fairly slick/sticky mouthfeel that is nice. Alcohol is very well hidden with only a slight warming present after the finish. Overall this is a very good spiced doppelbock. All around good complexity and balance of dark/bready malt and cinnamon spice flavors; and very smooth to sip on. A nicely enjoyable offering.
Sep 27, 2014
JohnnyHopps from Indiana
2.58
/5
rDev
-24.3%
look: 3.5 | smell: 3 | taste: 2 | feel: 3.5 | overall: 2.5
Appearance - The beer was dark brown with a reddish tint.
Aroma - The aroma really pops with cinnamon. It reminds me of a Jolly Rancher Firestick. I hated those.
Taste - Initially, the cinnamon is pleasant. A little while into the taste, the cinnamon is slmost overpowering. Sitting on these for two months helped, but not a great deal. I keep think a little vanilla would balance the cinnamon nicely. I do not detect the chewiness or sweet malts of a doppelbock at all. The aftertaste closely resembles the aftertaste of cinnamon candy.
Mouthfeel - It is a little thin for the style, but overall acceptable.
Overall - I think I might struggle to finish my two six packs of this.
Sep 13, 2014

Bitterbill from Wyoming
3.65
/5
rDev
+7%
This pours a crimson red with about an inch of foam .
The smell proves the name of this brew to be absolutely true. Cinnamon galore!
Until the cinnamon moves into the taste, which ain't long, I get a mild caramel malt flavour that verifies the style..it also shows up in the finish. A bit of earthy malt; then, it cinnamon time.
Medium bodied, zesty level of carbo.
I went into the session expecting to taste cinnamon and by golly, I sure got it. I'd call it a good festive brew for the winter holidays.
Thanks, Trent!
Aug 29, 2014
GreesyFizeek from New York
2.72
/5
rDev
-20.2%
look: 3.25 | smell: 3 | taste: 2.5 | feel: 3 | overall: 2.5
Bottle shared by stillmatic2232, thanks man.
I don't know what else this was made with other than cinnamon, but it doesn't really matter, as it only tastes like cinnamon.
Pours a rusty looking brown, with a half inch head, and no lacing.
Smells like cinnamon, and really nothing else. The smell kind of reminds me of Fireball.
Tastes like cinnamon, and really nothing else. It's apparently bourbon barrel aged? I don't get that at all. It's kind of overwhelming, all this cinnamon.
Medium bodied, with a cinnamony mouthfeel. Not all that drinkable.
Shorts succeeded in making a cinnamon-flavored beer. However, they did not succeed in making a dopplebock or even a drinkable beer.
Aug 14, 2014

MIbeer27 from Michigan
2.95
/5
rDev
-13.5%
look: 3.25 | smell: 3.75 | taste: 2.5 | feel: 3 | overall: 2.75
12 ounce bottle, undated (early June release)
The bottle pours with a nearly non-existent head that quickly dissipates to nothing. Color is a deep amber/red (dare I say cinnamon?).
The aroma is an extremely sweet with heavy cinnamon roll characteristics. Vanilla seems to be present along with rich caramel malt. Sweetness dominates.
Taste initially follows the aroma tasting exactly like, well, a cinnamon roll. Unfortunately, it quickly shifts to pure cinnamon. Think just eating a spoonful of cinnamon. Bitterness jumps in at the end briefly, but can't overpower the straight cinnamon, along with some cloying sweetness.
Mouthfeel is medium full with some burn from the cinnamon. Carbonation is also medium.
Overall, this was a rare miss for me from Short's. I really appreciate the creativity and effort, but the cinnamon is just way too overdone for my taste and the cloying sweetness on the finish just doesn't work for me.
Aug 02, 2014

zeledonia from Washington
4.41
/5
rDev
+29.3%
look: 3.75 | smell: 4.5 | taste: 4.5 | feel: 4 | overall: 4.5
Thanks to GRPunk for the BIF beer. Tasted 29 July 2014.
Pours deep reddish rust, clear but dark enough that it's hard to see through. One finger of off-white head, decent retention and lacing.
Smell is fascinating. I am shocked and amazed by how well the deep sweet woody malts and the cinnamon work together. They blend so cleanly that I can't quite tell where one ends and the other begins. This is stunning harmony.
The taste, like the smell, is shockingly good. The malts provide a powerful sweet base, and the cinnamon gives it a sharp edge. Every taste is fascinating, in a way that few beers are.
Feel is quite good, mostly in how well it works with the rest of the beer. Starts out mellow and medium-bodied, letting the sweetness and richness come through. Then as the spice asserts itself, the bubbles flare up, yielding a combined vibrance that delights my mouth.
This beer is a perfect example of why I'll keep coming back to Short's. They put out a lot of different, creative, even straight-up weird beers. Many of them are misses, but sometimes they get a big surprise hit. For me, this one is a huge hit. I never could have guessed at how well cinnamon and doppelbock could complement each other. Dang.
Jul 30, 2014
SportsandJorts from Virginia
3.49
/5
rDev
+2.3%
look: 3.75 | smell: 3.5 | taste: 3.5 | feel: 3.25 | overall: 3.5
Appearance: burnt orange to a dark copper color. two fingers of a tan head that fades slowly and leaves a ring and a small lacing. dark and hazy, pretty much opaque.
Smell: Strong cinnamon mixed with vanilla. slightly too much cinnamon, I can't quite imagine eating a cinnamon roll by smelling it. the cinnamon makes other smells a bit hard to find, but there are some bready malt aspects to it.
Taste: opens with a slight hint of bready malts and lager yeast but immediately slammed away by the cinnamon. again vanilla is there but really an afterthought to the cinnamon
Mouthfeel: medium body, could be a bit chewier. lingering cinnamon heat.
Overall: I had high hopes due to my love of cinnamon rolls and crazy short's beers that are perfectly drinkable. I was a bit let down by this, the cinnamon is just too strong and hard to get through to get all else that may be there underneath
Jul 11, 2014

nlmartin from Ohio
3.92
/5
rDev
+15%
look: 3.75 | smell: 4.75 | taste: 3.75 | feel: 3.5 | overall: 3.5
Served in an Imperial Pint glass.
The body of the beer is a clear copper bronze coloration with a thin beige head. The head rapidly desolves into a ring of foam. Minimal lacing noted on my glass.
The aroma of the beer is very cinnamon dominated. Its fair to say this beer smells like what good cinnamon buns smell like. If the flavor carries out the aroma I will be a very happy beer drinker.
Taste: The beer is definitely driven by cinnamon flavor. If you don't like cinnamon this beer is not for you. Loads and loads of cinnamon hit bready flavors. No fruit or any other flavors noted. I like the beer on the level it is cinnamon buns.
Mouthfeel: The body of the beer is medium with a bit of stickiness. I honestly wish the beer was a bit more sticky. The carbonation is on the lower side but that isn't an impediment.
Overall: This beer is really aromatic and very tasty. The beer isn't earth shattering but it is for sure a treat
Jul 01, 2014
SerialTicker from Michigan
3.64
/5
rDev
+6.7%
look: 3.5 | smell: 4.5 | taste: 3.25 | feel: 3.5 | overall: 3.5
Bottling date... not there for some reason. $2.29 single marks the first Short's beer I've bought for more than $2. Was excited when I saw this on their release schedule... so hopefully it's good.
Appearance: Pours beer bottle brown, with maybe a tinge of red. Only a thin layer of off-white head on top, and no lacing. Really like the color, at least.
Smell: Cinnamon. What else? Seriously, cinnamon. Most specifically, cinnamon buns. I'd like to be more descriptive, but that'll do!
Taste/feel: For the initial split second it's on the tongue, I swear it tastes like the smell of a skunk. Boy is it strange. Stranger, I don't hate it, because I disgustingly kind of like that smell. After that, there's a "bun" sort of flavor with cinnamon, as opposed to cinnamon first, which I guess is good, considering the super cinnamon-heavy aroma. Dark fruit sort of flavor comes through a little bit too, but not much. Pretty sweet finish. The feel is a little heavier than thin with a moderate carbonation.
Well, yeah. That's cinnamon. Short's went all out with it in this one. There's almost no depth of flavor in this beer outside of cinnamon and maybe some caramel malts. 7% is hidden perfectly well. Honestly, I don't like this beer all that much, yet I'm drinking it pretty quickly. There is a hefty, HEFTY amount of cinnamon in this beer, yet it never becomes *too* much for me. There's not a spicy cinnamon feeling in the throat or anything, so it remains super drinkable. The strange skunk smell-as-a-taste initial taste is bizarre as hell, and I'd like a little more depth somewhere, but this is still a pretty good beer that's super interesting and worth trying. I won't deny that I'm let down a bit, but you certainly get what Short's is selling with this one. This really would be better served as a fall or winter beer, though... this is better than their Gingersnap, which was my first thought of comparison when sipping Cinnabilly.
Jun 24, 2014

StoutHunter from Michigan
3.54
/5
rDev
+3.8%
look: 3.75 | smell: 3.5 | taste: 3.5 | feel: 3.75 | overall: 3.5
I picked up a bottle of Short's Brewing Company's Cinnabilly yesterday for $1.89 at The Lager Mill. I've never had this beer before and it was one of the new beer that Short's is releasing this year that I'm anticipating and I'm interested to see how it turns out, so lets see how it goes. No visible bottling date, but I know it's fresh. Poured from a brown 12oz bottle into a snifter.
A- The label looks nice, it's got little cartoon like goat on it with cinnabuns as the horns, I think it's well designed and it's very eye catching. It poured a very nice slightly red amber color that took on more of a crimson hue when held tot the light with about a fingers worth of very light tan bubbly head that died down to a thin ring that stayed till the end it left some nice spotty and patchy lacing behind. This was a pretty nice looking beer, I have no complaints.
S- The aroma starts off with a medium amount of sweetness with the spices being the first to show up and it's the cinnamon that sticks out the most and it has a natural cinnamon stick like aroma with a little bit of allspice and ginger coming through in the background. Up next comes a unique sweet and slightly creamy aroma that's a little frosting like and it's followed by the malts which impart a caramel malt, light sweet malt, and cereal like aroma. The aroma was nice, but it felt like the different aspects could have blended together better.
T- The taste seems to be fairly similar to the aroma and it starts off with a medium amount of sweetness followed by the spices still being the first to show up and they impart that same cinnamon heavy aspect and this time it reminds me a little bit of Big Red gum and there's doesn't seem to be many other spices showing up in the background. Up next comes that same icing aspect, but it's even lighter than it was in the aroma and it's followed by the malts that have the same malty flavor that I get in their Strawberry Short's cake, it's got lots of grainy, cereal and biscuit like flavors and there's a little bit of caramel malt showing up in the background. On the finish there's not really any bitterness just a little more sweetness with some cinnamon, biscuit malt and light icing like flavors in the aftertaste. This was a nice tasting beer, but I thought it had the same problem as the aroma with the different aspects not blending as well as they could have.
M- Fairly smooth, a little crisp, a little creamy, on the thicker side of being medium bodied with a slightly lower amount of medium carbonation. The mouthfeel was pretty nice and it worked well with this beer.
Overall I thought this was a nice beer and I thought it was a nice example of a Cinnamon Bun themed beer, even though the base of this beer is a Doppelbock I don't feel like it's a great example of the style simply because the added flavors seem to cover it up. This beer didn't have the best drinkability, it was fairly smooth, a little crisp, a little creamy, not too filling and the taste did a decent job at holding my attention, but I think that heavy cinnamon flavor would start to wear on me after having more than one so I think a half to a full bottle is a good amount for me, I wouldn't want anymore than that. What I liked the most about this beers was that it was actually a little cinnamon bun like and I thought the mouthfeel and appearance were pretty nice. What I liked the least about this beer was the way that the different aspects were blended in the taste and aroma, they were a little harsh and I think they can be smoothed out and blended a little better. I would buy this beer again, if they release next year, but I have a six pack and I think that will last me for the year. I think this beer would be better suited released in the late fall. I would recommend this to anyone who isn't afraid of some cinnamon in their beer. All in All I was just slightly disappointed, I had high hopes for this one and while it was a little cinnamon bun like it was also rough around the edges and I thought that held this beer back from being as good as it could be. This isn't my favorite Short's beer or Dessert beers and it falls right in the middle in both category's. I appreciate the effort guys, but I think with a little bit of work this could become a pretty good beer, keep on thinking outside of the box.
Jun 14, 2014

Morakaton from Michigan
3.64
/5
rDev
+6.7%
look: 3.75 | smell: 4 | taste: 3.5 | feel: 3 | overall: 3.75
Ahh, that luscious smell of baked cinnamon cookies accompanying a deep amber colored beer of medium-light mouthfeel, it truly must be Fall. Wait, it's June? Oh, that must mean the newest Short's release, Cinnabilly just hit!
Poured from a 12oz bottle into a snifter, this beer poured a deep amber/copper color, and formed a nice head that quickly turned to a small foamy ring. The first thing apparent in this beast is the extreme cinnamon scent. It really reminded me of a slice of cinnamon spice cake or cinnamon cookies, it was very malty, bready and loads of baking cinnamon spice. As anyone else will tell you of any cinnamon centric or pumpkin beer, cinnamon can be a deal breaker for a lot of people, as the spice(s) tend to overpower the beer it's based on. With that said, this beer has alot of great things going for it, but the cinnamon is quite strong and hides alot of the unique components a dopplebock typically carries.
Overall, I'd definitely recommend a 6 pack or so to any fan of Short's limited beers or spice beers, or anyone who can get past the fact that this is one dopplebock that doesn't really taste much like a dopplebock. I personally enjoyed this one to a pretty good degree.
Jun 13, 2014
tectactoe from Michigan
3.79
/5
rDev
+11.1%
look: 3.75 | smell: 4 | taste: 3.75 | feel: 3.5 | overall: 3.75
On tap, Michigan Summer Beerfest 2013. Yeeehaw! Cinnamon doppelbock - why the hell not? Sounds like a great idea. Funky brown and rusted, old copper color, probably a bit lighter than many doppelbocks, but it fits the "cinnamon" aspect nicely. It's almost completely opaque from the haze, and is topped with a beige head that pauses briefly before receding to a minimal collar.
A nice display of spices come through on the nose; lightly sweet, caramel malts, heavy cinnamon spice, doughy and sticky sweet bread. The cinnamon aspect evolves with time and opens up quite a large profile of aromas, despite being just one spice. Cinnamon sticks, ground cinnamon, sweet cinnamon candy, cinnamon potpourri, and even a mild hint of cinnamon sticky buns. If you don't like cinnamon, you're gonna hate this shit.
Just when you were thinking it wouldn't be possible, the taste comes through with even more unabashed cinnamon goodness than the aroma. Cinnamon spice, up front and in your face, like taking the cinnamon challenge - one spoonful and try not to violently gasp for air. In all seriousness, though, the flavor, somehow, never reaches ungodly, annoying, hot, or undrinkable levels of cinnamon, despite the ominous presence it does indeed have.
Mild caramels from the malt and some more doughy bread flavors make their way in, but this beer is liquid cinnamon, start to finish. Spicy but not hot, with just enough underlying sweetness to lift it above and beyond. The body is a bit thinner than you'd expect from a doppelbock, but it does the job just fine; medium carbonation with a slick, smooth mouth feel.
Pretty interesting and definitely cinnamon heavy - this beer won't be for everybody. Even with the intense cinnamon aspect, I never felt that the beer was too out of control or undrinkable, and it was actually quite tasty when all was said and done. I'd have like some more of the doppelbock aspects to show up, but it still turned out to be a relatively enjoyable beer.
Aug 12, 2013
Cinnabilly from Short's Brewing Company
Beer rating:
80
out of
100
with
136
ratings