Short's Stroker Ace
| Short's Brewing Company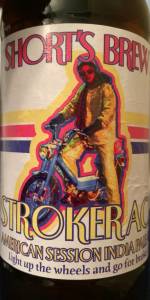 BEER INFO
Brewed by:
Short's Brewing Company
Michigan
,
United States
shortsbrewing.com
Style:
American IPA
Alcohol by volume (ABV):
4.00%
Availability:
Rotating
Notes / Commercial Description:
No notes at this time.
Added by tectactoe on 05-15-2013
Reviews: 6 | Ratings: 84
3.98
/5
rDev
+5.3%
look: 4 | smell: 4 | taste: 4 | feel: 3.75 | overall: 4
12 fl. oz bottle
Served in a tulip glass
L - It is clear and golden colored. It is capped with an inch of white head.
S - It has that wonderful cat urine smell. There is some citrus scattered in as well.
T - It has an aggressively hops taste. Catty up front with a bitter finish.
M - Moderate to thin
O - It reminds me of Mosaic Promise. It pairs well with the Charlie Daniels Band huge hit "Stroker Ace." I am just sad that I do not have the film of the same name to view as I consume.
493 characters

3.7
/5
rDev
-2.1%
Bottle shared by Adam, who always brings back interesting beers upon returning from Michigan.
Hazy, straw yellow body with a white cap. Hop forward, mild sweetness, easy drinking. Some biscuit malt underneath a fruity hop character. Light in body with mild bitterness. Pretty good.
282 characters
3.8
/5
rDev
+0.5%
look: 4 | smell: 4 | taste: 3.5 | feel: 4 | overall: 4
12 ounce bottle into pint glass, bottled on 3/18/2014. Pours fairly hazy gold color with a 1-2 finger fairly dense white head with good retention, that reduces to a small cap that lingers. Light spotty soapy lacing clings on the glass. Aromas of big lemon zest, grapefruit, pineapple, tangerine, orange peel, citrus rind, floral, grass, light pine, light caramel, biscuit, and floral/grassy earthinss. Very nice aromas with big juicy citrus/tropical hop and light-moderate pale malt notes; with good strength. Taste of lemon zest, grapefruit, tangerine, pineapple, orange peel, citrus rind, pine, floral, grass, light caramel, biscuit, and floral/grassy earthiness on the finish. Good amount of pine/citrus rind bitterness on the finish; with lingering notes of lemon zest, grapefruit, tangerine, pineapple, orange peel/rind, floral, grass, pine, light caramel, biscuit and floral/grassy earthiness on the finish for a while. Nice complexity and robustness of juicy citrus/tropical hops with light-moderate pale malt sweetness; with a solid malt/bitterness balance and a moderate amount of cloying bitterness after the finish. Medium carbonation and body; with a smooth, crisp, and moderately sticky/bready mouthfeel that is nice. Alcohol is well hidden with no warming present after the finish as expected of 4%. Overall this was a really good session IPA. Nice complexity and robustness of juicy citrus/tropical hops and a fair amount of pale malt sweetness; and very smooth and crisp to drink. A nicely enjoyable offering.
1,525 characters

3.59
/5
rDev
-5%
look: 4 | smell: 3.75 | taste: 3.5 | feel: 3.5 | overall: 3.5
I picked up a bottle of Short's Stroker Ace from their new variety pack last week at Boyne Country Provisions. This new variety pack had three first time bottle releases in it and I thought I would start off with this Session IPA, so lets see how it goes. No visible bottling date, but I know it's fairly fresh. Poured from a brown 12oz bottle into a imperial pint glass.
A- The label looks ok, it's a little odd looking but I guess it goes with name, but I don't think it's too eye catching. It poured a hazy yellow color that took on more of golden orange color when held to the light with just about two fingers worth of fluffy white head that died down to a thin ring that stayed till the end and it left some rings of spotty and patching lacing behind. This was a pretty good looking beer, I have no complaints.
S- The aroma starts off with a slightly lower amount of medium sweetness followed by the hops being the first to show up and they impart a nice citrus and fruity hops aroma with some citrus rinds seeming to come through the most and there's a little bit of piney hops showing up in the background. Up next comes the malts which are on the light side and impart a light grainy and sweet malt like aroma. This beer had a pretty nice aroma that was dominated by some nice and fruity hops.
T- The taste seems to be fairly similar to the aroma and it starts off with a slightly lower amount of medium sweetness followed by the fruity hops still being the first to show up and they impart the same aspects that they did in the aroma and there's also a lot of herbal hop flavors that I didn't really get in the aroma, but this time there's a nice grapefruit flavor that works well with the citrus rind flavors. Up next comes a slight bit of doughy yeast and it's followed by the malts that stick out more than they did in the aroma and they impart some slightly grainy, sweet malt and light caramel like flavors. On the finish there's a slightly higher amount of medium bitterness followed by a fruity hop aftertaste. This was a nice tasting Session IPA, but I thought it might be a little too balanced for the style.
M= Fairly smooth, fairly crisp, slightly refreshing, medium bodied with a medium amount of carbonation. This beer had a nice mouthfeel that worked well with it.
Overall I thought this was a nice beer and a slightly above average and unique example of a session IPA, it was different because of the balance, some of the beers in this style can almost taste like hop water, but in this beer the malts showed up a good amount in the taste, but that proved to be just a little too much balance for the style. This beer had nice drinkability, it was fairly smooth, fairly crisp, slightly refreshing, not filling and the taste did a decent job at holding my attention, but I think two would be my limit any more than that and it might start to wear on me. What I like the most about this beer was the appearance and aroma, they were both pretty nice and to me they were the highlights of this beer. What I liked the least about this beer was the balance, in most beers balance is the key, but this one had a little to much of that and it would be nice if the malt flavors were just toned down a little bit. I would buy this again if it was available on it's own, but I don't know if it's something I would buy a whole six pack of and I for sure wouldn't turn one down. I recommend trying it if you want a unique and balanced Session IPA. All in all I liked this beer, but I didn't love it, it's seems just a little rough around the edges and I think with just a little bit of work that this could be a pretty good beer. It isn't my favorite Short's beer or favorite Session IPA, but it was pretty unique for the style and because of that it was a little memorable. I appreciate the effort, but I think this one needs just a little work, but it was still solid nonetheless.
3,899 characters
3.68
/5
rDev
-2.6%
look: 4 | smell: 3.5 | taste: 3.75 | feel: 4 | overall: 3.5
3/18/14 date. Poured into Sam Adams Perfect Pint on 7/7/14.
Appearance: Super hazy yellow color with orange tints in the glass. Soapy looking head with some clinging lace. (4/5)
Smell: Unexpected. A lot of citrus and malt. Grapefruit and orange rind aroma are a little heavy. Resinous. A buttery bisuit malty quality as well. (3.5/5)
Taste/feel: More buttery biscuit. Wow. Almost like a caramel popcorn flavor initially. Butterscotch as well? Boy was this unexpected. Moderate feel all around with a middle-of-the-road bitterness. Finish is a lot of biscuit/white bread flavor. Bitterness lingers a bit on the finish with light citrus rind. (3.75/5, 4/5)
Maaan, is that a different tasting session IPA. Pretty malty with some truly unusual characteristics, but it's tasty. I have to wonder what malt and hops were used in this beer because it's pretty unique. I don't love the flavor, but I still appreciate this beer's uniqueness.
(3.5/5)
944 characters
4.2
/5
rDev
+11.1%
look: 4.5 | smell: 4.5 | taste: 4 | feel: 4 | overall: 4.25
On tap in Ashley's Westland for the Shorts vs. Greenbush Throwdown of Champions. Although no information was given about this particular beer, my assumption is that it's made with (mostly) Sorachi Ace hops, given the name. Just a hunch. It pours a muddled, burnt stop light shade of amber - not quite copper - with some sunburst orange in the center. The fine, frothy white head quickly turns into a skin that shows excellent staying power and leaves lots of lacing behind.
The aroma is fruity like whoa, and not at all what I was expecting (though I've had only a few other Sorachi Ace-centric beers), but it's certainly not a bad thing - Stroker Ace smells damn good! A nice clashing of citrus and tropical fruits; grapefruit, pineapple, tangerine. Very effervescent and nice. It smells "light" in body, but still comes out swinging with a pungent aroma. Light, leafy hops on the tail, but not much at all in the way of malt.
A large handful of dry hop bitterness infiltrates much of the flavor profile, at least at first. The bitterness isn't too abrasive or demanding, though, but it's actually quite impressive for a beer that's only 4% ABV. The hops are herbal and leafy to the core; the sweet grapefruit and orange zest flavors are secondary, playing a very nice backing role for the more raw, dirty hop flavors. It's kind of like a switcheroo from the aroma, but it works well.
Malt is only (very) slightly more noticeable on the palate than it was on the aroma, and really only in the final moments of each sip. A faint, toasted cracker flavor coats the palate once the hops finally run their course and subside almost completely, save for a mild ashiness that seems to last forever. This beer gets even better as it warms up, too, which is either "hit-or-miss" for most IPAs. Medium in body, surprisingly more "full" than expected given the low ABV; oily, slightly resinous, slick mouth feel with medium-heavy carbonation.
Another winner from Shorts. Their IPAs recently have been killing it, and this is no exception. Very nice aroma and flavor that work well with each other and flow almost perfectly. Too bad this isn't a normal release - it's actually very tasty and could be easily sessionable thanks to the low alcohol content.
2,247 characters
Short's Stroker Ace from Short's Brewing Company
3.78
out of
5
based on
84
ratings.