Short's Lil' Wheezy
| Short's Brewing Company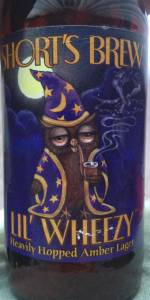 BEER INFO
Brewed by:
Short's Brewing Company
Michigan
,
United States
shortsbrewing.com
Style:
American Amber / Red Lager
Alcohol by volume (ABV):
7.00%
Availability:
Rotating
Notes / Commercial Description:
No notes at this time.
Added by tectactoe on 07-15-2013
Reviews: 11 | Ratings: 131
4
/5
rDev
+5.5%
look: 4 | smell: 4 | taste: 4 | feel: 4 | overall: 4
(Served in tulip glass)
A- This beer pours a deep toffee color with a thin yellowish-beige head.
S- The pine resin hops lead to toasted wheat aromas in the finish.
T- The pine resin takes on a nice pungent flavor with some cat pee notes in the finish. The full pungent flavor lingers but there is no bitterness with it. The pale malt has a kind of flat taste with some toasted malt hints coming through in the finish.
M- The medium-light mouthfeel leads to a gentle fizz.
O- This is a nice big pungent hop beer with some softer malt support.
554 characters
3.78
/5
rDev
-0.3%
look: 4.25 | smell: 3.75 | taste: 3.75 | feel: 3.75 | overall: 3.75
12 fl. oz. bottle
Served in a tulip glass
L - It makes a beautiful pour. It's burnt orange body is crystal clear, and it is topped with four inches of beige head that clings to the side of the glass.
S - The smell is full of citrus aromas, and the malt is well represented, too.
T - The taste starts out with a little toasted malt. Then the hops take over. It has citrus flavors with grapefruit taking over and leaving a bitter aftertaste.
F - Medium
O - This is one of the better beers that I have tried from Short's. It is an enjoyable hoppy amber ale.
560 characters

4.1
/5
rDev
+8.2%
Big persistent head, off-white. Beautiful amber with red-ochre tones. Brilliant clarity.
Aggressive hop bitterness, surprising, though the label boasts "highly hopped." High hop aromas, resinous and spicy, only a low sweetness. Med-low malt aroma, primarily biscuity and toasty. Hops are dominant. Hard, minerally water aroma. Very clean and dry.
Hops are restrained in the taste, creating a nice balance with the grain bill. Clean, toasty, and biscuity malt, some sweetness. Hop flavor is medium, mostly bitter. No detectable esters, phenols, or caramels, just a bitter, dry hop and malt bill creating a crisp, if slightly low-bodied flavor.
As mentioned above, the bitterness is med-high, very dry, with a light body, though there's a slight fullness from the malts. Med-low carbonation, though the bitterness creates a some puckering which I initially mistook for carbonation. Alcohol is undetectable except for some warming.
Really a tasty beer, a highly hopped Amber lager that doesn't lose sight of balance even with its unconventional hopping. Too hoppy in the aroma, and a bit too bitter/light in body.
1,114 characters

3.83
/5
rDev
+1.1%
look: 4 | smell: 4 | taste: 3.75 | feel: 3.75 | overall: 3.75
A - Pours a hazy amber with a one-finger off white head. Good amount of lacing.
S - Dank piney hops and some caramely malt sweetness.
T - Good amount of sweet malts come through first. Piney bitter hops really take over the flavor once the sweetness fades. Lasting bitterness on the finish. Not as balanced as I would like.
M - Light body with medium carbonation. Oily dry mouthfeel.
O - Decent beer, glad i had a chance to try it. Not something I would seek out, but definitely interesting.
495 characters
3.77
/5
rDev
-0.5%
look: 4 | smell: 3.75 | taste: 3.75 | feel: 3.75 | overall: 3.75
Bottled some time in July... most of the numbers are scratched away. At least I got the most important one. Poured into a shaker pint... sigh. :(
Appearance: Appropriately enough, a slightly hazy amber color. That's about it. A finger of a light tan head sits on top with a creamy consistency. Lacing's almost sip-for-sip from top to bottom. The label is, as most Short's labels are, great. An owl that looks stoned out of his mind smoking a pipe. Also like that purple background.
Smell: Somewhat sweet, but without any real fruity characteristics. I'd attribute that to the malts. The hops on display are slightly spicy, earthy hops, which work well with the "gritty" sort of malt that is in Lil' Wheezy.
Taste/feel: Yeah, it is what's advertised. It's a hoppy amber. Pretty much exactly the same as the smell, except with a bit more of that dirt sort of malt flavor on the finish. Solid bitterness on the back of the tongue. The aftertaste is the big thing that lets you know that this is an amber. The aroma and initial taste sort of tastes like a standard IPA until you get the malts. The feel is fairly light without much carbonation.
Lil' Wheezy's a pretty good beer. As it warms up, the beer becomes more like an amber as the malts come out a bit more. This beer's a bit too bitter for my liking as an amber, but it's still a very nice beer.
1,353 characters

3.03
/5
rDev
-20.1%
look: 3.5 | smell: 3 | taste: 3 | feel: 3 | overall: 3
Thanks to tectactoe for this bottle amongst a nest of others. 12 oz. bottle with typically eclectic Short's artwork.
The pour is hazed up orange with low carbonation. Aroma comes off as delicately floral, like your great-aunt's hand soap on Thanksgiving. Bare bits of caramel, malt sweetness.
Lil' Wheezy makes my sense of propriety hurt. Hop bitterness & floral notes slam head-on into the lager yeast, & it's a conflict, not a harmony. White bread crust dominates the middle, & the lager yeast dominates the down slope. Poured half of the bottle for my wife, & glad I did.
This is only my second 'hoppy lager' & if the first two are any indication, this hook-up just doesn't work; it clashes like titans. Decent enough, but the two opposites just don't attract this palate.
781 characters
4
/5
rDev
+5.5%
look: 4 | smell: 4 | taste: 4 | feel: 4 | overall: 4
12 ounce bottle into lager glass, bottled on 6/22/2013. Pours lightly hazy orange copper color with a 1 finger dense cream colored head with good retention, that reduces to a thin cap that lingers, Light spotty lacing clings down the glass, with some light streaming carbonation. Aromas of big grapefruit, tangerine, mango, orange zest, lemon zest, pineapple, peach, floral, pine, grass, caramel, toast, bread, and floral/yeast earthiness. Very nice aromas with good complexity of hop notes with a moderate malt balance; and good strength. Taste of grapefruit, tangerine, mango, pineapple, lemon zest, orange zest, peach, pine, floral, grass, caramel, toast, bread, and floral/yeast earthiness. Good amount of earthy pine resin bitterness on the finish; with lingering notes of citrus, citrus zest, pineapple, mango, peach, pine, floral, grass, caramel, toast, bread, and floral earthiness on the finish for a good bit. Damn nice balance and complexity of hop flavors; with a fair amount of malt balance and zero cloying bitterness after the finish. Medium carbonation and body; with a lightly creamy, smooth, and moderately sticky mouthfeel that is nice. Alcohol is very well hidden with minimal warming present after the finish. Overall this is a damn nice IPL style! All around good balance and complexity of hop flavors with a fair amount of malt balance; and very smooth and crisp to drink. A very enjoyable offering.
1,422 characters

4
/5
rDev
+5.5%
look: 4 | smell: 4 | taste: 4 | feel: 4 | overall: 4
Bottle shared by Jeff. Thanks man.
The beer is copper to orange in color with a half inch of white head and ample lacing on the glass. The aroma brings dank hops, pine resin. Amber / red character shows itself more in the flavor. Hop forward with a supporting malt body. Sufficient hop bitterness, especially in the finish. Solid.
331 characters

3.79
/5
rDev 0%
look: 3.75 | smell: 4 | taste: 3.75 | feel: 3.5 | overall: 3.75
I got a bottle of Shorts Lil' Wheezy in their new variety pack a couple days ago for 19.99 at Boyne Country Provisions. This is the first time this beer has been bottled and it's only available in the new variety pack so I had to pick it up and give it a try, so lets see how it goes. No visible bottling date, but it just showed up so it's fairly fresh. Poured from a brown 12oz bottle into an imperial pint glass.
A- The label looks pretty good, it's a little different than most Shorts labels, but I really like the design. It poured a nice amber color that took on a red hue when held to the light with a finger and a half worth of off white head that died down to a thin ring that stayed till the end and left hardly any lacing behind. This is a pretty nice looking beer and it looks true to style.
S- The aroma starts off with a medium amount of sweetness that had a slight brown sugar like aroma and was followed by a good amount of malts that impart some caramel and slight toffee aromas with a slight bit of bready and biscuit like malts showing up in the background. Up next comes the hops which seem to balance out the malts nicely and impart a dank and resiny aroma with some piney hops showing up in the background. This beer had a pretty good aroma, the hops and malt aspects were balanced very well.
T- The taste seems to be very similar to the aroma and it starts off with a medium amount of sweetness followed by a good amount of malts that impart lots of caramel malt flavors with a slight bit of bready and biscuit malts in the background. Up next comes the hops which seem to show up a little more than the malts and impart a very resiny and dank hop flavor with some piney hops still showing up in the background. On the finish there's a lower amount of high bitterness with a big hoppy aftertaste. This was a very nice tasting beer, but I thought that it could be a little more balanced.
M- Not the smoothest, clean, fairly oily, medium bodied with a medium amount of carbonation. The mouthfeel was nice, but I think it could have been smoother.
Overall I thought this was a pretty nice beer and an above average hoppy Red Lager, there's no doubt that this beer was heavily hopped and it really comes out in the flavor even a little too much so. This beer didn't have the best drinkability, it wasn't the smoothest and the bitterness really lingered, the taste did hold my attention, but I think one would be enough for me since I think the bitterness would start to wear on me after more than one. What I liked the most about this beer was the aroma, it was pretty good, balanced and the highlight of this beer. What I liked the least about this beer was the drinkability, it wasn't as smooth as I would like and I think if the lingering bitterness was cut down a little it would really help the drinkability. I would buy this beer again and I think it's a nice addition to Short's new variety pack. I recommend this to anyone who likes really hoppy and really bitter bears. All in all i was happy with this beer, it was a little more intense than I thought it would be but I still thought it was pretty enjoyable, it just wasn't the most drinkable. Thanks for releasing this beer Short's, I think it can hold it's own and could be released by it's self, nice work guys this was a pretty solid beer.
3,327 characters

3.37
/5
rDev
-11.1%
look: 3.75 | smell: 3.5 | taste: 3.25 | feel: 3 | overall: 3.5
A- auburn and reddish brown. Nice puffy head that leaves some nice stick.
S - malts, caramel, brown sugar, dank hops.
T - clash of ipa and an amber. Hops meet malty sweetness. A bit of a dry mouthfeel in the aftertaste.
O -decent brew but I'm not the biggest fan of all of these blends of hoppy lagers. It is worth a shot but ill pass on this the next time around.
370 characters
3.85
/5
rDev
+1.6%
look: 4 | smell: 4 | taste: 3.75 | feel: 4 | overall: 3.75
Thanks to Jeff for picking me up a sixer of this stuff last time he was visiting the brewery. Lil' Wheezy's got an amber body with some orange tints; makes sense for an amber lager. It's a pretty clear beer with only a mild chill haze that interferes. The slick, white head bubbles up and sits at about a quarter-inch for at least half the glass.
The aroma is probably just what you'd expect for a "hopped up amber lager" - a strong clashing of malts and hops. Lots and lots of caramel malts, along with some sweet toffee and a strong dusting of cocoa powder, colliding with weedy, dank, and pungent, piney hops. The hops bring a touch of mild grapefruit to the forefront, but the dank and oily aspect is still the strongest.
Thinner bodied than I would expect at 7% ABV, but I guess the mouth feel and high carbonation fits the relative style more so than the alcohol content. Caramel malts and some buttered, super toasted, bready malts pave the way initially; sad to say that the cocoa powder on the nose doesn't come through as much in the flavor as it was in the aroma.
After the malts lay the groundwork, it doesn't take long for the hops to come in; dank, oily, resinous, and even with a light hint of onion in the tail end. There's a pretty staunch bitterness that crescendos from start to finish, leading into a brash, bitter, sharp, and dry, hoppy aftertaste, with only a touch of finishing, sweet toffee malts.
Another hoppy lager from Shorts and basically another winner in my book. Delicate hands are needed when combining lots of hops and any types of malts darker than pilsner or pale, but Shorts seems to know what they're doing. I don't like this quite as much as a few of their other hoppy lagers, but it's still a solid choice. I wonder if it will ever see distribution.
1,801 characters
Short's Lil' Wheezy from Short's Brewing Company
3.79
out of
5
based on
131
ratings.