Dismiss Notice
Finlandia Sahti
| Finlandia Sahti Ky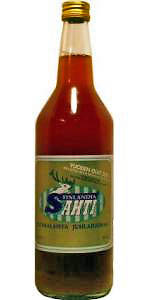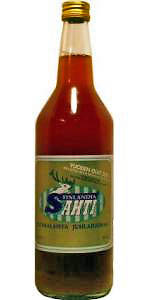 BEER INFO
Brewed by:
Finlandia Sahti Ky
Finland
finlandiasahti.fi
Style:
Sahti
Alcohol by volume (ABV):
8.00%
Availability:
Year-round
Notes / Commercial Description:
No notes at this time.
Added by brewdlyhooked13 on 03-01-2005
HISTOGRAM
Ratings: 7 | Reviews: 6

3.37
/5
rDev
-1.2%
look: 2.75 | smell: 3.25 | taste: 3.5 | feel: 3.25 | overall: 3.5
BOTTLE: Clear plastic. .75L. Unbranded black screw-top. Custom-ordered at and delivered to an Alko in Kuopio, Finland. Cost worked out to about 10 euro to a bottle (minimum order is 3 bottles). They make you work to buy Sahti in this country - so much for tradition. Generic label art & design. Best before: 13.07.15.
8% ABV. Notably, humala (hops) ARE an ingredient...not exactly traditional Sahti. Made with baker's yeast.
Served cold into a pilsner glass at low altitude in Kuopio, Finland. Expectations are average; this is the only Sahti available nationwide and it comes in a crappy looking plastic bottle, but at least it's Finnish. Reviewed live as a Sahti per the label.
Upon opening, there's only a hint of a carbonation hiss.
No bubble show forms as it's poured.
HEAD: None whatsoever. No floater ring. Some weak-looking thin bubbles stick around for a few seconds. No lacing.
BODY: Dark honeyed caramel-brown of average vibrance. Nontransparent and nontranslucent, but not turbid (as I expected.) No yeast particulate, hop sediment, or twiggy bits are visible within.
Mild carbonation bubbles at the bottom suggest fair carbonation. Looks decent, but not all that appealing for a beer. I'm curious.
AROMA: Honey-like sweet wort. Boy, is that a sweet raw aroma. Yeast attenuation seems shockingly low - no doubt a result of the baker's yeast. Hopping is vaguely fruity. I don't find any gin-like notes or juniper. Nor is there any booze - which is shocking for a baker's yeast fermented 8% ABV beer. But I do get wild berries of some sort - they just lack juniper's characteristic dryness. I'm also surprised not to find any juniper twig herb or resins. I do get some unrefined candi sugar.
Aromatic intensity is above average.
Suggests a sticky sweet beer with a nice berry flavour and a honey-like wort-y sweetness.
TASTE: Berries and twigs peak in the third act, leaving the drinker with a pleasant resinous aftertaste. But it's not resinous in the same way as hops are, and any hop character is downplayed; I find only vague fruitiness which is quite mild. It's not as sweet as anticipated, but the sugars do have that raw wort-like taste with hints of honey and unrefined sugars. I don't find any medicinal character, but there is a kiss of bitterness on the climax that's barely perceptible. Faint banana from the yeast, as well as phenols. (Once noticed, this flavour takes over - or maybe that's just in my head).
I expected dry juniper berries and/or resinous sticky twiggy notes to dominate, but I find none of juniper's signature gin dryness and plenty of its flavour. The baker's yeast lends little, but the low attenuation suits its "traditional" taste. This certainly seems like an early beer style - true to form - but what confuses me is its high ABV; how is baker's yeast accomplishing 8% ABV with such residual sweetness still present? Seems like quite an inefficient fermentation.
Above average duration of flavour. Average flavour duration and intensity.
I expected a cheap garbage Sahti given the plastic bottle presentation, but this is actually a pretty even-keeled Sahti expression with an approachable flavour profile. Granted, it's not truly a traditional offering, but few commercial Sahtis are anymore. I like it and will enjoy finishing the bottle.
Sure, it's plain and simple, but that plays into the raw undeveloped taste of the style. I'd like more juniper and more herbal twig-like notes as well as more resins, if only for more flavour, but this is nice as-is. I'm reticent to call it balanced, but it's not imbalanced - it's just unbalanced.
TEXTURE: Smooth and wet, with a raw unsophisticated presence on the palate consistent with a basic fermented beverage (e.g. tepache). Medium-bodied with low carbonation to style - but enough to keep it from coming off flat. There's adequate (albeit light) weight and heft on the palate to support the flavours. Not as sticky as anticipated. Nor is it syrupy per se.
Complements the taste in its own way, but I wouldn't say this texture harmonizes with the taste, nor does the mouthfeel accentuate any specific notes. There isn't a whole lot of deliberation behind this beer, but part of its charm is its trust in fermentation to do the work.
OVERALL: It's a nice commercial Sahti which is worth trying if you can nab a bottle in Finland, but novelty aside I wouldn't recommend ordering it specifically from an Alko just to try Sahti. The ~10 euro/bottle price point will keep me away from this in the future, but I'll happily finish this and the other 2 I have. Very drinkable stuff which hides its ABV shockingly well; I'd guess it was 5.5% max if I tried it in a blind tasting. Not the unpalatable swill I expected. The more I sip it, the more I acclimate.
B- (3.37)
4,775 characters
2.58
/5
rDev
-24.3%
look: 1.25 | smell: 3.25 | taste: 2.5 | feel: 2.25 | overall: 2.5

3.25
/5
rDev
-4.7%
On tap at St.Urho's Pub in Helsinki. Cask ale here as well, can't believe it! And an old picture on the wall of Michael Jackson in the pub.
A: A brown copper colour. Hard to tell in the dimmed light. Absolutely no head.
T: That rice cake quality you get with sake and an intense confectionary flavour, like rhubarb & custard boiled sweets or strawberry chews. Very medicinal indeed. Very sweet and sticky but almost no carbonation whatsoever. Slightly bitter paracetomol in the aftertaste. Has a hair oil flavour, like you get in cheap wine sometimes.
O: Some interesting flavours but it could be described as tasting like a cheap version of a JW Lees barley wine, and if it were to be judged as barley wine it would fare very badly. Not bad but not something I'd have again. Especially for 8 stinking Euros.
811 characters

3.7
/5
rDev
+8.5%
look: 4 | smell: 4 | taste: 3.5 | feel: 4 | overall: 3.5
A-Cloudy nut brown with no visible head
S-Ethylene, over-ripe fruit, bananas, lemon, citrus
T-Like nothing else, sweet bananas, a little bit clovey and phenolic, slight woody finish
M-A bit sweet with a taste that lingers, despite the strength it is pretty highly attenuated
O-Really unique beer, the juniper is very subtle, it tastes really fruity and the banana flavor is really at the fore-front. Could use more juniper for balance.
439 characters

3.86
/5
rDev
+13.2%
look: 3.5 | smell: 3.75 | taste: 4 | feel: 4 | overall: 3.75
75 cl. clear PET bottle – wonderful – sampled at RBESG 2013.
Exited to finally try a Sahti. Bottle should have been reasonably fresh which is good because I hear that this style does not keep.
Appearance: Murky amber with almost no head.
Smell: Sweet malts, sugar, caramel, brown honey and some toffee.
Taste: Heavy sweetness, brown sugar, candy sugar, sweet caramel, fruits, sweet spices, quite sweet.
Body: Slightly sticky malts & honey body.
Overall: Really surprised how sweet this was, I didn't expect Sahti to be sweet. Quite liked it, nice to try finally a Sahti.
582 characters

3.93
/5
rDev
+15.2%
look: 3.75 | smell: 3.75 | taste: 4 | feel: 4 | overall: 4
I'm so grateful; my collegue bought me this bottle on her trip to her native Finland!
A: Pour is murky brown with absolutely no haed.
S: Funk and smoke. Rich in berries, mainly red forest berries. The yeast is very rich, like that yeast smell you'll get in a Belgian Strong Pale Ale. Smells like forest!
T: Very fruity and yeasty - not very far from a Saison, at least in the yeast and fruit department. Sweet and slightlyt smoked; caramell malt. Cloves.
M: Full bodied with no carbonation. Very smooth. Aftertaste is long and holds a fruity sweetness.
O: Very interesting; complex but still stale. This is probably a style that you love or hate. If you have the opportunity to sample a Sahti - this one would be a nice choice.
734 characters
3.15
/5
rDev
-7.6%
look: 2 | smell: 4.5 | taste: 3 | feel: 2.5 | overall: 2.5
This was poured in the back of the bar from a big jug. Not sure if it's poured via tap into that or what but I have to assume it's cask until this can be verified. Had at St. Urho's Pub in Helsinki. From notes.
A - Poured like a cider or lambic in the sense that there is no head but a few buttles at the side. Sort of a maroon colour and hazy with no visible carbonation. Not sure if this how it's supposed to be looking like that but it's boring to say the least. I have to give it a low grade since it just looks like juice.
S - Woah. This is new. Some sort of a berry is there. Slightly medicinal, quite fruity like a blueberry and rich deep berries alongside. A little booze and cadi sugar. Very aromomatic. Never smelled anything like it. Very deep and complex.
T - Like twigs and berries in a pot. Fruity with that blueberry again. Medicinal, vegetal, earthy. Far too medicinal for me but neat. Not as much flavour as expected from aroma but not bad. Became a little harsh toward the end.
M - Very dry finish. No carbonation and medium to full bodied. I need carbonation to be there.
O/D - Tough call for sure. I like this beer a bit but it would have to grow on me. Very different, interesting and complex but hard to finish. Aromatic as hell, and something like I've never had before, but that doesn't make it good.
1,329 characters
Finlandia Sahti from Finlandia Sahti Ky
Beer rating:
3.41
out of
5
with
7
ratings