20th Anniversary 2014 Reserve IPA
| Black Diamond Brewing Co.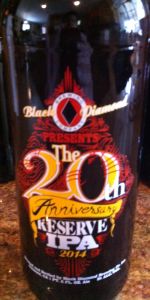 BEER INFO
Brewed by:
Black Diamond Brewing Co.
California
,
United States
bdbrewing.com
Style:
American Double / Imperial IPA
Alcohol by volume (ABV):
8.00%
Availability:
Limited (brewed once)
Notes / Commercial Description:
No notes at this time.
Added by LiquidAmber on 04-03-2014
This beer is retired; no longer brewed.
Reviews: 10 | Ratings: 26
4.25
/5
rDev
+11.5%
Opens with fresh mown grass, herbs and light malt on the nose. Pours hazy gold under a 1" rocky foam cap. Big creamy very tropical fruits start the palate over light malts and a very faint root beer note leading to a big herbal, citrusy hop finish. Big juicy creamy body with medium carbonation.
297 characters
3.7
/5
rDev
-2.9%
Fruity flavors. An odd bitterness that I could compare to a citris fruit. Doesn't have that usual IPA feel, but still pretty decent going down. It's crisp, good for a hot day.
178 characters
3.32
/5
rDev
-12.9%
look: 3.5 | smell: 3.25 | taste: 3.25 | feel: 3.25 | overall: 3.5
Served in 12oz goblet. Poured a style-typical orangeish-amber color with3/4 inch of white head that had OK retention and very good lacing.
There was just a light malt scent in the nose, but the rest the aroma was hops. Mostly citrus with pine in the background. On the tongue, the profiles were the same with the addition of a grapefruit finish.
The body was on the medium-light side of typical for the style.. Drinkability was good, the beer went down quickly and easily. Overall, a pretty nice brew. Not one that's worth a ton of effort to obtain, but one that's a solid example of the style, and worth a shot if you see it.
628 characters

3.39
/5
rDev
-11%
look: 3.5 | smell: 3.25 | taste: 3.5 | feel: 3.5 | overall: 3.25
Pours an apricot ale color with a decent off white colored foam and minor lacing.
Aroma consists of dough, apricots, rubber, and orange. Nothing new here.
The taste is rather bitter (but not too much) with some citrus fruit splash on the tail end of the sip followed by a kiss of spice hop on the finish. Better as it warms a little. Malty.
Full bodied. Good mouthfeel.
Overall this was so-so. I was hoping for something memorable for the 20th Anny, but was left wanting something more. Still love the brewery but this was just....ho-hum.
542 characters

3.82
/5
rDev
+0.3%
look: 4.25 | smell: 4 | taste: 3.5 | feel: 4 | overall: 4
A: 22oz bomber, poured a darkish orange, finger worth of head, alittle cloudy. looks like a IPA
S: citrus, floral, just kinda getting only a couple hop smells, not alot else. Im guessing this only used a couple hop varieties. Smells kinda strong but not like some other DIPAs ive had
T: very sweet malt and then a very bitter aftertaste, not as hoppy tasty as it smells, getting orange and citrus flavors mixed with a flower is what id describe as.
M: nothing to complain
O: im getting alittle spoiled living in Cali with super great IPAs that are within reach, tried it not sure id get again
592 characters
3.84
/5
rDev
+0.8%
look: 3.75 | smell: 4 | taste: 3.75 | feel: 4 | overall: 3.75
On draft at The Willows, San Francisco.
Cherry amber with white threads.
Rosin, honeysuckle and bright red berry nose.
Red currant and pomegranate, then resin, blood orange and light pine for hops.
Powdery citrus finish and flowery linger.
Just about medium, chewy, round.
Big and juicy. Some jagged and powdery bitterness. Ticks most boxes, but nothing special, especially for an anniversary beer – which kinda says it all about Black Diamond.
452 characters

3.77
/5
rDev
-1%
look: 4.5 | smell: 3.75 | taste: 3.75 | feel: 3.5 | overall: 3.75
Pours three fingers of head on a clear darker straw colored body.
The aroma is a spicy pine and grapefruit mixture, quite nice.
The taste is nicely balanced, pine and grapefruit bitterness with points of honey sweetness. Finishes with pineapple and pine bitter.
The texture is crisp with moderate carbonation.
Enjoyable.
320 characters
3.95
/5
rDev
+3.7%
look: 4 | smell: 4 | taste: 3.75 | feel: 4 | overall: 4.25
Poured into a pint glass up in Whitefish MT.
A: a semi-murky fading orange. Looks thick and juicy
S: Scents of pine resin and pine needles. A dirty floridness back up by light grapefruit and orange
T: full bodied. Oily and forceful. Ruby grapefruit and cloying pine resin penetrating the mid palate. Touches of mango and orange, ripe fruit, some dried fruit. HOPPPPY, strong malt backbone. Finishes in a bready pine.
M: full bodied, oily
O: Huge beer but for a DBL IPA this is balanced. Huge maltiness that backed up by overwhelming hops typical of the style. Killer. Definitely worth the money. Good to see this brewery make it to the treasure state.
657 characters

4.02
/5
rDev
+5.5%
look: 4.25 | smell: 4 | taste: 4 | feel: 4 | overall: 4
Sweet, fruity, and rather mellow for a big DIPA. Color is an attractive golden-toned amber with a fine tall foam in the Blanche de Chambly glass. Spritzy in the mouth. Spicy nose and more tangy spice on the tongue.
Warm and nutty malt greets the lips with some sweetness. Big aromatic flavors. Dried peaches, some orange, and something like pumpkin. I keep thinking of some kind of candied fruit, but then the bitternesss catches up. It's not really bitter, definitely below the average for big IPAs. Waves of fruity hop flavors and aromas are what make this interesting.
Extremely drinkable, but a big mouthful of flavor. Enough bitter aftertaste to remind you it's a seriously hopped brew, even if it wags its tail. From the 22 oz bottle bought at The Market in Anacortes, WA.
780 characters

3.79
/5
rDev
-0.5%
look: 4 | smell: 3.75 | taste: 3.75 | feel: 4 | overall: 3.75
Pours a medium coppery amber with a big three finger off white head that grows after pouring then dissipates to a thick cap, leaving heavy lacing. Aroma of mixed citrus, piney and slightly dank hops, fruity caramel malt and light citrus. Flavor is orange citrus, mild caramel malt, grassy, citrus hops that seem provide more sweet bitterness than herbal flavors, citrus and light citrus rind. Finishes with grapefruit rind, orange family citrus hop bitterness. Pleasant creamy medium body. A substantial malt body supports a mixed palette of hops that seem to be more for bittering than bright herbal flavors. Those flavors are mellow, but interestingly diverse with mild resinous flavors and lots of mixed fruit.
713 characters
20th Anniversary 2014 Reserve IPA from Black Diamond Brewing Co.
3.81
out of
5
based on
26
ratings.