Juicer

Harpoon Brewery & Beer Hall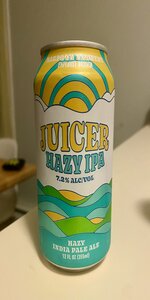 Write a Review
Beer Geek Stats:
| Print Shelf Talker
Style:

ABV:

6.6%

Score:

Avg:

4.02

| pDev:

5.22%

Reviews:

11

Ratings:

From:

Avail:

Rotating/Seasonal

Wants

Gots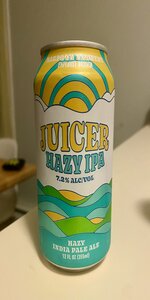 Notes: New England Style IPA

Citra and Galaxy hops star in this citrusy and lively IPA. The flaked oats and wheat malt bring a thick, stable haze, while an English ale yeast amps up the tropical, citrus fruitiness of the hops. Keep it cold and drink it fresh.

58 IBU

dbl_delta from Pennsylvania
3.83
/5
rDev
-4.7%
look: 4 | smell: 4 | taste: 3.75 | feel: 3.75 | overall: 3.75
Undated bottle into pint glass. Pours a bright, hazy light amber with a brief off-white head. Initial impression is, well, juicy - orange, grapefruit, mango, and pineapple. Mouthfeel is not quite NEIPA-fluffy, but close. Finish is smooth and slightly dry. Overall, OK but doesn't stand out from the crowd.
Feb 08, 2020

PMakowski from New Hampshire
3.85
/5
rDev
-4.2%
look: 3.75 | smell: 4.25 | taste: 3.75 | feel: 3.5 | overall: 3.75
12 Oz Bottle poured into glass
Look - pale and cloudy yellow color. Medium foam head and some lacing on glass
Smell - very tropical. Coconut and pineapple mostly. Sweet. Very intense fruit aroma, almost artificial.
Taste - Well it tastes like juice, as the name of the beer suggests. Tropical fruit hops. Creamy, which is expected from the style. Carbonation is medium-high and body is medium. Easy to drink but bitterness picks up.
Overall, not impressed. They do make some really good beers but i didn't find this to be above average in any way other than the aroma. Several other New England style IPAs that i have had taste better. That being said, it's inoffensive and will work for those wanting to drink tropical juice. Grade is a B
Dec 08, 2019
Charliethebrit from Massachusetts
4.12
/5
rDev
+2.5%
look: 4.25 | smell: 4 | taste: 4.25 | feel: 4 | overall: 4
I was a bit worried when I first saw the can, which was part of a mix pack. I thought - oh no, not another fruity flavored concoction! To my relief, it is a superb IPA and one of their best yet. It seems that they have greatly improved on last seasons hazy experimental efforts, such as Rec. League. Juicer is wonderfully smooth. This one is a hit out of the ballpark.
Served from a can into a pint glass at 50 °F, this straw gold ale has a frothy head that dissipates in a few minutes.
The smell is slight citrus, slight grassy.
Taste is smooth, hop in the middle and lingers to the back. Hint of citrus, citra and galaxy hops are a joy. This one is all about a dual hop profile. I think the English yeast is a plus for this one. Great price (good value) Nuff said !
Nov 29, 2019

woodychandler from Pennsylvania
4.11
/5
rDev
+2.2%
look: 3.75 | smell: 4 | taste: 4.25 | feel: 4.25 | overall: 4
I beCAN the day thinking that I would eradicate the Harpoon part of the (now-mainly) CAN backlog here at Chez Woody & it somehow morphed into a brewery horizontal! 8=O Good for The CANQuest (tm), but totes unexpected.
From the CAN: "Love Beer. Love Life."; "New England Style IPA"; "Citra & Galaxy Hops"; "58 IBUs"; "Est. 1986"; "Citra and Galaxy hops star in this citrusy and lively IPA. The flaked oats and wheat malt bring a thick, stable haze, while an English ale yeast amps up the tropical, citrus fruitiness of the hops. Keep it cold and drink it fresh."; "Employee Owned".
I CANducted some in-CAN agitation to ensure that any flocculate was back in suspension, then allowed it to sit & calm before the Crack! of the vent so as to avoid a gusher. It worked really well since nothing untoward happened, allowing me to CANtinue with a heavy-handed, aggro C-Line Glug. This resulted in the formation of two-plus fingers of dense, foamy, rocky, tawny head with notable retention, given tonight's heat & humidity. Color was a cloudy Golden-Amber (SRM = > 5, < 7). Nose smelled of orange/tangerine & passionfruit + guava. Mmm. I am slowly coming to embrace this style, but slowly. Mouthfeel was medium to full, not quite creamy, but close. The taste was like a tropical/ citrus juice blend like they used to make at the mall in the early-1970s! It was tough to parse out all of the flavors, but they really worked in CANjunction with one another. It was quite a mélange of flavors. I do not always like examples of Finish was semi-dry, but very juicy & very fruity. I CAN see drinking CANother of these. YMMV.
Aug 21, 2019
bwarner2015 from Connecticut
4.06
/5
rDev
+1%
look: 3.75 | smell: 4 | taste: 4.25 | feel: 3.75 | overall: 4
Poured into a tulip glass. Pours a hazy yellow straw color with 1 finger white head. 3.75
Sweet pineapple, peach, grapefruit on the nose. Citrus. 4
Crisp taste - pineapple grapefruit. Light and refreshing. Nice hop bite. Delish. 4.25
Thin but enjoyable on the feel, a nice change from heavy thick DIPAs. 3.75
Overall I was VERY impressed! 4
At $12.99, I thought it was a bit overpriced, as it is comparable to Sam Adams NEIPA ($9.99 in CT) imo, which I also enjoyed. I would buy often if this was $10 for a 4-pack, but probably not $12.99.
Feb 27, 2019
smcolw from Massachusetts
3.88
/5
rDev
-3.5%
look: 4 | smell: 4 | taste: 4 | feel: 3.25 | overall: 3.75
Cloudy, light apple juice color. Moderate head which leaves a chunky ring of initial lace. Slippery spots and streaks thereafter.
Weedy hop aroma. Some grapefruit and pineapple to the nose as well.
The malt beginning is weak and watery. There's some moderate pale malt sweetness but it's short lived. The carbonation is lively, perhaps too high. The hop saves the beer with floral bitterness that acts mostly as a peppery spice. The aftertaste is relatively short.
Nov 24, 2018
SawDog505 from New Hampshire
4
/5
rDev
-0.5%
look: 4 | smell: 4 | taste: 4 | feel: 4 | overall: 4
Poured into a 13 oz Free Will Teku glass canned on 8/3/18. Pours a hazy yellow orange with a 1 finger sticky white head that leaves plenty webby lace. 4
Smell is guava, mango, pineapple, and grapefruit rind. 4
Taste follows guava, mango, pineapple, and grapefruit. Really solid and a excellent price. 4
Mouthfeel is a solid medium, soft on the palate, a tad sticky but not dry, and goes down very easy. 4
Overall this a very nice example of the style and I will drink it again.
Aug 26, 2018
Jason from Massachusetts
4.01
/5
rDev
-0.2%
look: 4.5 | smell: 4 | taste: 3.75 | feel: 4.75 | overall: 4
16oz tallboy, free sample from brewery.
Hazed out golden beige color, decent looking head on top that sticks around. Grassy, semi-dank, citrus rind, and wild herb hop nose. Drinks smooth with a medium body, just enough carbonation to keep this beer going. Hop bitterness is higher than most hazed out IPAs, this is a huge plus for me. Dare I say juicy? This is without a doubt an IPA, perhaps I've become a bit jaded with some haze bombs that are sitting at less than 40 IBUs and taste like chalk. I'm really digging this one.
May 02, 2018
hreb from Washington
3.86
/5
rDev
-4%
look: 3.75 | smell: 4 | taste: 3.75 | feel: 3.75 | overall: 4
Pint canned on 04/20/18 (10 days fresh!) and served in a glass. Beer pours incredibly cloudy, and only because this is 2018, this is not the cloudiest IPA I've ever seen. Fresh orange juice aroma with a bit of ruby red grapefruit thrown in. Bitterness is not zero, but it's very seriously kept in check by sweet, citrusy flavors. 58 IBUs? I only taste 57. No sign of malted barley on the tongue. Carbonation is strong... for a glass of juice, anyway.
This beer is good but it's also very much trying to fit into the NEIPA groove without trying to stand out. Which is a shame because Citra & Galaxy so very much do want to stand out.
May 01, 2018

Blackrobe from Massachusetts
4.35
/5
rDev
+8.2%
look: 4.25 | smell: 4.25 | taste: 4.5 | feel: 4.25 | overall: 4.25
Dated 4/20/18 "Hans+Franz" on the bottom of the can, 10 days old.
Pours a nearly opaque dirty orange in the glass with two fingers of rocky, large bubbled white head. First note I got on the nose was onion followed by yellow grapefruit, dankness, mango, gooseberry, belgian-esque malty spiciness, and a hint of vaporized alcohol. Taste follows the nose and is predominantly juicy citrus. It's followed by additional notes of honeydew, pale oat malt, pine and more of a sweeter pink grapefruit than the more bitter yellow I got on the nose. Mouthfeel is a smooth medium, with a little bit of prickly tartness. Thoroughly impressed with this brew from Harpoon, the best beer I've had from them. Not top of the field NEIPA wise but it's solid and well made. Definitely a tier above the NEIPA Sam Adams recently released + reasonably priced. Give this one a try.
May 01, 2018

GratefulBeerGuy from New Hampshire
4.4
/5
rDev
+9.5%
look: 4.25 | smell: 4.75 | taste: 4.25 | feel: 4.5 | overall: 4.25
Pint can from the Vermont brewery. Canned on 4/20/18 "Hans and Franz"
6.6 % abv. 58 ibu New England Style
A bright golden color with yellow and orange highlights. Totally hazed-out look but still very bright. A tower of fluffy and bubbly white foam has good retention qualities. Big clumps of lacing are left in the wake of the foam. Minimal lacing over time with only a bit of coverage after a while.
The nose has a very powerful, fruity hop dominated aroma. Sweet citrus, tangy tropicals, pineapple, grapefruit, evergreen pine...very much like freshly crushed hop cones. The malt is light and sweet with hints of honey, golden wheat and oats. Citra and Galaxy hops are a favorite in both aromatics and flavor.
Whoa...now that is a classic New England style ipa hoppy flavor ! Bursting with mostly citrus and tropical fruity flavor's. Tangy citrus and pine with a mighty fine baseline of malty tones, such as a robust oats and wheat malt edge. I love the light side of the malt that the NEIpa's have. The light, crispy and grainy malt has a full bodied, smooth feel from the flaked oats, super-crispy bite from the wheat with a hint of sour that the wheat malt brings. The citrus hop from Citra and earthy but fruity taste from the Galaxy hops has a very interesting and deep complexity. At 58 ibu there is plenty of earthy, dry bitterness to be had in the finish as well.
Say what you want about larger breweries, no this is not Treehouse, Alchemist or Upper Pass, but when you take away the "hype" you realize the big boys do it well too. Perhaps not as thick as Treehouse or complex as Alchemist but certainly good enough to brighten up your day.
Apr 30, 2018
Juicer from Harpoon Brewery & Beer Hall
Beer rating:
90
out of
100
with
33
ratings