Three Beers to Pair with a Lobster Roll
Table Mates
by
Rebecca Kirkman
| June 7, 2018
Photo by Michael Harlan Turkell
Since its late 2013 opening in Boston's Fort Point district, Row 34 has become a destination for beer and seafood lovers. A self-proclaimed "workingman's oyster bar," the trendy spot is helmed by executive chef Jeremy Sewall. To create Ethel's Creamy Lobster Roll, Row 34's take on the iconic New England sandwich, lobster from the chef's cousin, Mark Sewall, in Maine is mixed with creme fraiche, mayo, celery, red onion, and dill pickle, and finished with celery salt. The chilled mix is served on a rosemary brioche bun with a side of housemade potato chips and coleslaw. We asked Row 34 beer director Suzanne Hays to select three beverages to accompany this simple—yet scrumptious—New England classic.
Keller 34
5.4% ABV | Jack's Abby Craft Lagers
Our collaboration with Jack's Abby is great with a lot of things, but the Keller 34 is perfect with lobster. It's crisp and clean with a mild breadiness that's both thirst-quenching and refreshing. For me this is a comfort beer, and a lobster roll is certainly New England's comfort food. Nothing says summer like drinking a stein of a great rye lager on the patio while crushing a lobster roll. You can only find it at Row 34 Boston and Portsmouth, making it a pretty special pairing on its own.
Farmhouse Pale Ale
6.0% ABV | Oxbow Brewing Co.
Seafood and Saisons go together like peanut butter and jelly. Oxbow's Farmhouse Pale Ale perfectly stands up to the richness of a lobster roll. It has a bright, zippy bite with a dry finish that cuts through the fattiness of the lobster. Hints of pepper and citrus complement the dish well. I have a soft spot for farmhouse [ales], and Oxbow brews some of my favorite go-tos.
No Exit
4.5% ABV | Stillwater Artisanal Ales
Sometimes throwing caution to the wind is fun. I love pairing unexpected things. Stillwater's dry-hopped sour ale with sage, No Exit, is a great food beer for those that prefer a little tartness. This sour ale isn't overwhelmingly mouth puckering, but brings a nice acidity to the table. Tart citrus notes bring out the creme fraiche and pickle, while the herbaceousness from the sage rounds it all out. It's certainly not for everyone, but worth a try! ■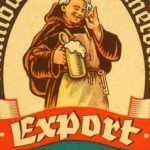 Previous:
Kulmbacher: Strong, Dark, and Hoppy
Next:
Beef Stout Stroganoff