You're My Boy Blue!
| Howe Sound Inn & Brewing Company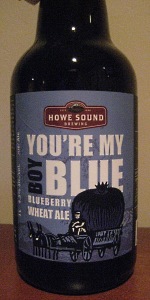 BEER INFO
Brewed by:
Howe Sound Inn & Brewing Company
British Columbia
,
Canada
howesound.com
Style:
Fruit / Vegetable Beer
Alcohol by volume (ABV):
4.50%
Availability:
Summer
Notes / Commercial Description:
No notes at this time.
Added by Rutager on 07-13-2013
Reviews: 6 | Ratings: 24
3.89
/5
rDev
-2.3%
look: 3.5 | smell: 3.75 | taste: 4 | feel: 3.75 | overall: 4
Pours from the capped/swing-topped 1L bottle into my pint glass a blueberry-ish colour, dense and hazy, capped by three fingers of purplish-white cotton-candy-looking foam that has some decent staying power, and leaves solid lacing.
Aroma is big on blueberry and wheat, grainy, slightly grassy. Light sourness.
Surprisingly, the taste, while still emphasizing the blueberry, is not over the top in either its blueberry flavour or its sweetness. Mini-wheats. There's actually a touch of dry wheat, ever-so-slight tartness. Decent maltiness. Faint metallic yeastiness? Body is light and drinkable, and carbonation is moderate and unobtrusive.
Light, very refreshing. A good summer beer, super drinkable, but also an option as an alternative to some of the pumpkin-craze out there for fall, as well.
800 characters
3.74
/5
rDev
-6%
look: 4 | smell: 3.75 | taste: 3.75 | feel: 3.5 | overall: 3.75
1L, usual swing-top bottle, Howe Sound's summer tipple finally arriving on Alberta's general lack of shores.
This beer pours a dark, murky magenta hue, with three fingers of puffy, finely foamy, and mildly bubbly pale pink head, which leaves some decent streaky neural node lace around the glass as it evenly sinks away.
It smells of bready, grainy pale and gritty wheat cereal malt, fruity blueberry and raspberry astringencies, further acrid lemon/lime rind bitters, a twinge of earthy yeast, and a small hard water flintiness. The taste is more bready, doughy pale malt, a lesser wheaty spiciness, blueberry pie (sans the sugar), additional nods to its cranberry, lemon, and lime brethren, sedate yeast, and some middling stony notes that seem inborn, and just a wee bit out of place.
The bubbles are quite fizzy and occasionally frothy in their pervasive rendering, the body a so-so medium weight, and sort of smooth, the testy nature of the blueberry-led fruit cabal doing some unwelcome probing here. It finishes off-dry, the now well-mixed fruitiness still playing off of the lingering, and equally blended malt sweetness.
Overall, a pleasant, and not overly complicated fruit brew, the blueberries large and in charge up front, but ceding some of their initial prestige as things get on. No problem to put back, I gotta say, especially after some long-overdue, late-summer housecleaning effort, as the sun still insists on streaming through my windows - take note, all you pumpkin and Oktoberfest beer-seeking hipsters out there!
1,545 characters

3.95
/5
rDev
-0.8%
look: 4.25 | smell: 4.25 | taste: 3.75 | feel: 3.75 | overall: 4
1L swing top poured into pint glass 25/7/15
A heavy haze in salmon orange liquid, slow bubbles everywhere feeding a well sustained two finger light pink foam that leaves partial rings followed by random patches
S heaps of jammy blueberry, blackberry, some cranberry, lemon, some wheaty cereal and more blueberry, its simple but smells strong
T not as jammy and more malt comes out, fairly tamed down compared to the nose buts still fruity and tasty
M light bodied and just stops short of foam, a little slick on the palate and just a little sticky on the lips
O solid fruit beer all around, didn't quite follow through on the great nose but I'm having no issues taking down the giant bottle solo
I'm not a giant fan of fruit beers but this one I'd drink again in the heat for sure
793 characters

3.82
/5
rDev
-4%
look: 4.5 | smell: 3.75 | taste: 3.75 | feel: 4 | overall: 3.75
I was excited to see a blueberry ale from Howe Sound at the liquor store at New West station when I stopped in today on my way home from work. I used to enjoy Pumphouse Blueberry Ale from Moncton, NB back in my undergrad days at Mount Allison.
It was a bit of a surprise when I poured this out and saw that it actually looks like something that comes from blueberries! That's definitely not the case for Pumphouse's blueberry ale. It's the colour of blueberry juice, with pink head. Aroma of pure blueberries, wheat, and a little lemon.
The taste is refreshingly not sweet. It's like beer made with pure blueberry juice. There's nothing artificial about it - real beer made with real blueberries. Here's to keeping it real. It'd be nice to see something like this coming out of blueberry country back in Nova Scotia.
Would I get it again? Maybe. It's good, but there's only so often you want this much blueberry. While it's not my new favourite beer, I have no real complaints. It's exactly what it should be. Well executed.
I think the price was ten something for a one litre bottle.
1,091 characters

4.47
/5
rDev
+12.3%
look: 4.25 | smell: 4 | taste: 4.75 | feel: 4.5 | overall: 4.5
A: hazy purple liquid with 1/4" white head.
S: More yeast than blueberry, and fruit loops cereal.
T: Corn pops cereal, blueberries, and fruit loops cereal in the finish. Sounds strange for an average beer, but for a fruit beer with wheat this is fantastic. The blueberry taste increased as the beer warms. I suspect that cascade was used due to the lemon flavor, and I think this beer would be an excellent base for other fruit beers. If Howe Sound ever thought of having a fruit beer line and becoming the Sam Smith's of Canada, this is one hell of a start.
M: Perfect for a fruit beer, medium viscosity and carbonation.
O: Even my wife liked this beer due to it's extremely pleasant and fruity taste profile. I hope to see this beer again sometime.
754 characters
4.06
/5
rDev
+2%
look: 4.25 | smell: 3.75 | taste: 4.25 | feel: 4 | overall: 4
Appearance. Pours a hazy bluish-purple with two fingers of pink head.
Smell. Sour blueberries, wheat, and maybe a little lemon.
Taste. Tons of wheat but thankfully only a little sweetness, tangy blueberry and again a little lemon.
Mouthfeel. Light+ body, medium carbonation.
Overall. Refreshing and delicious with a nice bit of sourness.
350 characters
You're My Boy Blue! from Howe Sound Inn & Brewing Company
3.98
out of
5
based on
24
ratings.